January


Most of the ride today was in the woods on rough blacktop but I did have this stretch of major hwy, Hwy 59.
I was only on this stretch for a little over a mile, just a little past the fartherest point you can see in the pic.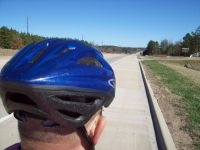 As you can see it was a beautiful day. I was riding along, thinking that there couldn't possibly be a better place, weather wise, to be cycling today, it was beautiful, shorts and jersey weather.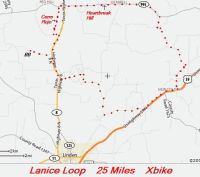 Today's Ride

******

Catholic Wisdom

- A 98-year-old Mother Superior from Ireland was dying. The nuns gathered around her bed trying to make her last journey comfortable.They tried giving her some warm milk to drink but she refused it.
One of the nuns took the glass back to the kitchen and remembering a bottle of Irish whiskey received as a gift the previous Christmas, she opened it and poured a generous amount into the warm milk.
Back at Mother Superior's bed, she held the glass to her lips.Mother drank a little, then a little more and before they knew it, she had drunk the whole glass down to the last drop.
'Mother,' the nuns asked in earnest, 'please give us some wisdom before you die.

'She raised herself up in bed and said, 'Don't sell that cow!'
Thanks Sundance

******

"To Live in the hearts we leave behind is not to die"
** From "Centennial" by James A Michener



Almost a perfect day for riding, just a bit cool and windy, but there was a full sun and after the last few days, I can't bitch.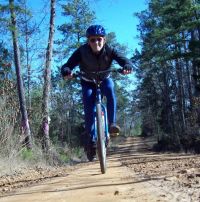 Almost on Top

******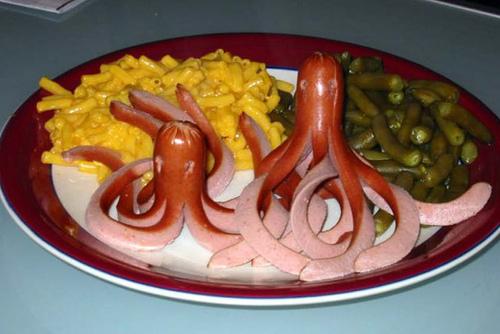 Redneck Seafood Platter
thanks randy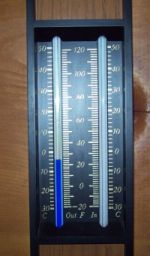 Yes it does get cold in Texas. It's supossed to warm to near 50 today and if it does, I'll ride.
I rode and it was a cool 44 deg but I had a full Sun and after the last few days it was great to get on the road.
Not only was I liking it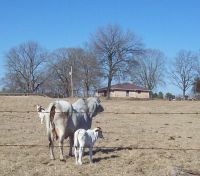 the cows were too.

******

Mrbill's Reality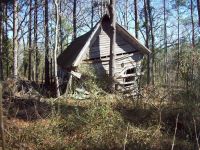 A nice little "Fixer Upper" with low mortage

******

A new teacher was trying to make use of her psychology courses. She started her class by saying, 'Everyone who thinks they're stupid, stand up!' After a few seconds, Little Johnny stood up. The teacher said, 'Do you think you're stupid, Little Johnny?' 'No, ma'am, but I hate to see you standing there all by yourself!'
thanks Phil



Got a big snow with a little ice thrown in last night, schools opening late, 27 deg this morning, a rough start to the day. Check out the snow drift up against a tree in our front yard this morning.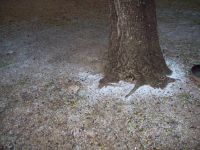 Lot of snow Huh, he he, eat your heart out Nick in Boston, hang on it's headed your way and you may get a bit more than this, ha.

It's only supossed to be about 40 today so I guess I'll ride inside, may have to anyway, don't know if the snow plows will get all the snow removed from the backroads.

******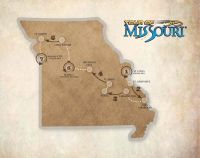 Allright, the Tour of Missouri will end in Kansas City, I'm definitely going to try and be there so all the Pro Racers can meet me, should be great fun, reserve your Hotel room now.

******

From that moment on I have never handled a gun. I have found even the shooting of a rattlesnake abhorrent, and I recommend to all my descendants that they keep away from firearms, for I have found that they do far more damage to good men than to evil.
From "Centennial" by James A. Michener



Nasty weather and getting nastier, we're supossed to have ice and snow tonight. I thought about getting in my Jet and flying south so I could get in some riding, but guess I'll just stay here and ride indoors.

******

For all of us who feel only the deepest love and affection for the way computers have enhanced our lives, read on. At a recent computer expo (COMDEX),Bill Gates reportedly compared the computer industry with the auto industry and stated, If GM had kept up with technology like the computer industry has, we would all be driving $25 cars that got 1,000 miles to the gallon. In response to Bill's comments, General Motors issued a press release stating: If GM had developed technology like Microsoft, we would all be driving cars with the following characteristics:

1. For no reason whatsoever, your car would crash........ twice a day.

2. Every time they repainted the lines in the road, you would have to buy a new car.

3. Occasionally your car would die on the freeway for no reason. You would have to pull to the side of the road, close all of the windows,shut off the car, restart it, and reopen the windows before you could continue. For some reason you would simply accept this.

4. Occasionally, executing a maneuver such as a left turn would cause your car to shut down and refuse to restart, in which case you would have to reinstall the engine.

5. Macintosh would make a car that was powered by the sun, was reliable, five times as fast and twice as easy to drive - but would run on only five percent of the roads.

6. The oil, water temperature, and alternator warning lights would all be replaced by a single 'This Car Has Performed An Illegal Operation' warning light. I love the next one!!!

7. The airbag system would ask 'Are you sure?' before deploying.

8. Occasionally, for no reason whatsoever, your car would lock you out and refuse to let you in until you simultaneously lifted the door handle, turned the key and grabbed hold of the radio antenna.

9. Every time a new car was introduced car buyers would have to learn how to drive all over again because none of the controls would operate in the same manner as the old car.

10. You'd have to press the 'Start' button to turn the engine off.

PS - I'd like to add that when all else fails, you could call 'customer service' in some foreign country and be instructed in some foreign language how to fix your car yourself!!!!

Thanks Sundance



Nasty, cold and wet and nasty, may ride indoors or play Hookie, a good day for reading.
At present I'm reading "Centennial" by James Michener, I'm at the part where he's explaining how in the early days when they needed labor they used European imigrants, until they got smart and got their own land. The next source of labor was the Japanese they too realized it was best if they owned their own land. Then they discovered the Mexican, he was content with his Music and Beer and since he sent his money back to Mexico he couldn't buy land, so now we had us a supply of labor, and the rest is history.
So it goes on a cold rainy day.



A chilly ride today, 43 deg F, with no sun is chilly, but I enjoyed getting out of the house and going for a ride.

******

I'm always interested in different kinds and shapes of bicycles, found me a new one this morning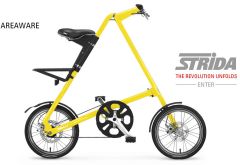 What do you think?



Cool and slightly nasty this morning, hope it improves.
Had a good ride yesterday even with a flat, I hate flats. There's a hugh gas pipeline running from Texas to Mississippi and it runs right thru my riding area, I crossed it twice yesterday. I hope the County is going to be paid a bunch of money to restore roads around here when there done.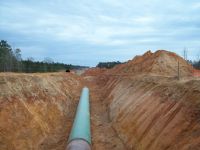 ******




Note from Lance on Twitter after stage 5



Rode my rough ride today, made even rougher by pipeline coming thru. It's got sand you can't ride thru, ruts, bumps, hills, gravel, rocks and a little pavement. I had a flat, I hate it when that happens, good thing I didn't realize I had my cell phone or I might have called for help.

******




a note from Lance on Twitter after stage 4

******




going downhill

******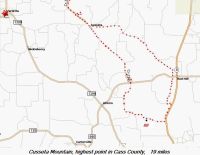 Todays ride, click to enlarge

******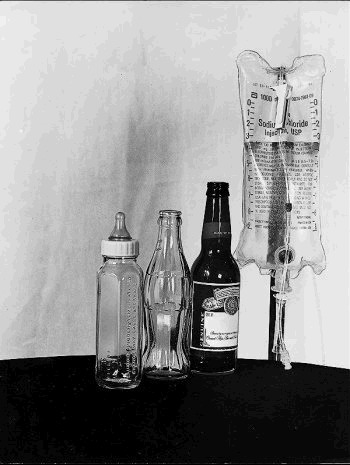 The Four Stages of Life



Made my ride, it was simply Beautiful, 68 deg, full Sun and a lite S wind, and I felt real good, can't beat it.
Chassity, our oldest granddaughter had to have some surgery yesterday so Teresa is going over to see how she is doing, todays ride will take me by Chassity's so I too can see how things are.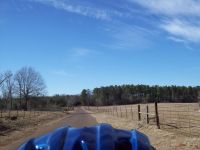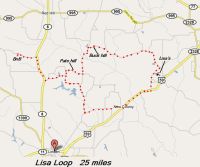 Todays ride, click to enlarge

******

Lance is having fun at the Tour Down Under even tho the weather is pretty rough, Hot and windy, sounds a little like Texas.



Cold start this morning, 24 deg F, but it's supossed to be 60 by this afternoon, and if that happens I'll be out on my bike for a ride. I want to be back to the Casa by 3 so I can watch the "Tour Down Under" on the telly. Lance made a little attack yesterday, he just wanted to see how it felt to be out front of the Peloton again, he's having fun, he's moved from 120th to 45th place. Hincappie is having trouble, he keeps thinking he's supposed to be helping Lance, old habits die hard.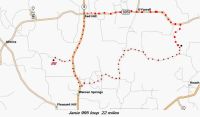 Todays ride, click to enlarge



******



For some reason today just seems a little brighter than usual, unlike a few days ago when we were subject to being cast into another war by our Macho Leader, we now have a man in charge with a more peaceful disposition, and I'm tickled, better times ahead.

******

"Bad Companions bring Bad luck"

From "Centennial" by James A. Michener

******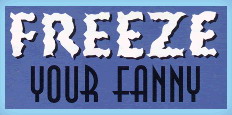 This is a really well organized ride, be sure and make it.
For some photos of last years ride:
Click Here



Hallelujah, I've been waiting for this day for 8 years. The Gang that couldn't shoot straight is gone, Hallelujah.
Obama and all of us have our work cut out for us since Bush and cronies have almost destroyed this country, ruined our reputation around the world and been responsible for the death of thousands of people, thank God there gone.
I try not to get political here but I just couldn't help myself just this once.
THANK GOD HE'S GONE.
Now if he would just leave Texas that would be the icing on the Cake.

******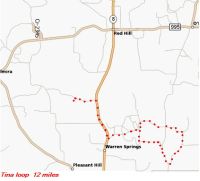 Todays ride, click to enlarge

******

Lame Beaver;

It was rather that he discovered for himself the inherent undesirability of becoming a leader; it was an act of pomp engaged in by lesser men who enjoyed bedecking themselves in feathers.
He would let others use office to proclaim their feats. He would concentrate on the feat itself, doing what had to be done ... in silence.

From "Centennial" by James A. Michener



Woke this morning to warm 50F, we've got some crazy weather happenin around here lately. Should be a good day for riding, only problem, wind, 15 to 20 mph, and I don't like wind.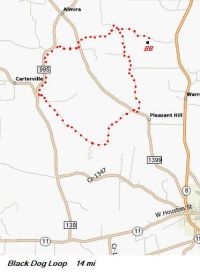 click image above for larger pic of todays ride.

******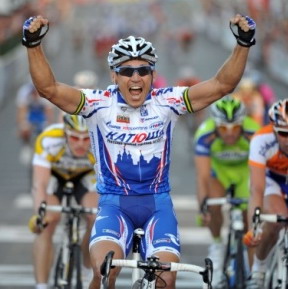 click image above for info, Velo News

Robbie McEwen takes the win at the "Cancer Council Classic" criterium in Adelaide, Australia, Robbie is one class act.
Lance finished in 64th and had a good day. This criterium doesn't actually count in the Tour down Under which actually starts on Tuesday. Lance does not favor Criteriums and is looking forward to the Road Race.



I did my Penance, 11 miles on the backroads, 62 deg F and full sun but windy, a nice ride.
Last night was a rowdy night in Linden. We went to the "Wes Jeans" concert at "Music City Texas Theatre" and it was a rocking night, never seen so many Social Drinkers (drunks) in Linden at one time.
We survived and are both in pretty good shape this morning, I may even take a bike ride today, but I'm not making any promises at present.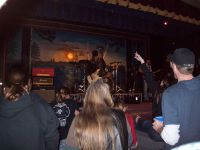 Click the pic above for more pics and a "Concert Report".



Got in a ride today, the conditions weren't ideal, cloudy, cool and windy but it was a nice ride.

We're looking forward to the Wes Jeans Concert tonight at Music City Texas Theatre, their recording a live CD, should be interesting.

******

The men had trouble with this water.

It gave half of them dysentery; Gompert and Savage became so sick they could not ride their night rounds, so Poteet and Skimmerhorn took their places, riding double shifts.

It was Nacho Gomez who saved the day; he brewed up a nauseous concoction of cactus root, tobacco juice, vinegar and rum guaranteed to tighten the loosest bowel, and after three doses Gompert and Savage were back at work.

'Anything's better'n that,' they warned the others.

*** From "Centennial" by James A. Michener



For an old Texas man it's damn cold this morning, 19 deg F, too cold. It's supossed to warm to 42 deg F today and if it does I may get in a ride, after today, the next week looks good.
All the cycling news is about Lance and the Tour down Under in Australia, will he win, will he win a stage, will he get on the podium and the number one question is how much Show Up money did he get, probably more than I've made in the last 10 yrs.
I for one am also interested in how Basso will do in Argentina as their Tour starts on the 19th, I've been to Argentina and wish I could be there for this race, nice folks, nice Country.

******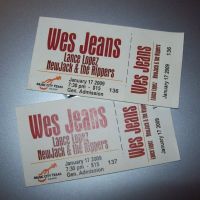 Looks like we're going to get down with some blues at Music City Texas Theatre tomorrow night.

******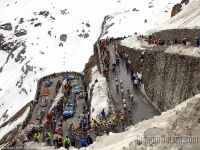 It's rough around here this morning, but not this rough.

******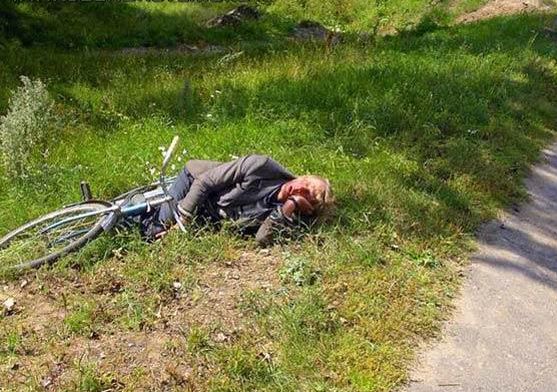 Don't drink and ride, no that's not me, thank goodness



A chilly day today, went for a ride at 1:30 pm and it was 38deg with a 10 mph NW wind.
The ride up Thompsons Bluff was memorable, not really fun, not fast, memorable. That North wind on my left cheek didn't help. It was a nice ride, full sun, I can't get over how your riding along in full sun and it's only 38 deg, when in the summer it would be 103, give me somewhere in between 60 and 70 deg F.

******

After retiring, I went to the Social Security office to apply for Social Security.

The woman behind the counter asked me for my driver's license to verify my age.

I looked in my pockets and realized I had left my wallet at home. I told the woman that I was very sorry, but I would have to go home and come back later.

The woman said, 'Unbutton your shirt'.

So I opened my shirt revealing my curly silver hair.

She said, 'That silver hair on your chest is proof enough for me' And she processed my Social Security application.

When I got home, I excitedly told my wife about my experience at the Social Security office!

She said, 'You should have dropped your pants. You might have gotten Disability, too'



It was cool out there today, beautiful and Sunny but cool, 40 deg F with a 15mph NW wind, a nice ride.

Some good blues at "Music City Theatre" in Linden this weekend, check it out:
Here

******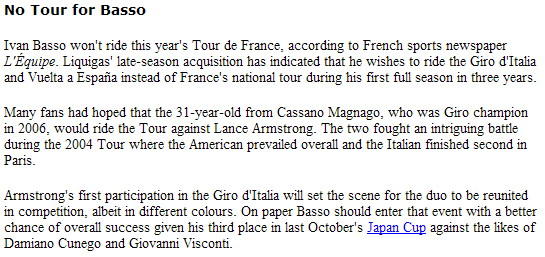 I like Basso, I like him even more since he isn't riding the Tour de France. Like I've said before, I wish everyone would skip the Tour de France, except of course the French, that way they could win one. If no one showed up for the Tour, maybe the Organizers would be humbled, which is definitely what they need.

******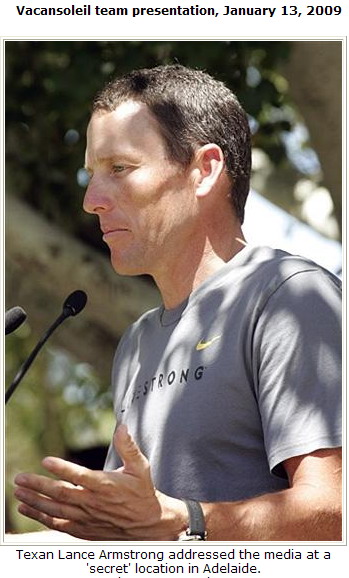 Lance is ready for the Tour down Under this Sunday, a bit nervous, but ready I'm sure. I know what some are thinking, but, whether you like him or not, you will be watching, don't bullshit me.

******

"Second the VD problem. Gentlemen, I know what you're going through. I'm human, too. But what kind of example do you think we're setting for the enlisted men? Those girls downtown are all disease-ridden, a very tenacious version of VD." The Colonel paused, his face a map of concern. "So for the time being, I'm holding every man here duty-bound to exercise discretion and stay totally away from those women."

Murmurs and laughter drifted through the crowd. Did he really think that abstention by the officers would influence the enlisted men? At that very moment, An Khe was filled with hundreds of enlisted men understandably jumping every female in sight. "Men, severe situations require unusual solutions. I know you may think of it as self-abuse, but I, and the commanders above me, think that m-masturbation is now justifiable."

"Is that an order?"

"Who said that!" No one answered. The Colonel glared expectantly at the damp mob, trying to pinpoint the bad apple. The offender did not come forward and throw himself into the mud at the Colonel's feet, begging forgiveness. Disgusted, the Colonel continued. "No, it is not an order; it is a suggestion. And if there are any more cases of the clap among you men, I'm closing the village to all of you. No passes to town for anything."

"Did he just order us to jerk off?" Connors's low voice came from the back of the crowd. Laughter engulfed the formation. The Colonel had not heard the remark.

From "Chickenhawk" by Robert Mason



It wasn't perfect out there today but it was close, only problem was the wind and it was bearable. I rode the county road to a friends house and then returned on the backroads, a good ride.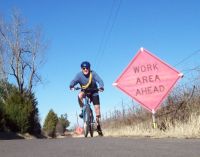 Read the sign, I was working, riding into the wind. No I didn't steal the rope, found it in the middle of the road and just couldn't pass it up. How do you like that clear blue sky?

******

Now here's a bike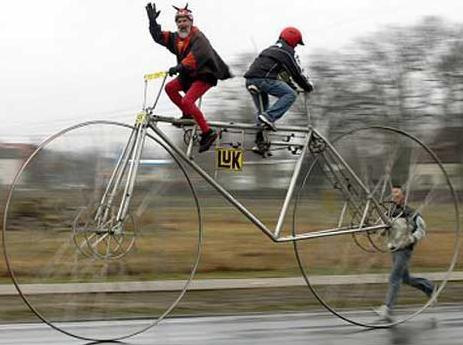 The tall mans dilemma, click the photo for the story.
I wonder how she does off road, I see pain here.



If you like to ride bicykles, I wish you could have been here today, it was just about perfect, 53degF, full Sun and a light breeze.
The only time I was cool was when I was really flying and creating a wind chill, yeah, right.
Rode the backroads, did the "Cordillera de Carterville", a little 3 step mountain, nice work.
The best part is, it's supossed to be like this again tomorrow, I don't thing I can stand it, but I'll try.
This is January, right?

Now I'm going to sit back, eat me some baked chicken and some of Teresa's famous Potatoe Salad then a little Grannies Tonic with a little Football, Oh, it's good to be in America!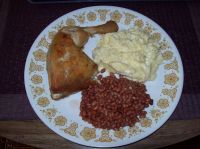 I blame it on Football, Tennesee vs Baltimore, and we lost, and I blame it on having to go to the big city for supplies, or else I would have done better.
I did get six miles on the trainer indoors during halftime.
Fourteen miles is my minimum tomorrow, that's that.
A front came thru this morning, so it's cool and windy enough to blow the feathers off a chicken.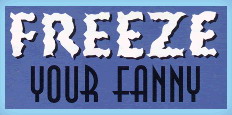 This is a really well organized ride, be sure and make it.
For some photos of last years ride:
Click Here



Another good day for riding, 68 deg, prtly cldy and breezy. I took my X bike out on the backroads for a low stress ride, no vehicles and surprisingly no dogs today.
It looks like our good riding weather will be on hold for a day or two as a front comes thru tonight.



I had a funny thing happen to me on my bike ride today. I was on my road bike and I was riding to Linden then on to the High School, cut across to Bivins road and then return to Linden and back to the house.

As I passed thru Linden and crossed Hwy 59 on FM 125 to head out to the High School something didn't feel right. Yep, a flat, I guess I picked up something in the island on 59, I hate flats.

I pulled over to the side of the road right in front of "Franklins Tire Center" and proceeded to fix my flat. I took my rear wheel off got the tube out, pumped her up and found the hole.

I could have just used a new tube but it was a nice little hole so I decided to patch it. I sanded the tube and then got the small tube of cement. I unscrewed the top off the cement and tried to put some on the tube, oh, it's sealed, I'm going to have to poke a hole in it.
Let me see, there must be a small piece of wire or something, I look around, nothing. Well, I see some folks over at "Franklin's", actually Frank, the owner, a highway patrolman and a couple of other fellows. I walk over and say "Howdie", I turn to Frank and say, "you recon you got something I can poke a hole in this tube of cement with?"

Frank looks at me and says, "you got the lid to that cement?", I reply, "yeah, right here." As soon as he said it I remembered, but I listened while he explained to me how to turn the lid around and it would poke the hole in the cement.

This wasn't my day, I turned to the highway patrolman and told him not to tell anybody about what just happened and seconded it to Frank.

I made it home, the patch job held. I can only say I didn't remember "the cap on the cement" trick either because of lack of oxygen to my brain from riding so hard or either old age.

I had a good ride.



A beautiful day today after a couple of days of rain, it was about 58 degF and full Sun. Here are a couple of pics of my ride today.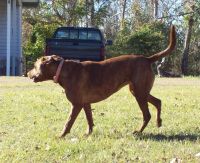 A little friend of mine on my ride who makes me go fast.



Rain, Rain, and more Rain and cool too, I've just about had enough, thankfully after today it's supossed to get a lot better.
Did my indoor ride yesterday, yep it was boring, but better than no ride at all.

******

From Randy:

I'm sure that you have seen pharmaceutical advertising in doctor's offices on everything from tissues to exam table cover paper. Well, in my book, this one should get the prize....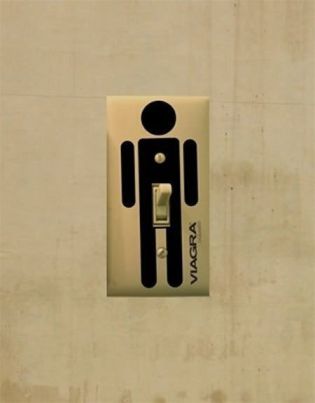 Remember: 'If the light stays on for more than 4 hours, call your electrician.'

******

I'm currently reading "Chickenhawk" by, Robert Mason, the experiences of a Helicopter Pilot in Viet Nam in 1965, a good read, especially if you were in the general area, as I was. It got me to thinking about those times and I got out the old photos, here's one of me holding one of the seven most deadly snakes in the world, yeah, it was a crazy time.
You'll notice the way I'm looking at the Charlie on my left, he was hired to help us build headwalls on culverts on Hwy. 1, I knew he was the enemy right off, but it was a while later before the smart boys figured it out.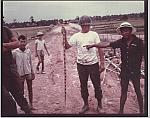 I look at these photos and have a hard time believing it, seems like another lifetime.
I'm going to get all my pics posted on a Viet page so you can see them if you like, maybe you don't care, nobody did back then either.



One nasty day today, 38 deg and rain, a perfect day for indoor riding.



What's up, it feels like summer. Just got back from a ride and it was hot and humid, yeah, in January, crazy weather. It was partly cloudy and windy and a South wind made things interesting.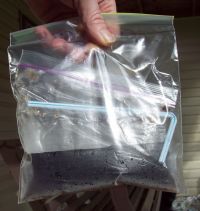 Old Mexican trick, coke in a plastic bag with straw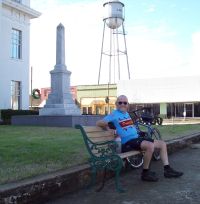 Taking a break at the Oldest Courthouse in Texas, the monument is dedicated to the Confederate Soldiers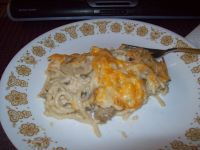 What better way to finish up a ride than with a plate of "Chicken Spagehtti", Teresa makes the best there is.

******

I know, we all hate to be accused of drafting, but: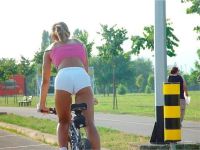 sometimes, it can be a good thing!



What happened to winter, today feels like summer in NE TX, 78 deg, full Sun, beautiful day for riding.
I had a nice ride on the backroads to Linden and back, now I'm watching Texas Tech and Miss, come on Tech, at present their behind.

******


I found this rather amusing: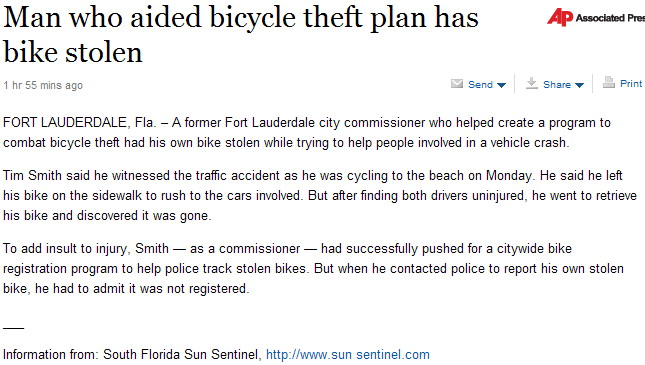 Just like a politician

******

Need to get in a few miles so we will be ready for the: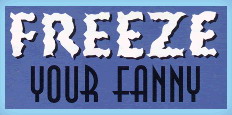 This is a really well organized ride, be sure and make it.
For some photos of last years ride:
Click Here



Got in a ride, was 58 deg with a S breeze, really nice.
A cold start to this first day of the New Year, 25 degrees this morning, but should be a pretty nice afternoon.
Teresa and I are just about recovered from our bug we've had the last couple of days. I think I killed what was left of my bug with some of Grannies Tonic last night, Teresa seems to think it ran its course, but I'm going with Grannies Tonic, gotta remember that next time.
I broke down last night and had some "Spicy Pork Skins", they also may be medicinal because I feel pretty good this morning.
My new years resolution is to try and make it to 2010, with as little pain as possible, that about does it.
After not riding for the last couple of days, I'll definitely get in a ride today, if I don't go any further than the mailbox, I'm still going to ride, what yu do on the 1rst you'll do all year long, so we're not cleaning house and I'm going to ride.

******

This time of the year I always think of experiences of the past years and a picture of this automobile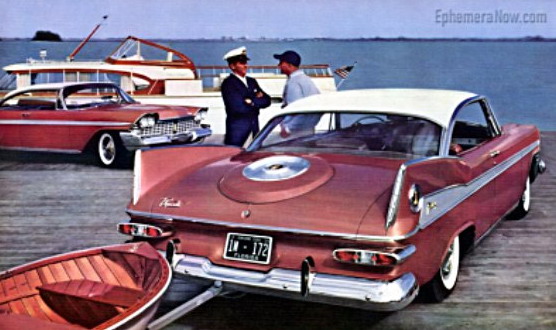 1959 Plymouth Fury
definitely brings back some memories.
My parents bought a Plymouth Fury when I was about 15 yrs old, boy was it something, those fins on the rear, push button drive and it ran pretty good.
At the time I was a paperboy in our neighborhood on the West side of Fort Worth and on a cold Sunday morning I asked Dad if I could take the car.
Don't ask me why, but he said yes, probably because it was cold, it was Sunday (large papers, heavy bundles).
So off I go in the car at 4am to get my papers, everything went well and 7am I was thru with my route. Well a buddy who also threw papers on the route bordering mine thought we ought to take a spin in the car, sounded like a good idea to me.
We headed to Boaz park, not far from the house, and we got to cutting up.
You can probably guess what happened next, we were driving around the park, putting the Fury thru its paces and then it happened, on a turn I lost control and the car slid into a tree, bent the bumper and slightly bent the front fender, oh shit, I'm in trouble, what do I do now.
Well I decided running away wasn't for me, so I headed home, walking into the house and confronting my Dad was one of the hardest things I'd ever done.
I proceeded to tell him the story we had come up with, I went to where my papers were, parked the car, and when I finished my route and returned to the car, surprise, someone had run into it.
I know, it sounds pretty lame now, but at the time it was all I could come up with.
Dad didn't go ballastic, which was my worst fear, actually he took it pretty good.
Later when Dad was inspecting the damage he called me over and asked, "how you reckon this bark got here on this bumper?", busted.
My mom didn't speak to me for about a week and Dad found plenty of chores for me to do, and I was glad to do em, since I didn't get the beating I was expecting.
When you get older and these young un try to tell you their lame stories they just don't understand why you can see thru them, well we've been there.