July


Got my last day of the month ride in, wasn't anything earthshatering but it was good, all rides are good, some are just better than others.
The weather was pretty good, cloudy and no big wind, humidity was pretty heavy after recent rains but that's to be expected.



Got in my ride this morning, it was threatening rain but held off, why worry about rain, I end up wet, one way or the other, rain or humidity.
An uneventful ride, no dog attacks or Rednecks in pickups, I feel better now.
It's a sad fact but true, work makes you feel better.



Rain and more rain, kind of messed with my riding, but we needed the rain.
Still tweaking new computer, the worst thing is "new platform, Vista" and I'm not sure I like it, as usual with a new operating system.
No ride today, but will ride tomorrow, inside or outside, weather permitting, can't ride in the rain, I'll melt.



Computers, computers, they really can get on your nerves, they seem to have a mind of their own and like everything else they do have a limited lifetime.
My old laptop on which I did everything is dying, so I had to get me a new one, it's really a pain when you have to set up a new computer, so comfortable with the old one and yes, a new operating system thrown in to really mess with you.
Then you have to find all the old passwords, where in the hell did I put that one, who knows, oh well, start over.
So at present I'm trying to get puter up and running, hopefully things will be back to normal before to long.

The weather here has really taken a change for the better, upper 80's lower 90's and we're getting some rain, maybe today, lifes good, sometimes.

My itching feet finally got the best of me and I've got my plane ticket for Costa Rica, Sepember 7th, anyone want to tag along, let me know.
I thought it would be good for me to live at altitude for a couple of weeks before my Courthouse to Courthouse ride on Oct. 4th, sounds like a good excuse, huh.



I was riding along on "Tabacco Road" when I approach this turn off, I see this mysterious looking package.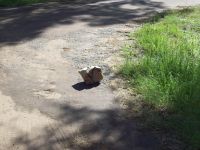 "Mysterious Package"



I was riding along on "Tabacco Road" when I approach this turn off, I see this mysterious looking package.

Man!, I just saw something something on this last week on the News, in Atlanta, shut down a large area, cost bunches of money.

Suddenly it struck me funny, "Maybe I should report it?", "naah", They'd probably just scoope it up and load it on the couny truck and haul it off, end of story.

Things seem more simple in the Country sometime.

You notice, I didn't mess with it.





I watched the "Tour de France" on the tube this morning and of course after I had to go for a ride.
I was so inspired by Contador and the Schlecks that I did some dancing in the pedals up Pate Mtn, nearly had a stroke.

Don't understand why Contador attacked Kloden, a bad move I think.

******

bobkeroll

when the wandering spirit comes in from the cold the whole world rejoices

******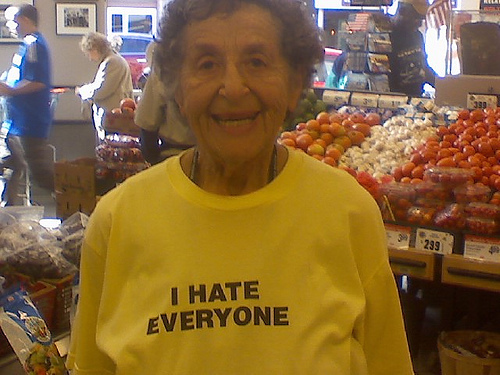 Senior T



Taking a day off the bike today and getting some things done around the casa.
Had a good cycling weekend and will be back on the bike tomorrow.

Sonya Looney did a fantastic ride at the Brec 100, 2nd in the ladies and ahead of a bunch of guys, I imagine, check out the link to her site in my bike links to the right.
This gal is a really good Mtn biker and has a great attitude, check out her page.

******

Whip Holt:

"There are things in our lives that we can control and other things that we can't," he said. "What determines the measure of a man is the way he handles himself when he's in a situation that he can't control. It's a matter of showing grace under pressure, that's what Lee Blake calls it."

"Nevada" by Dana Fuller Ross (Lyle Kenyon Engel)



Had a good day yesterday at the "Tour de Paris",
for my ride report click image below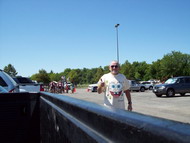 I was happy with my ride, felt good and managed to get a 17 mile average for the ride, including stops,
not bad for an old man.

******

For those of you who are wondering how that 32lb watermelon I posted earlier turned out


click image below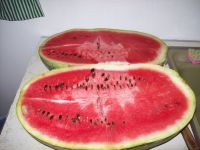 Got on the road by 6:20am this morning, not to bad, just a short ride, got chores to do.

I like Bob Roll, but the guy is crazy, check out this twitter post from this morning,
"bobkeroll
following le tour good, putting unleaded in a diesel car at 11pm on bastille day when the whole country is closed... bad"

I really like the guy but he's crazy, maybe that's why I like him.




I've been watching the "Tour de France" and so far I find it about as exciting as "Jump Rope".

I believe it was stage 10 where the peloton was riding along about 15mph, even I could hang with that, Lance said it was the easiest day he had ever seen in the TDF, I can believe that.
Just give Lance the Yellow, give Cavendish the green, give Schleck the polka dot and lets call it a day.
One highlight was Columbia breaking up the peloton, Big George got pissed, "Nobody wants to race".
In the end, boring or not, I'll be watching, who knows I may get to see a Frenchman win another stage, incredible.
I do have to remember that the Mountain stages are always where things turn quickly.


******

Tacos today, enjoy: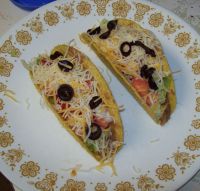 W/O Salsa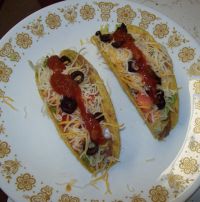 W Salsa



******



Teresa thought this hit the nail on the head

A husband is someone who, after taking the trash out,
gives the impression that he just cleaned the whole house.







Got out this morning at 6:35 am, it was 82 deg F, 95%hum, had a good ride, legs felt good, added a couple of miles to my route but didn't push it, good ride, they all are, some are just better than others.

Watermelons are on the market in Cass County, got this 32 pound Charleston Gray this morning after my ride.




Haven't updated in a few days, I had a couple of good rides last Thur and Fri and then I took a ride Saturday morning and I felt wasted, totally wasted.
After my ride Saturday morning I went with Teresa to Wally World for groceries and I could barely walk, had zip energy, got home, unloaded grocercies and hit the couch, where I pretty much stayed Sat evening and all day Sunday.
I got up this morning and thought I'd take a short ride, to my surprise I felt pretty good, but didn't overdo it.

It's really tough to get in your miles when it is so hot, I might have got a bit to much heat last Friday when I had a flat on my ride, oh yeah, when you go to fix a flat and you take out the bad tube, check your tire and then put in tube, make sure it's the good tube and not the tube you just took out, I'm also blaming this on the heat, I really didn't need all those extra pumps, damn.
I can't believe that damn tire had a flat, it was only a couple of yrs old and the thread was only showing in a couple of places, oh well.




Click image for Info


I'm registered and I'm ready.
This is a great ride, very well organized, no major climbs and plenty of, No, I'm not going to say it, Don't Miss This Ride





I had an enjoyable Mtn bike ride this morning, took the dirt roads north of mi casa, a good workout.
I was definitely in the boonies, saw this deer,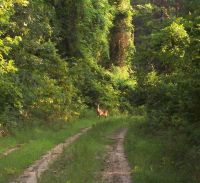 rabbits, 2 armadillos and almost got clipped by a turkey vulture on takeoff.
Allready a much better day than yesterday!





Today was not a good day.
I didn't get to ride this morning because I had a Dr's appt in Shreveport, LA.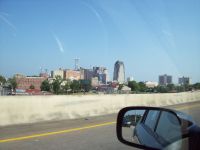 As I checked in at the Dr's office, I was informed that my appointment had been cancelled, DO WHAT?
Anyways I do my best to stay cool, and to make a long story short, we took a 140 mile trip just for the hell of it this morning, 12 dollars worth of gas, ok, ok, I'll be allright.

My Co Pilot, Teresa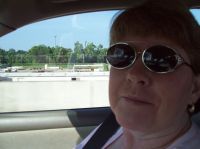 was a little worried when I took the picture of Shreveport above, I almost went off the overpass trying to get just the right pic, I take my pictures seriously.

I will ride in the morning, maybe my Mountain bike, hit the dirt backroads north of here.





Got up yesterday and decided on a 22 mile ride, but after catching the weather on the tube I changed my ride to a 12 miler, rain looked eminent.
As I started out from the house within the first mile I stopped and took this picture.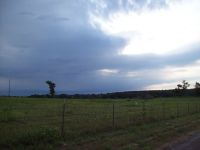 It was a nice morning for riding due to clouds but the rain was heading my way, about 6 miles into my ride I took this photo, looking back toward the direction I was headed.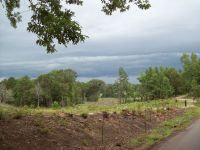 Sure enough, about 2 miles from the house here it comes, a downpour, I loved it, you've got to remember we need rain badly, I was just riding and singing in the rain, rooster tails and all.





Had a nice ride this morning, got out at 7am and did twenty two miles on the backroads, climbed Union Hill, one of my favorite rides.
While on the ride, way out in the boonies, I ran across this little fellow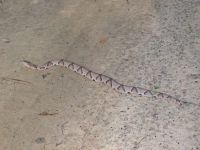 I've shown a couple of pics of Black snakes and they really are friendly, but you shouldn't play with this one.
This is "Copperhead" and it is poisonous, I didn't try to move him out of the road, he's on his own, if he'd been in my yard, I would have had to send him to snake heaven.

******

I was also tickled that Fabian Cancellara won the Prolouge in the Tour de France, one of my favorite riders.





Happy Fourth of July tomorrow, be careful with those fireworks, I remember that Cherry Bomb going off in my hand just as I was throwing it, not good.
Had a good ride this morning, I took my Old Blue over and up some good hills and was soaking wet when I returned, no it didn't rain, Oh how I wish.
Of course I had to take a quick dip in the pool, cool and refreshing in the morning, it the afternoon it's a Hot tub, that's good too.

******

I love the following Bike Pic because it's a pic of a bike just like I owned, sometime around 1953,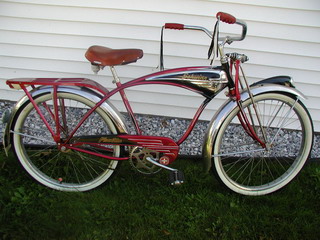 What a Cadillac, front and seat suspension, headlight, horn (you can see button on center panel), luggage rack, I mean it had it all, I almost forgot those streamers fron the Handlebars.
I've owned a lot of bikes since, but I don't think I've ever been as proud of a bike as I was of that one.





I didn't ride today, I got Hotted Out, you know, like rained out, only Hotted Out.
I had to do some yard work this morning since our Yardman didn't show up, maybe it's because we don't have one, and when I was thru with that it was to Hot to ride.
So after yard work I decided it would be nice to take a dip in the pool.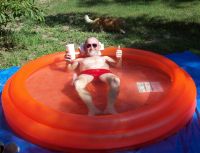 But it wasn't all play, I swam quite a few laps,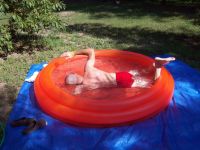 but it was fun, it's fun swimming laps with Grannies Tonnic.

*******

I've had a few folks who asked about the "Yerba Matte", so I made a page to show how I prepare it, to view page, click image below.





Allright, we survived June, now we have July, Aug and Sep and then some relief.
I managed to get out this morning and chase my shadow,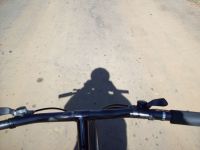 If you look real close you may be able to see my shadow sweating.

The other day it finally rained, we were tickled and so were the Hummingbirds. I'm not sure why but when it gets stormy we get a slew of Hummingbirds, I took this pic of one of our little ladies