June


I have had a pretty exciting morning around here.
First we get up and a short time later we hear a commotion on the front porch, then we SMELL what the trouble is, a damn Skunk.
I thought we were thru with skunks but no, there's no other smell as bad as skunk, hell it'll make you sick at your stomach.
As far as skunks go, mrbill is no more mr. nice guy, no more animal lover, if I see that sucker I'm going to send him to Skunk Hell, I feel better now, but still smell skunk.

About the time the Skunk rucus dies down the dogs start barking and run for the High Line, Teresa hollers at them and then sees that their after a deer and probably a fawn, as Teresa hollers the dogs turn toward the house and the Doe gives chase, chasing them all the way into the yard.
To much action around here for me, I'm going on a bike ride.
I get ready and take off on my bike for a ride around the backroads.
I got a good workout in the bottoms chasing a tractor, caught him and managed to stay ahead of him until he turned, I love chasing tractors.

IT'S RAINING as I type, I can't remember the last time we had rain, it's a wonderful thing, the plants are grinning and we may make watermelons in Cass County after all.



Ok, I'm going to give you a break today and not talk about the heat.
I had a nice ride this morning, I left the house one minute late, at 6:31, a minute can make a lot of difference around these parts right now, due to the, no I'm not going to say it!

While riding thru Carterville this morning I had to stop and take a pic of Mrs.Greens flowers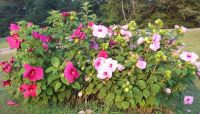 Also saw another one of my friends today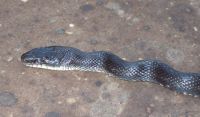 I saved this beautiful snake, as he was laying right in the middle of the road,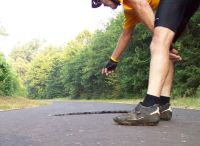 I knew that if I didn't get him to move off the road he would be Snakeburger meat and sure enough as I was coaching him to the side of the road with my little stick a truck approaches, he stops while Mr snake leaves the road and then he drives on, passing me with a, "your crazy" look on his face, he was Black and you know how Blacks don't like snakes.
All kidding aside, these are beautiful and non aggressive snakes.

******

My next ride will be the "Tour de Paris", Texas that is


Click image for Info


I'm registered and I'm ready.
This is a great ride, very well organized, no major climbs and plenty of, No, I'm not going to say it, Don't Miss This Ride





I was going to take the day off to do some plumbing but plans changed.
I discovered that I could rob a piece off my toilet in the shop and put it on the toilet in the house, Wha La, fixed, now I can ride.
Half ass repair job cost me a little time and time is important when the weather is like this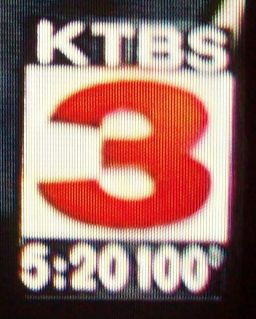 took this photo of the TV screen yesterday afternoon, same again today.

When the weather is this rough it's important to stay in out of the heat if possible, and to make staying inside better, there's Rum and Coke and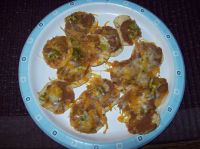 Nachitos, man what a combo, there's always an upside.

******

If you have any problems with Coffee, like it mildly upsetting your stomach, nervous jitters or whatever, I'd like to recommend a replacement.



Yerba Matte, Che Cuevara's favorite drink, although drinking it won't make you a rebel.
I've been drinking it for about a yr and a half now and I really like it, I fix it with Honey and from the link you'll see I like the Mint and Lemon type.
Give it a try, half of South America can't be all wrong.





If you get out early you can beat some of the heat and some of the wind but you can't beat the Humidity.
I took a ride this morning and I stopped in town for a little break, it didn't feel to bad as long as I was moving but when I stopped the water started running, seemed like from every pore in my body, love that humidity.



Due to extremely hot weather, 100 plus degrees, I've had to alter my schedule. Instead of waking up, reading a bit and then taking care of Computer stuff, I now will wake up, read a bit and then get ready to ride, if your not on the road by 7am, forget it.
Got in a nice ride this morning and then after returning home I managed to mow, water, take out trash and vacum the house, Teresa was shopping.
I've had a good morning but now it's time to hibernate indoors until evening when the temps finally drop to around a cool 90 to 95, the early morning is best, about 75 degrees.
Better run I smell cooking, Teresa went to the Farmers Market in Atlanta today and I'm going to get some New Potatoes and Squash with tomatoes, fresh out of la tierra, muy bueno.
I wish Lance would quit talking about how nice the weather is in Aspen, I try not to think about Colorado this time of the year, it's depressing, cool and dry, man would I like some of that.



Fabian Cancellara, one of my favorite pro cyclists, won the Tour of Switzerland, you go Fabo!!!
"Tour de Italy" ride report, click image below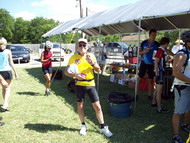 Finished the "Tour of Italy", 1200 riders, wndy, hot and humid, that's Texas this time of the year. Had a good time, a super organized ride, more later with pics.



Had a good ride today, my slightly sprung ankle from the other day is doing fine, it shouldn't be a problem on my Saturday ride in Italy, Tx., but depending on how I feel Saturday I can still use it as an excuse for a shorter route.

Teresa and I will leave tomorrow for Waco, TX where we'll spend the night with a friend, Robert, and then Saturday morning Robert and I'll go to the bike ride in Italy, Tx and Teresa will probably do some shopping in Waco.

******


Cruising down the backroads,
what's that ahead?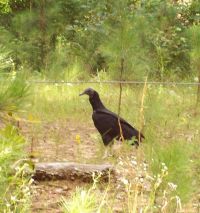 Oh, I see, a Turkey Vulture,
must be something tasty there, he's not leaving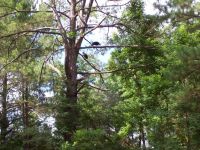 These boys were not as brave



I wonder if Lance or Levi ever forget their clipped in and fall over, I'd feel a lot better if I knew they did.
Yep, yesterday I was showing Teresa my new grips on my Mtn bike, I got ready to take off, my front wheel dug into the sand and down I went, why I was clipped in, I don't know, but I was down.
Almost hit a small brick wall around a plant, barely missed it but did spring my ankle a bit, could have been worse.
I hate it when your there on the ground with the bike on top of you and you can't get your foot out of the damn clip.
I hope this makes everyone out there feel better now, knowing it happens to the best of us, even Lance, I suspect.
Heck, I knew something had to happen, I've got a ride this weekend, hence, sprung ankle, not bad tho, shouldn't be a major problem.
I just got back from a short ride and it's just a bit sore, we'll see.



Taking it easy for a couple of days before my ride this weekend.
I put some new Grips on my Mtn Bike, Ergon GC2-L, and took it for a test drive, think I'll like em.
I'm going to take my Mtn bike with me this weekend to Waco, I might get a chance to ride it on Sunday morning.
Saturday Robert and I will be riding the "Tour of Italy" in Italy, Texas, guess I'll ride the 50 mile route.



******



Looks like my next ride will be June 20th




The "Tour of Italy", Texas that is



Had a good ride yesterday even tho I didn't feel one hundred percent.
It was really warm and extremely Humid.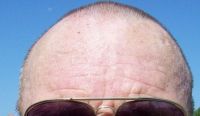 Look closely you can see sweat,
like a slow leaking faucet, drip, drip, drip

After 38 miles behind me and things heating up I come to,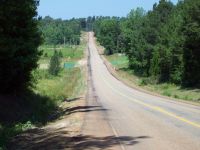 "Heartbreak Hill", it is a harder than it looks, believe me.



It was nice riding the blacktop today after yesterdays mudfest. I got in a good ride but nothing to drastic, I plan on a 45 miler tomorrow. will need to get out early, it's heating up in Texas and the Humidity goes right along with it.

******

On a transatlantic flight, a plane passes through a severe storm.
The turbulence is awful, and things go from bad to worse when one wing is struck by lightning.
One woman in particular loses it. Screaming, she stands up in the front of the plane.

'I'm too young to die,' she wails.

Then she yells, 'Well, if I'm going to die, I want my last minutes on earth to be memorable! Is there anyone on this plane who can make me feel like a WOMAN?'

For a moment there is silence. Everyone has forgotten their own peril.

Then a cowboy from Montana stands up in the rear of the plane. He is handsome: tall, well built, with dark brown hair and hazel eyes.
He starts to walk slowly up the aisle, unbuttoning his shirt...........

One button at a time........

No one moves................

He removes his shirt........ ......

Muscles ripple across his chest.........

She gasps...................

He whispers to her...................

'Iron this...........then get me a beer.'

******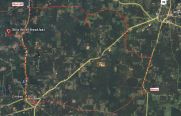 Tomorrows ride, 45 miles, 15 to 18 mph avg, start time 8 am, call me at 903-756-3541 if you want to make this ride.



It was nasty out there today, really nasty.
We had some storms move thru last night and like I said the backroads were a mess, I worked my butt off.
I don't claim to be a real Mtn biker, but today was a mountain bike day.
At one point going up a muddy clay hill I had to walk because my rear tire just spun on the wet clay, fun.
The soft stuff really makes you work, slogging thru then you hit some hard stuff and the bike just seems to take off, oh yeah, at least until the next soft spot.
Nick over at Bicykel.com talked about riding with Butterflys, that has to be better than those damn Horse Flies that kept biting the crap out of me today, poor things are hungry.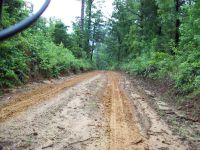 Most of the roads were a mess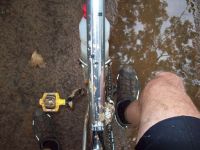 Water holes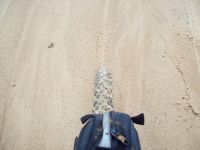 Deep sand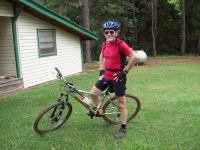 What's left of me, I don't look that dirty,
I promise it was muddy and nasty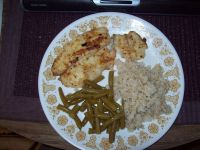 Finished off the ride with some grilled fish, green beans and brown rice, thanks Teresa.



Todays ride in a word, Humid.
This is my least favorite time of the year around here, temps in the 90's and humidity of 100%, it's a boilfest.
It was a good ride tho, they all are, some are just better than others.

******


Looks like my next ride will be June 20th




The "Tour of Italy", Texas that is



Nice easy ride today, hit the backroads on Old Blue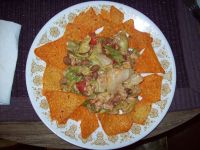 Enjoying my "Taco Salad" with chicken



Had a nice ride today, my stomach wasn't quite right but my legs were.
I was going for 40 miles and I had two bail out points, one at 25 and one at 30, both of em looked pretty good, but I pushed on, and of course I was glad I did.
The wind was about as hard as I like it and I had full Sun and about 80% humid. Eighty percent humidity makes you feel a bit like Cousteau, especially if you wear glasses, like an under water ride.
I guess it's getting a little warm for the dogs, I had to yell at a few of them to get em going, if I'm out in the heat, they're going to be in the heat, only fair.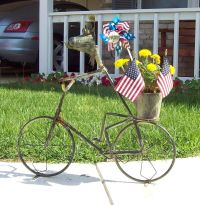 I spotted this Bike while on break in Kildare, kinda neat.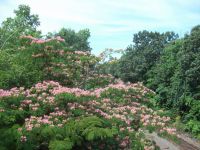 The Mimosa's are in bloom, I took this pic while crossing the railway bridge into Bivins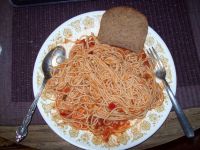 Always nice to finish up a ride with a plate of Gluten free Spaghetti with some rice pecan bread with garlic butter, um um good



Beautiful day for a bike ride, I took the mountain bike and hit some rough backroads.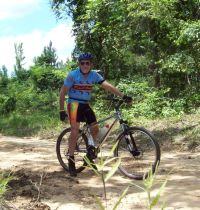 I always like to be color coordinated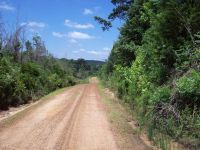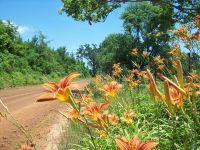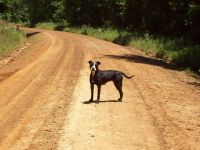 Made a new friend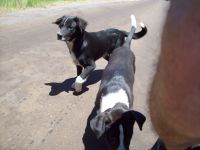 Friendly dogs, too friendly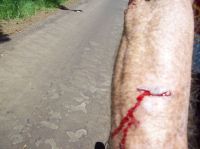 Friendly dogs kept jumping on me and wouldn't stop, got a couple of wounds, and I was worried about the Pit Bulls



It's good when you feel good, and I felt good today, a nice day on the bike.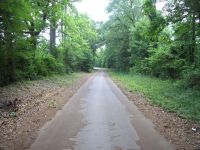 Climbing Red Hill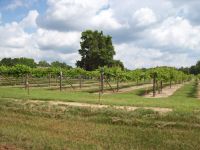 O'Farrel Vineyards, may visit here later and get me some grapes and make me some wine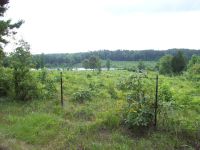 Nice view along the Backroads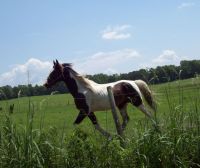 My new partner, he runs along side me and he loves it, hope he doesn't jump the fence and follow me home.



Had a nice 20 mile ride on the backroads this morning, the sun was out, it was warm, the wind was light, a nice day for riding.

******

FIVE RULES FOR MEN TO FOLLOW TO A HAPPY LIFE:

1. It's important to have a woman, who helps at home, who cooks from time to time, cleans up and has a job.

2. It's important to have a woman, who can make you laugh.

3. It's important to have a woman, who you can trust and who doesn't lie to you.

4. It's important to have a woman, who is good in bed and who likes to be with you.

5. It's very, very important that these four women do not know each other.



******



Looks like my next ride will be June 20th




The "Tour of Italy", Texas that is