March


A beautiful day today, cool and wndy with full sun.
I had to do some tree cutting this morning but after a bite to eat it was time for a ride.
Just to nice to miss, short ride, but even a short ride is a good ride.

Thank Goodness, it seems that the recent rain have washed away some of the skunks.

******

The beginning of wisdom, then, was to understand that there are no clear-cut issues anywhere, nothing which one can absolutely accept to the exclusion of anything else.
Those who did not know this were the most dangerous men on earth, more dangerous even than those who believed nothing at all.

From: "Melissa" by Taylor Caldwell



Had a friend visit this weekend so I've been a little out of pocket.
Had a nice visit and managed to get in a mountain bike ride on Saturday, cool, cloudy and very windy.
On Sunday Teresa and I took Robert back to Dallas and once we got back to the house I managed to get in a short cross ride, to beautiful not to.
Now I'm ready go get back in my rut until next Monday when we'll have more guests.
It should be a great week for riding and the recent rains have washed some of the skunks off the road, a real plus.

******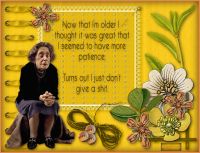 The weather is going thru some changes today don't know if I'll ride inside or out today but do hope to get in a few miles.

Taylor Phinney is really tearing up the track in Poland, seems to have a good head on his shoulders and has got the Genetics for cycling. Taylor's Dad is Davis Phinney, I watched him race a criterium in downtown Salt Lake City many years ago and his mom, Connie Carpenter Phinney is a champion on the track herself.
For an interview with Connie Carpenter I found over at Velo News click
Here
******

The Lord works in Mysterious ways:

Yesterday afternoon Teresa and I were sitting around the house when I heard someone coming up our drive, dogs barking. I went out to see who it was and discovered it was our neighbors children, Lauren and Jordan, on a four-wheeler. I proceeded out to meet them and I noticed they were carrying a box of something on the back of the four-wheeler.

I approached them and said my greetings and proceeded to ask about the decorated box.

They told me the food in the box was a gift from their church, Pinecrest, and that we were invited to attend, I told them that was really a nice thing to do.

At this point I was really wondering if the Lord really had a hand in this, things are tight, but not really that tight.

I ask them, "Am I supposed to take all of it or just some of it, they replied, "well, you can take all of it if you want", I really didn't know what to do, I knew there were people more in need.

I got to looking in the box and I noticed these little cards they had made and they said, "Pray For Alaska".
My first thought was that Alaska may be some critically ill child so I ask, What is this, referring to Alaska, to which Lauren replied, "it's a city", then Jordan spoke up, "No, it's a state".
So I say, "Ok, why are we praying for Alaska", Lauren replies, "Well it's really cold there and when the fishermem want to go fishing they have to break the ice with their feet," I'm smiling inwardly and tell them, "well it sounds like they need our prayers".

We continued to have a little conversation and it turns out their going to "Six Flags" in Arlington on Saturday and to a Cheerleader camp, so I begin to realize their trying to get this box off their hands so they can get ready to leave, not to mention I see some items in the box that look tasty.

I told them we'd take the whole box because our daughters and their children could use it and would appreciate it, that seemed to make them happy and knowing that I was going to get a couple of cans of free food made me happy, we were all happy.

As they drove off down the driveway, I thought to myself, what a nice jester, their parents seem to be heading their children in the right direction, a real pleasure so see in this day and age.

I did have a few after thoughts, do we look needy?, my favorite bike is twenty five yrs old, I haven't bought clothes since Texas was admitted to the Union, no, probably just a nice jesture, and I was thankful.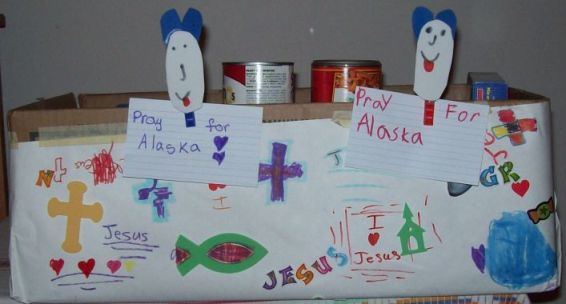 It feels like we're living in a Rainforest or Costa Rica in the rainy season, dry mornings and then by about 3 pm the rain comes, I'm not complaining we can always use the rain.

In China they have the year of the Rat, the year of the Dog, the year of the Tiger or whatever, if we did that here in E Tx it would definitely be the year of the Skunk. I have never seen so many dead skunks on the road not to mention the one I caught while trying to catch some unwanted cats.

Levi stills holds the yellow jersey in the Castilla y León race in Spain, Contador is in second and Zabriske is in third, I hope Levi takes this race, one class act.



Got in a twentytwo mile Mtn bike ride today, half on the county road and half on the backroads.
I got a few pics, one showing the pipeline that runs from TX to Mississippi, it crosses my riding roads about 5 or 6 times, hope they repair my roads when they get thru, and I'll be glad when their gone.
Just barely made it home before the bottom fell out, thunder, lightning and heavy rain.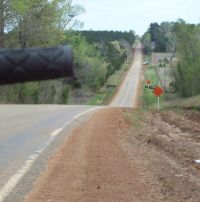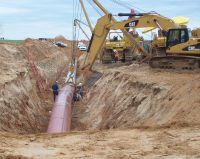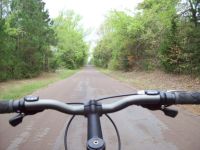 Lance had his surgery today, same old Lance, just has twelve screws in his shoulder now.



Got some needed rain today so I did my riding indoors.
I was tickled that Levi Leipheimer won the time trial in the Castilla y León race in Spain and took yellow, Levi has always been a favorite of mine.



Got in some good riding this weekend so I decided to take the day off.
I did some reading and visited with a couple of the Grandkids, nice day.

******

Lance Armstrong crashed and fractured his right collarbone today in the opening day of the Castilla y León stage race in Spain, his Tour de France is in doubt.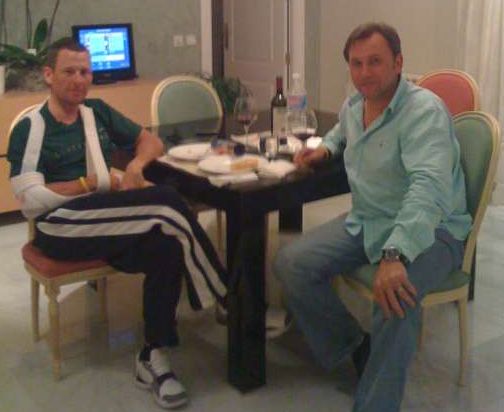 Check out my March Archive - March 12th



I decided today that I would take an easy ride, twenty five miles, not push it since I had a good ride yesterday, but I ended up working a little after all.
Click the image below to read all about it.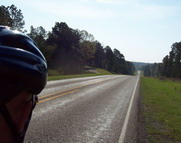 Teresa and I went to Sulphur Springs today to the "Spring Fever 09" bike ride.
We had a great time, it's one heck of a nice ride, one of my favorites.
The weather was just right, 58 deg to 72 deg, full sun and a 10 mph SE wind.
Teresa really enjoyed herself, while I was suffering on the bike, she was shopping, something doesn't sound right about that.
Some friends from Texarkana were there and I met some new folks, even got in a little pace line with a couple of animals from Dallas, 668 and 603, it was fun, I didn't finish with them.
Everybody be sure and come back next year, even tho you probably don't have to be reminded, like I said, a good ride.

click thumbnail below for pictures of ride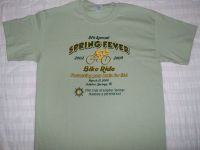 ******

Cavendish won Milan/San Remo, an amazing rider at 23 yrs old.
My pick for the win, Boonen, came in 15th and Lance came in 125th, and so it goes.



It's nice to be alive, considering the alternative.
On Tuesday I ate something that didn't agree with me and I was down Wed and Thursday, but coming around today. I have Celiac, which means my system doesn't process Gluten which is found in wheat rye barley and oats. This is something you're born with and if it isn't diagnosed it can literally kill you, so you must watch you diet closely.
Only after my diagnosis did I realize how many things contain Gluten and flour, it's almost impossible not to get a bit now and then and sometimes it knocks me down.
I guess if you didn't get down once in a while you wouldn't appreciate feeling good.
I'm going to try and get in a few miles today and hope I'll be up for the Sulphur Springs ride tomorrow but probably want be leading the pack.

******

George Hincapie on Milan/Sam Remo
Here
******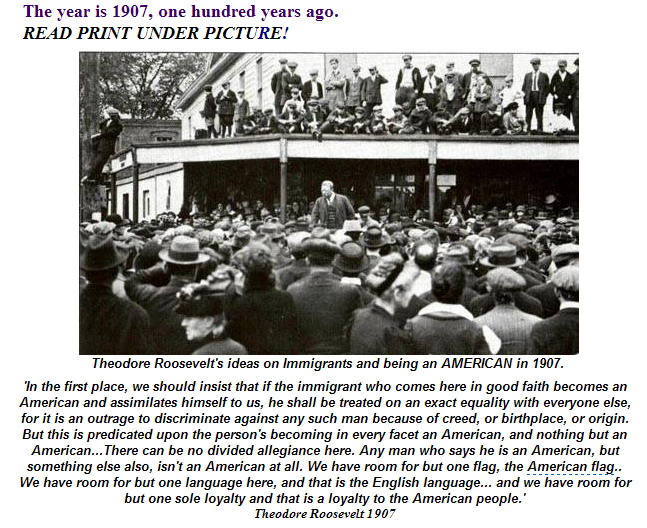 Sounds good to me



Got in a great ride, the weather was supreme.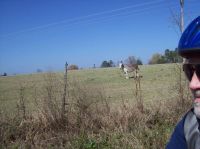 Waiting for the fog to burn off and then I'm going for a ride, nice temps.

******

Time Trial: Marrietta to Linden: 15.5 miles

Thursday Mar 19th, I'm going to do a TT. The TT will start in Marietta, TX and end in Linden, TX, it will be approximatelly fifteen and a half miles.
The course is up and down and round and round, not much flat. We'll start at 9am, best time wins 25 dollars and will hold record for this event until it is beaten.
Come on out and see if yu can beat mrbil.

*******

"Women and cats will do as they please, and men and dogs should relax and get used to the idea." Robert Heinlein



The weather just don't get no better than what we have today, 68 deg, full Sun and low Humidty.
Took a ride on my Mtn Bike and really enjoyed being outside after all the rain we've had the last few days.



Contador bonks, loses Yellow, but shows character in final stage.
Cool, cloudy and damp this morning but things should be improving dramatically in the days to come.
I rode indoors again yesterday but today it looks like I may finally get to ride outside.

Humorous News
******

My next ride is:
"SPRING FEVER 2009" Sulphur Springs, TX
Saturday, March 21, 2009
Looks like the weather will be OK, even if we do get a little rain it shouldn't matter the temps are fine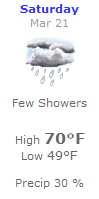 Hopefully the rain will end today and I'll be able to get in a few miles in on my bike in the great outdoors.

******

I know some of yall reading my page lately are thinking, "I believe he's a little gun happy."
Actually I'm not much into guns at all, had all I needed of guns in Viet Nam, I'm just trying to put my message in a form that will be understood by the ignorant Rednecks who have no regard for human life, bringing it down to their level.
A couple of days ago I put out our "Cat Trap", small animal trap, because we were getting some male cats coming around causing problems.
At the time Teresa was in Atlanta on errands and I was going on a bike ride. Before I left on my ride I remembered the trap and decided I'd better check it to make sure I hadn't caught any of our cats.
I walked up to the trap and, whoa, back up quick, take a second look, no that ain't Spotty, it's a damn Skunk, oh boy, what do I do now.
Well I went ahead and went on my bike ride, when I returned Teresa had also returned from Atlanta. As I walked to the house Teresa came outside, I said, "Darlin, while I was riding I happened to remember we didn't check that cat trap, I thought I saw Spotty out there, would you mind checking it?"
Yeah, I'm onery, but I came by it honest, my Mama was Onery.
As Teresa headed for the trap I went inside and proceeded to the back window where I could see what was happening, as Teresa neared the trap, I heard her holler, I was amused and at the same time a little concerned.
As she returned to the house I asked, "Did we catch anything?", to which she replied, emphatically, "You Damn Right, A Skunk", I say, "You're kidding, we didn't catch a skunk."
She takes me to the trap and to my great surprise there was a skunk, looking back I'm really glad she didn't get sprayed, I may have been looking for a new home, that spray will gag a maggot.
We proceed back to the house and I tell Teresa to call the Vet and ask him what we do now. The Vet said we could do one of two things, sneek up and open the trap and release the skunk or shoot it.
Of course the shoot option sounded pretty good and most of the rednecks in this area wouldn't have thought twice, but I had second thoughts.
I get the pistol and Teresa and I head for the cage, as we approach little Skunky doesn't seem to notice us so I ask Teresa, "Recon I could get the door open without gettin sprayed", she replies, "I wouldn't try it, just shoot him."
I move in a little closer, he moves a bit, kind of turning his ass toward me and I back up fairly quick.
I hand Teresa the pistol and told her to keep an eye on him while I try to open the door. Sure enough when I get close he gets excited and starts to turn, Teresa yells "he's gonna spray", I retreat in rapid fashion. After several attempts I manage to get the door open without getting sprayed, we leave and let Mr Skunk alone.
Now you tell me, do I like to shoot things, I think not.
Acutally Skunky was kind of cute, I asked Teresa if we could keep him, but she wouldn't go for it.

******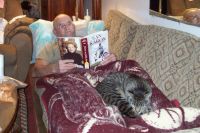 You know the weather is nasty when Rascal comes inside, and when he comes inside there's only one place he wants to lay, between my legs.

******

Robert Herrick:

"Gather ye rosebuds while ye may, Old time it is a-flying"

From: "In This Mountain" by Jan Karon



Allright, Alberto Contador has taken the stage and the yellow jersey at Paris/Nice, a strong rider, maybe another Tour de France.
Congrats to Tyler Farrar for his stage win in Tirreno-Adriatico. Beats Cavendish.
Just sittin here watching the rain and hoping for Sun, we did need rain but after about 5 or 6 inches, I believe we're caught up for now.

I did my ride indoors yesterday, managed to get 10 miles, sure isn't as enjoyable as outdoors.
Nick over at bicykel.com thinks it strange that people ride indoors because of the heat in the summer, apparently he's never riddin in one hundred degree temps with one hundred percent humidity, can be dangerous, people have died because of these conditions, and when it gets about 105 it's hard to breath.

******

I've come up with a new Tshirt design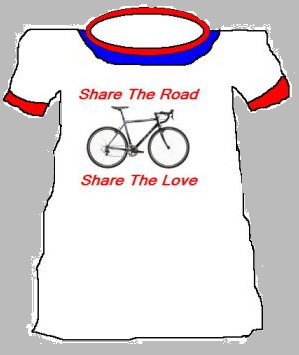 Click Tshirt above for Logo on Back

My wife says it's a little violent, I told her, "Violence is when a Vehicle passes within twelve inches of you going seventy miles an hour."
I guess you just have to be there, I'll never understand how people can take a chance of killing someone for no reason.



Just saw on Twitter that George Hincappie took a fall on an uphill section in the Tirreno/Adriatico race in Italy. Luckily he landed on his head, got a bump, but he's alright.
Careful George, you ain't gettin any younger.
I hope I'm wrong but I thing Lance may crash this year, he's overdue and you loose a little reaction time with age.
Rain is the order of the day and cool too.
I'm going to try and force myself to get in 10 on the trainer today, it want be easy, I may have to threaten myself, no ride, no Grannies tonic, that ought to do it.





******

"No rest for the wicked and the righteous don't need none."

From: "In This Mountain" by Jan Karon





Had a good ride today, short but sweet and it had it all, even Wind, but I'm getting used to it.
When climbing a steep gravel hill I realize that it's not all power, you can have to much power and your wheel will slip right out from under you, just enough pressure so you don't break traction, finess it.
Looks like our last warm day for a while, the weather is changing, near 80 today, in the 40's tomorrow with rain, looks like I better ride today and read tomorrow.

Alberto Contador lost the lead in Paris Nice but that may not be a bad thing. Astana should do pretty good this year if they can quit crashing.

******

He glanced at the open journal on his desk, and the quote from Thomas a Kempis which he'd inscribed early this morning.
"Great tranquillity of heart is his who cares for neither praise nor blame."

From: "In This Mountain" by Jan Karon



Windy is all I can say about today, I went for a twenty four mile ride and decided to start out dead into the wind, what the hell.
Actually I'm about to get used to the wind, not liking it tho.



One of those strange days, windy, cloudy, rain, sun, just can't seem to make up it's mind.
I got in a short ride, I'm about to get used to the wind, it was humid also.

******

"SPRING FEVER 2009" Sulphur Springs, TX
Saturday, March 21, 2009




Windy, windy, windy, about 20 to 25 mph out of the South, not good if your pedaling South.
I did a 25 mile ride, the first 12 miles were work, the middle 6 miles were a mixed bag and the last 7 miles were fun and fast.
A couple of times I thought the wind was going to blow me over.
I was real proud of myself for riding today, I definitely considered skipping it due to the wind.



Warm and Windy here today.
I made a short ride, funny how warm it is here and this is only the first of March.

Took Teresa to see her back Doctor in Denton, TX yesterday, thankfully don't have to return for a while.

In biking news, Gilberto Simoni (Serramenti Pvc Diquigiovanni - Androni Giocattoli), held the lead in the Vuelta a la Mexico but lost it in stage 5, he's still in the top 10.
They had a killer stage yesterday, from 2000 ft to nearly 13,000 ft, Taylor Phinney says he thinks it was his hardest day ever as a professional cyclist.

Rock Racing is leading the Vuelta a la Mexico in the Team Category, Tyler Hamilton, Floyd Landis, and even Rasmussen showed up.

******

This time of the year I always get itchy feet, want to travel, it's a bit harder since the Economic Collapse of the World, the thieves are hungry.
I usually head south, to Central or South America so yesterdays trip to Denton was kind of fun, it was kind of like being in Mexico, all the way to Denton all we saw were Mexicans, Supermercados, Iglesia de Cristo, pharmacia, maybe I won't have to leave the country this year, I even have three wetbacks living on my county road.



Had a good ride today, it was cool but Sunny and nice.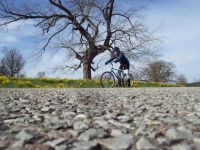 Beautiful day with the Jonquils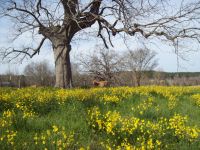 jonquils and Moo Moo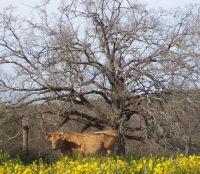 Moo Moo

******

"I've just recalled that Mahatma Gandhi said,
"First they laugh at you, then they fight you, then you win."

From "In This Mountain" by Jan Karon



I rode "Black Dog Loop" today and I was ready for "Big Red", my old pit bull buddy who helps me train.
I really am an animal lover but I'm really tired of Big Red so today I took the Police's advice and took a can of "Wasp and Hornet Spray", the cops said it would definitely put a stop to an aggressive dog.
As I neared Reds house I didn't see him, so I started making some noise trying to get his attention, not luck, I continue on a bit and then I see him, coming on, full charge, bicuspids in the lead.
I wip out my can of W & H spray and all of a sudden he stops about 15 feet from me and won't come any closer, I taunt him, no luck, I turn around and ride back by him and he stays back, dammit.
Wouldn't you know it, not only is he the baddest dog in the neighborhood but he's also got ESP, just my luck.

******

Old Chinese Proverb:

Give a man a fish and you feed him for a day
Teach a man to fish and you feed him for a lifetime



Nice ride this afternoon, cool with a NW wind, but really pretty nice, 52 deg F.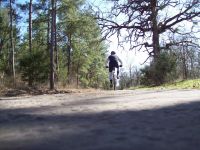 ******


No one will ever do the news as good as Paul Harvey did it, he will be missed, greatly.
Winter is still with us, a cold 24 deg F here this morning, I'll ride today but it's going to have to warm a bit.
Wish I was at the Bike race in Oaxaca, Mexico, a favorite spot of mine, spent much time there.

******

A man dies when he is surfeited, whether he is young or old.
How long he lives is not important; it is only how he lives, in as much beauty as he can see with his eyes, touch with his hands, hear with his ears.

From "Great Lion of God" by Taylor Caldwell