May


Good ride today, the weather was perfect, little windy but I'm getting used to it.
"Bulldog Bob" was out today, he was hungry, luckily he's still hungry, hard to get this photo while in a sprint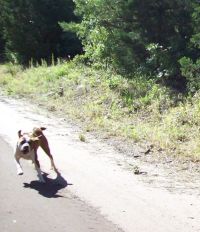 Got about 7 miles to go at this point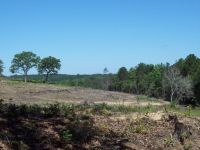 Can you see the Water Tower between the 2 big trees, I've got to go up and down a few times to get to it and then another 3 miles to the casa.
Nice and cool here this morning and the humidity is even at a respectable percentage.
Took a day off the bike to recover and then had a day off to take care of business, now it's time to ride.

Todays Ride: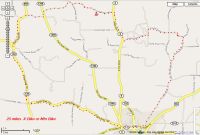 Ride starts at 9am
Lots of nice hills, a good training ride



Good ride today, a solid 45 miles, started with the "Antioch Alps" and ended with "Heartbreak Hill", and a lot of ups and downs in between.
The weather was fine, warm but cloudy for the most part, which is always a plus.
It was a good people day, don't know what it was but everyone who passed me was really polite, maybe they're happy it's a holiday, the log trucks were even nice, a real plus.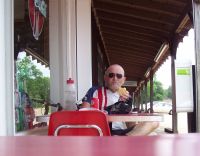 Fueling up at the Country Store in Atlanta, TX, 30 miles into ride



The snakes have been out for a few weeks now but today was the first chance I got to get a photo, on my ride today, about 1/4 mile from the house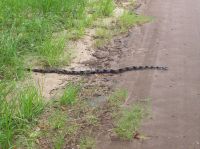 As I rode by him I decided to stop and get a few pics, he was enjoying the warmth of the road. After I got the pic, I got me a 3 ft stick and tried to move him out of the road so someone wouldn't run over him.



At first he seemed asleep but as I pushed him toward the side of the road his tail started moving, then his head until he was in this defensive position.
He was out of the road so I left him alone.
The snake is a chicken snake, a good snake and really pretty mellow.


******



Hey Houston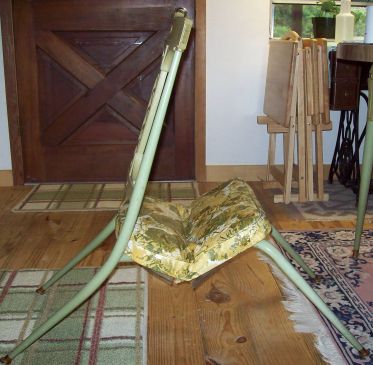 We got a problem



Got a good checkup from my Doctor, looks like I'll live at least another 6 months, my next check-up.
We had a little fun with the Dr when she asked if I was interested in a Living Will. I told her I didn't think it would be necessary cause I was pretty sure Teresa would pull the plug, Teresa speaks up, "Oh Yeah! I know what to do! Pull that plug!", "Wow," I say, "Easy", not so much enthusiasm.

******

Todays ride is a favorite of mine, Union Mountain, a few pics from todays ride.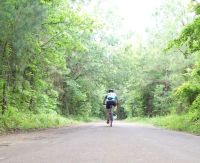 Love those covered lanes, especially when there's sun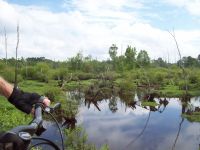 Cruzing thru the bottoms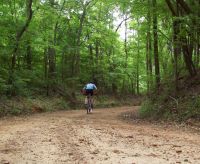 coming up out of the bottoms

A really good day, when you feel good and look good, it's good



Looks like my next ride will be June 20th




The "Tour of Italy", Texas that is



I will take the day off the bike for a little recovery time, I hate to but I need to.

On my ride this weekend in Byers, TX, it was some pretty depressing weather, but as I got ready to ride and headed downtown, things improved dramatically, Click image below to view video of start, all rides should have a start like this to get you going.



******

Take a look at "bicykel.com", link to the right, and make a donation to Nicks daughters bike ride to benefit the Jimmy Fund at the Dana-Farber Cancer Institute.
This is a good thing, getting kids started riding and benefiting a good cause.



The weather just doesn't get any better than this, 75 deg, 35%hum, light NEwind, I wish it would last.
I mowed this morning and then I rode, I discovered that I like Bike riding better than mowing, can you believe it?



Todays ride was much drier than yesterdays.
I planned on taking it easy and I did until I picked up Forrest Gump, Black Lab, that's the runniingest dog I've ever seen, he runs along beside me and I have one heck of a time dropping him, thank goodness for that big downhill.

"Byers Bicycle Bash", for ride report and photos click image of mrbill below.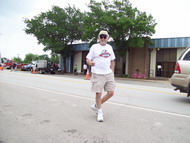 Raining again this morning, it's beginning to feel like a rain forest around here. Don't get me wrong I'm not complaining cause I know we'll be crying for rain in a couple of months, but it's still depressing.
I finally did get the lawn mowed last night but still haven't got to work in garden, you know the old saying, "it's to wet to plow", that's it.

I did an update on the weather for Saturdays ride in Byers, TX, oops, what happened to Sun and 88 deg, now it's 71 with Thunderstorms.



If I was going to Byers to do some carpentry work the deal would be off, always looking for a reason to take off, but this is a bike ride and I'm going.
Maybe it'll turn out like my best "Hotter n Hell 100", the night before the ride a storm blew in and the next day the temps were cool and we had a north wind which helps, here's hoping anyway.



It felt good out there today, I started off singing, "Sunshine on my shoulder, Makes me happy", since it's been drizzelly for a few days. I rode Club Lake road and Tobacco road, both have plenty of ups and downs, a good ride.

I just got to thinking, I'm heading to W TX Friday right after I give blood for Lab Work in Texarkana and my question is, when they take about 4 or 5 vials of blood, will it hurt me on my ride Saturday, hell I need a blood boost not a blood deduction.
I could resort to my old method of Blood Building, drink a half gallon of Spanada, I was younger then, don't think I'll try it this weekend.

I'm looking forward to my bike trip this weekend, half the fun is seeing new places and meeting new folks and then of course the fun time on the ride.
I decided to Google up Byers, TX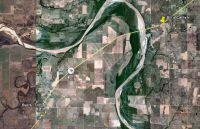 There she is right next to the Red River about 18 miles north of Wichita Falls.
As you can see there's a Catfish Shack named Bill's just across the river, a review says it's the best Catfish on the Planet, got to check that out, I'll give a review.
I live right in the middle of a bunch of Catfish shacks so I should be able to give a good critique, 1rst, must cook with peanut oil.
I'll let you know how it turns out, there's also a Tex-Mex Cafe in Byers, that should be interesting.
Yeah, I'm concentrating on food, when your riding what do you concentrate on?



Good ride today, it's kind of scary the old legs have felt good for the last couple of days, hope they feel as good this weekend.
Good weather for riding today, cldy, cool but humid.

Yesterday was a depressing day, damp and drizzelly all day, I did manage to get in a few miles indoors, boy that was exciting, hopefully today will be better.

Looks like I'll be going to Byers, TX this weekend, just got an email from them and there's plenty of room at "Katys Kids Kamp", I'm excited, I'm going to camp, they're expecting about 350 riders.
I'm still not sure of what distance I'll ride, after all I do have a 5.5 hr drive home after ride, but will do at least 46.
When I think of riding in West Texas I remember when me and a friend rode our first "Hotter n Hell 100", many yrs ago. Before we headed to the ride we had planned to take a nice break under a tree at about 40 miles out. As we did the ride and were rolling along we both smiled at each other as we neared the 40 mile mark, no break under a tree, there are no trees. There's only Mesquite trees and they only provide enough shade for Rattlesnakes.
If you don't know W TX you also may not know of "Goatheads", probably one of the toughest stickers known to man, actually looks like a goats head with two horns, and the horns are like wood, extremely tough, stay on road!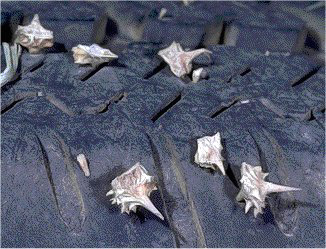 Goatheads

Byers Bike Bash



I sure hope they catch the guy who keeps putting cocaine in Boonens beer.
I've decided to do the "Byers Bash", in Byers TX near Whichita Falls next weekend, May 16, I felt good yesterday and the weather looks like it will be good.
If I can find a big guy to draft I might even do the 62 mile.
Byers Bike Bash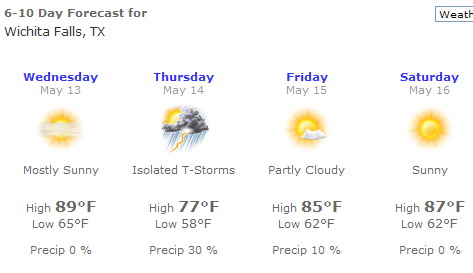 I was blessed with a few clouds on my ride today, which helped to make it a real nice ride. Got in forty miles, from BB to Red Hill, Douglasville, Marietta, Almira, Red Hill and back to BB. It was humid of course, but probably only about 80 percent, which is about medium this time of the year.

On my break in Marietta I saw this Cherry Mustang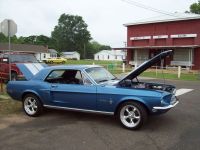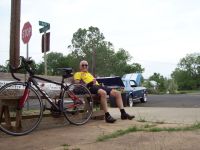 It was a good ride, they're all good.

Astana took third in the Team Time Trial at the Giro today, congrats to Columbia Highroad for the win, and we're off.



Nice ride today, it was windy, out of the south so planned my route where I had the wind pretty much behind me on the way in.
Humidity wasn't as bad as yesterday, had full sun, and no problems, people who passed me were even considerate.
It was beautiful out there today, windy but nice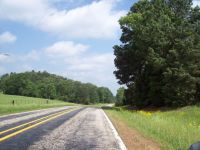 Here's what we like, a beautiful day, a long downhill and the wind at your back, sweet.
Twenty Nine Miler
I happened to think of another advantage the pros have on us weekend warriors, they don't have to mow the grass when they get home.

The "Giro di Italia" starts tomorrow, should be interesting, I haven't made my pick for the overall yet, Basso is one choice, and I hope Lance gets a stage.

Tomorrow is the "Front Range 50" mtn bike race in Colorado should be a good one, watch for Sonya Looney to kick some butt, male and female.



Todays ride was nice, it was cldy, cool and no wind the only downfall was the HUMIDITY, May and June are not pleasant in these parts.



It has been a strange day today, light rain, heavy mist this morning then when I go for ride at 1:45 the sun breaks thru, but all in all a nice ride.

Tomorrow is Teresa's birthday, I'm posting this so you can email her (teresa355@juno.com) a happy birthday and also it'll help me remember in the morning, oh please let me remember.

******

For all those Harley Riders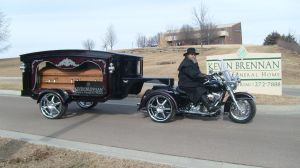 Going out in Style



Had a nice ride today after the rain.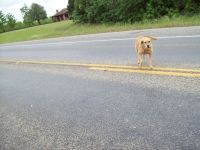 Here he comes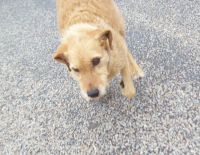 Up close and personal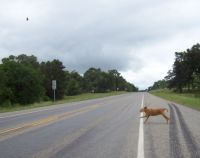 See you later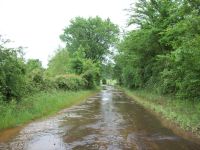 A water obstacle left from 10 inches of rain

You know what they say, be careful what you wish for, well yesterday after my ride I was wishing for rain, and boy have we had rain, since yesterday afternoon probably 10 inches overnight and it's still raining.
It came in with gusto too, I was on the back porch and it blew me away from the handrail into the house, then as I went inside I could hardly close the door behind me, luckily no damage and I still can't believe we didn't lose electricty.

******

I'm considering doing this ride
Byers Bike Bash
it's near Whichita Falls and it's on May 16th, if you're planning on doing this ride let me know, I should know for sure if I'll do it in the next couple of days.
I've got the "Tour of Italy" lined up for June but need a ride for may, maybe Byers Bike Bash.



Todays ride was the best I've had since I got a cold a couple of weeks ago. The weather today also cooperated, cldy, light wind and about 70 deg, it was humid but didn't feel to bad since we didn't have sun, just started pouring sweat when I stopped.
I rode from the Casa to Linden, Bivins, Atlanta, Red Hill and then back to Casa, one of my favorite routes.
The ride was also nicer due to the fact that the Pipeline folks are just about finished up in this area and consequently a lot less trucks and rednecks on the road, Yeah.
It seems that it's almost worth having a cold just so you can feel so good when it's over.

It's amazing the size gears that the big boys and girls push, in the "Gila" time trial yesterday they were pushing 56 and 58 x 11, amazing, I have little use for my 50, I'll have to admit a 52 wasn't bad when I was in my 30's but don't have much use for it now @ 62.



The last couple of days on the bike have been good, it's amazing how much more fun it is to ride when you can get a full supply of oxygen.
The last week and a half I have had cold problems and it was a chore to ride, it's nice to have clear sinuses.
Tomorrow I hope to get in at least forty, we'll see, by saying that here I'm kind of locked in, kind of.

Remember you heard it here first:
Lance will have a Professional Bike Team, "Mellow Johnnys", you think?