November


Nice ride today even tho there's a 15 to 20 mph NW wind, clear and sunny.
Rode the backroads on my mtnbike, a good ride, no dogs, no crazies in cars or other bothersome things.

******

We have some friends who live on the Island of Crete in the mediterranean, looks like some nice cycling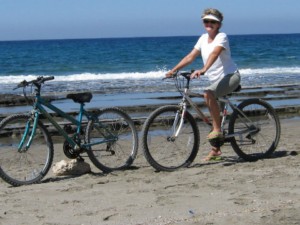 Wanda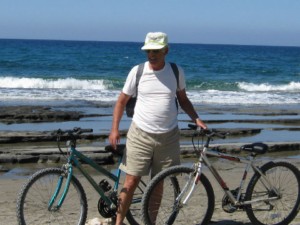 Demitris



Our grandson Bubba called last night to see if we had our Christmas tree up yet, I told him, "Not yet", to which he replied, "Everybodies got their tree up except you", I find this a little hard to believe, but I promise him we'll put it up today.
It's hard to forget Christmas when you have Grandkids.

I sure would like a pair of these for Christmas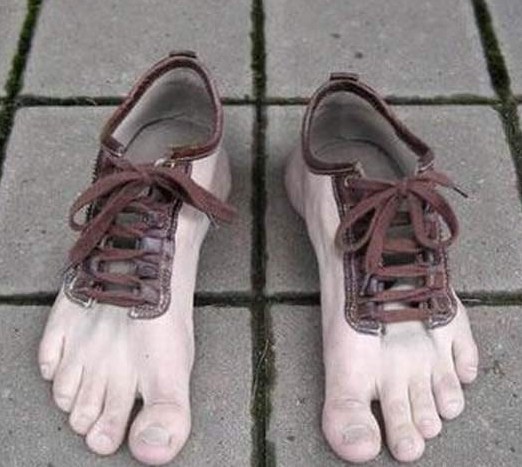 They look comfy and I'm sure they would impress the ladies.

******

A slow morning after yesterday which was a slow day, I didn't do a thing, nothin, nada, lay on the couch, grannies tonic and football, a little reading, will I do something today, maybe.
In the meantime here's a video of a couple of guys doing something, something crazy, wind surfing, watch close.



******

As a skydiver I can definitely say that this old boy is in a world of do do.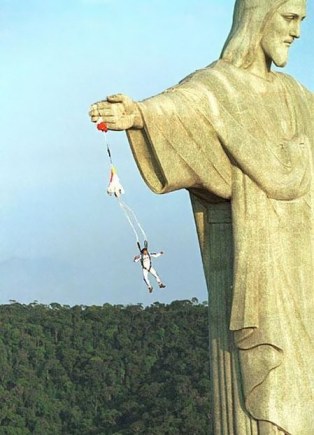 I would really like to know how this problem was solved, is he hanging over a cliff where he can cut away, or is this a helicopter rescue, inquiring minds want to know.





It was beautiful out there today!!!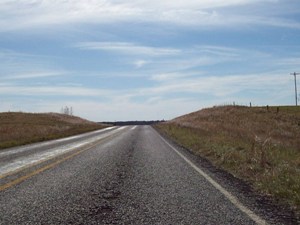 ******

We had a nice thanksgiving, plenty to eat and plenty of leftovers.
The dogs and cats also got a little treat with probably more to come.
I did real good, didn't heap the food up on my plate, and then I went for a mtn bike ride on the backroads to work it off.
Had a good ride up until I returned to the house. Here lately when I return from my rides I've been giving the dogs a workout by riding the trail around our property, eleven acres.
It's singletrack and tight in spots and has some sandy spots.
It was in one of those tight sandy spots that my front wheel dug in and I almost lost it, got control and then rode straight into a cedar tree.
Hitting the cedar tree wasn't the problem, yep, I didn't get my feet out of my cleats and I fell over, been there, done that.
When I fell I landed on a stump or limb, I'm not sure, but my left ass cheek is sore this morning.
To add insult to injury, the dogs who I harass and chase down the trail, noticed when I went down and here they come, I'm pinned by my bike, wondering what's hurting my ass and now I've got dogs climbing on me and barking and licking, what a mess, oh yeah, I'm laughing too, in between the sobs and sounds of pain.
Maybe mountain bike riding is for younger folks, maybe the next time around.

Below is a video of one of my favorite downhills, Black Dog Hill, lucky the pack of dogs wasn't at the bottom today.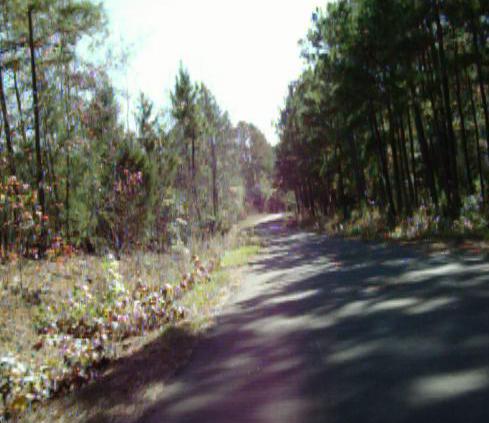 ******

Don't worry about avoiding temptation.
As you grow older, it will avoid you.

- Winston Churchill





I hope everyone has a great
"Thanksgiving"
.
Our turkey is done, MY pumpkin pie is done, and missing one slice, hum, everyone have a great day.
I will try to get in a ride, need to ride off the meal, or part of it anyway.

******

And now one the famous quotes From: Bob Roll (old professional cyclist)

is it my imagination or do homeless people always look like jesus

Sometimes I wonder about Bob





It was great out there today, a couple of hrs on the backroads on the mtn bike.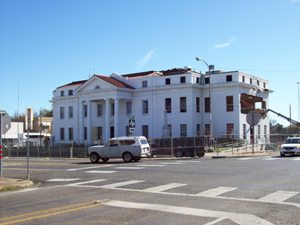 Restoring the Oldest Courthouse in Texas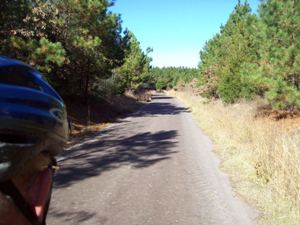 Really nice out, NW wind

******



Our eight grandbaby was born yesterday afternoon at approximately 4:12pm.
Her name is "Alyssa Kay Leigh Barr", she was 5lbs, 12 ozs and 18 inches long.
Everything went fine and baby and mom are doing well.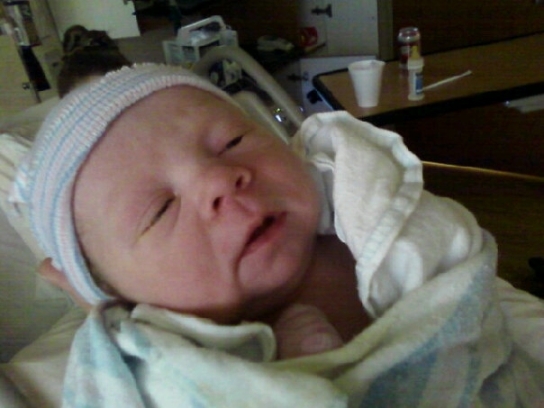 ******

Peter to his father:

"Why did you buy all those bananas if you knew we were going to have to lug everything a half mile?"
"Insanity," he answered. "Hereditary Insanity." It was a favorite concept of his.

From: "The Centaur", by John Updike



From: Sharon

Ahhhh, Love those grandbabies. She is a cutie!!






Today started out a bit shaky, rain on the roof and a NW wind.
Things got progressively better and I was out on the bike by about 11:30am, perfect except for the 15 to 20 mph NW wind.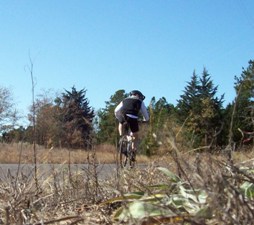 ******

George Caldwell:

"The Founding Fathers," he explained, "in their wisdom decided that children were an unnatural strain on their parents. So they provided jails called schools, equipped with tortures called an edcuation.
School is where you go between when your parents can't take you and industry can't take you.
I'm a paid keeper of Societies unusables--the lame, the halt, the insane and the ignorant.
The only incentive I can give you, kid, to behave yourself is this: if you don't buckle down and learn something, you'll be as dumb as I am, and you'll have to teach school to earn a living."

From: "The Centaur", by John Updike





Good day for a ride, but cldy, you'd think it was going to snow if it wasn't 60deg.
Hit the backroads on my Mtn bike, with 1.5 slicks for tires, rolls much better when I hit blacktop, just a few rough spots, but to rough for road bike.

I got a kick out of Lances post on twitter yesterday following the "Mellow Classic" mtn bike race on his ranch.
lancearmstrong
Agh!!!!! Wha?!? Flatted out of the @mellowclassic - running second to @jeremyhk. I didn't think the flat gods would do this @ my own place!

******

George Caldwell:

"I'm a ministers son," Caldwell explains.
"My old man was a Presbyterian, and as I understand it from him there are the elect and the non-elect, the ones that have it and the ones that don't, and the ones that don't have it are never going to get it.
What I could never ram through my thick skull is why the ones that don't have it were ever created in the first place.
The only reason I could figure out was that God had to have somebody to fry down in Hell."

From: "The Centaur", by John Updike

******

I never drink water because of the disgusting things that fish do in it.

- W. C.. Fields



I liked this photo of Dave Wiens at Rancho Pelota yesterday.
I hope the lower sections dry a bit before todays race, would be nice.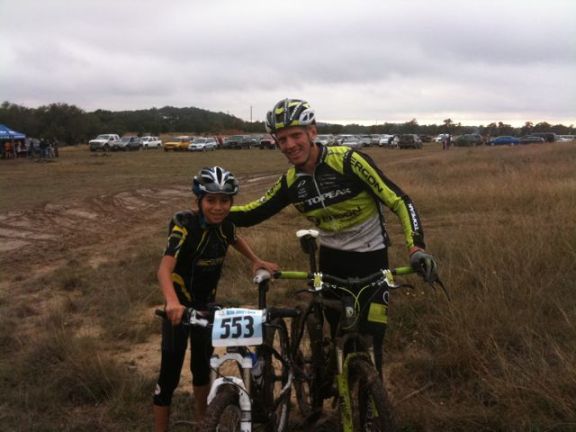 ******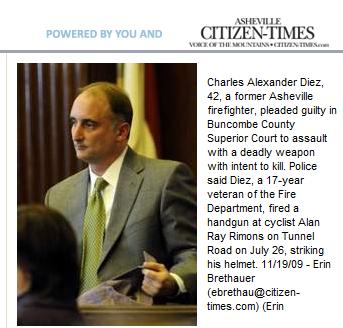 Lot of "Nuts" out there!!!!

******



My wife has a slight impediment in her speech..
Every now and then she stops to breathe.

- Jimmy Durante





I liked this photo of Dave Wiens at Rancho Pelota yesterday.
I hope the lower sections dry a bit before todays race, would be nice.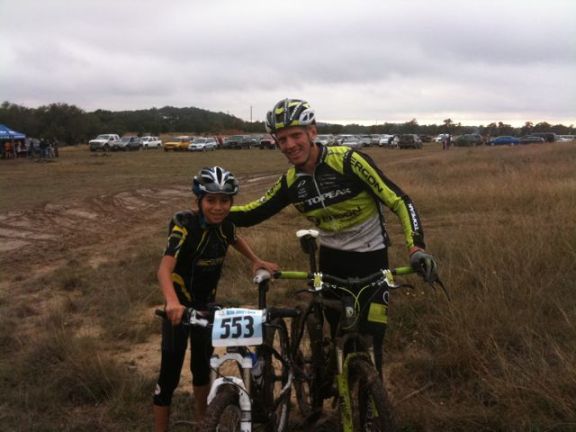 ******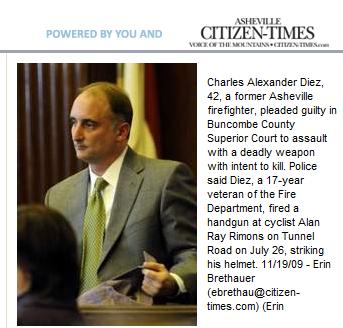 Lot of "Nuts" out there!!!!

******



My wife has a slight impediment in her speech..
Every now and then she stops to breathe.

- Jimmy Durante





Yesterday we made a trip to Fort Worth to visit an old friend, Ray Miller.
We had a great time and really enjoyed our visit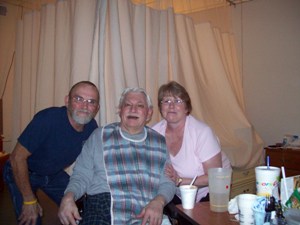 Click on image for Fort Worth trip report with pics



It was a beautiful day for a bike ride, 70 deg and clear blue skies and a light SE wind.
I rode to Linden and back on the backroads, in on Tabacco road and back on 1399, a good ride.
On the way to town I was riding along and I saw a "Praying Mantis", a little further I saw another one and finally a third one.
Since these are one of my favorite creatures I decided to get a picture.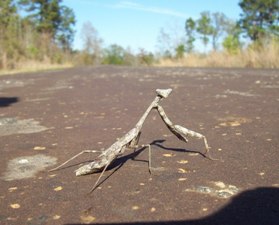 How do you like that pose.

I also stopped by the lumber yard to pick up a small brass cap to cap off a plumbing line, once the gentleman found it, the girls asked how much it was, he hollered, "$3.79, that seemed a bit high, so the ladies got online and rechecked the price, $1.79, saved 2 dollars, allright.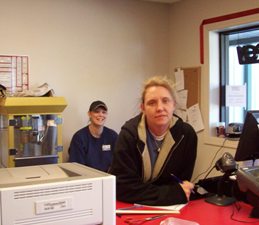 Thanks Ladies

******

The "Mellow Classic" mountain bike race is taking place this weekend at the "Juan Pelota Rancho", Lance's domain in central TX near Austin, should be good.
Below is a video of the course, the easy way to ride the course.





Beautiful out there today, cool, clear blue skies, and a light breeze.
Had to do a little plumbing this morning, replace a kitchen faucet, and then took a bike ride early in the afternoon.
Riding is more fun than Plumbing.



A cold front blew in Sunday night and it's been cool and windy and cloudy ever since.
Yesterday I rode inside and I'm not sure yet about today.
As I was sitting here today I thought about that "Kettlebell" video I saw on "Itchy Bits" blog, crazy, like I think it might be a bit much for me, or anyone.

Here's the video of "Kettlebell" from "Itchy Bits" blog if you haven't seen it.



******

I wonder how mrbill would do with kettlebell?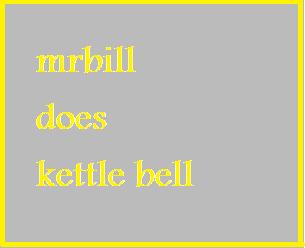 Yep, that's probably how it would go.



Teresa and I decided to kill two birds with one stone today.
Teresa wanted to go to the Flea Market and I, of course, wanted to ride.
We decided I would ride my bike to Texarkana and Teresa would drive and meet me there.
I left the house at 9:15am and rode to Red Hill, then 995 to 77 to 96 to Hwy 59.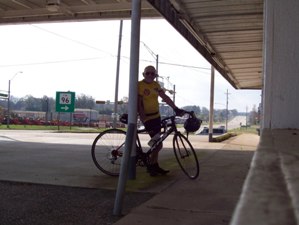 This is me taking a break at Hwy 59, about 27 miles into the ride, the hardest part of the ride.
I thought this store was open and I was dreaming of a nice cup of Sprite with ice, no luck.
I called Teresa, which was our plan, as she left the house I would head north to Texarkana up HWY 59.
I was cooking today and I didn't see Teresa until about 1/4 mile from the Flea Market, I was ready for something to drink, I had finished my water.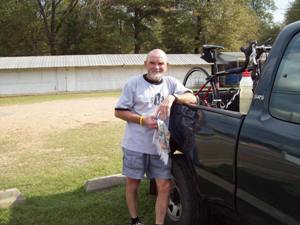 This is what's left of me upon arrival at the Flea Market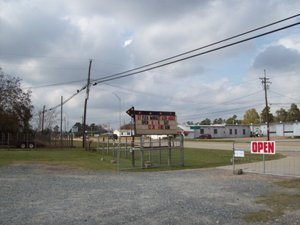 Entrance to the Flea Market on HWY 67 E of Texarkana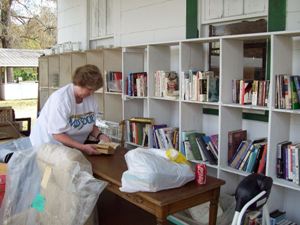 Teresa looking at books, we both needed books and this is one of our regular sources, 25 to 50 cents for paperbacks and 1 dollar for hardbacks, that's hard to beat.
We both scored several books, I'm really wondering about one I bought titled, "Nice Guys, Finish Dead", by David Debin, pretty crazy I think.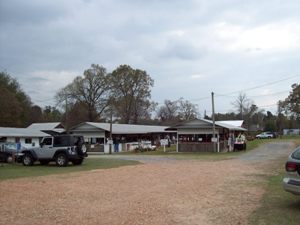 The Flea Market, at opening time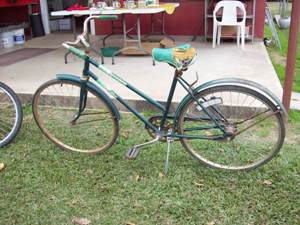 You have to be a biker to understand, but this baby almost brought a tear to my eye, almost brought her home.
Anyone want to give this "Fixee" a home, email me, seat needs a little work, other than that, she's ready to ride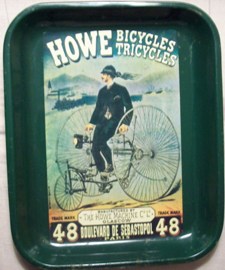 I have a small collection of serving trays, I couldn't resist this one, she wanted 2 dollars, I started to put it back, she says, "One Dollar", I say, "Sold", always use the old put back trick.

So it was a great day, I rode 48 miles, total trip time 2 hrs and 45 min, good for me.
Not a lot of pics from ride, I was working, the pic at Hwy 59 is the only stop I made.
We got us some books and then came home and had a great meal prepared by Teresa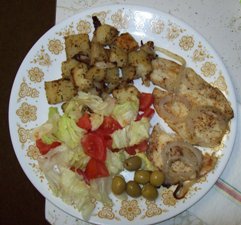 Talapia, fresh green salad, Roasted Basil potatoes and olives, Man O Man, tasty, thanks Teresa


From: Teresa

Had a nice day and you sure made good time. Im proud of you babe!!!




From: Janice

You have to stop putting food on here....You just starve me to death!!!!!
You could have brought that bike home to me!!!!What's it selling for????







Pics from my ride today, enjoy, I did!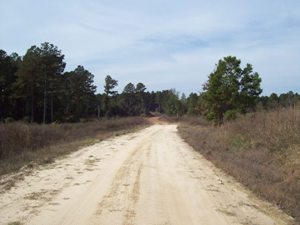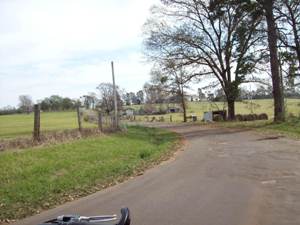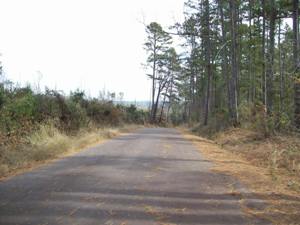 Had a good ride to Linden and back today on the backroads.
There was a south wind but it was sunny and perfect temps, a nice ride.



******



Deer season is upon us, watch for stray bullets on those backroads.
I try not to ride to early or to late.
I really believe most of the danger is near the stands
click on image below.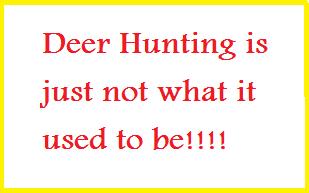 ******

Two of the Greatest Qualities in life are:

Patience
and
Wisdom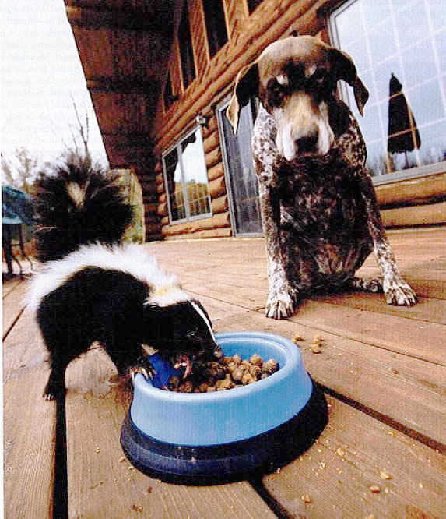 Had a good ride today, rode the mtn bike on the backroads.
On the way home I almost had a heart attack when I was cruising down a backroad, coming up on a driveway on my right.
As I got about 15 foot from the driveway a horse bolts into the road in front of me.
Whoa, I'm always looking for deer, but horses, that could be nasty.
When I got home I needed one of these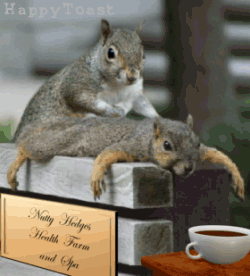 Yesterday was a great day, beautiful weather, good friends, a fair, and most important a forty mile bike ride.
Please click on the image directly below for the report and what I think are some pretty nice photos, enjoy.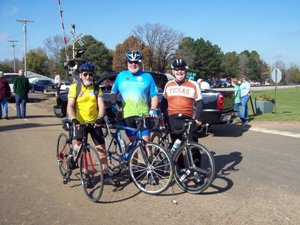 It was a beautiful day for a bike ride and also a nice day for a fair, I had some of both.
Me and three others rode from the Damn at Lake Wright Patman to Bloomburg, TX, where the "Cullen Baker Fair" was in progress.
Later today or tomorrow I'll post a ride report with what I think are some really nice photos, of course I'm prejudice, but click on the image below and see what you think.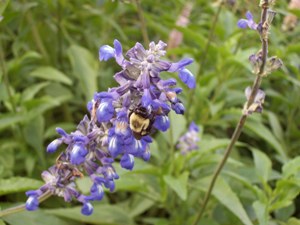 I managed to get this pic while I was waiting in the parking lot for the other riders to arrive.
Pictures with bikes and fair when I post report.





Moorehead, Ontario, Canada this morning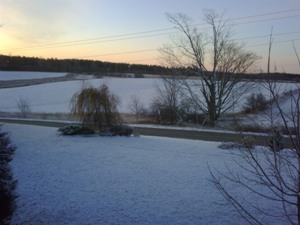 Thanks, John and Marlene, nice pic
If you stop by here occasionally you might remember me posting, Oct 1rst, a pic of some Canadians who were Bicycling Touring from Little Rock, AR to the Texas gulf coast.
Well they've completed their adventure and you can click the image below for an update from John and Marlene on their trip.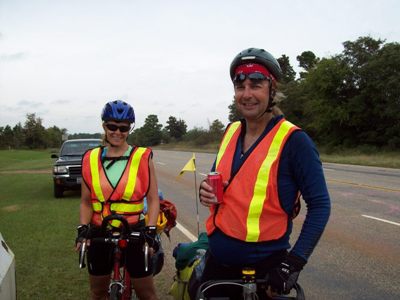 A full day so far, had a ride on my mountain bike this morning, took some cans to sell, I got dressed up, went to Wally World, had some Chinese food, and now I'm ready for a break.

I rode the Club lake Mtns this morning, below is a pic of a pretty good climb, I've found it hard to capture how steep hills actually are in a pic, you know when you climb em.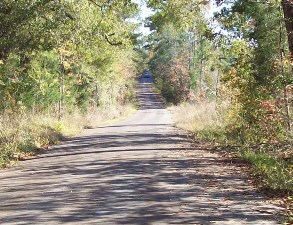 Several good hills on this route and it also goes thru downtown Linden.
While in Linden I noticed the work being down on the Courthouse, which I'm not really in favor of.
The Courthouse is the Oldest Operating Courthouse in Texas and it had a fire, when they were fixing it after the fire they added on to it.
They're now working on making it like it was before the fire, I doubt anyone will ever know the difference and it's costing millions, in one of the poorest counties in the state, ugh.



******



I saw this inappropriate comment on itchybits.com and I got a kick out of it, just imagining what the character was like who made it
"don't know which is prettier, your face or your ass",
that's too much.
Check out itchybits.comthis gal ain't playin, just watching her swing that ball made my back hurt.

Reminds me of the time that gal told me, "hey big boy, your shammy seems to be bulging in front", but you know how men are, I took it as a compliment, not an inappropriate comment.
Or was I dreaming?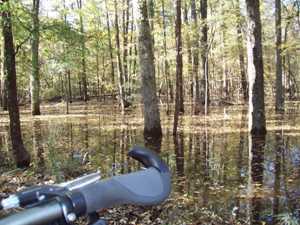 As you can see we've had a lot of rain lately, the bottoms are full, I wouldn't be surprised to find a gator in that soup.
In the foreground is one of my "Looney Grips", not being used to bar ends they felt a little confining at first, but now that I'm used to them I really like them, lots of positions.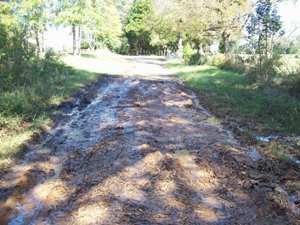 I'm looking back to where I just came from and wondering how I made it thru without busting my butt.
I was coming down a long downhill, cookin, come over this little rise and there it was, no time.
I'm thinking breaks, clips, but no time, picked me a line and made it, nasty.



******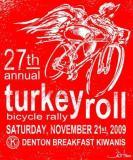 ******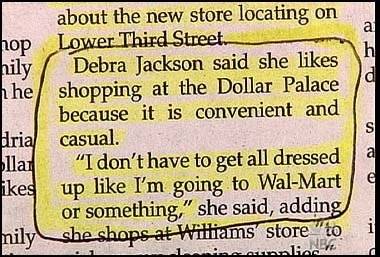 From: Janice

Old Debra must live in the Ozark Mountains, " get dressed up to go to Wal-Mart " Wal-Mart's dress code: Must have clothes and shoes on...I guess that's getting dressed up...
I'd like to go to this Dollar Palace, see how they dress to go there, they're probably running around naked!!!!!!!!
Where's this Dollar Palace located???He He He
From: Nick
hahahhahhahahhahahaahhaha

All dressed up for wal-mart?
I don't even get dressed when I go. Just throw on some shoes and sport my skippies.




It was beautiful out there today
I hope everyone had as good a weekend as we did, the weather was perfect and it looks like it will be that way all week, oh yes, it pays to live right.
I got in a good ride both Saturday and Sunday, road bike and mountain bike, feels good to mix it up.
These days I have to have a mountain bike for the backroads since the recent rains have really been rough on the roads, hit a section yesterday where the pavement was busting up and hit about a four inch high chunck of pavement, wouldn't have been good on a road bike.
I also came upon a small creek running across the road just before Buck Hill, I automatically thought, turn around, don't drown, no way, I sat back on my seat and raised my feet and plowed thru, no problem, just a bit nasty.
Thought about taking a day off the bike today, but it's going to be beautiful, how in the heck do you take a day off when it's 70 deg, full sun, low humidity, just perfect, answer, you don't, I'll be out there.

******

I got the November calendar for the "ArkLaTex Cycling Association" in my email, it's posted below, click to enlarge.
November '09 ArkLaTex Cycling Association Calendar


Click to Enlarge

******



A man was sunbathing naked at the beach.

For the sake of civility, and to keep it from getting sunburned, he had a hat over his privates.

A woman walks past and says, snickering, "If you were a gentleman you'd lift your hat."

He raised an eyebrow and replied, "If you weren't so ugly it would lift itself."


From: Phil

Your getting a wee bit white whiskers, or are those snowflakes on your chin, heh, heh.
Keep up the good fun and keeping fit.