April


I had a good ride yesterday even tho I didn't feel up to snuff.
My ride started out kind of rough too, I clipped in one foot and as I was clipping in foot number two the wind caught me and blew me over, right onto the blacktop.
Of course, the first thing I did was to look and see if anyone saw me, why do we always do that, and then I started looking for blood, just a slight scrape on my elbow and wounded pride.
Don't tell anyone I did this, you know what I mean.

About 10 miles into my 29 mile ride I take a break and I feel "Bla", but surprisingly the last 19 miles felt allright.
I got home and ate and then thought I'd kick back on the couch and read a little, soon after I was out, napped for about 30 minutes, I never nap during the day, so I guess the old body was out of gas, probably all this darn wind we've been having. It was blowing 25mph yesterday gusting to 30, as a matter of fact when I walked out the door and my helmet almost blew off I almost cancelled, but we need wind training, or do we?

We're supossed to have rain and storms starting this afternoon and they might interfer with my plans to go to a ride in Gilmer, TX tomorrow.
I'll probably load my bike tonight and get ready and then decide in the morning, if it's storming in the morning at ride time it's a no go, but if it's questionable, I'll go.
I don't mind getting caught in the rain, in warm weather, but I don't like to start in the rain, ok, so I'm a pansy, I'm authorized, I'm old, and us old folks catch pnemonia easy.


************

Just had to put up a picture of this plant, a "Red Hot Poker"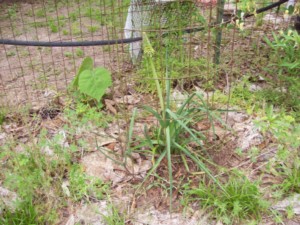 I started this plant from seed a couple of years ago, I didn't realize it was a bulb plant.
I've kept my eye on this thing for 2 years thru 100 deg heat and 10 deg cold hopeing it would survive and finally about 3 days ago it shoots up this bloom.
Teresa couldn't believe it, she thought I was crazy and it was grass, so I was extra happy to see this baby bloom.
I got this picture just in case it gets walked on or ate by the animals before it fully blooms, I'll put up another photo if she makes it to full bloom.






I didn't get to ride Tuesday as I had to go to Shreveport to take care of some business and I also got some work done around the casa.

Yesterday, Wednesday, I had an enjoyable ride


than took me on the backroads and the big roads, fortunately only a short time on the big road.

A funny thing happened while I was sitting at a Church on Hwy 59, I heard a large rumbling and it seemed to be getting closer. I new there wasn't any heavy equipment operating in the direction of the sound becaues I had just come from that way.
It was really loud and I was starting to think "Armagedon" when I looked in the sky and spotted a "B52", man those things are loud.

It made me think of when I was a kid growing up in Fort Worth near Carswell Air Force base and the house shaking everytime a monster plan would take off.
I imagine it was from "Barksdale Air Force Base" in Shreveport, home to the B52's.


Click on the image below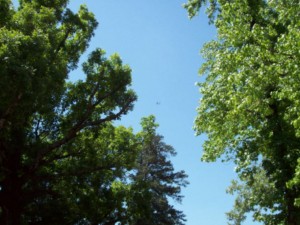 and you can see the B52 as I caught it passing between two trees.

I'm going out for a ride in a bit, not sure yet where, may have to hide out on the backroads out of the wind since it's supossed to blow about 25mph today.






Did 14 miles on the Mountain bike today, backroads, breezy but nice.
I had a real nice weekend, some good riding, time with the Grandkids and no bike breakdowns, a successful weekend.

Saturday was Lindens annual Spring Festival, "Wildflower Trails", I rode my bike to town and met up with Teresa, Robin and Alexus and Ashlynn.
I got to town just as the parade was ending, went with Teresa and the kids to the area where the rides were set up and the air had a greasy midway smell.
It was crowded and I was ready to ride, so I left and headed for the High School.
I ended up with 32 miles on all types of roads, a good ride, the weater was fine, on the tail end of a front.


Teresa and the girls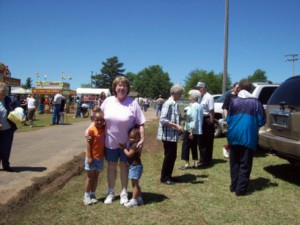 A poster celebrating "Wildflower Trails"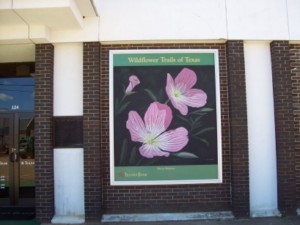 Taking a break in Kildare on Sundays ride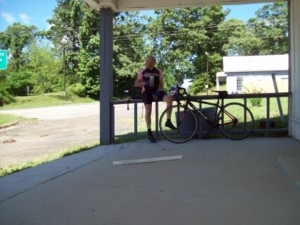 I love the "Million Dollar Bridges to Nowhere"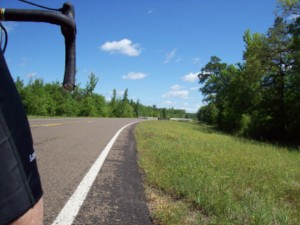 Sundays ride was 40 miles and all I can say is, it was Windy, Windy.
The first 15 miles I felt like Lance and the last 15 miles I felt like Pee Wee Herman on his first bike ride, I guess you have to have a little wind training sometimes, well I got mine.

Everyone have a good week.



Leave a comment From: Lee Hall

Hey Mr. Bill! I just discovered you blog through the links on another blog I check out sometimes. The name caught my eye. I was delighted to see someone bloging about bikes in E. Texas. I grew up in Tyler and the Winona area. My dad was born in Mt. Vernon. I finished High school in 99' and have been bouncing around/ exploring the country since. Alaska is currently home. Great MTBing when the snow melts, but I sure like your photos of those lonely and warm Texas roads. Thanks, cool Blog.

mrbill:
Hello Lee
I'm glad to see that you're exploring the world, getting a real education and thanks for stopping by.
You could send me a nice photo of Alaska, I have a friend in Juneau and would like to get up that way but not in the plans at the moment.

From:Dan O
Looks like a nice ride. Dude with $8000 bike and tennis shoes - pretty funny.

mrbill:
It's hard to feel sorry for a guy with a top of the line Cervelo, but I did, a ride he won't soon forget.







It was a nice day for riding, took the Centurion on the backroads, a good day.


My ride today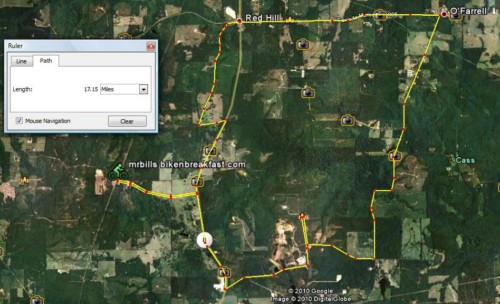 I like to have a ride to look forward to, it gives me a little extra motivation to get out there on the bike when I get lazy, it also helps me do better when I get out there.
Here is a good one, click image for details.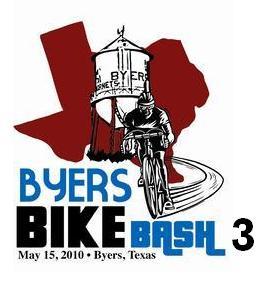 I made this ride last year, the weather was horrible but I loved it.
I highly recommend this ride, it's in Hotter n Hell country, like HHH before it got to big.

Here's a link to my Ride Report from last year
mrbills BBB09 Ride Report



Leave a comment From: MrDaveygieThat ride looks like fun, hope weather cooperates. Oh and I promise no more canadian viagra links. :-)

mrbill: I was glad to find out it was a Hacker, at first I thought you had been talking to my wife.







I got me in a ride today and it was beautiful, everything fresh after the rain and a lot of the wildflowers in bloom.
I was riding a long and looked ahead and said, I gotta stop and get a photo, so I did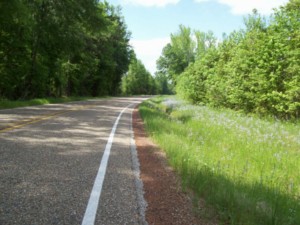 ******



I like to post some of the food treats Teresa fixes for me and I've got a pic of a dish called "Bikers Delight".
I came in after a ride and my Loving wife was in the kitchen cooking, I look in and see this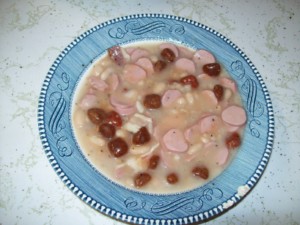 Man it looks and smells good, I can see navy beans, sliced Vienna's, hum, a little bacon, and what's that, little chunks of beef. I say, "Baby, this looks good, what is it?",

she says, "Bikers Delight", "damn it looks good", she says, "Dig in".

I'm already to give it a try and she stops me and says, "look at those little chunks of beef a little closer, it's "Old Roy", that's the dogs food."

I'm immediately super depressed cause it looked good, I thought about giving it a try anyway, I even thought up a "tag line", "Bikers Delight", makes you pedal like a Dog'



I had a day off the bike yesterday, not voluntary, it rained all day but we were happy because we were in a mini drought.
I swear my tomato plants doubled in size overnight, they were just waiting for rain.
It's still raining this morning but hopefully this stuff will move out around diner and I can sneak out for a ride this afternoon.
Hope everyone had a great weekend, ours was good.
Leave a comment From: Harry Leggs We need the rain. If it could be kept to a night time event, that would be great.

mrbill:
I agree, and why does it always rain on Saturday?



I had a great time yesterday at the "Tour de Cypress" in Mount Vernon, TX, to see my ride report click on the image below.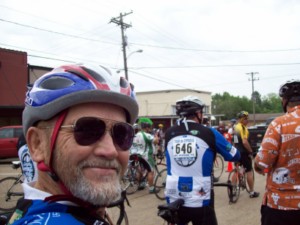 In response to my post regarding books my faith has been restored there are people out there reading, I kind of figured my Online friends read, you can just tell, if you know what I mean.






Had a good day yesterday, went for a ride on my Mountain bike, backroads.
After ride Teresa and I went for Chinese food in Atlanta and then to the Library for a book sale, we got 21 books, hardcover and paperback, for 12 dollars, we like book sales.
It's a shame no one reads anymore, it's very important, I know, it takes an effort, not like being fed by the Boob tube, but it's worth it.

I'm really looking forward to the ride tomorrow in Mount Vernon, I'll be riding 45 miles, should be a good time.
There is a chance of rain, I don't care, it'll be warm enough, so bring it on.
Leave a comment From: Harry Leggs Books, bikes, and Chinese food....that's hard to beat.

mrbill:
add a Rum and Coke and it's unbeatable

From: Nick hey! I read, my whole family reads. We do not do cable, broadcast or SAT TV in our house. Instead we spend time together..... talking. Books are your friend. How else can you continue learning throughout life?
we love book sales too.

mrbill:
You go Nick, we also got rid of Direct TV, I remember asking Teresa, "what's on", she'd say, "Nothing", "600 channels and nothing on, we need to get rid of a payment", and we did, and we're not missing it!

From: MrDaveygie Used book sales are fun. There used to be a neat used book store in town, that was hard to get out of once you got there due to all the neat books.
Have a good ride tomorrow. My brother lives in Mt Vernon, Ia but I bet your not riding in Iowa tomorrow.

mrbill:
No, not in Iowa, Dave, but I would like to ride there now, since the ice and snow has melted.



It was a good day on the bike yesterday, took the Mountain bike out on the backroads, nice, no cars.


Just outside Linden they paved a section of road, man was it nice,
smooth as glass, had to take this pic, why aren't all roads like this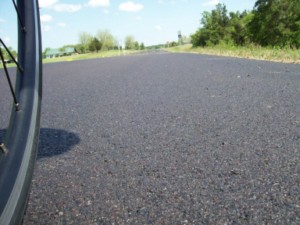 Daddy got a new pair of shoes
I'd recommend Diadora to anyone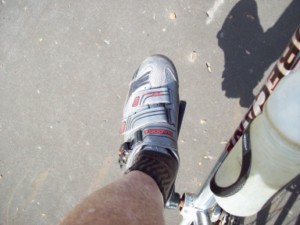 For all those who helped me pic "Hanger 27",
here she is in action, different color, but who cares about color,
we just want to ride.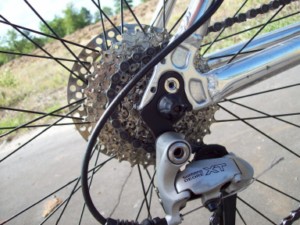 This is a really nice little lake on Club Lake Road
in the foreground you can see some pollen, it's been bad this year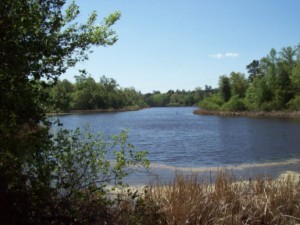 Riding thru Linden got this update pic on the Courthouse Remodel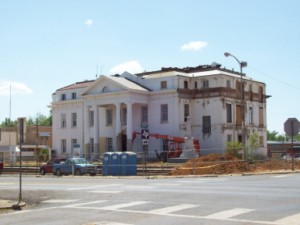 Some sections of the road seemed like I was in India, flower petals on the road,
the last of the Dogwood blooms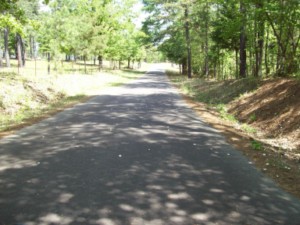 I was riding along and suddenly "fragrance"
it was coming from these "Fringe Trees" lining the road.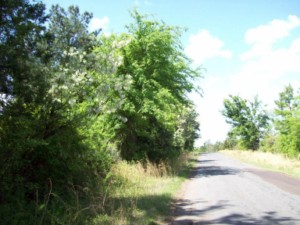 A good day on the bike, hope yours was a good one too.
Leave a comment From: Nick It's not about fun. It's about pain and suffering. More to come on the pain thing. Man I'm on a tear lately.

Who am I kidding, riding my bike is almost the most fun a big kid like us can have.
Be good
Nick

mrbill:
You do need to be a bit of a "Masochist" to be a serious Bike rider



Monday was "Bike Maintenance Day", I cleaned my Mountain Bike, and got my KHS ready for Saturday's ride.
I put on some new pedals, new tires and waxed the chain on my KHS, plus did a fairly thorough cleaning.
Yesterday I decided to take the KHS for a spin to check her out, everything worked out fine, I did have to change my cleats as the cleats I had on my road shoes wouldn't fit my new pedals.
I didn't leave on my ride until about 10:30am, looks like from now on until October I'll need to get out a bit earlier as it's heating up, eighty degrees yesterday.



********



I'm looking forward to Saturday's ride in Mount Vernon.

Click here for info on the
"Tour de Cypress"I've made this ride before and it's a good one, come on out.



********



I'm going to enjoy keeping up with my Online friends this summer, they seem to have their bikes ready, their ready and it should be interesting.
I'm just hoping everyone has a good year, whatever that means to them, hope they accomplish their goals but number one, I hope everyone has Fun, that's what it's all about.






I finally got my Derailleur Hanger, got it installed on my Mtn Bike and took a ride on it yesterday, stopped a few times to tweak the Rear Derailleur, now she's ready to ride.
I can't believe it but I've got 3 bikes functioning at the same time.

One of our Granddaughters, Lexie, came over yesterday and brought her bike, she is five yrs old and a good rider, she rode even better once I raised her seat about 3 inches and lubed her chain.
Maybe she's going to be my riding partner in a few years, I've just about given up on Bubba, he can't get his mind off of four wheelers and horses, Oh well, I've been there.

I was tickled to see my Favorite Pro Cyclist, Fabian Cancellara win Paris Roubeau, overall I really thing he's the best cyclist out there at the moment.

I really wish we could get some rain, we've been dry ever since I planted Pine trees and tomatoes, lifes little Gotcha.

If you get to ride today, I hope you have a good one.



It's all about the ride!

Trying to make me a backroad bike
Put carbon bars on my Centurion, worked good, I was pleasantly surprised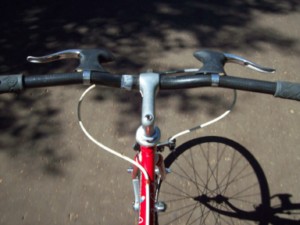 Taking a break at Junction w/Hwy 59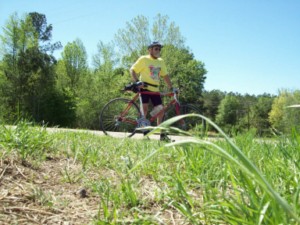 The Fragrance was something else, then I saw all the Wisteria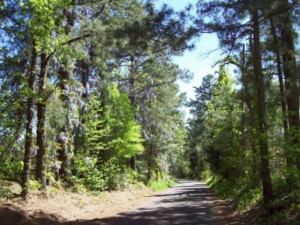 Then I had this dog attack, at first I thought it was "Minnie"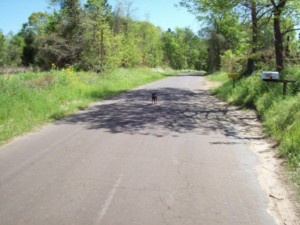 Yep I was getting frustrated, all these bike problems and then my computer crashes, I loose my webpage, I thought about chucking it all, then I went for a ride, now I'm back in the saddle.



******

If you like to read, ride Bikes and travel, you'll like this book, it's entertaining and enlightning
email me: spriy_99@yahoo.com if you want this book