August


Yesterday I took the day off, did a little cross training, with a weed eater, not fun, hot and huuummmmmiiiiiidddddd.

I did get out this morning for a short ride, it was cloudy but really humid.
Slow day

There seems to be a theme here, yep, humid.

Got the Texarkana Cycling Calendar and there's a race in Douglasville on the 11th, that's only 10 miles up the road, guess I'll ride up on my bike and check it out, no, I won't be racing, unless they have an old mans category.
Leave a comment From: MrDaveyGieCross training with a weed eater, I see epic results in your very near future. :-)

mrbill:
It may not help my cycling but it makes Mama happy and when Mama's happy, everybodies happy.



Today I decided to take the Mountain bike out for a spin and as it turned out this ride had everything.
I left the casa and took the backroad blacktop to Center Groove church on Hwy 59.
From the church I headed north to the Rest Area where I got back on blacktop.
This road took me to a friend of ours house, Janice's, where I took a short break.
After seeing this,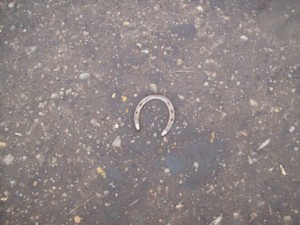 I thought this might be my lucky day so I decided to try and find a road that is on Google Earth but doesn't show up to well with the human eye.
I leave the blacktop on what looks like to hiking trails side by side, not really a road, I keep going, then I come upon this little pond,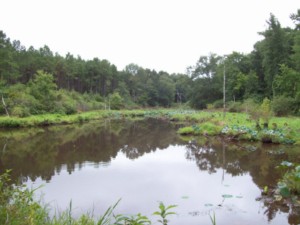 I decide to keep going.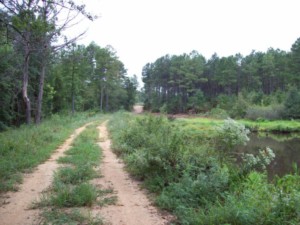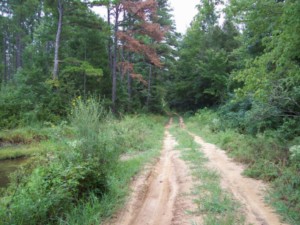 To make a long story short my little road played out at the Gas Line right of way. I travelled down the right of way, rough travelling, I spotted some log trucks, alright, a sign of civilization.
I wrongly assumed that the log trucks were exiting on the Gas right of way, I heade down the right of way a ways and then said to myself, self, the trucks aren't exiting this way, only wild animals have went this way, so I turn around and head back to Log trucks and then I spot the road out, and at this point I'm ready for some PAVE or blacktop.

So my little road does finally come to FM 995, all I had to do was get me and my bike over this locked gate.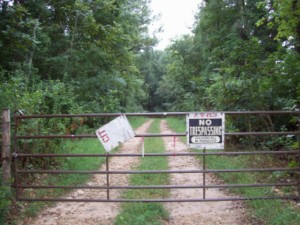 Once over the gate I called Teresa to tell her and Janice that I survived the Jungle and then I headed toward the casa.
Just as I was getting going I ran into a strange site, a Real Cyclist on a Cervelo no less, I'm thinking this guy is really lost.
I stop and meet Richard, who's mom lives in Atlanta, he's up from Houston visiting and was out for a ride, he was really enjoying the hills of Cass County, Houston is a bit flat.

So today was "Big Fun" and I guess the horseshoe did bring me good luck, I survived the Jungle and met a new cyclist, a good day, hope you had one too.



Map of todays ride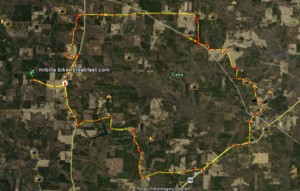 27 miles of fun
Leave a comment From: Richard Edwards

Bill, well I survived the Cass County Hill Hopper! It was niced to run into a fellow cyclist. I will have to admit being a "flat Lander" the hills here due seem to hurt quite a bit more than im use to. But I enjoyed the ride and cant wait to return and ride some around here.

mrbill
The pleasure was all mine, don't run into many cyclist on Cass Co backroads, love them hills!

From: NickI've been exploring with my family lately. So much fun. We ride and laugh.. heckle each other. All the while not worrying about how much time has passed.

mrbill:
Sounds great, I've thought about that video with your daughter singing a few times lately, good stuff, when will we see a video with you singing?
Batten down the hatches, here comes "Earl"



I awoke this morning to another beautiful morning, COOL.
After my near comatose state yesterday I was wondering how my ride would go today.
It was "Big Fun", I didn't get any photos because I was busy riding, vehicles were nice, and like I said it was cool.

I've got a Dilema as far as my rides in the future are concerned.
I've got 3 rides coming up, one is my "Courthouse to Courthouse" ride which I will be doing Oct 2nd, the other two are "Hale on Wheels" in Plainview, Texas, a good 8 hr drive and then the "Waco Wild West Century" in Waco, Texas, a little over 3 hrs drive.
These rides fall on the last two weekends in Sep, I really want to do "Hale on Wheels" as I haven't done it before and I can also see some relatives who live about 15 miles from Plainview but that 8 hr drive one way is a killer on an old boy.
Got some thinking to do, but after todays ride I feel ready.
Everyone have a good day on the bike.
Leave a comment From: Harry LeggsThat zip, nada thing must be going around.



Woke today to no energy, zip, nada, but it was a beautiful day and what could I do?
I went for a ride on my Centurion, my Red Hill, Almira, Linden loop, 24 miles.
I could tell on the ride I didn't have much, felt more like a Tour than a workout.
I don't remember much after I got home, I must have ate something and then it was the couch, that I remember.
Got plenty of rest today, hope I feel like going in the morning or my forty mile ride could be rather rough.
Hope everyone has a great weekend on the bike, take it easy, it's a jungle out there.



What a nice morning for a ride, the coolest it's been since April and a bit drier too.
As I ride every once in awhile I spot something stuck in the road


I saw this this morning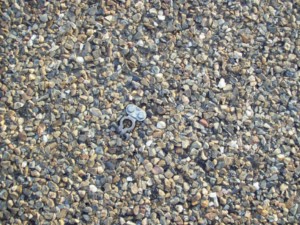 It's not like the old days, now I can put you up a GPS setting on where it is and anyone can find it, maybe we should start Cataloging all these items

Here's my latest read "Franz Kafka", quite a jump from Tony Hillerman and the Navajo Nation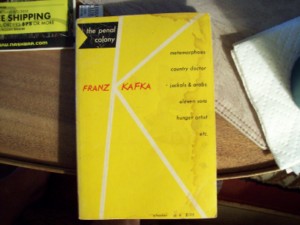 Cass County Courthouse is still under construction, nice Mural done my Mr.Attaway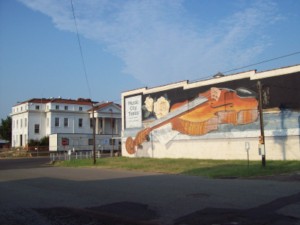 And Last but no Least, Mr. ? who grows my watermelon, yes that's one of my pears in his hand, just wanted to let everyone know that we help each other and I'm really not a thief, think I'll go steal another melon this afternoon, we're out.
If your in the market for a horse, he's got some nice colts for 50 dollars a piece.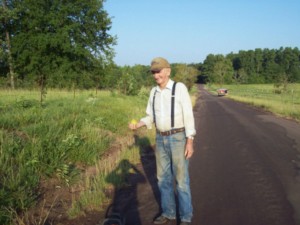 Leave a comment From: Harry LeggsVarmints seem to be slowing down. Just missed hitting two squirrels in one ride.

mrbill:
Probably just a couple of Older Squirrels



Took the day off the bike today, had a few trees to cut, darn near melted down, it was NASTY after that shower last night.

I'm looking forward to my "Courthouse to Courthouse Ride" coming up the first Saturday in October.
I'll be doing the ride this year in in the opposite direction and the route to Jefferson will be different, better road and just a bit farther.
The ride this year is 50 miles long and I'll have a nice break at the Park in Jefferson.
If you would like to join me, drop me a comment or email.
It's not an easy ride, lot of up and down with some good grades but low traffic and out there.


Map of this years "CtoC" ride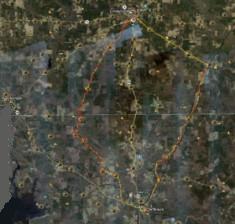 Had a good ride this morning, felt good, got out early but didn't quite beat Old Man Sun.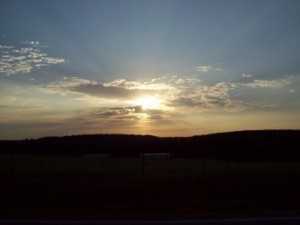 It was Big Fun, I had a Buck and a Doe run along side me for a ways and then they decided to cross over the road right in front of me, the Buck first about 40 ft and then the Doe, was neat.
Of course I had the regular varmits, rabbits and squirrels, a good ride, there all good some are just better than others.



********

And Then

"Teresa's Chicken Taco Salad", Es Un Grande, para dos dias
Mighty Tasty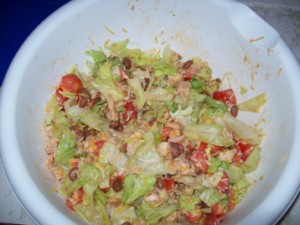 You can only get it at mrbills Bike n Breakfast

The back porch gets kind of lonely this time of the year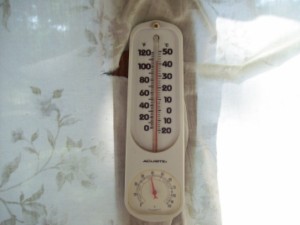 but its real nice in the winter, que sara, sara, whatever will be, will be,
opps, sliped off into a song there for a moment.
Leave a comment From: Teresa

Hello Mr. Sun, great pic baby!!

From: MrDaveyGieStarting to see more deer up here. In few months the bucks will be out chasing the girls.
Good travels to you MR. Bill

mrbill:
Yep Dave, I'm sure glad I'm thru that chasing period, take care, it's a jungle out there.



Got out this morning about 7am and had me a good ride.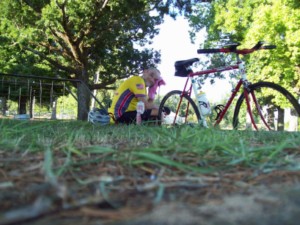 And being an old Skydiver I just couldn't resist this one

"BLUE SKIES"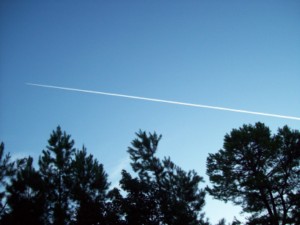 Leave a comment From: Harry LeggsThanks for sharing a little bit of Texas. Very Cool!

mrbill
Thanks Harry

From: NickNice country road. How thick is the air?

mrbill
You know the story behind those Travel Posters too, huh.
Couldn't quite cut it with a knife, but it was drippy, as in sweat drippy, has been worse, a good day!



Missed a couple of days, I'm using the heat as an excuse, and believe me it's legit.
The strangest thing happened, Tuesday morning I got up and when I opened the front door it was amazing, it was cooler outside than inside, that's the first time that's happened since April.
On my ride that morning I even belted out a couple of lines from the "Hallelujah Chorus".
The bad thing is it was like a Cool Fart, it only lasted about 3 hours and then it was gone, the next morning was cooking and boiling again, strange, Life likes to tease us and torture us.

It's not just this old guy that gets down once in awhile and needs recovery, seems like every bodies page I've been to today is down, But Not Out!

Also I'm not the only one complaining about bugs, check Harry Leggs blog, link to the right, one hell of a knot on his head from a Wasp, the bugs have been getting me on the Butt and between my shoulder blades, and it really is a nuisance when they get inside your helmet, I keep trying to remember to get a Hair Net and try that, but forget, until bug gets in Helmet.

I had a crazy thing happen a couple of days ago when Teresa's daughter Robin came over with her girls, Alexus and Ashlynn.
It was about 4pm and I decided to walk the dogs around the trail on our property, thru the woods, takes about 10 minutes.
I let Lexy lead and about 3/4 way around Lexy stops and hollers Snake!!!
I get hold of her and look in front of her and sure enough there's a large King Snake and he had a large rat in his mouth, first time I've ever seen it in person, pretty amazing.
I told Lexy how proud I was of her for seeing he snake and then I explained that it was a good snake and we wouldn't bother it.
I picked her up and we walked past the snake, as we passed I guess he noticed because he let go of the rat and moved off a bit.
It was neat that she didn't freak out and when we got back to the house she was excited and telling mom and grannie all about it, and she told them how it was a good snake, lesson learned.

I've been riding every morning except this morning, I had to go to the Dentist, no problem, only pain was in pocketbook.
The heat is back, supposed to be around 100 for the foreseeable future, I'm really tired of it, damn tired of it.

In the reading department I'm presently reading "Three Jim Chee Mysteries" by Tony Hillerman, kind of light and enjoyable, dealing with the Southwest and the Navajos.

Everyone be careful out there, it a jungle and if it gets bad, just remember, you could be in Pakistan.



I was going to take the day off but it was a couple of degrees cooler this morning than it has been, so after watering tomatoes, peach tree, azelia and dogs area, I decide to take a short ride.


As I head out about a mile from the house I run see mr ?'s Bull along side the road.
No I didn't try to lead him home, there's a big difference between "Watermelon Rustling" and "Cattle Rustling", a big difference.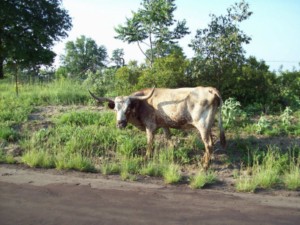 Toward the end of my ride I pass this Cemetery.
I used to ride with a friend who was into history and hence Cemetery's.
I really like the old "Woodmans of the World Memorial".
I took a sideshot and it better highlights the logs at the bottom.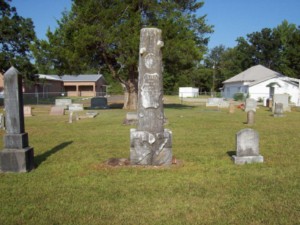 The Lamb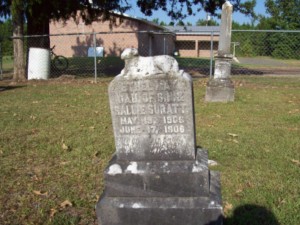 Nice Spot.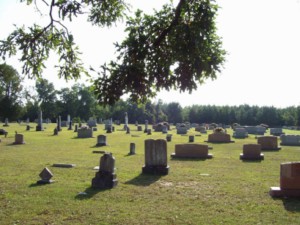 Big Fun today, it only got to 100 deg f and it may even plummet to 97 in the next few days, where's my jacket.






Decided to take the Mtn Bike and do my Union Mtn ride, one of my favorites.
It's good at this time of the year because it does have quite a bit of shade, SHADE, a wonderful thing.
This ride contains all road surfaces, pave, gravel, sand and blacktop, oh, and good old Chipseal.


Atop "Union Mountain", used to have a firetower on top, I could tell you a story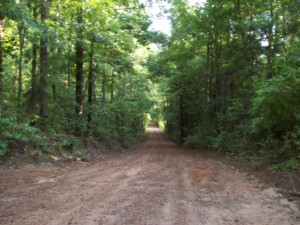 Chicken Houses, I hope you like the pic, I almost passed out taking it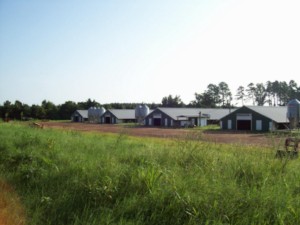 While I was gasping for stinking air I noticed this "Red Wasp", it was that kind of day, the bugs were back, sucking up my recycled electrolytes and a bit of blood.
Why do they always get you between the shoulder blades and inside your helmet




I just call this one, "Out There", not many people take this road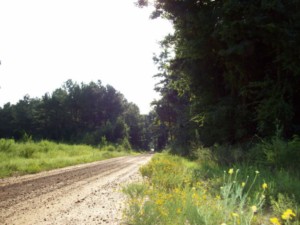 I had a good ride, it was "Medium Fun", could of been Big Fun if it wasn't for those damn bugs, and of course, Heat Warnings, there kind of gettin Normal.

Everyone enjoy your ride and, Be Safe




********




Don't just watch the girl, check out the guy at the table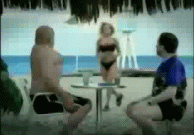 Definitely not a Cyclist



I hate to bitch, but we need a break from this heat.
When you leave the house for your ride at 6:45am and you walk about 15 feet from your front door and feel sweat, you know it's not going to be "Big Fun".


I did manage to beat old man sun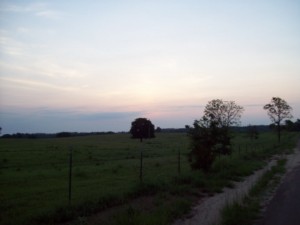 But by the time I pulled into Linden, there he was, climbing into the sky, ugh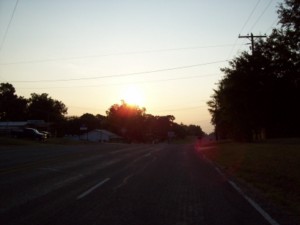 This is a shot of the "Marrietta Rollercoaster", about this time I was thinking, Why can't the Sun come up just a little bit and then circle around instead of going straight up and over, yep, ask any Bike rider, there are many strange thoughts out there, and in this heat they get kind of weird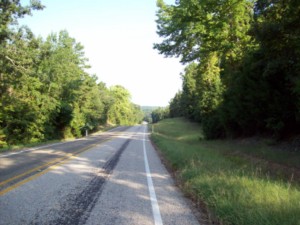 Oh the things you see in the road, anyone need this plug, email me and I'll give you the GPS coordinates for it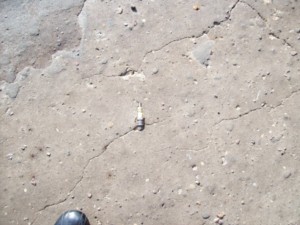 After I eat me some of Teresas famous "Chicken Taco Salad", it'll be time for the couch, read, sleep, read, sleep, eat, go to bed.
Oh the exciting life of an old Bicykeler.

After getting this update ready to post, I checked my comments and I found this,

From: MrDaveyGie

DO IT!!!!! Mr. Bill, that watermelon has your name on it.

What could I do?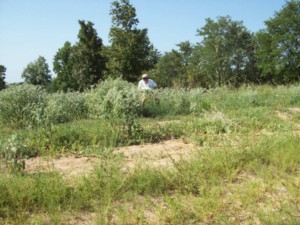 Yep, Teresa and I got in the truck and off we went, we were down to our last melon,
Thanks MrDaveyGie






Got out about 7am this morning and I was a little late, did twenty five miles, some good hills and trying conditions, but only one bug, always look on the bright side.

Here's my Biorythms for today,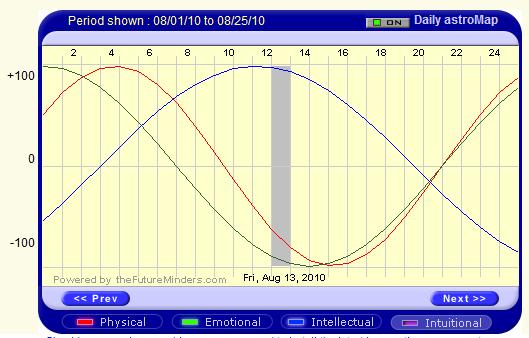 Intelletual good, I didn't get lost,
Emotional and Physical at bottom, no wonder I didn't have much power and felt like crying
Check yours, Link, lower right



********



As I started my ride I rode past this field, I think you know which field I'm talking about.



Hey, what's that hiding in the grass, humm, don't do it mrbill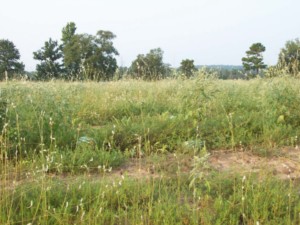 The streets of Linden are paved with money,
No I didn't try to get it, but it sure was stuck,
I'll have to take a screwdriver with me next time.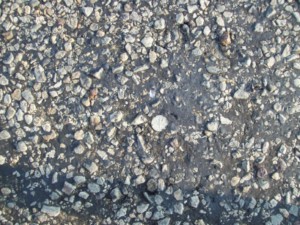 More money, it was stuck too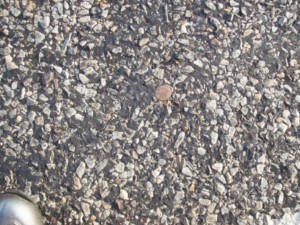 New sidewalks in Linden, ain't it funny that their starting in front of Don Henleys building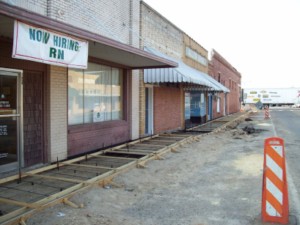 Lastest photo of Cass County Courthouse Restoration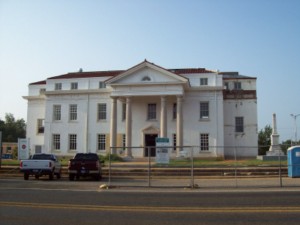 Leave a comment From: NickYou should take a trip to New Hampsire. If you do, leave the bike at home. I can get you something to ride while you are here. We have the humidity too but not as frequent or bad. Nice cool nights and mornings.

mrbill:
That's a darn nice offer Nick, I just might have to take you up on it one of these days, and since your being so accomodating, I'll try not to hurt you to bad on the ride, ha ha, yeah, more like, "Hey Nick, hold up!!!!! dammit.
Have fun in Phoneix and don't let work interfer with your riding, keep your priorities straight.



Yesterday we had a pretty good rain, one of those pop up thunderstorms, but we got some pretty good rain, and in August it is really appreciated.
The only problem is, when you get a rain and it's hot, that means steam, that means a steamy ride, so todays ride was "medium fun".


Here's a picture I took on hwy 995 from on top of Heartbreak Hill
You don't have to look to close to see the steam.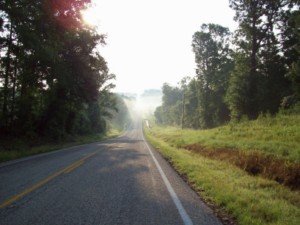 I saw this little fellow and since I need all the karma I can get
I moved him out of the road before some Redneck smushed him.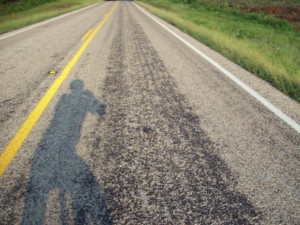 DaveyGie would be proud of me.

If there is such a thing as Reincarnation please don't let me come back as a chicken in one of those Chicken houses, riding by one of those on a hot steamy morning will almost make you loose you breakfast, nasty, a good thing for you my camera doesn't have smellavision.



Leave a comment From: MrDaveyGieGood grief, that is warm down there Mr. Bill. The heat here has zapped me and your more than 10 degrees hotter then us up here.
I'm zapped from yesterday's ride, and trying to learn just to rest.
Ride ON.

mrbill:
I would probably have the big Zap if I put in ride like yours in this heat we're having, heard on the news this morning that we may be headed for the hottest August in History, not a record I'm excited to break.

Did I mention that I love A/C, a damn nice invention, my hats off to the pioneers.

Learning to rest may be your biggest Challenge, your an animal and they seldom rest.








If you've been here and found that I have not, I apologize for my extended absence.
I have not cooked down, but the heat does take it out of you, that's my excuse, the HEAT.
I'm headed to the Dentist today, I like my Dentist and that strikes me as strange, how you can like someone who brings you pain everytime you see them, go figure.

I've been getting in some rides and it hasn't been to bad, guess I'm getting used to the high temps, as much as possible, still in 100's.
I did have a couple of days of no energy, that's when you find yourself staggering to the Frig from the couch, bumping into door frames and holding on to whatever is available, you read for about 10 minutes and then sleep for 30.

You rest and recover and then it feels great to be back and pumping up those hills and chasing dogs.

We have been enjoying the watermelons I acquired last week, we'll cut another one today, our last melon, I may be taking another Mtn bike ride in that direction soon, before the deer and hogs finish the crop.

Hiding from the heat does give me some reading time, currently I'm reading "Morning Noon and Night" by James Gould Cozzens, not a light read but a good one.
From: Morning Noon and Night
Though you may crave such success for yourself, at bottom you would prefer being yourself as you are and unsuccessful to being successful and not yourself as you are.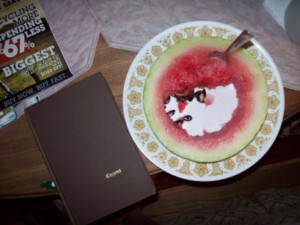 Acquiring free watermelons is accepted practice, a rite of passage for young Texans, it's not Stealing!!!



Leave a comment From: NickStealing may not be a good thing to post on your site. But it makes for great reading.
Hope Texas is being good to you.

mrbill:
You don't really think I'd actually steal, do you?
I'll pay for my melons in some help down the road, Mr ? is always asking me for help.
Texas is a great place to be right now, early in the morning and late in the evening.
Glad to see your getting in some good riding this summer, wish I could be there for one of your races, who knows, maybe in the future.








Todays ride was profitable.
There are other benefits to Bike riding other than just a workout.
On one of my local routes I spotted a Watermelon patch a couple of months ago, I rode by there today, and guess what, Melons.

As I was riding by I heard what sounded like someone calling out, "mrbill, mrbill", I looked and guess what, a watermelon was calling my name.
I stopped my bike and walked out into the field, the watermelon said he had had enough of the Heat and wanted me to take him home, What could I do?

I looked around to make sure Mr. Lee wasn't hiding somewhere in the weeds, he's known for his shotgun and he has been known to sleep in his truck to guard his fields.
I didn't see him so I grabbed the Melon and ran in a ZigZag fashion to my bike, saddled up and rode the one and a half miles to the house.


I don't really recommend stealing, let me restate that, borrowing watermelons while on a bike. A bike affords no protection from potential shotgun blasts and your to slow leaving the area.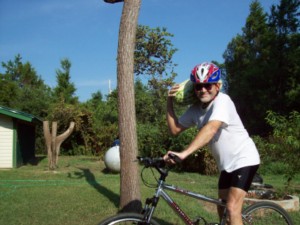 Looks like good riding weather for the next seven days, alright.



Now for the real story. I did see the bike on my ride this morning, but I knew I couldn't carry it because I had a couple of good hills to climb and I might possible pass Mr.Lee on the road.
I rode to the house and got my truck and headed back to the patch, by this time there were four Watermelons calling my name, what could I do?
Were having watermelon later this afternoon, what could I do?






Hot is the word, but don't take my word for it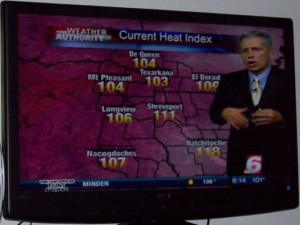 Yep, HOT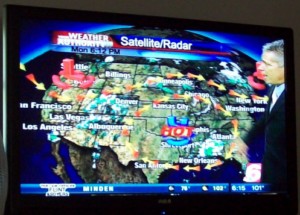 Got out early, but it was still hot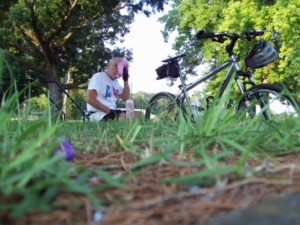 Even with the heat I had a good ride, saw one older human walking, one younger human jogging, and two Cottontails running.
Got back to the house and watered down some spots for the animals and now I'm going to enjoy some A/C.



Leave a comment From: Harry Leggs...and on the 7th day God created AC, so He could rest, and it was good.

mrbill:
Amen