June






Had a good ride on the backroads yesterday but my legs were feeling Saturdays effort so today I'm taking the day off the bike.
This will work out good because I've got to go to Texarkana to get the results from my bloodwork last week.

I did get one pic yesterday before my batteries died.
This pic of of a "Martin Bird House", I've been keeping an eye on the bird house and it's probably one of the most active Martin houses I've seen, see a lot of Martin houses but not this active, pretty neat and of course the Azealas are in bloom.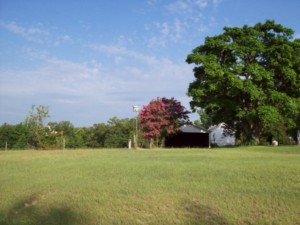 I got back from yesterdays ride soaking wet with sweat and like I said, still a little spent from Saturdays effort so I told Teresa that I was quitting bike riding, finished, no more, all over after 57 yrs of riding.
I told her I was getting me a "Vespa Motor Scooter", to hell with all that pedaling and sweating, moving down the road just twisting my wrist.
Yep, I realize that I will get fat and probably take at least 5 yrs off my biking life and no more "Endorphine High", heck I may have to start smoking so I can replace my Endo high with that good old "Nicotine High", join all the other Nicotine junkies out there.

Then yesterday afternoon I got out and cleaned up my Mtn bike and then this morning guess what, I've decided to keep cycling, but I still have the vision of me cruising down the road on my Vespa, smoking a Marlboro and just twisting my wrist and some good old ZZTop on the Ipod, what a dream!!



********



Leave a comment From: Teresa
Good job babe!!!! I like the pics & the post. Your doing great for a 63 yr old. HEE!! hEE!! love ya

mrbill:
Thanks Darlin, you know I've got the heart of a 30 yr old, if my body could just keep up!



Thought I'd get out and get me in a little ride this morning before it got to hot but heat and humidity weren't the only problems today.
I was cruising along one of my backroads and started up a small climb, went to shift down, not a clean shift and then suddenly I was turning about 170 rpm's a minute, looked behind me and saw a dead metal chain snake laying in the road, oh shit.
I park my bike on the side of the road and start back down road to look for Master Link, I was lucky to find all pieces, leaned my bike up against a tree, and reinstalled chain.
This was a nasty job with greasy chain and sweat pouring like crazy and wouldn't you know it, I didn't have a rag and I always carry a rag, normally for sweat.
So I wipe my hands on some dry grass and I'm off, I keep looking for something on the side of the road to wipe my hands, of course this is the one time when I can't find any litter.
I finished my ride without any more problems, so I have another first, dropped chain while riding, glad this didn't happen yesterday.
I'm wondering how many folks carry an extra "Master Link" for their chain.

Everyone have a good day on the bike and if your south of the Mason Dixon Line watch out for the heat, don't let it sneak up on ya.

********

I had a great time yesterday at the "Cow Creek Country Classic" bike ride in Waxahachie, TX.
Click below for ride photos, I'll be posting my ride report later, I'm going for a bike ride this morning and need to get going, later.



Leave a comment From: NickOnly master link I carry is the one on my bike, installed with the chain.
It's cool you found it and got going again.
I would have called in the sag wagon to get me home.

mrbill:
Well Nick, I did consider calling the sag wagon but I was about 6 miles into the ride, you know, just when you start enjoying it and I just didn't want to quit my ride, I have a thing about not taking Sag Wagons.



I discovered that if you need a change in your weather, contact MrDaveyGie, link to the right, I guess he's pretty well connected with the man.
He seemed to be having to much rain so I asked him to send us some, lo and behold, it rained yesterday, my yard and tomatoes are loving it, but as we know there's always another side to the story.
After the rain it was Super Nasty out there today, but on the upside the bugs weren't as thirsty as usual.


Looking down the road w/o my shades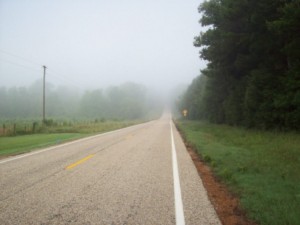 Looking down the same road with my shades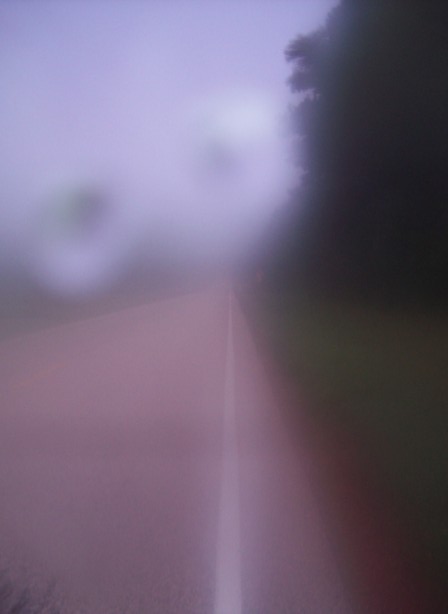 You tell me, does that look nasty?
Leave a comment From: MrDaveyGieI need to talk to my boss, and start taking PowerSiesta's

mrbill:
Good luck Dave, but most Bosses don't understand "PowerSiesta's or Powernaps."

From: Gene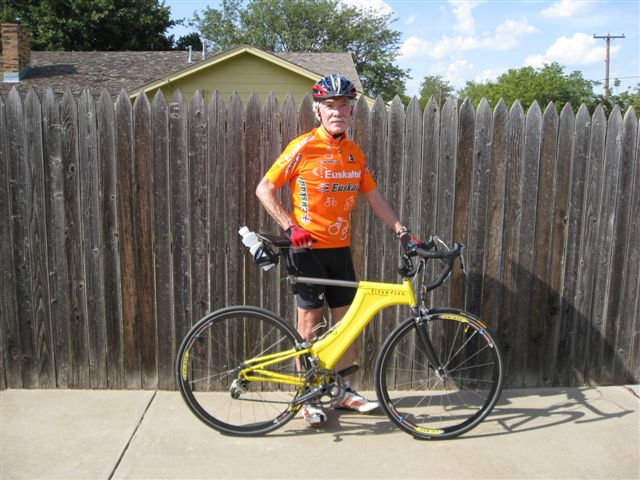 Mr. Bill
You are NOT old. See photo for old-guy definition. I used this weird stem from LOOK to get my bars higher and closer to reduce bite into my shoulder ligament. Really enjoy your site!

mrbill:
Thanks again for the advice and you've got to let me know about that bike, I thought I'd seen them all, but don't recall seeing that one.
At 73 and still turning that crank, you're an inspiration to us all us kids!!



Got out early this morning and got me in a short ride, I enjoyed it, even tho, I ain't gonna talk about it.

I got a couple of responces to my post about a little Siesta I took one afternoon

From: Harry LeggesAaahhh! A siesta.

mrbill:
This was funny because I haven't used the word "Siesta" but I've sure been thinking a lot about it and taking a few of em.
I worked in the Oil Field in South Texas, in Zapata, right on the Rio Grande, in the summer the town would close from 12pm to 3pm, just shut down, totally shut down. I've been thinking, those people definitely aren't lazy, this is done out of necessity, people actually drop dead from the extreme heat, so, mrbill, enjoy your Siesta.

From: MrDaveyGieThat is one powerNAP, those are great, and you must have really needed it.

mrbill:
A slight correction, a "PowerSiesta"

From: Gene

Mr. Bill,
I had possibly the same problem with my left sholder. I was constantly iceing it down after rides due to pain. MRI showed no tears, just thinning of ligaments because of my old age. Finally I took some advice from the guys at Rivendell Bicycle and raised my bars to the same level as my saddle. This cured my problem. Having acromion type 2 led to the front part of the bone digging into ligament. Riding some with aerobars didn't help either...got rid of them! Good luck.

mrbill:
One of the nice things about having a webpage is meeting folks and getting some good advice, thanks alot Gene, surly you weren't suggesting I'm "Old Age", heck I feel like a kid, sometimes.



No, the heat has not beat mrbill, it's just slowed him down a bit.
This has been one hot and nasty year so far in NE TX, been in the 90's for ever and rain is slim, over a hundred yesterday and will be again today, not your ideal bike riding weather.
Went to Texarkana to get blood work done today and then tomorrow I go to Shreveport to get an MRI on my shoulder, it's been bothering me for about a yr and a half, I had Xray done, but I believe it might be a tear so hence the MRI, Xray's don't show tears, shoulder is manageable but just down right uncomfortable after a few hours on the bike.

Friday I'll be going to Waxahachie, about a 3 hr drive, I'll camp out Friday night at the event, that should be fun, hope the A/C is working in my tent, this should make a fun ride report.
No ride today but I'll be out early in the morning for a ride before going to Shreveport, oh, Teresa and I did go for more Blueberries and got another 16 1/2 lbs, got a few quart bags to sell, 4 dollars a quart and that's cheap.

I have been checking on my Online friends, the lucky stiffs, they've got rain and 75 degree temps, I can almost remember what that's like, I guess we all have our time in the Sun.

******




Come on out and join mrbill on this ride, be sure and let me know if your going to be there, I'll be happy to inspire and motivate, to the best of my ability, don't forget your cycling shoes.






Got in a twenty miler yesterday and then after lunch I thought I'd read.
Well I guess the Heat and Humidity, plus my riding and trying to get things done around the casa caught up with me.
As I kicked back on the couch to read, I was out for about 2 hours, woke to see the Grandkids and I never even heard them enter the house, I must have been out.
I guess it was time to relax the old body, and I did.



I did get in an eighteen mile ride yesterday but today I was off the bike to do a few chores around the Rancho and then I took a ride down the road to pick some Blueberries

For those who have been in these parts before know I'm growing tomatoes.


We love fried green tomatoes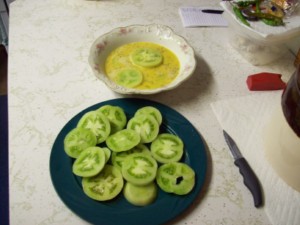 But we also like juicy red tomatoes, fresh off the vine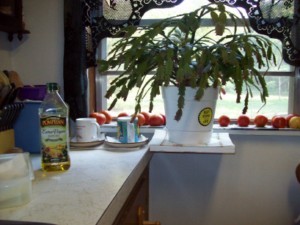 The temp as I was leaving to pick blueberries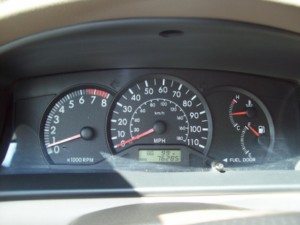 Henderson Blueberry Farm, easy you might miss it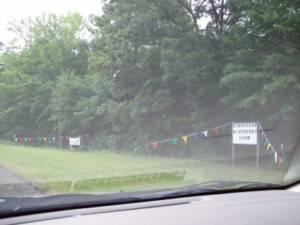 The entrance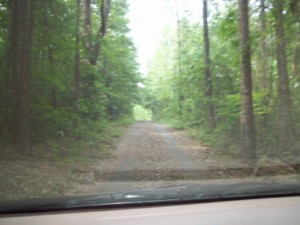 The Blueberry Patch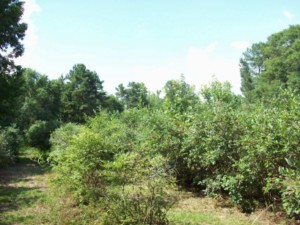 Some beautiful Blueberries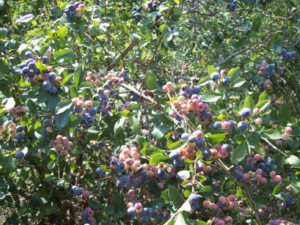 mrbill hard at work, but loving it, even tho it was about 96 degrees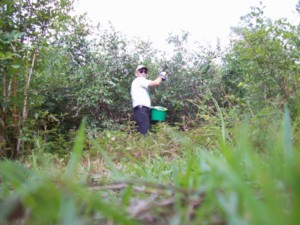 More Blueberries


Eight pounds of Blueberries, laid out getting ready to bag up and put in the freezer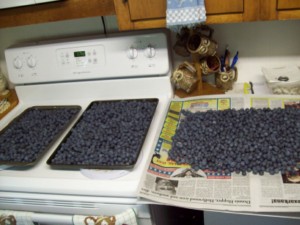 We figure that these eight pounds for 16 dollars, compared to Wally World same amount for around 60 dollars, is the better dear, not to mention that they don't spray anything on these berries, yes I shall return.



Leave a comment From: Janice

Holy s t batman, that's a lot of blueberries!!! I thought you were pulling my leg!!!You did very good!!!

mrbill:
A bag coming your way!

From:MrDaveyGie I think I could become a texan except all the Iowa snow and ice would miss me. :-)

mrbill:
The question is, would you miss the ice and snow?

From:MrDaveyGie Bill,
All those "damn bugs" are up here in Iowa. gigabillions of em.
I will send some your way.
Happy rid'n bro
Dave up north.

mrbill:
Dave, I don't believe you've been reading my page!!!!

From: Harry Legges Blueberries on waffles, hardly a day goes by without 'em.

mrbill:
I like my blueberries in my Quinoa and Grits, sounds like you have a good diet going on, with the miles you're putting in, you better!

Thanks for the comments, they mean mucho, inspire me to do better, on and off the bike.







Was coming up out of the bottoms and ran into this, thought I'd stop and take a picture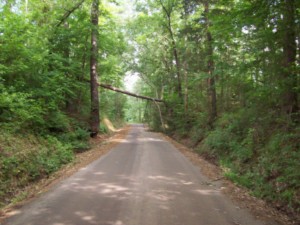 While taking the picture the bugs were attacking so I took this video




Honest, I swear the bugs were attacking, ain't that the way it is!!



I had me a good weekend of riding.
Saturday was a 35 miler and Sunday was a 45 miler, believe it or not, it was hot and HUMID, but I got out early both days and beat some of the heat.
On my Sunday ride I did have a rest stop about 11 miles from the house, got me some ice water, made all the difference.



Linden, kind of dead at 7:15am, heck, it's dead at 12 noon


An interesting little plaque on the sidewalk in downtown Linden, survey marker, 1928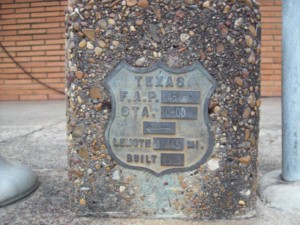 I had clouds for the first 14 miles and then the Sun popped out, nasty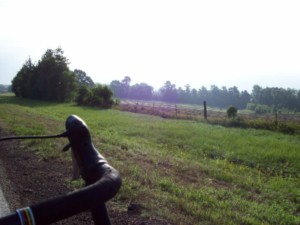 mrbill taking a break in Bivins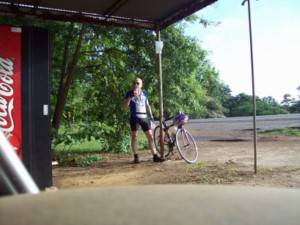 Hey Gene, you were asking about Hwy 43 and how I ride it with no shoulder
well guess what, they have added a shoulder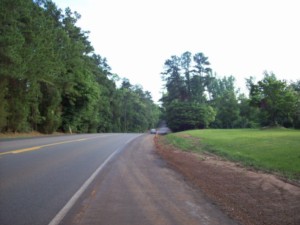 I ride my road bike mostly on Saturday and Sunday morning when the traffic is light, then I like to hit the backroads on my Mtn Bike or Centurion during the week.

Hope everyone had a great weekend on the bike, I know for a fact some of you got wet and muddy.






Went for a thirty five miler yesterday and when I got home I felt like a boiled shrimp, love that heat and humidity combo.
I'm heading out this morning for a 45 miler, want to be on the road by 6:30am and I do have a rest stop eleven miles from the house, I can get some ICE so I'll do fine.
Everyone have a good day on the bike.
Tour of Switzerland today, come on Cancellara get your motor going.



I had some chores to do around the Rancho, and we finally got some rain in the afternoon, in the form of Thunderstorms.
We were in a mini-drought so the rain is really appreciated.
No miles today, a good day for reading.
I just finished "Memorial Day" by Vince Flynn and have now started "Mexico" by James A. Michener, at present I'm reading about Matadors and the "Moment of Truth."
We managed to finish off the day with some Nachoes, spicey and Grannies Tonic, a good day, our tomatoes are loving the rain.
Leave a comment From: NickEnjoyed the book you sent. Now reading 1776 and a biography on Thomas Paine (at the same time). Next up - who knows...

mrbill:
Anything is good!

From:MrDaveyGieBy the looks of your garden the last time I seen it, you'll be putting garden tomatoes on those nachoes.
I so wait for those first tomotoes.

mrbill:

Tomatoes are doing fine and tasting fine, green and red, fried and fresh, um um good, not like those cardboard tomatoes from the store.



Yesterday my legs felt spent, but today they were back, had a good ride.
I don't know where the Deer and Horse flys were, there were a few but not the usual swarms.
I saw one snake, not sure what kind, and a really neat little Gray Fox, would like to have got a pic of the Fox, but that would be difficult, their quick and elusive.

A little while back I mentioned a little Red Truck with a message on the back windshield, well today I got a pic.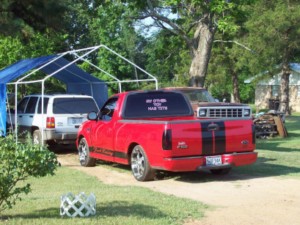 I know some ladies who wouldn't appreciate it but when I asked Teresa how she would like for me to have that sign in my pickup window, she said go for it, you never know, some would be pissed, some proud.



Yesterdays ride was a short one after Sunday's epic ride in the heat and humidity.
I got out about 6:30am Sunday but that wasn't soon enough, it got hot.
The route to Marietta by way of hwy 250 is a tough route, lots of ups and downs and then you've got the dreaded "Marietta Rollercoaster".
The best way I have found of beating the heat is "Ice", and unfortunately there's no ice on this route, there is a small store in Marietta where you can get a cold drink, that is a life saver, but not as good as ice.
When I first moved to this area all the little communities had stores, now there all closed, really miss em, especially in the summer.
One of my recurring thoughts as I ride these days is about the old TV show, "Sea Hunt", I believe it was with Loyd Bridges, why you ask, because every time I stop, looking thru my glasses is like the view Loyd got while looking thru his mask, a watery blur.
I also got a kick out of seeing mr Berridge, who owns the bike shop in Texarkana, he's worked on my bike and talks a good line but I've never seen him ride so I was pleasantly surprised to see him and a friend pulling into Marietta as I was leaving, he really can ride a bike, I know, because he just did the Marietta Rollercoaster.
About 10 miles from the house it was hot, I was climbing Thompsons Bluff, I started having visions, little dizzy, confused, where am I, finally got on top and recovered and made it home.
After a little couch time and a little of Grannies Tonic I was fine, but it was a challenging day, need Ice!!

As I was entering Marietta I saw this little pumper and thought I'd get a pic.
How many of you are thinking, that American flag should be flying higher than the TX flag, oh no, not in Texas.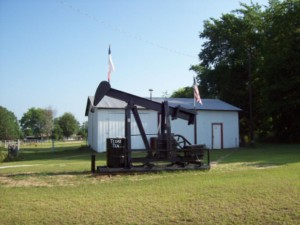 Unless of course it's on a Government Building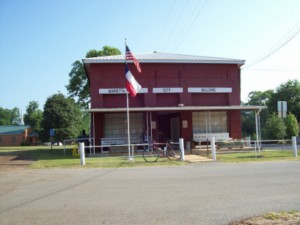 My weapon of choice for Sundays ride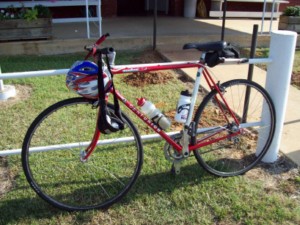 Gotta hurry up and get out there, it's heating up, have a good day.






My Route for tomorrows ride, 49 miles, this will have to be an early start, should leave casa at 5:30am but unfortunately I won't.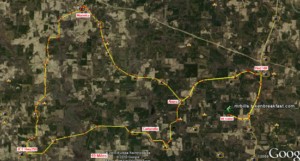 Got out about 7am for my thirty mile ride this morning.
I was surprised by the Fog or was it heavy Humidity, doesn't matter the results were the same, wet and nasty, maybe a little cooler without the sun, but still nasty.




********

I plan on making this ride and am looking forward to camping out at the event.
Let the rain fall, slim chance, let the Sun Beam down, good chance, I'm doing this ride.




Come on out and join mrbill on this ride, be sure and let me know if your going to be there, I'll be happy to inspire and motivate, to the best of my ability, don't forget your cycling shoes.



Leave a comment From: Harry Leggs That's thick air!

mrbill

Yeah, bring those boys from Colorado down here, yeah they can breath thin air, but can they breath "Wet Air"?








No the bugs, heat or humidity haven't got me, I've just been lazy and have been getting a few things done around Casa.
I've ridden everyday this week except today, I had to water plants this morning, we are in a drought, and then take Killer (our Dog) to the vet for last Heartworm treatment.

At present it looks like my next ride will be in Waxahatchie, TX, about 3 hours away.
The ride will be early on Saturday morning so I'm Tentatively planning on going Friday and taking my tent and camping out.
I used to do this quite frequently when I was younger, going to bike rides and Sky diving events and camping out, heat may be a factor, it wasn't when I was younger, but I'm younger no longer.

I'm going for a 30 miler in the morning on my Mountain bike, will definitely have to get out early, may hit 100 degrees tomorrow.