May


Taking the day off today, to work around the casa, recover and think.
Had a good forty miler yesterday, from BBB to Linden, Kildare, Bivins, Linden and back to BBB.
I got out about 7am and got back about 10am, beat most of the heat, was really enjoyable.


A nice little eye catcher in Linden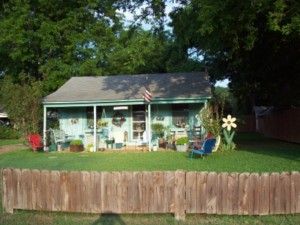 A little memorial day bike in Kildare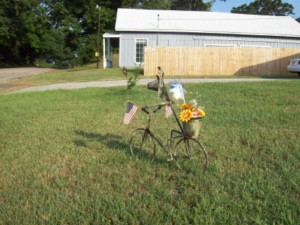 My dog for the day in Bivins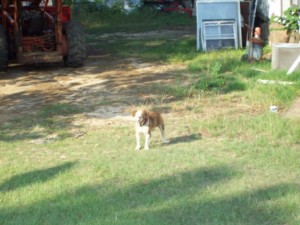 And a video, I was cruising and enjoying it so much I just wanted to share


Leave a comment From:MrDaveyGieI keep riding my bikes and not "tweak'n" em. I know they ride so much better by staying on top of the maintenance. Hmmm, maybe tomorrow.
Happy rides to you Bill.
Dave up north

mrbill:

Maybe tomorrow, hum, that sounds familiar!



Got out a 6:30am to try and beat some of the heat and humidity, it worked, kind of.
Yep I was still wet from sweat but it wasn't boiling like it gets a little later.
Took my Centurion and stayed on the County Roads so bugs weren't bad, got in 35 miles and it was enjoyable, I've got my Centurion tweaked pretty good now and am really enjoying it.


Hurry mrbill, here comes Mr.Sun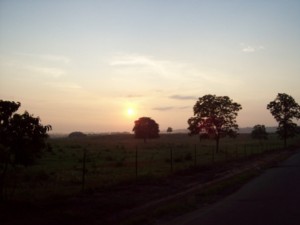 Took the Centurion out on the County Roads yesterday, just didn't want to face the Deer Flys and Horse Flys on the backroads, I've already given my quota of blood for the month.

The Yucca are in bloom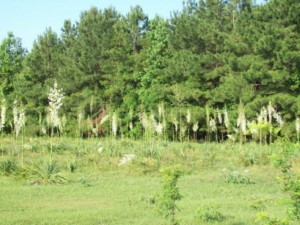 ******



I've been following a site called, "Family on Bikes", quite a cycling family.
If you don't mind I'd appreciate you going to
Crank Awardsand vote for them and you might want to check out there Blog.
Family on Bikes



We were pedaling along and then I asked him, "Hey, do you pedal in Circles?", he replied, "Hell no, if I don't pedal in a straight line I'll never get there."



******



You've only got one life on this planet. Live it well. Watch it - and then make sure what you do tomorrow is what you would want to do if it was your last day on this planet.






Had a good wet ride today, no it didn't rain, just a bit humid.
You can get out early enough to beat some heat, sun, but you could ride buck naked at midnight and still be wet, the humidity doesn't let up.
Just one dog today, my regualr Bulldog, but he did surprise me, just as I thought I had snuck by his house and was cruising along, that sucker was on me before he made a sound, then he let loose and I almost had a heart attack, tried to put my foot in his face but no luck.


Look what the County did for mrbill,
made a shoulder for him, mrbill's got pull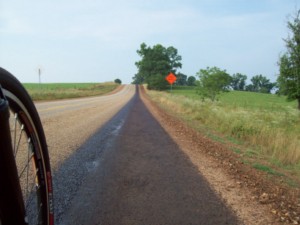 On break in Linden,
doing what I usually do on break this time of the year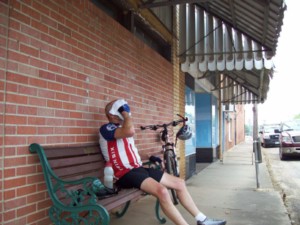 I'm trying to come up with an idea for some type of netting I can wear on my backroad rides, like a mosquito net, bugs in the helmet isn't fun.


Went for a ride on the backroads yesterday, almost waited to late, it got hot and nasty, and that's not what yu want, at least on a bike ride.

A little while back I got an email from an online friend, Gene, he asked if I had trouble with dogs.
Like I told him, there are very few rides when I don't have some king of interaction with dogs, mostly negative.

Yesterday was no exception, had a "Dog Attack".


Here he comes, pretty vicious, what to do?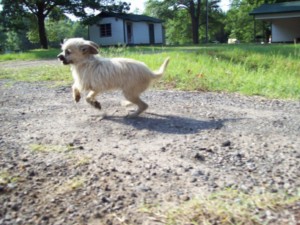 I stop and he stops, looks like he's thinking, "hey, your supossed to pedal and I'm supossed to chase, what gives?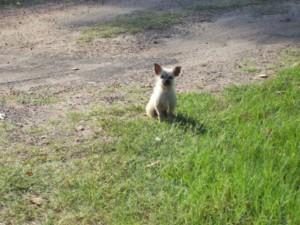 Really we ended up friends, his mama was a lot more vicious than he was, I almost put him in my pocket, but if there's one thing we don't need here on the farm, it's another animal.



Leave a comment From:MrDaveyGieThat's some good riding you've been get'n in. I'm guessing we are headed for a hot summer.

mrbill:

Yep Dave, it feels like I'm already in the middle of summer, I was a bit surprised by your temps, be careful out there, that heat can literally be a killer.







I had a good weekend on the bike so I'm taking the day off to recover and get some things done around the casa.
Yesterdays ride was a good one, I got lucky and had clouds for my whole ride except for the last mile, but the Humidity was brutal.
I rode forty miles and I got a good workout because part of my route included the "Marietta Rollercoaster", a stretch of road that is all up and down and round and round, tough.


HWY 77, I was cooking along here, one of my only flat spots
That's Jones hill in the distance, a good hill.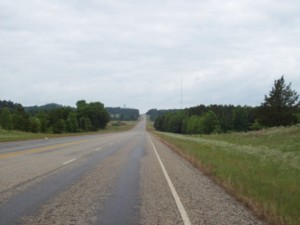 Marietta Rollercoaster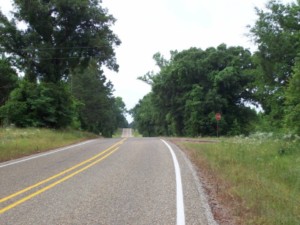 The toughest part of the "Marietta Rollercoaster", up, around, up, up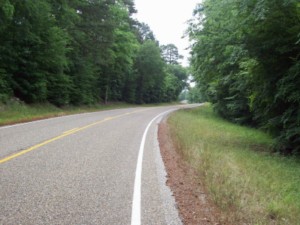 I stopped to feed Romeo the Burro his dried Mangoes
Then as I was leaving, these guys across the road seemed to be saying,
"Hey, what, no mangoes for us?"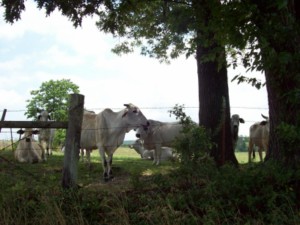 Hope everyone had a great weekend.



Today I went for a 35 mile ride on my Mountain Bike, mainly on the backroads.
It was borderline hot and totally humid, I don't reccomend NE, TX in May, heat humidity and bugs.
I really hate to bitch, but check out the image below and you'll see I have reason (click to enlarge).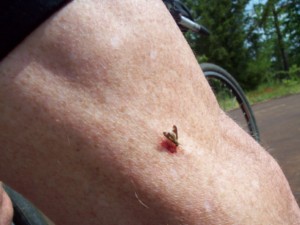 Climbing the hills was painful, when I'd slow down these damn Deer Flys would attack, in force, come on, I don't look like a deer, what's up.
On the bright side I did make a little better time up the hills than usual, the flys were inspirational and motivational, I was inspired to get to the top and motivated to fly down the other side.
I am a little worried about this one little Fly, he followed me so long I'm afraid he probably couldn't find his way home, poor thing, I tried to kill him numerous times.

Was it fun? Hell yes, all rides are fun, some are just more fun than others.



Leave a comment From: NickDeer flies get us bad in the summer. They are fast and will not let up. All you can do is throw the hammer down and run!

mrbill:

When I'm climbing those short 14% grades it's hard for me to get my hammer down, ha ha.

From: MrDaveyGieDeerfly said you were dessert, and told all his friends to be watching out the next time you come through.

mrbill: And they were!







I had a good ride this morning, nearly waited to late, got to get out early to beat the heat and humidity, 94deg F and 95%hum today, in May, not good.
Got in 24 miles, some good hills and thank goodness some shady roads.


It was beautiful out there today and so was I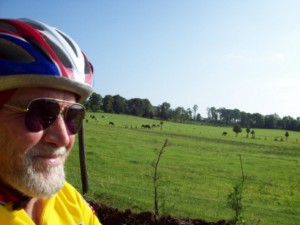 Downtown Linden on a lazy Friday morning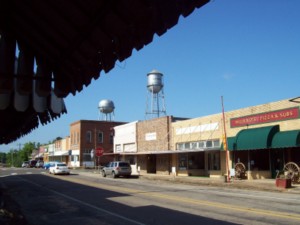 This little lady always had a nice little Flowerbed





Folks just don't realize how much fun it is to bike, when your legs come around along with the rest of your body, it's a ball.

Here's something I've been meaning to post, as we were watching the last episode of "Amazing Race," a couple of brothers were trying to find someone to give them directions, they spotted a bicyclist, he told them what they needed to know, then one brother says to the other, "I knew he'd know, people who ride bikes are smart".
Teresa is starting to get tired of me reminding her of this.






What a beautiful day today, it rained, a pretty good rain and we needed it.
I didn't ride today due to the rain but I will be out there tomorrow and then Teresa and I will go for Chinese Food in Atlanta, a good plan.

Lots of news today, Floyd Landis admits to Doping, surprise, I don't think so, he was just to good up that mountain.
Do you have stocks, if so, don't look at them today, first it was Greece, or was it us, now it's the rest of Europe, I always wondered how that Euro was going to turn out.



Had to do some mowing this morning, but when that was done I was on my mountain bike for a short ride.
It's getting to be that time of the year when you need to get an early start to beat the heat and humidity.
Riding a bike does pay off, first while riding a while back I found a hubcap, we had lost one on Teresa's car, mrbill made it work, looks good, saved mrbill 80 dollars and then today I met a guy who I think will probably come and grind some trees stumps for me.

Hoping for rain this evening, where in a mini drought here, good for riding but not for plants, like my tomato plants.
Leave a comment From: MrDaveyGieYeap, even up north it's getting warmer. 10 lbs of fluids for 65 miles of riding today. Keep on bik'n



Good ride today on the backroads, got out about 8am, it was cool but the humidity was already nasty as always this time of the year.
The only thing that caught my eye, and I wish I had gotten a pic, some character had a nice little Red Tricked out pickup and on the back windshield it said, "My Other Toy Has Tits", probably wouldn't work for me.
Fixing to go for a ride, just wanted to let you know that I finished my "Byers Bike Bash" ride report, click on image on yesterday's post.



It's nice to get out of your rut, and it's rough gettin back in it.
After travelling half way across Texas and back over the weekend I had to go to the VA in Shreveport this morning, now I hope I'm finally home to stay for a bit.
I'm working on my ride report from this weekend and hopefully it will be finished by tomorrow or tonight, until then I can at least post the pictures, some of you probably don't read my ramblin Ride Reports anyway.

Click the image below for my pictures from the "Byers Bike Bash".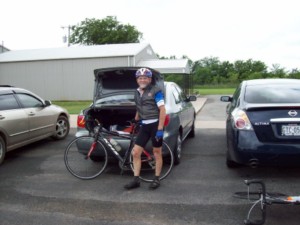 Leave a comment From: Harry LeggesLooks like some great country roads. Very nice!

mrbill:

Compared to East Texas you can see forever in West Texas, nice spot to ride!



I'm sitting in my Hotel in Wichita Falls as I write this, we had a great time at the Byers Bike Bash yesterday. The weather was just right, cloudy, cool and no rain.
I'll be posting my ride report later after I make my 5 hr drive home.
Everyone have a good day.



I had a good ride to Union Mtn yesterday morning, one of my favorite rides, backroads and very little traffic.
On one stretch of the ride I got a real workout, there was some road construction going on.
I came upon a Flagman and then I saw several trucks lined up and then up ahead more equipment, I decided I didn't need to stop so I shot past the Flagman, and he was saying go go, so I had to go.
I shot around one truck then another, then I see a macho Mexican crew up ahead, I had to get it, had to be Macho, I flew by them and they were pumping their arms in the air and hollering, "Vamanos, Vamanos muchacho".
Once I finally got out of site I got off those pedals pretty quick, I'm sure I was in the Red Zone, thought I was going to stroke, sometimes it's rough being Macho.

This morning I'm getting ready to head to Wichita Falls, TX for a ride tomorrow morning.
Last year this was one of my toughest rides, a cold front, 30 mph winds and rain the entire ride, will we have a repeat, looks possible.
Yep, the weather isn't looking to good for the ride but I don't care, as a matter of fact I kind of hope it is nasty, it separates the men from the boys, it'll be my one really nasty ride I make all year.

Robert, an old school buddy of mine, offered to pick up the hotel tab this year, thanks Robert.
Teresa was going but she is having a problem with a Nasty Cyst, she had it lanced on Wednesday, sounded kind of gross, she said the stuff they got out looked like, "Bloody Cottage Cheese", not good, she has to go and repeat this process several times including on Saturday, so she will not be able to go.
I didn't realize just how I rate compared to Teresa, when Teresa was going we had a Suite all to ourselves in one of the best hotels in Wichita Falls, then when I told Robert about Teresa not being able to make it, he dumped the Suites and now we'll be sharing a room at Days Inn, Ok Robert, I got the message, but I am thankful, it will still beat where mrbill stayed last year, remember, "Blood on the Walls".

I'll return later with a "Ride Report", hopefully it will be a good one.
Leave a comment From: MrDaveyGieThat would be my favorite riding too, back roads and very little traffic. Good riding there Mr Bill.

From: Harry LeggsI liked the way you hauled through the construction zone.

mrbill:

It's fun being a 63 yr old kid.



Took a ride on the backroads yesterday, it's starting to heat up and get rather Humid.
Here in NE TX May and June are pretty rough, Heat, Humidity and every kind of bug known to mankind.
Guess what really bothers me while climbing some of my steep grades out of the bottoms, Deer Flies and Horseflies, I think they just wait on me to show up and I'm going slow enough to where they can latch on and have a meal, it's hard to pedal up a steep hill with one hand on the bars while swatting bugs with the other.

I noticed on Twitter where Christian Van de Velde had a crash and got himself a "Chainring Tatoo", I'm not the only one, his had blood too, then on his next stage of the "Giro de Italia" he was involved in a crash and broke his collarbone.
I like Christian VDV, saw him in Missouri last year, guess he's had his surgery, hope he has a quick comeback.

I'm looking forward to my trip to Byers, TX this weekend, hoping Teresa can still make it, she has developed what appears to be a Boil, we're going to the Hospital this morning, hopefully for relief.
Leave a comment From: NickOur bugs suck too. Mother's Day the black flies come out and usually last until Father's Day. Then come the dam n mosquitos and green flies. So sucky! The also wait on the hills for me to slow down, then feast on my narrow ass.

mrbill:

LOL, You know what they say, "Misery Loves Company", I feel better now.

From: MrDaveyGie Yeap, here comes the bug season. I have to relearn every year to keep my mouth shut when bicycling, so I don't have the little critters stuck in my throat, trying to crawl out.

mrbill:

You paint a pretty picture Dave, don't fight it, just swallow!



I got me in a twenty one mile ride on the bikeroads, a good ride even with the wind and humidity, I thought the humidity would be low after the passage of a front last night and the storms but not so.
This wind training is good because when I head to W.Tx this coming weekend I can almost be assured of some wind.
A good day on the bike, hope yours was too.
Yesterday I took a day off the bike and spent the day around the house.
First off I wished Teresa a Happy Mothers Day, to get things started off right.
Teresa had friends from her old neighborhood visit this weekend and the girls decided to go out for lunch, I decided to stay home.
I vacumed the house and mowed the yard, kind of a Mothers day present, especially the vacuming.
Thankfully Teresa got calls from her daughters and her brother, Bubba, called in the evening, he asked about our day, I told him the ladies went out to eat, he asked why I didn't go, I told him it was Mothers Day out, he asked, Haven't you ever been called a Mother?, hum, yeah Bubba, but that was in a different context.

Mostly I was tickled that I avoided Teresa's mini cold or whatever it was, it seems to be clearing up and I feel allright this morning and plan to ride in awhile, should be fun, supossed to be 30mph winds out of the South, that means hide out in the bottoms going South and hit the open road going North, that's my plan.

Luckily my tomatoes didn't get flattened by the hail last night.

Hope everyone had a good weekend and enjoy your ride.


********

Even the pros fall over, check out this Tweet from Sonya Looney, Topeak Ergon





Thanks for posting Sonya, I feel better now!
Leave a comment From: Harry LeggsYeah, that wind can really suck the energy out of ya. I think it's the weather condition I dislike the most when riding. It's unrelenting.



Today was a fun day on the bike, wind and all.
I did a forty two mile ride, BBB to Linden, Atlanta, Red Hill and back to BBB.
The temperature was actually pretty cool starting out, after we had a little cool front move in the night before, hence the wind.
I rode to Linden and then leaving Linden I ran into an old Cycling friend, Jerry Harp.
Jerry and I rode to Bivins together and I really enjoyed the company, even tho our riding styles are different, Jerry's a tourer and I'm a wannabe go fast, stress the wannabe.
About halfway to Bivins we picked up a brown Labrador Retriever, no matter what we did we couldn't shake him, Jerry kept hollering at him , Jerry doesn't like Dogs while riding since one made him crash and break a couple of ribs.
So we pull into the Store in Bivins and after a quick break Jerry decides to move on as he has a ways to go, at this point we were heading different directions, I was tempted to go with Jerry, he was going with the wind and I was heading into the wind.
So as Jerry pulls away I sat there chuckling cause he got the dog, yep it headed out with Jerry.
Labrador Retrievers are some of the friendliest dogs around and they love to run and swim, but unfortunately their brains are about the size of a BB, they'll run and run and then have no idea how to get home, no telling where Brown Boy ended up, but I'm sure he now has a new home, maybe with Jerry, I haven't talked to him yet about our friend.

The rest of my ride was enjoyable and uneventful for the most part, I did have some tough winds but I've made my mind up to like the wind, or at least to ignore it.

Teresa has come down with a cold or something, so I'm sitting on eggshells right now hoping I don't get it, what are the chances, no, I don't want to know, she tried to kiss me yesterday, I knew something was up, anyways hope I don't get it, but that would be about right with an out of town ride next weekend.

Hope everyone had as good a day on the bike as I did, I'll try to get in a ride Sunday, if the rain lets me and I don't come down with something, what's that scratchy feeling in my throat, oh sh-t, I'll let you know how it turns out.
Leave a comment From: Jerry HarpThe lab followed me half way to Kildare Junction. His owner called Sunday wanting to know where I had last seen him. A neighbor had seen us go by and knew me. The owner admitted there was no name on the collar. Don't know if they found the dog.



Pictures from my ride yesterday


Club Lake Mtns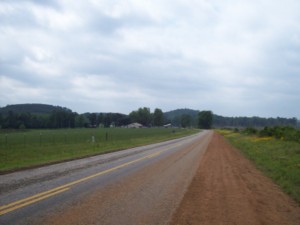 A bug, downtown Linden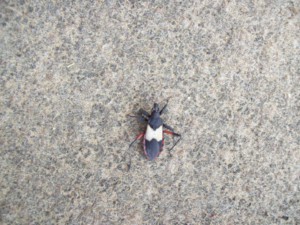 I got a little dizzy just taking this picture, dizzy from the Aroma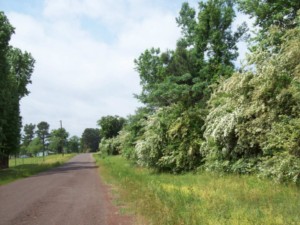 My favorite Snake, a "King Snake", docile and beneficial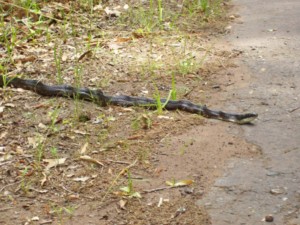 Everyone have a good riding weekend.



Leave a comment From: MrDaveyGieSounds like my kind of ride. Lots of things to look at.







I had a nice ride today, had some wind, but I enjoyed it, saw some turtles, smelt some highly intoxous blooms, saw a neat bug and one of my favorite snakes, a "King Snake", a really friendly snake.
I've got photos, if you want to see them.



My ride today, mostly backroads, warm to hot, bugs and a Road Grader, plus those Hallucinatory Honeysuckle smells.
Remember to get out early mrbill, it's starting to warm up in Texar, over 90 degrees the last few days.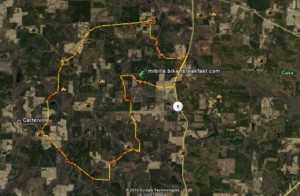 Yesterday was a full day, it started out with a bike ride mainly in the bottoms, hiding out from the wind and taking advantage of the shade on those tree covered backroads, yep, looking for shade already, it's heating up early this year in NE TX.

Then I took an old shelf we no longer need over to a friends and while there I got waylay-ed into hanging a couple of fluorescent lights, always aim to please.
Then it was to the Vet to get Killer who has started her Heartworm treatment, thank goodness she's the last we'll have to put thru this, not pleasant for either us or her.

Our next outing was to "David Beard's Catfish Village", Teresa's Birthday present, it was Teresa's first time there and we really enjoyed it, I forgot my camera, I wanted to torture you with pictures.

Got to wrap this up and get out on my bike before it get to hot, think I'll take my Mountain Bike and hide out in the bottoms.


Shady road up ahead, doesn't seem that long ago I was looking for Sun.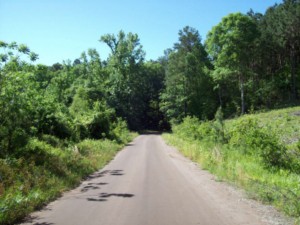 Everyone have a good day.






Happy Birthday Teresa!!!
Whew, I almost forgot, boy would that have got me into a world of trouble.
Now I just hope she hears from everyone else or it won't be pleasant around here for a couple of days.
I have a hard time remembering Birthdays, even my own, but that doesn't matter, if I don't remember I'm in trouble.
The upside to this is we get to go out for "Catfish" tonight at the original "David Beard's Catfish Village", pretty good eatin.

Had a good ride yesterday morning, seventeen miles on the backroads, came home and worked on my wheels, tightened some spokes and trued them a bit, hope that solves the little click, click while I'm riding down the road.

I spent the afternoon attacking bugs around the outside of the house and weeds in the yard, can't just ride all the time, all though that would be nice, right Lance.
I'll be out there for a few miles this morning and then this afternoon we have to go get Killer from the Vet, we left her there on Monday morning, it's her time for Heartworm treatment, we're really hoping she has a better time of it than Spunky did.

Ran into this fellow yesterday on my ride, and I stopped to push him out of the road, that's when he let go of a stream of pee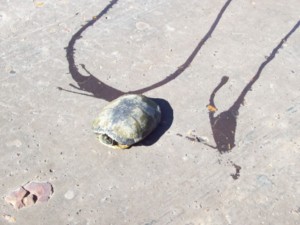 I rode away wondering if a Turtle pees on you, will it give you warts?



Leave a comment From: MrDaveyGieHappy Birthday Teresa.
Yeap I never remember birthdays myself. My son, my dog and me were all born on the same day, and I forget that one too.

mrbill:
Teresa says, "Thank you" and I say thank you, this got today off to a good start!

From: Harry LeggesYou try to do a good deed....

mrbill:
And what does it get you?

From: Teresa
It was a busy day but well worth it, thanks bunches for my birthday dinner. It was wonderful.
love ya bunches darling, Teresa

From: Nancy Gore
The turtle was about to bust from needing to pee, you saved its life twice. Good work!
Happy B-day Teresa!!

mrbill
Hello Nancy, Teresa says "Thank You" and I got a kick out of your comment, you didn't mention if turtles give you warts, I think not,
Enjoy your ride!







My next ride and I highly recommend it.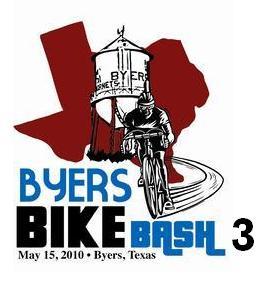 I made this ride last year, the weather was horrible but I loved it.
I highly recommend this ride, it's in Hotter n Hell country, like HHH before it got to big.

Here's a link to my Ride Report from last year
mrbills BBB09 Ride Report



Leave a comment From: MrDaveyGie Great rides you do. May we ride forever. :-)

mrbill:
Sounds good to me Dave







Took a ride out to the High School and back today, twenty five miles, just keeping the legs loose.
I had a great day yesterday, went to a Bike ride in Gilmer, TX, click on image below for "Ride Report"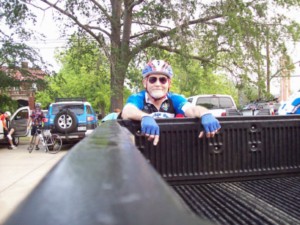 The ride was put on by:
Refuge International
Doing good things in Guatemala



Leave a comment From: MrDaveyGieWoW. That ride rocked Mr. Bill. Way to rip. Now I was going to write more but my bike just said, either ride me or put me back in the garage.

mrbill:
Had a lot of fun and that's what it's all about!

From: Robert White
Didn't know they had a ride in Gilmer. Looks like you made a good showing and had a great time. Can't beat that combo. Just don't try rope a dope on me in Byers; I'm on to you!

mrbill:
Just take it easy on me if I don't feel good.