Today I was tempted to take the day off, but I knew, as always, if I got started I'd be glad I rode.
The wind was the main negative factor today, 20 to 25 with gusts to 35.
I started my ride with the wind at my back, big fun, then I turned west, southwest, little fun.
Then I got to this point, the intersection of FM 995 and 1399, I turned South heading toward Linden on the "Marietta Rollercoaster"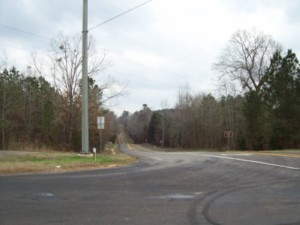 It's all up and down until you get nearly to Linden, the good thing was, the hills and trees blocked some of the wind.
I get to Linden and as I'm riding the loop around town my rear end, or the bikes rear end begins to wobble, take a guess, right, broke spoke.
I had been fighting the wind all the way and my comfort was in knowing that I'd have it at my back on the way home, now I may be cheated out of my flying time, no way.
I call my Support Team, that's Teresa, and she brings me a spoke wrench, much thanks to Teresa.
I make it to the Country Store where I meet Teresa, I get my Spoke Wrench and remove broke spoke, do a little truing on the rear wheel and get it in good enough shape to where I can make it home.
I did consider putting the bike in the truck, but there was no way I was going to miss the ride home with the wind at my back, unless I had a total wheel colapse.
I took off and headed home, a little wobble on the smooth pave of town, but hardly noticeable on the chipseal.
I had a ball, felt like a pro, I was flying, even thought, "maybe I can just keep going and go all the way to Iowa, then I came to my senses, hey mrbill, "there's still that white stuff up there, better head on home.

Even tho my ride got shortened by ten miles, I still had a good day and the wind wasn't as bad as I thought it would be, how quickly we forget when we get the wind at our back, forgot that 11 mph into the headwind.
Now I've got to fix that darn spoke, I'd rather ride.

Hope everyone had a good weekend, and I hope the wind lays and the snow melts, even so, we'll find something to complain about, but we'll be ok as long as we ride.






Today was one of those slightly depressing days here in E Tx, cloudy, we like sun, well, at least until August and then we're wanting shade.
I didn't have a whole lot of zip but still enjoyed my ride, High School loop, 25 miles.

I was wondering if any other bikers do some of the things I do, like when Teresa and I are riding in the car on a route I bike, we'll start up a hill and I'll be telling her, "this is a good hill, it starts getting hard here, I downshift, getting tough, I'm out of the saddle, sit, downshift one more time, Aaaahhh, made the top." She just kind of looks at me like, you'll be ok Darlin, we'll be home in a bit and you can go for a ride.

Oh, those thoughts from the road, like, "are there days when the wind doesn't blow?", I'm sure there are, but sometimes I wonder, been having quite a bit of wind lately.

I got my "Bicycling Buyers Guide," as I was looking thru it I begin to wonder, from year to year it must be awfully difficult to come up with new sales gimmicks, I mean, just how many ways can you lap those Carbon Fiber threads, how many times can you change the size of the Bottom Bracket, Stress here stress there on the bike and a lot of stress for the buyer.
What I found most interesting was toward the end of the Guide they start telling about how some of the old Frame Builders are going back to steel, Imagine that, guess we're going to start all over.
I still ride steel, "Centurion Iron Man," I have upgraded nearly everything on it but it's steel and I enjoy it, steels the deal.
Don't tell anyone but I would like to have a "Carbon bike" and who knows, one of these days the Gods may smile on me and I'll finally join the 21rst Century, reluctantly.

Hopefully I'll get to ride tomorrow, isn't looking good, rain, thunderstorms and yes, the wind, 20 to 25 with gusts of 30 to 35, boy that sounds like fun.


********

We always see the photos of the pros in some beautiful spot in the mountains and we're thinking how beautiful it is and how we like to be a "Pro For A Day", but it's not always so nice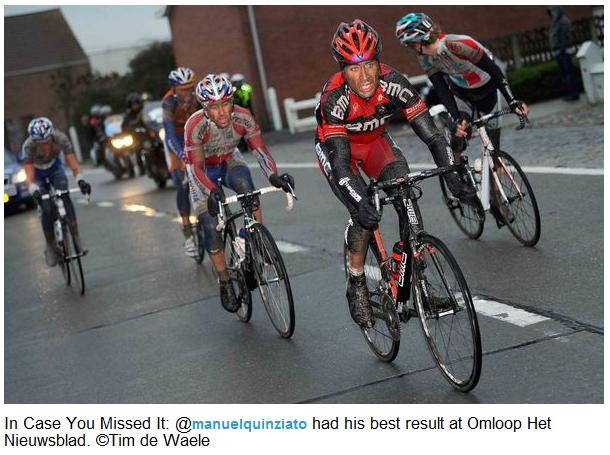 And I'm not going to ride in the rain, that's right, I don't get the big bucks and I'm not in my 20's, believe me it does make a difference



Leave a comment From:TomYeah, and the differences aren't just in riding a bike either.

mrbill:
I know your talking about age, and I agree completely

From: Gene:
mrbill, at this moment, 34 mph and gusting to 47 in West Texas...lots of dirt in the air too! And, no, I'm not on my bike today.

mrbill:
I've thought about you out there in W. TX, I was raised in Ft. Worth and I remember the sky turning red when those dust storms would blow our way, cactus don't block much wind, have a good one Gene.








It was a nice day for a bike ride, 58 deg, Sun and light wind.
I did my loop thru the bottoms and came home by way of Red Hill.
As I was riding along today at one point I'm looking down the road and notice that things are greening up.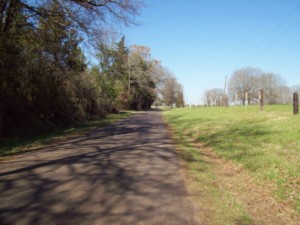 And the Jonquils seem to be blooming just a wee bit early.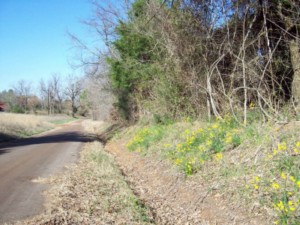 A good day on the bike, looking for another one tomorrow.



Leave a comment
From:MrDaveyGieI'm thinking maybe bicycle riding maybe the fountain of youth. :-)

mrbill:
If it isn't, it's the next best thing

From:MrDaveyGieReading about the nice Texas weather is getting me excited for the arrival of nice Iowa weather.

mrbill:
And while your enjoying that nice Iowa weather, I'll be cooking, but that's alright, we all have our time.








I've been out of my rut the last couple of days, I've had an old friend from the 60's visiting.
I'm still in recovery, it takes a little more to recover from a visit with an old friend than it does to recover from a bike ride.
We had a good visit, I got caught up on old friends in Texas, New Mexico, California and Washington.
It seems like maybe Bob and I are the only ones still getting out and trying to do something to keep in some kind of shape.
Of course Bob and I had to get out the old Frisbee, luckily for Bob I can still make a perfect throw, so he didn't have to move much, and it's a good thing for me that I'm in shape cause I had to move quite a bit to catch Bob's throws.
I was making jump catches, between the leg catches, behind the back catches and Bob was doing alright, I actually threw him a couple of jumpers and on one he actually left the ground by about 2 inches, what a jump, visions of the old days.

Here's a photo of Bob and I, I love these photos, they really emphasize how well I'm doing compared to the rest of the old group.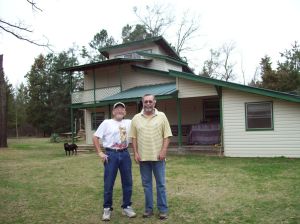 We had a good visit and I managed to get rid of all the firewood I had laying around that nobody wanted, Bob left with a full truck load, not much Oak firewood in Ruidoso, New Mexico.

After Bob left I decided I had better get me in a ride, at least a short one.
As I climbed this hill I noticed this boy at the top enjoying the wind, I'm glad someone was enjoying the wind.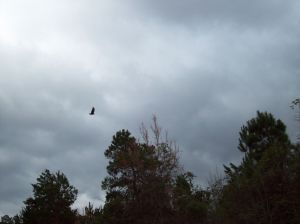 We have to get out of our Ruts once in awhile, but it seems like the older we get the more comfortable our Ruts become.






Was busy around the casa today but did manage to get out for a bike ride.
I did one of my favorite rides across the "Cordillera de Carterville", my name for the 3 step mountain on the backroads to Carterville.
It's hard to believe how warm it is in February, nearly 80 deg, and slighly muggy, not good.
A cold front is coming thru tonight, cooler temps will be welcome.

Things got interesting in the Race in South Africa when the stage was neutralized due to cars on the route, this has probably happened before but I don't remember it.
There was a break away and then they encountered the cars, everyone stopped, the break was allowed to start with their lead but then as they were approaching the finish, more cars, stage neutralized.

Radioshack is doing a good job so far in the "Vuelta a Andalucia Ruta Ciclista Del Sol 2011"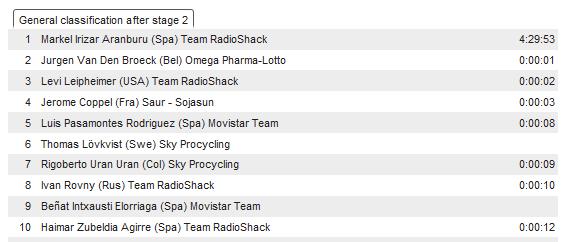 Really like this photo of Levi on a stretch of gravel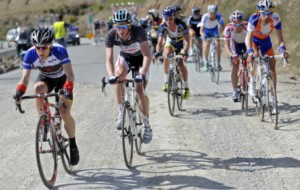 Nothing like some gravel to make things interesting.






Got in a little mileage this weekend, weather was fine, about 70 deg and partly cloudy, even a bit warm, scary, a few drops of sweat in February is not a good thing.
I managed to get in 35 miles on Saturday on my Centurion and then I hid from the wind on Sunday and got 27 miles on my Mountain bike in the bottoms.
Wasn't feeling up to snuff on Sunday, but it was to nice not to ride.

Want to have some fun, call a friend you haven't seen for a while and tell them your coming to visit, they'll immediately start cleaning house, not just their regular cleaning but a thorough cleaning job.
After a couple of days call them back and tell them your not going to be able to make it, yeah, they'll be a bit upset at first but in the long run they'll be glad they did the cleaning that they had been avoiding.
I know this will work because we'll be cleaning today for a friends arrival tomorrow, they damn sure better show after I clean all day, surely they'll show.

We're supposed to have a front come thru tonight and cool us off a bit, not drastic, just put us back into the 60's for the highs, sounds good to me, I'm definitely not ready for the heat, humidity and bugs.

Hope everyone had a good weekend, and thanks for stopping by.

I was watching the news, not necessarily a good thing, and I saw the folks demonstrating in Wisconsin, what no money?, I think I see a bunch of faces that went right along with George Bush in his attack on an Independent Country (Iraq) for no reason, NO Reason, spent Billions and Billions and caused the death of hundreds of thousands of Iraqis and thousands of Americans, for no reason, and now they want a Billion and a half more to restore Baghdad.
I hope the next time we have a warmongering nut in the Whitehouse people aren't so ready to jump on the bandwagon, spend Billions and kill thousands of innocent people, shame on America.
Oh, sorry Wisconsin, you will have to do without, we've got a war to fund, you wanted it, you got it.
It's a good thing that most folks don't have a clue to what's happening, or our country might look like Egypt, but fortunately we have a better system, even if thru our ignorance we elect a Warmonger, at least he'll be out in a few years and there's hope that we'll have a decent individual to take his place.
I personally think that George should take some of his Oil Money and rebuild Baghdad, he's always been so concerned about Iraq and it's people under the heavy arm of Sadam, yeah, right.
The least he could do is to move to Kennebunkport and get the hell out of Texas.

I purposely try to stay away from politics and religion on my page, I haven't posted anything religious or political in awhile, and I don't plan on it again anytime soon, but sometimes it gets so frustrating, I just can't help myself.

Have a good day.





Leave a comment From:TomThere seems to be an unusual amount of political theater taking place lately. It's weighing heavy...too heavy. I'm afraid something might break. It's a little scary. It's good to lighten the load sometimes.

From:NancyI say amen brother.

From: Gene
Hey Mr.Bill,
To add to your frustration, try costofwar.com




mrbill:
Thanks much for the responses, it's nice to know were not alone.






I took the day off, recovery.





It was a bit depressing today for us Texans, we get that way when we don't have sun, it was cloudy for my whole ride.
I did my "Dump Loop", 30 miles, and of course I got to drop down Dump Mountain, what a thrill, survived it again, got the old adrenalin going.
I went by the square and got this restoration update photo on the "Cass County Courthouse."




I really can't complain to much about the weather, it's warm and dry, I'm sure the Sun will return and have me begging for mercy.










I got out today and did my lottery ride, perfect conditions, windy but I got it to work with me today.

The clip on one of my pedals was broke, of course pedal is stuck, was going to heat it and try to get it off, but discovered I could just switch out pedal and leave shaft in place, no heat or busted knuckles, Bueno.
I'm really liking this Sping time weather, but I know Life will throw us one more punch, just hope it isn't to severe, like twelve inches of white stuff.
Leave a commentFrom:TomYeah, I don't need any more of that white stuff either. I wish what I wanted mattered.

mrbill:
Si, No mas, No mas



Nice day for a ride, 70 deg and partly cloudy.
I had some wind today but I started with it on my back and finished with on at my back, much better than starting against the wind.
Rode the bottoms on my mountain bike, no mechanicals, no animals, just a pleasant ride.


********


Leave a comment From:TomI like my rides without clutter too.

From:MrDaveyGieIt doesn't get any better than that.

mrbill:
I'm really glad to see the roads are improving for my friends up north, may they fly down snow free roads.



Isn't it funny how the heat and cold is relative.
Today on my ride the temperature was 73 deg with Sun, it actually felt warm, almost hot toward the finish, but in August, 73 degrees is cool, almost jacket weather.
So today was big fun on my "Club Lake ride," warm but not the accompanying bugs and humidity, hard to believe there's still snow on the ground up north.
Almost had an incident on my ride, on my toughest hill, and there are several on this loop, right near the top at the steepest grade I go to shift to my small ring on front, throw the chain, but luckily my first thought is, and thankfully so, Unclip, I quickly did and hence I didn't fall over, yes I've done that before, it's not that unusual and it's not fun.

So today was a good ride, even had a visit with a friend I hadn't visited with in awhile, got caught up on a little gossip.
I may do my Union Mtn loop tomorrow, the weather will be good, 70's all week, I am getting a bit concerned about how rough a summer we will have with it getting this hot already, but, Que Sera, Sera, what ever will be, will be.






We had a great Valentines day, went out for Chinese, I'm already looking forward to next Valentines day.



********

Thor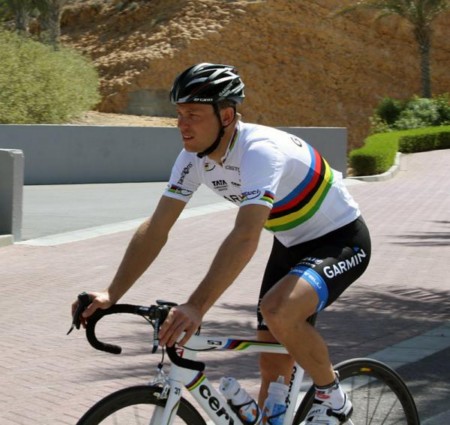 Good luck to one of my all time favorite Pro Cyclists, Thor Hushovd, in the "Tour of Oman", starting today.






The word for today is "Wind," defined as:

Air in natural motion, as that moving horizontally at any velocity along the earth's surface: A gentle wind blew through the valley. High winds were forecast.

It wasn't a gentle wind that blew, but a 20mph with 30mph gusts, not Big Fun for bike riding.
mrbill being macho just had to start out into the wind, pedaling downhill no less, I hate it when that happens.
The first 8 miles were dead into the wind, I wanted to cry, but was afraid someone would see me, climbing a long grade into the wind I looked down and sure enough I was in my next to the lowest gear.
I always try to save one gear for that time when I really need it, I almost used it today, but suffered along and saved it for another day.
Mostly I had a headwind or crosswind, but there was a couple of times when the wind was actually my friend and I got in the drops and boogied, it was mucho fun, especially when I passed those 2 fellows visiting by a pickup truck, they looked with awe, probably thought I was Lance.


This is a pre ride photo, reading and eating,
Blackeyed peas, Dressing and Broccoli with cheese
the Dressing is almost a meal in itselt, made with chicken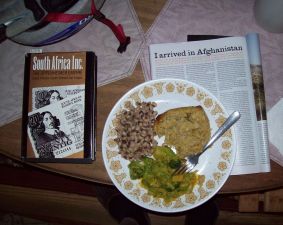 Never know what you might run into on a ride, road closed, I did manage to walk across, I wasn't going to turn around even if I had to swim, because that would have meant going back into the wind, no quiero mas.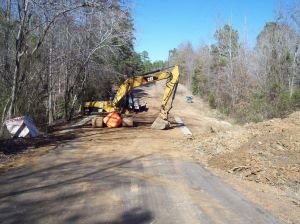 I had medium fun, just to darn windy, I was glad to return to the couch.
I'll be out there tomorrow but if the wind is blowing I'll be on my Mountain bike, hiding out in the bottoms.

Hope everyone had a good weekend, Happy Valentines Ladies, sorry guys nothing for you, that's just the way it is.



Leave a comment From:MrDaveyGieall that wind, is that the same as breaking wind?

mrbill:
Yep, but breaking wind may be better, it doesn't last as long.








Almost perfect conditions out on the road today, 61 degrees, Full Sun and unfortunately a 15 mph wind.
I rode 28 miles, the first part was Big Fun and the last 12 miles was work, medium fun, as I was riding into the wind.
No matter how many times I tell myself that the "Wind is my Friend," it just doesn't work, I don't like headwinds, although I love "Tailwinds," them make me feel like Lance.

Rode all kinds of road surfaces from Mud to Big road, I find that I like medium here, backroad blacktop, low traffic and less boring.

Looks like I'll have no excuse for not getting mileage next week, temps in the 70's, actually that's scary, makes us wonder what the summer will be like, hugging the old A/C.
It was even warm enough for me to clean my bike when I returned from my ride and it needed it.
My mountain bike is making a weird noise, haven't quite got it figured out yet, wish I had a radio on the bike then I could do like I used to do in my old chevy truck, hear a new noise, turn up the radio, problem solved.
Looking forward to getting out on the Road bike tomorrow, may get some pics, unless I'm feeling really good and don't want to stop, not likely but it does happen.
Leave a comment From:TomRoad's a good place to be.

mrbill:
I agree, especially when it's not cluttered with Ice and Snow!!



"On the Road Again," and it felt good even with that 15 mph NW cool wind.
I took my mountain bike and hit the county roads and backroads.
I was riding a dirt road with banks on both sides, when all of a sudden I see movement to my right and then in a flash I see him, a squirrel jumps in front of me, about a foot in front of my front tire, sure glad he didn't land in the wheel, could have been nasty.
It was a beautiful day with full sun and 50 deg temps, it felt good.


mrbill on top headed to the Bottoms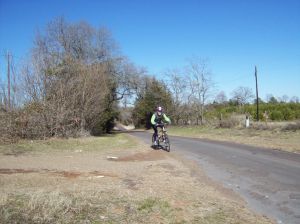 The Bottoms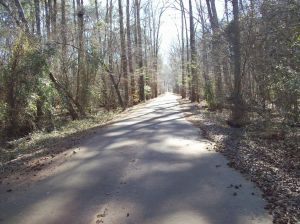 Mama and the newborns enjoying the Sunny day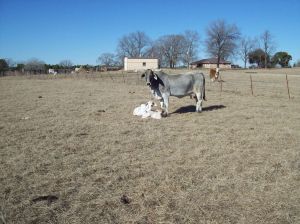 Hope everyone has a fun safe weekend.






I haven't ridden in the last couple of days, just to cold and nasty so I took advantage of the time to get a few things done.
I should be able to catch up this weekend when the temps are supposed to reach into the 60's and then we're going to have 70's next week, hopefully no more snow.

I started to post this picture a few days ago but decided not to.


mrbill, a member of the "Texas Polar Bear Club"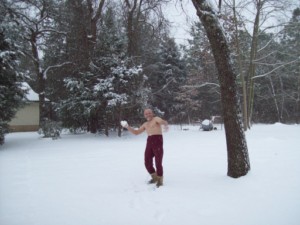 Good thing I didn't post it, looks like these "Shirtless Photos" can get a guy in trouble.

Everyone get out this weekend and ride, be safe and enjoy, and thanks for stopping by.



Leave a comment From:MrDaveyGieYaY, for the warmer weather. Hope your doctor's appointment went well, and your hand is healing, and all kinds of good stuff. :-)

mrbill:
Hands doing fine, swelling is finally down, looks like I'll survive and warmer weather is on the way, 70's next week, all is good and a good one to you.

From:TomOh to feel 50 degrees again.

mrbill:
We may reach 50 today, I'll let you know how it feels and thank goodness the Snow is gone.








I got out for a ride today, a good day, 50 degs and Sun, didn't care much for the 15 mph NE wind, at least until I got it behind me.

After my ride I practised my Card Tricks on the Grand Kids, I amazed them, and they continually amaze me.
Looks like our weather is going downhill big time tomorrow, looks like a day off, or the dreaded Trainer, the weekend is supossed to be nice, hope the snow melts.



Today was a bit cooler after a little front came thru but I did manage to get me in a short ride.
Got to get those miles while I can looks like snow again on Wednesday, hope it melts quickly, the weekend temps are looking good.

Tomorrow I go to the Dr in Texarkana for a check up, hopefully I'll return with time left for a bike ride.
I'm pleased to report that my swollen right hand has finally returned to almost normal, of course it's alright as long as I can hold a handlebar and shift gears.


********

My friend Nancy sent me a picture of a tire that I think might be good in the snow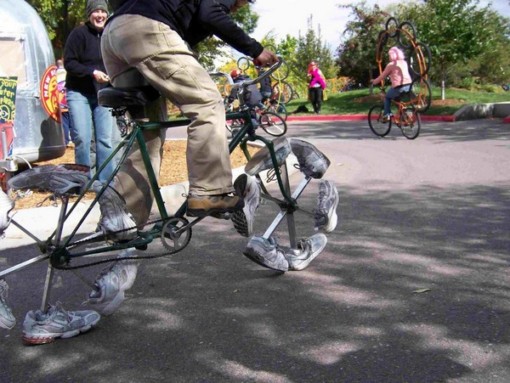 What do you think?
ThanksNancy
Leave a comment From:TomI don't want any more snow or cold.

mrbill:
Looks like our friends in the Great White North are starting to crack, I understand completely



Finally got out on the road again and I really enjoyed it, that trainer just isn't the same.
I rode my mountain bike and did my High School loop, 24 miles.
Nearly all the snow was gone, just some slush on the backroads but overall no problems.
This year it seems like you have to hurry up and get in your ride when the roads finally clear up, cause there's another snow a coming, we may get more on Wednesday, it's beginning to feel a bit like the "Great White North."


Bivins Road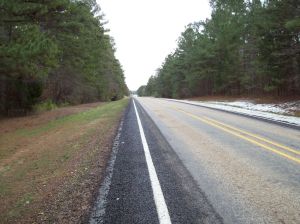 mrbill enjoying a day out on the roads.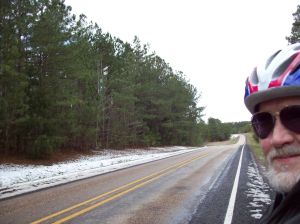 Hope everyone is getting in some riding, it's been a crazy winter and I think everyone is ready for spring.



********





Looks like Boonen still has it!



I was supposed to be going to a bike ride today, the "Freeze Your Fanny", but it was canceled due to snow and ice, this is only the 2nd time in 23 yrs that the ride has been canceled, I guess that says a bit about the weather we're experiencing right now.

For a while there I thought I wouldn't have to use my indoor trainer much this year and then the bottom fell out and now I've ridden the trainer all week, just to nasty outside, we're not really prepared for this kind of weather.

Hopefully the Sun will come out today and melt some snow and make us happy, not sure when I'll be able to return to nice dry warm backroads, I'm really looking forward to it.

The weather hasn't been my only problem lately, my hands still a bit sore from the Cat Bite I got on Monday, I did make it to the Doctor, after I was scolded by my cousin (thanks), and I got me some antibiotics.
Apparently Cat bites can be quite serious, from what I hear the worst of animal bites, I should have known, that's my luck.
The Doctor wanted to quarantine the cat for 10 days to see if it developed Rabies, sadly I told the Doctor that the Cat is deceased, I didn't elaborate.

I see the Sun peeking over the treetops, come on Sun!!!
Leave a comment From:TomIt's been the winter of our discontent up here too.



Wha happan? Grass Hopper.
Man it's cold, to cold, 12 deg this morning and a wind chill of 1 deg, guess I'd better quit talking about our 70 deg temps.

Monday I didn't ride, nasty drizzily all day, took advantage of weather to burn some brush piles around the casa.
Also did something stupid Monday morning, tried to break up a couple of male cats who were head to head, result, got bit, my right hand is still about twice it's normal size, I hate it when I do something stupid.

That brings us to Tuesday, yesterday, a blizzard blew in, high winds, blowing snow all day and a high temp of 28 degrees, not a good day.
I did manage to get in 10 miles on the trainer last night, I'm still watching the TDF video of Landis's epic ride, it's weird looking at it now, knowing what we do and how things turned out.

Today will not be an outside ride, but I will try to ride my trainer in the shop, 29 deg for the high just ain't high enough.
Leave a comment From:MrDaveyGieMr Bill, is the Freeze Your Fanny ride in Iowa?

mrbill:
No Dave, it's in Texas and believe me you can freeze your fanny in Texas!