A Big Shout Out to All Veterans and soldiers on duty and always a special thought to those who gave it all.

I took Blueboy, my cross bike, out today, had a good ride.
I did thirty five miles and the wind was fun and so were the hills.
I know these winds have been crazy lately but I didn't realize that they were blowing this heat all the way to Iowa, sorry DaveyGie, I have no control over this, but with the heat you sure can grow some good peppers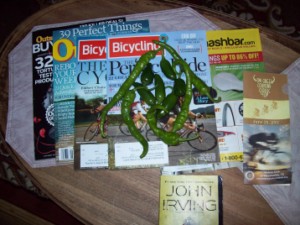 Tomatoes are also looking real nice, shouldn't be long.



Leave a comment From:MrDaveyGieA big shout out to you Mr. Bill for going to Vietnam. Thank you for doing your duty, while most of us sat comfortably in our homes. I am grateful.

mrbill:
Thanks, Dave, your comment is much appreciated

From:TomYeah, we got a taste of your heat today too. Not as bad as what MrDave got.

mrbill:
Take my work for it, you don't need the 90's








Yep, you read it right, 98 degrees




Not warm enough? No worry, this is only May.

This is why we ride at sunup in Texas.
A good weekend of riding.
I got out early both Saturday and Sunday, got in 40 miles on Saturday and 30 miles on Sunday.
Saturdays ride was a road ride, I rode "Blueboy", my cross bike, loving it and then on Sunday I rode my Mtn bike, this ride does have a couple of gravel and sand stretches.
It's warming up in Texas, best to start your ride at sunup so you can beat the heat and wind, and boy was it windy this weekend, 20/25 mph on Saturday and 20/30 on Sunday.
Our temperature today is supposed to be about 96 degrees, I'm pretty sure it will make it, a bit early for mid 90's, although I'm not surprised.

Robert, I was out on my ride when you called, I don't lay around and watch TV and drink coffee in the morning, I get out and ride, hope you finally got out for a few miles.

I've still got an itch to go somewhere, probably won't be until the end of June, watch out my Online friends, I may be headed your way, I'm not going to let you know I'm coming, for some strange reason when I do that nobodies home when I show up, hum.

Hope everyone had a good weekend on the bike, or off the bike, thanks for stopping by.
Leave a comment From:MrDaveyGieGeesh, sounds like Texas is coming this way tomorrow. 92 degrees, high humidity, and windy tomorrow in Iowa, I will have to see how the old biking legs can endure.



I had a good weekend of riding, I got in a thirty five mile ride on Saturday and a thirty miler on Sunday.
I'm not riding as much due to some part time work but when I do ride it feels great.
I've been riding my cross bike, Blueboy, and I'm really liking it.

This Saturday I'll be riding my forty mile route from BBB to Linden, Kildare, Bivins, Linden and then back to BBB.
If you want to make this ride let me know, I plan on starting at eight but if you want to ride and the time isn't right let me know and we'll work something out.
You can also meet me in Linden about 8:30 if you just want to ride approximately twenty five miles.

I'm planning on a ride this evening if the weather lets me, may have some thunderstorms.

My garden is looking really good and the Jalapenos are heating up, pretty soon I'll only be able to eat them seedless and there still hot, sand and heat grow Hot Jalapenos.
So far it looks like another banner year for tomatoes, I'm ready and so are my friends, shouldn't be long.


Saturdays ride will include the "High School Mtns" and a few areas, almost flat.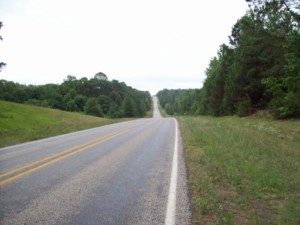 One of my favorite routes.



Leave a comment From:Nick"Almost flat", a phrase frequently heard but never honest.

mrbill:
Very true, nice to hear from you Nick, hope your getting in a few miles between photo shoots








Thinking about somewhere to go, thought Idaho, I love the mountains, maybe this is the spot, the "Sawtooth."

Here are a couple of photos of the "Hiawatha Rails to Trails Bike Path", fifteen miles, all downhill, does that sound good or what.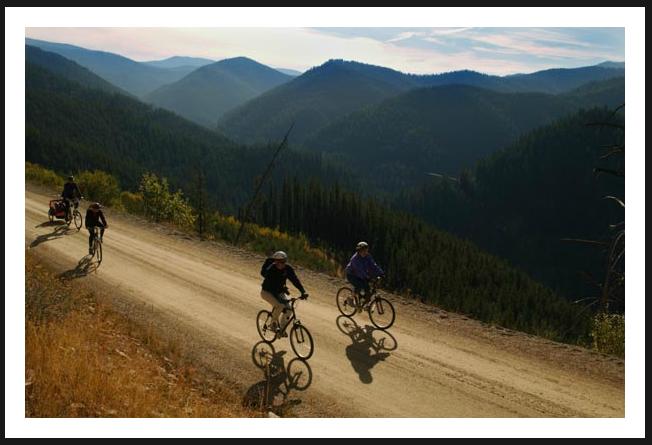 I suspect someone visiting here may know something about Northern Idaho, drop me a line and tell me what you think.

Might be a good place to escape the heat for a bit in August.

That is, if the world doesn't end today, another Nut.



Leave a comment From:TomIdaho is beautiful, and has remarkably diverse landscapes throughout the entire state. I want to go back and ride Yellowstone

mrbill:
I've been to all the states surrounding Idaho, but for some strange reason I've never been to Idaho, sure looks nice, thanks for the comment, ride Yellowstone, does sound really nice!! Take your camera








Got me in a short ride today after work, enjoyed the ride, always nice to be on the bike, helps head, body and soul.

My miles have been suffering due to me working a bit more than I planned, I was afraid of this.
I go to work with the idea of working four hours and then we start on a project, get to a tricky point, I don't want to leave my partner stranded so I stay to work thru problem areas, ends up an eight hour day.
I've got to keep to a part time schedule, I'll try harder.
At work we are working on finishing out a set of stairs, three floors and two landings, milling and sizing one hundred and fifty yr old long leaf pine, fun but challenging.
Jefferson, Texas, where I'm working, is a big Bed and Breakfast town, lots of nice old houses and we do quite a bit of work on them, they want everything to look old, works out good, cause my work naturally looks old.



********



In the reading department I've finished a couple of books, both very good and interesting.
"In the Heart of the Sea," by Nathaniel Philbrick, a really good book, it tells about the tragedy of the Whaleship Essex, needless to say a tragic ending and pretty gruesome at times.

I just finished "Tiger of the Snows" by James Ramsey Ullman," this is the Autobiography of Tenzing Norgay, the second man to step foot on top of Mount Everest, right behind Hillary.
I've always loved the mountains and Tenzings part of the world so this was a real treat for me, it was well done and very interesting, now I want to go to Darjelling, maybe the next time around.

Thanks for stopping by, I hope to eventually get my routine down to where I can get a few more miles on the bike, hopefully, I'm working on it.






Today was absolute perfect for riding, felt more like Colorado than Texas.
I did my "Club Lake Loop", a favorite of mine, several good hills with a lake in the middle of em.
Took the Mtnbike, in the twenty five miles I have all types of road surfaces, so Mtnbike with slicks works fine.


No it's not Heaven, it's "Texas"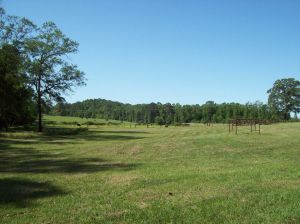 Nice new home on Club Lake Road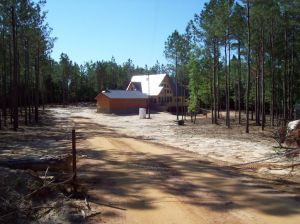 Club Lake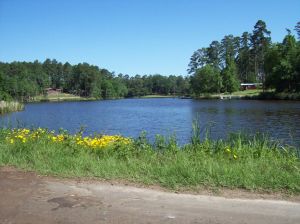 Latest update on Cass County Courthouse restoration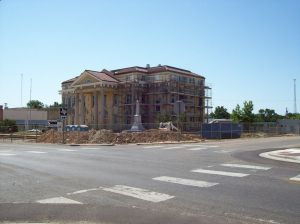 Then I had to go shopping at two stores and then mow the grass, a full day.

Had a great weekend, hope you did too.






As always I had a great time at the "Little River Relay for Life" bike ride in Ashdown, Arkansas, it was Big Fun.
The weather was suprisingly cool, I wore a long sleeve shirt under my jersey and it was fine, the sun never peaked thru while we were on the course.
The main challenging factor was the wind, the first part of the ride was into the wind and the second was with the wind, guess which I enjoyed more.
I actually had a lot of fun while riding into the wind because we had us a paceline going and it worked well for ten to fifteen miles.
There was about seven of us in the paceline and then we lost one, then lost two at a rest stop and that left four of us, Jerry, Ron, Alan and myself and we continued on together until the 40/65 mile split, Ron and Jerry took the sixty five, Alan and myself took the forty.

Not long after the split we finally got the wind at our backs, what a relief.
From then on it was just cruising and having a good time on the bike, roads were FLAT, flatest I've been on in a while, yeah I missed the hills, but I'll get over it.
Alan said we had a few hills but somehow I missed them, must have been those few little bumps we had.

This was the first time for this ride and I'm looking forward to it next year, a great route, good roads, well planned, nice goodies and T-shirt, and good eats at the finish, that makes for BIG FUN.

Yes, I did my share of the pulling and I loved it, I felt good, I love pulling Carbon, when I can.


For photos of the ride, click Thumbnail below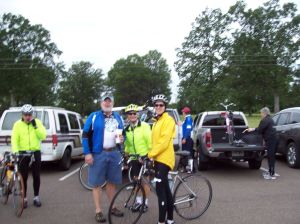 I knew today was going to be a fun day right from the start.
As I pulled into the school parking lot and got out of my truck I saw Barry.
I head toward Barry to say Hello, meanwhile Dan joins us.
I shake hands with Barry and then turn to shake hands with Dan but I suddenly realize that he has coffee in his left hand and a Banana in his right, so I say, "oops, Dan, I don't want to shake your Banana," immediately Barry was on it and then it dawned on me what I had said, needless to say the quote spread around quickly and I'm sure I'll hear it again in the future, Thanks Barry.






I was going to get in a ride Wednesday after work, but we had rain so I decided to wait until Thursday.
Well I took my ride today and it was short and sweet.
Finishing up my ride I run into Marcelo, a Mexican neighbor of mine, riding his bike, looks like I've inspired someone, hope he sticks with it, I could use a riding partner.

I will be heading to Ashdown, Arkansas this Saturday for a ride, should be fun and the temps will be great for riding, mid 70's for the high, Bueno.


End of the Blacktop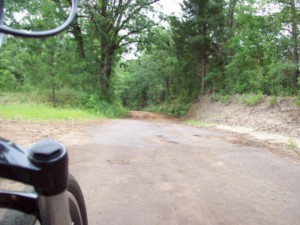 This is why I like my Mountain bike, some of my routes have stretches of gravel and sand, mrbill just keeps on biking.

I'm only riding part time now as I am working part time, and so life goes.



Leave a comment From:MrDaveyGieThe end of the BlackTop, is where the fun begins. :-)

mrbill:
and the traffic ends, Thanks for stopping by Dave








I got out rather early, about 7:40am, 60 degrees and overcast, perfect for a bike ride.
I did my "Union Mountain" ride, always a good ride, no traffic, no dogs.

Later in the day I was walking the trail around my place when I took this picture of my "Butterfly Flowers", they grow right on the trail and I look forward to their blooming every year.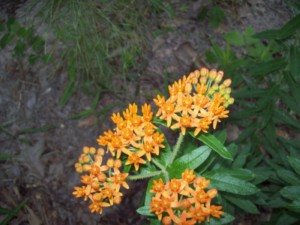 Hope everyone had a good weekend, hope all the mothers had a good Mothers Day.



Leave a comment From: Teresa

I just love those Butterfly Flowers, their so pretty. Also glad you had a good ride. Hope all is good.

mrbill:
All is well, hope your also doing good








I guess that Biorythms are accurate sometimes, they sure were today, Big Fun on the Bike.
The temps were perfect, the wind was blowing but I ignored it, going into it, and enjoyed going with it.
I did my extended High School loop and I rode "BlueBoy", I really like that bike, I stayed out of the drops for the most part and when in the drops I was looking straight at the road


This is what I spent my Saturday morning looking at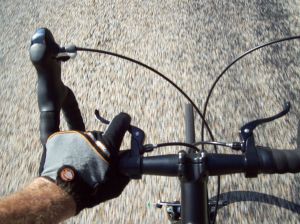 Passing thru Linden I spotted this flower garden, nice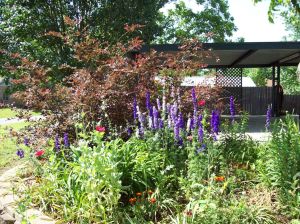 A really nice day on the bike.

Tomorrow I'll be taking my Mountain Bike on my "Union Mountain" ride, a favorite.



Checked my Biorythms this morning



Looks like a good day for a thirty five mile ride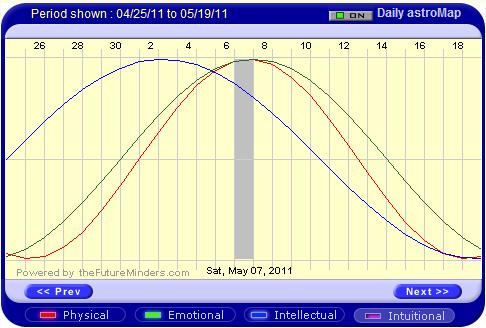 Check your Biorythms, link to the right.



Leave a comment From:MrDaveyGieGood to see Mr. Bill getting in some good biking.

mrbill:
Yes, it is good, good for Mind, Body and Soul, have a good one Dave!








I am going to a ride this weekend in Gilmer, TX, hope to see you there.
I went to this ride last year and it was a good time, well done.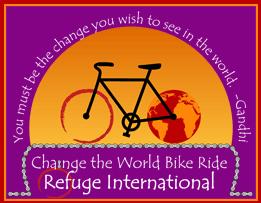 A busy day but I did manage to get in a short ride this evening, it was big fun and the conditions were perfect.


Really nice out there today!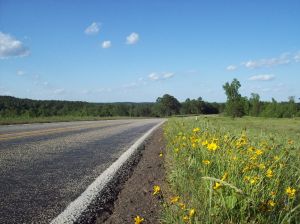 It looks like it's going to be another good year for tomatoes, I hope.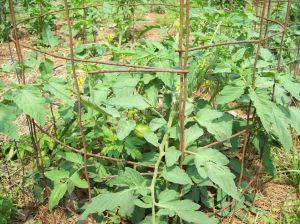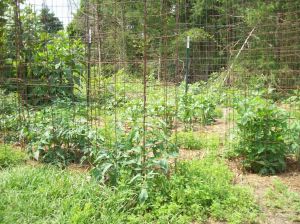 Leave a comment From:MrDaveyGieTexas gardening would sure fill the pantry me thinks.

mrbill:
I should have plenty of tomatoes and peppers, come on down.



I had a plate full today but I did manage to get in 15 miles, 88% humidity and 83 degrees, it was a boiler, unfortunately a sign of things to come.
We are getting some rain and thunderstorms, the only storm in the state was in our county last night and a tornado passed within a few miles of the house, it was exciting, no.


For "Douglasville Race" photos
Click Thumbnail below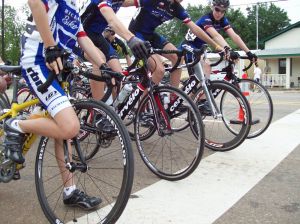 Myself and an old college friend who was visiting for the weekend had a good time at the Bike Races in Douglasville yesterday.
The weather was 100% better than last year, cool, cloudy with a light mist on and off, a good time.

Douglasville is only 10 miles from my house so Robert and I rode our bikes to the event, worked out great, got in about 25 miles of riding and got to meet some folks, saw a lot of Real Nice Bikes.
It was also fun meeting some young folks, 13 and 15 yr olds who are well on their way to accomplishing some good things on the bike.

Thanks to Terry Berridge, for organizing this event and everyone else who makes this a fun event.
Leave a comment From:TomLots of storms in the south. I'll take the cold, but it will be our turn for the tornadoes soon enough.
Hang in there.

mrbill:
At least the storms bring rain, and that's good for my tomatoes and peppers

From:MrDaveyGieYaY,for Mr. Bill getting a bike ride in, inspite of the heat and humidity. We got frost warning out again for tonight.

mrbill:
It was a good weekend, nothing major but I was on the bike and that's good

Thanks everyone for stopping by

Robert:
Good job on the race pictures.

mrbill:
Thanks, it was good fun