Saturdays ride went well so I did it again today, sucess, no malfunctions.

When I used to Skydive one of the best jumps was the Sunset Load, it's really a treat to jump as the sun is setting, lot's of color, really neat.
So lately I've been taking me a Sunset ride, just about 3 miles down my blacktop road and back, a nice was to end the day.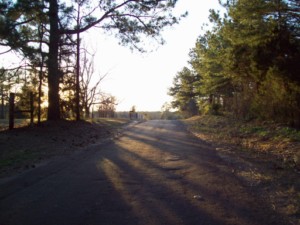 Finishing up my "Sunset Ride"




A beautiful day for a bike ride, 65 deg, Sun and light wind.
I got my homemade recumbent out and took her for a spin, went to Linden and back and then messed around on the backroads for a bit, for a total of 23 miles.
The last time I rode my homemade recumbent I had a littl malfunction, Idler pulley came off and went back into rear derailleur breaking it off and resulting in a total lockdown.
So the other morning I had to rob some parts off of another bike to get her going, was glad I made it to town and back with no problems, she's actually running pretty smooth, for Homemade.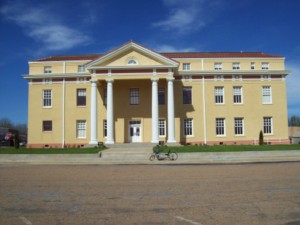 Courthouse restoration is complete plus my Homemade Recumbent.



I hope everyone is having a great weekend.







Went to the VA today in Shreveport for the Ultra Sound on my Abdomen, everything checked out OK.
So the only real problem I have at present is the Arthritis in my neck, which is a real pain in the neck.
Looks like I may be riding a Recumbent if I keep riding, the regular road bike does mess with my neck, Oh the joys of aging.

It was 86 degrees today, even ran the AC for a bit when I got home from Shreveport, entirely to hot for February, plus these 30 mph winds are a challenge.
So I guess I'll work on getting one of my Recumbents going so I can keep turning those cranks.

Thanks much to my Online Friends who have checked up on me, I really appreciate your concern.




I got out for a ride today and it was a challenge riding into the wind.
Other than the wind, conditions were great, 80 deg and Sun.
Eighty degrees in February is scary, may be another killer summer.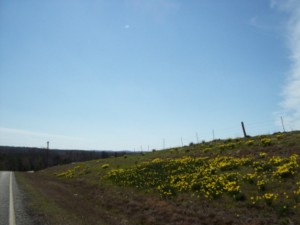 Blue Skies and Jonquils in Bloom




Today was made for Bike riding, 70 degrees, light wind and Sun.
I took the backroads to town and then returned home on Hwy 8, best ride in awhile.
This spring like weather is really nice but it also makes you wonder if we're going to have another killer summer.
I plan on riding again tomorrow as the temps should be around 74 deg, hard to beat for February.

Thursday I'll be going to the VA Hospital in Shreveport for an Ultra Sound on my Abdomen, don't think they'll find anything, guess that's a good thing, I'll be sure and let you know the results.




Just to let anyone know who might be stopping by, mrbill is alive and kicking.
I've been under the weather lately for about a month and a half, stomach problems, gastritis, not fun.
I'm definitely feeling better and even plan on riding my bike to town today, hopefully the Sun will shine, haven't had much sun lately.
I apologize for not letting everyone know what's been happening but I just haven't been up to getting on the computer lately.
Hopefully I'm on the mend and bike on the bike.