I don't know what's been wrong with me lately, I've been feeling a bit stronger on the bike, spent some time in the big gears today.
Showing off is always a good way to get a workout, remember how the coaches used to get the cheerleaders to come out and watch practice and how the guys would work twice as hard, that's showing off.
Well today I was riding thru the bottoms and a truck comes up behind me, he stays behind me and won't come around so I take off, drop down a couple of gears and get it, I'll show him, can I drop the truck, off course not.
About 1 1/2 miles down the road I sit up and motion him by, as he passes he smiles and waves, I'm thinking, I think he enjoyed that more than I did, as my heart beats rapidly within my chest.
Showing off is more difficult in your mid 60's.

I spotted my little "Wild Morning Glories" this morning and stopped and got these pics.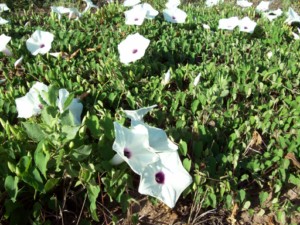 If you look real close you can see a Bumblebee in the bottom flower,
many Bumblebees having breakfast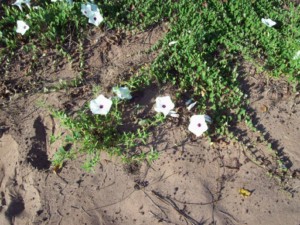 I don't understand how they survive in dry sand with temps around 103, simply amazing.



So a good ride today, now to hang out with the A/C until about 7 pm at which time it is safe to venture outside.



************





************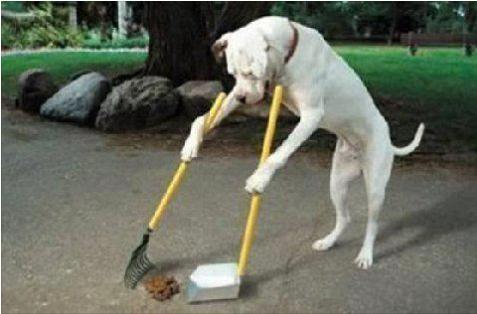 Just couldn't resist


103 deg


I have been getting in a few miles but my riding has been interupted lately by a few things, Olmpics, Heat and Old Age.
I've actually felt good on the bike, like I said, just not enough Cool hours in the day.

Looks like it's going to be another Hot one today, about 102 deg, that's not cycling weather, at least not for mrbill.

I've been hanging inside with the A/c and haven't even wanted to go to the store but I'm out of Dog food and Cat food, got a bunch of angry animals around here so guess I'll go to Wally World today, not looking forward to it.



***********



In the reading department I finished "The Swiss Account" by Paul Erdman, I really enjoyed this book, never really understood how Switzerland managed to survive during WW11, basically banking and money, they were in a pretty precarious position.

I've now started reading "Peony" by Pearl S. Buck, Peony is a bonded servant in a Jewish household in Southern China, should be interesting.



***********



I heard from my adopted European children yesterday, their doing fine and are leaving Germany today for the Czech Republic.

I've been doing a little research on Europe just in case I get to head that way next spring.

Jiri lived in Switzerland for 17 yrs, in Grindelwald, at the base of the Eiger, his Mom and Stepdad still live there and I may get to visit, would love to.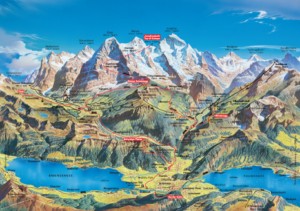 This could be some rough bike riding, no wonder Jiri is such a good rider.



And of course it would also be a real treat to see Prague, and Pilsen, where Jiri lives, good bike riding here also.
Now you know of my Dream Vacation for next year.











I had me a real nice ride this morning, twenty five miles, up and down with the wind at my back on the way home.
I did see one little cloud about the size of a quarter, unfortunately it wasn't over me.
I stopped by and visited some friends, and we talked about healthy eating, old people always talk about health, I wonder why.

Guess I'll ride the 53 mile ride in Texarkana this Saturday, should be interesting on my Mountain bike, I will be cruising and visiting.




I had a nice ride by the Winery and thru the bottoms this morning.
About 4 miles from the house I get a call on my cell phone, the phone man is at my house to fix my telephone which has been on the blink for a couple of days, this is inspiration for a couple of hills between me and the house, good ride, phone fixed.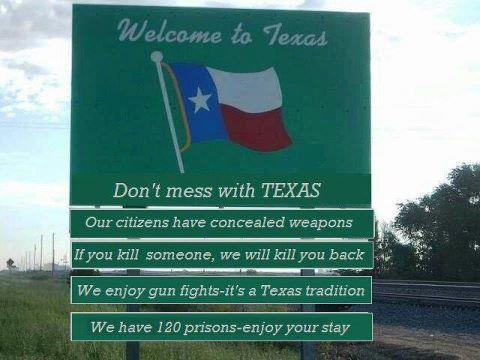 Saw this on Facebook and just couldn't resist.




Got out for a ride this morning, it was cloudy, no sun was nice but the Humidity made up for no sun, it was wet and warm, sun came out as I pulled into the house.


Am I sure about the Humidity?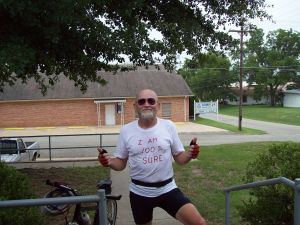 Yep, 100% sure


Love cruising thru this little valley,
got a "Little House on the Prairie" feel.



So a nice ride this morning, hope we get some rain this afternoon, slight chance.







I had a great time yesterday at the "Tour de Paris" in Paris, Texas.
The word for the day was HEAT, as usual for Tx in July, it was 84 deg at the start and 100 deg at the finish, about 11am, just right.

I rode with Terry Spivey and Dan Dupree, Dan was steady as usual and Terry had his moments, and Terry won't forget 242 anytime soon, bike rides are fun.

So, another TDP in the books, now I'm looking forward to the "Rat Ride," otherwise known as "The Ride Around Texarkana" next Saturday, should be fun and will probably be Hot.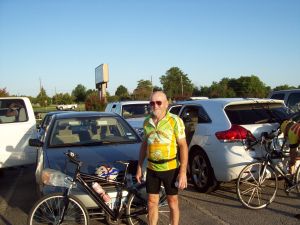 Click image for more pics of TDP

************



In the Reading dept:

From: "Confederates in the Attic" by Tony Horwitz

This casual view of political scandal had family roots.
Betty's father-in-law, Eugene Talmadge, was a long-time Georgia governor who once told voters, "Sure I stole, but I stole it for you." He also liked to warn political foes, "I'm just as mean as cat shit."

Southern politics didn't produce characters like that anymore, least of all in Georgia, whose most recent governor of note was a pious peanut farmer from Plains.

mrbill:
when someone wants to know my favorite President of all time I say, "Jimmy Carter," and they say, "Why?, he didn't do anything," that's my point!!







Got out about 8am this morning for a short ride, humid but bearable, should be about 100 deg this afternoon, not suitable for riding, anything.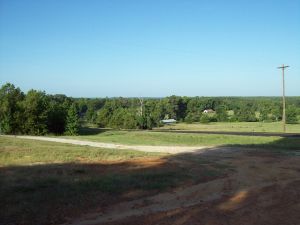 "Blue Skies," nice for Skydiving, but not so nice for cycling in July.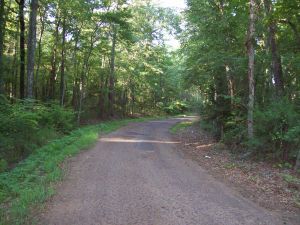 These shaded lanes are more like it!!




Nice 22 miler today, managed to get out early and beat some of the heat, but you can't beat the humidity, trick is, don't stop.

Looks like bad news at the "Tour de France," Frank Schleck has tested positive.
I really hate to hear this as I have always liked the Schleck brothers. What I don't understand is, he tested positive for a diuretic, it's not on the list of prohibited substances, why isn't he racing?

This is a big blow for cycling, I can just imagine the talk around Radio Shack headquaters this morning, this team is probably no longer, what a shame.


************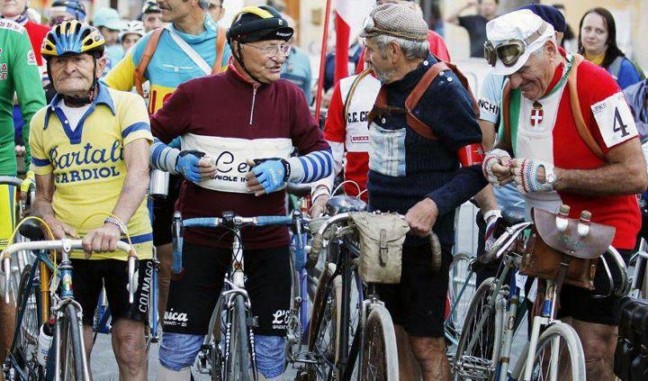 Love this photo

*************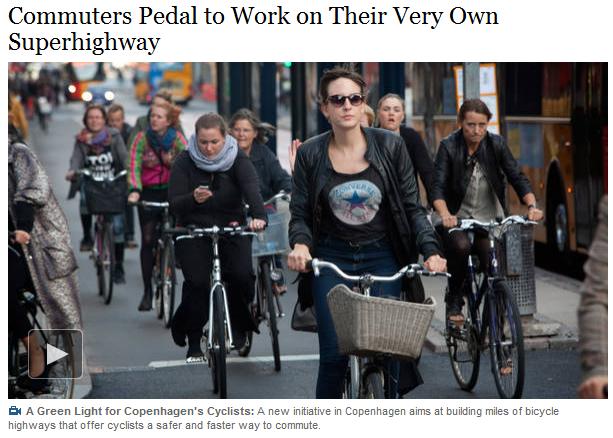 Copenhagen seems to have it's priorities straight.
Click image for story.




Nice ride today, no rain, full Sun with a heavy touch of humidity, get used to it.

In the reading department I'm enjoying, "Confederates in the Attic" by Tony Horwitz, about those diehard, rebel, flag waving rednecks of the South.

"Columbia has no business running us," he said of the state capital. "It's in the goddamned Bible Belt. I grew up being told that Baptists don't make love standing up because people might think they were dancing. That's how staunch they are."

I moved my lunch to the bar and offered to buy the man a drink. He ordered four beers, shoving one to me. "I drink beer so I can drink liquor," he said. "You've got to lay down a foundation in your stomach before you start in on the hard stuff."




I didn't ride today, I took Teresa to her Doctors appointment, also did a little weed eating.
It looks like the rain is gone for now, sure hope it comes back.

Guess I will go to the "Tour de Paris" this weekend, it will be nice to see some old friends and get in a few miles and not to forget, everyone will get to see "mrbill."



************



From: "Confederates in the Attic," by Tony Horwitz

"Juanita, my first wife," Olgers said. "She was crazy about collards, which cause gas, you know. She ate a whole pot one day.
I heard the explosion in the field, but by the time I got to the house it was to late. Nothing left." He shook his head. "God I miss that woman."







Went for a short ride this morning between showers, mrbill wouldn't want to get caught in the rain, he might melt.
We've really been enjoying the rain, unfortunately they say it may be coming to an end, hopefully it want be gone to long.

Thinking of doing the "Tour de Paris" next weekend, not sure but it is on the short list, a good ride.
My European Kids.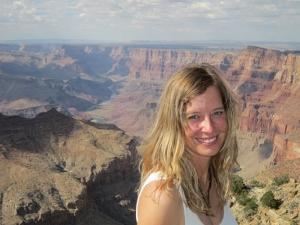 Nicole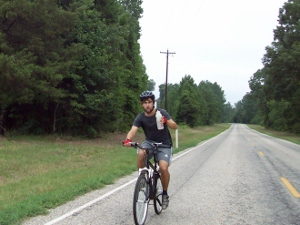 Jiri




I got out for a ride this morning, it was humid, no surprise, but it was cloudy and not to bad, enjoyed the ride.
Everyone around this part of the Country is really thankful for the rain we've been getting, we can use all we can get.

For the past week I've had visitors from Europe, it's a pretty neat story of how we met.
While I was in Antigua Guatemala, Robert and I were in a small restaurant eating when this young couple enters, no seats so I invite them to sit with us.
We introduce ourselves to Jiri and Nicole from Czech Republic and Stuttgart, Germany.
Jiri and Nicole were married in September and then started travelling in November.
They first travelled to Africa, Ethiopia, Kenya and South Africa.
From Africa they travelled to South America and then to Central America where I met them in Guatemala.

As Robert and I were leaving the Restaurant in Antigua I gave Jiri and Nicole my phone number just in case they had any problems when entering the US.

Robert and I returned from Guatemala and then about 2 weeks later I get a call from Nicole, they're in Laredo, TX and are having problems, can't rent a car like they planned and don't want to ride a bus around the US.
I tell them to catch a bus to Texarkana and that I'll pick them up and give them a hand.
The next evening I pick them up in Texarkana, really neat meeting someone in Guatemala for the first time and then seeing them in Texas.

We head for mi casa and I get them moved in, caught up on Laundry and then turn my computer over to them, they need a break, been doing some hard travelling.

The day after they get here we go looking for a used car, find one and make plans to buy it.
Next is Insurance, really got lucky, a Lady I know, Joyce Walden, got them car insurance for one month for 64 dollars, I can't belive it, I tell Jiri and Nicole that the Gods are smiling on them.

They head West in their new used car, they named her "Rose."
They travelled across the SW, did the Grand Canyon, up the coast of California to San Francisco, then back thru Nev, Utah and Colorado and then back to mi casa, I was tickled to see them.

I was really glad that they had no problems with the car and we were even able to sell the vehicle back to the man we bought it from, tricky getting rid of a car when you've only got a couple of days.

So the last week I have spent with Jiri and Nicole, showed them quite a bit of the area and had some really nice outings, also took them to Louisana, wouldn't want to miss Louisana.

Then comes yesterday, Friday the 13th, and I take them to the Airport in Little Rock, AR for their flight to NY, they fly to Europe on the 17th.

Life is really funny, how you can meet someone and how in such a short period of time become so close.
These are some of the finest people I've ever met, I actually adopted them as my European kids, they were a real positive influence on me.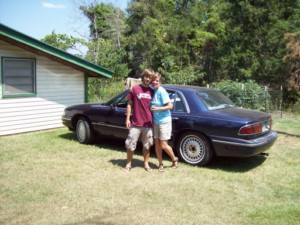 Jiri and Nicole with Rose, it's funny but Rose was Jiri's first car, they were kind of sad to part with her.

If at all possible I will visit Jiri and Nicole in Europe, they've got it all planned out.
First I got to the Czech Republic, then to Grindelwald, Switzerland, at the base of the "Eiger" to visit Jiri's Mom and Stepdad then to Stuttgart to visit Nicoles family, sure sounds good to me, can't wait.

I may get to do a little bike riding in the Czech Republic, it turns out Jiri is a bike rider, a good bike rider, we went for a couple of rides while they were here and Jiri just rides right up my toughest hills like they are flat, kind of hurt my feelings, I claimed old age, had to have some excuse.

Now to get back into my Rut, missing the smiling faces around the casa.



Jiri and NicoleFollow Jiri and Nicoles travels









Got out for a ride this morning, did my bottom loop for 18 miles.
As I was finishing up my ride I ran into another rider on HWy 8 headed toward Linden.

I turned and pulled up beside Scott who was riding from DeKalb to Jefferson, about 69 miles, a good ride.
It turns out that Scott like about 11,999 other people are out training for the HHH, "Hotter n Hell 100," held each August in Wichita Falls, TX.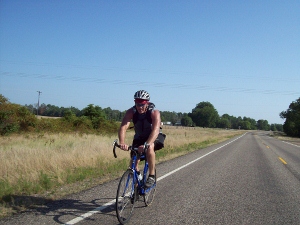 Scott from Dekalb, putting in a good ride.




I took the day off the bike yesterday, had to go to Wally World and do some chores around the Rancho.
It was a really nice day for July, cloudy all day, mid 90's, could have used some rain but if clouds is all we can get, we'll take it.

My adopted kids from Europe are wakeing up in Yosemite National Park this morning, yep, I should have went with them, bears and all.
Nicole is afraid of dogs, I can just imagine her running into a bear.




I had a nice weekend, got me in about fifty miles and enjoyed it despite the heat and humidity.
I'm keeping my fingers crossed so far this year has been a bit better than last year, yep, we've hit 102 but not 110, there is a difference.
It's supposed to be in the mid 90's all week, I'll have to see it to believe it.

On my rides the Horse flys are out in force and they seem to like my Butt, it's kind of difficult to climb some of my hills while at the same time swatting Horse flys off my Butt.

I got a call from my adopted kids, they were near San Francisco and expect to be back here around the end of the week.
If everything works out, Robert may come up from Waco and we all might go to "Crawdaddys" in Shreveport for some Crawfish, can't do that in the Czech Republic.

Everyone have a great week, get out and ride, the Horseflies are hungry.