100 F,


About a week ago I was on a bike ride and taking a brake at the Country Store and in pulls this Big Nice Truck, with Real Nice Bass Boat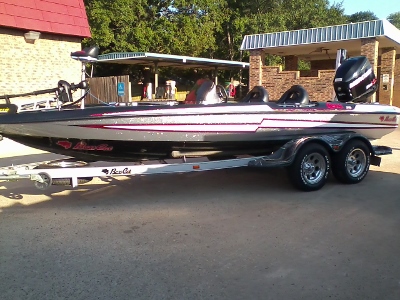 and that did it

I went home and ordered me a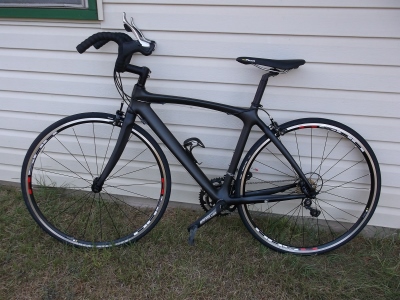 Carbon Fiber bike.



I got it put together yesterday but it was to Hot to ride.
This morning I take her on a test run, I'm impressed.
I went by Jerrys and he had to ride it up the street, he was impressed.

I leave Jerrys and do a 10 mile loop before returning to the house.
Leaving Linden there's a real nice stretch of road, nice and smooth, mrbill couldn't stand it, I put my head down and started pedaling.

All of a sudden I see something about the same time I hit it, I fly into the air and to the right, I manage to keep my bike upright somehow, needless to say I about messed my drawers and almost crashed my New Bike.
After recovering I look back to see what I hit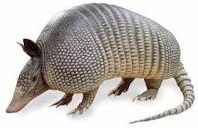 a Dead Armadillo, how I survived it I haven't a clue.

I plan on gettin out tomorrow morning for another ride hope it's not quite as exciting.





Leave a commentFrom:TomJust 90's here. No triple digits, thankfully.

mrbill:
All things being relative I think it's a bit warm for both of us, but I can't complain, we've had a relatively good Summer.






100 F,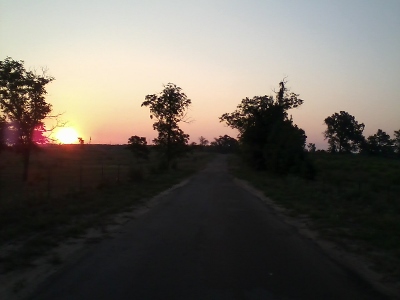 Getting out early these days
Nice ride this morning.
I left the house about 7am and decided I'd ride to Douglasville. Even on these hundred degree days it's pretty nice at 7 in the morning, had a nice ride to Douglasville.
After reaching Douglasville I decided I'd do the same Time Trial that the folks did in the Douglasville races, from Douglasville to Red Hill.
I did pretty good, my time may have been as good as some of the 12 yr olds.

I'm really enjoying BlueBoy since my new handlebar setup, nice to really enjoy some longer rides.

There's been a heep of Cycling going on lately, Colorado, where my boy Sagan cleaned up and Tejay took the overall.
The Tour of Spain is also going on at this time, lot's of cycling, and that's good.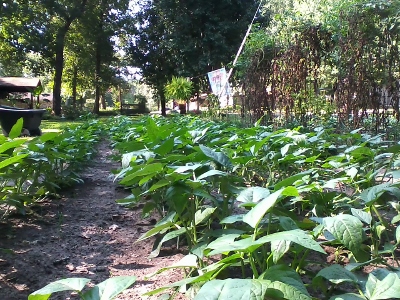 Peas, Marthas Garden, Jerrys wife

**********************



In the reading department I finished "The Three Musketeers" and am now reading "The Count of Monte Cristo" and really enjoying it.










90 F,


Got me in a good ride today.
As I started out I thought I would freeze, well maybe not quite that cold, but it was cool at 60 deg.

Got on the road about 7:30, went to Linden and met up with Jerry, he was ready to ride.
We ended up going to Kildare and then to Bivins and then back to Linden, about 40 miles for me and 25 for Jerry.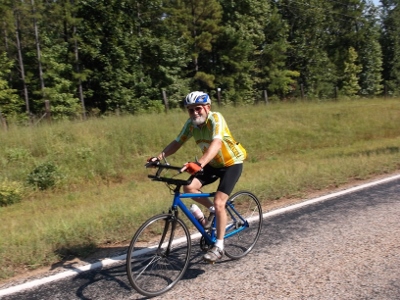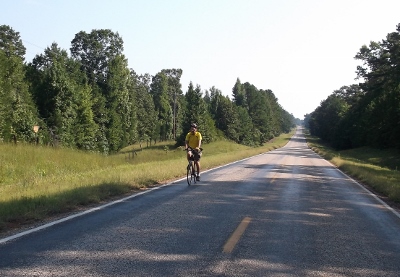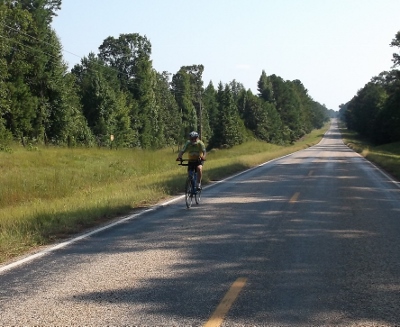 Heck, that was fun, think I'll ride again tomorrow.










90 F,


Really loving this weather, feels a bit like Colorado, highs 80's, lows mid 60's.

After the Douglasville races and with the cooler weather I've been motivated to ride.
On Monday I started out on my Mtn bike and about 3/4 of a mile from the house I break a rear Derailleur cable, back to house and get on BlueBoy to finish ride.

Tuesday I had to go to the Dentist so took the day off.

Wednesday the cool weather arrived and I was ready to ride, it felt so good I even did a little maintenance on the Mtn bike, changed both Derailleur cables.

So in a nutshell, the weather has motivated me and I've been riding, tomorrow I plan on a 40 miler, we'll see, as long as my mouth cooperates after having a tooth pulled.



********************



Since I've been having some issues, due to neglect, with my Mtn bike I've been riding my cross bike, BlueBoy.
In the past BlueBoy has caused some problems with my neck so I have raised my bars so I have a more upright position and so far this has definitely helped, a forty miler tomorrow should let me know for sure, I believe Jerry will ride part of the ride with me.

Here is a picture of my handlebar setup, I just rolled em up and then added a piece of PVC electrical conduit with zip ties, wrapped everything in tape and Whalah, new setup, no expense.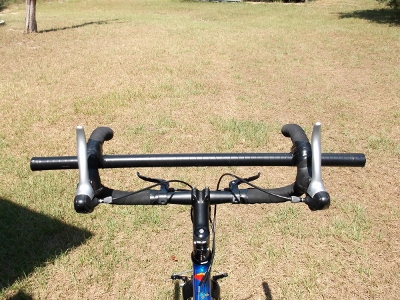 Jerry liked my setup and even posted a photo on another blog and got some responsed. To see the responses to his post, Click Here

I originally did this just to see if the position would be right, and then come up with a proper solution, but this is working and you know what they say, if it ain't broke, don't fix it.

The flat bar is attached by 4 zip ties, not just electrical tape.

Having fun here in East Texas and enjoying the weather, stop by if your in the neighborhood.










100 F,


I had a great weekend at the Bicycle Races in Douglasville.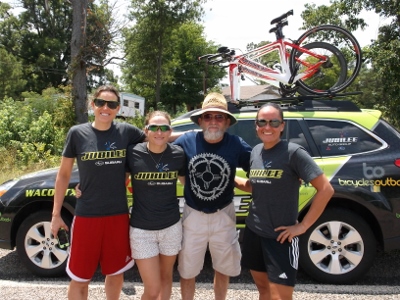 My new favorite Team, "Jubilee/Subaru"
Jubilee Subaru Cycling



More to come on Douglasville if I don't get Lazy.










100 F,


Had me another Hot and Nasty ride today, it was little fun.
Yep we've reached that time of the year, when I start dreaming of mountains, cool, dry air, it's alright mrbill just 2 months away.

Yesterday was really fun, I started out on my Mountain bike and about 5 miles from the house my rear tire goes flat, I think I may have pinched a tube coming down off Red Hill Mtn, pretty rough with rocks and gravel.
I dismount, sweat dripping from my head, nasty, I really don't want to fix this flat.
I look and see an old driveway with a little shade and decide to bite the bullet and fix the flat.
It's been quite a while since my last flat and the first thing I notice is my pump isn't working, head plugged with mud, I clean it and get it to working.
I break down the tire, the tube was almost vulcanized to the tire it's been so long but I finally get things tore down.
I dig in my pack and get out new tube, and while putting a bit of air in it I noice it has a rather nice hole in it, oh great, and no patch kit.

Ok, that's it, I'm bailing, I get on my cell phone and call Jerry, can't get him, put bike back together and start walking back toward house.
I run upon a guy named Jim who is mowing the yard of a local church, he offers me a ride to the house, God is good.

I get to the house and Jerry calls, he's on his way, I tell him I'm home and not to worry.
I walk into house, hot and nasty and look at clock, to early to be back home, I get Blue Boy (Cross Bike) and head out to finish ride, thankfully flat free.

I didn't take any chances with the rest of the day, hung close to the house, read and watched Tiger play a bit of golf.



****************



The Trevails of Mrbill:

I lived in Texas most of my life and "Stinging Scorpions" are nothing new, I've always seen them but have always been lucky.
When asked if I've ever been bit I tell folks that I probably have but just didn't know it, one of those bites where we don't know what happend, lots of Critters biting on you in Texas.

Well last night I had a rather distrubing experience.
About 11 pm I wake up and the inside of my right knee is stinging and I'm wondering in my groggy state, what is happening. I reach to feel my knee and then suddenly my "Boys" start stinging, damn, almost burning, I come out of that bed in a hurry.
I flip on the light and look in the bed and right there where my Boys had been previously was a damn Scorpion running around in circles, I presume looking for my "Boys."

He was acting like he really liked my boys, he was in such a state, but unfortunately hell never tast another "Nut," he's in Scorpion Paradise.

So from now on when asked if I've been bit by a Scorpion, I can immediately reply, "You Damn Right," things are still a bit sore this morning.



****************



In the reading department I finished "The Man in the Iron Mask," and realized thats it's about the end of the "Three Musketeers," so now I'm reading the "Three Musketeers" and am really enjoying it.



****************



Pro Bike racing in Douglasville, Tx next weekend, Jerry and I are trying to sponsor a KOM, not sure yet.
It should be a good weekend, no Continental teams but still a lot of riders that I can't touch, nice to have some pro racing 8 miles from the house.

Everyone have a good one and be sure and check your bed for Scorpions before going to sleep.





Leave a commentFrom:TomThat's a lot of excitement under the sheets, for a guy your age.

mrbill:
That's funny, Sad, but Funny.