55 F, 14 C


Updating from the Gym today since I can't get on at my casa.

I thought I'd upgrade my internet, they said 12 times faster, good I can skype my friends in the Czech Republic.
The man came out yesterday and changed out equipment and I checked to see if it was working, I just went to Yahoo and it came in, I say thanks and he's gone.
Then I try to connect to my Web Hosting service, no luck, I try my bank, no luck, it turns out everything I have signed into I now can't access.

I call to see what the problem is, I go thru about 2 hrs of BS the end result of is, the problem has been forwarded to the Technicians and it might be fixed in 72 hrs.

I tell the man that I would like to return to what I had, he says they can't do that.
I ask what happens if they can't fix the problem, your out of luck, thanks.

So if it's not fixed by Friday afternoon I will cancel them out and explore other options.

I'm recovering nicely from my bike wreck, the swelling in my right thumb is going down and I did have a good light workout at the Gym to day.

Headed to the house now, I can get yahoo at the house so if you want to get in touch with me please use email, spriy_99@yahoo.com.



60 F, 16 C


It was a strange day, rain in the morning, then cloudy, then storms moved thru and then the sun came out.

I went to the Chiropractor and he was tickled to hear about my bike wreck, I told him, "you did tell me to stick to my normal routine."
He did laser on my sprained thumb to help the inflamation.

I also went by the Gym, to visit and drink coffee, going to lay off the workout for a few days.
Went for Chinese and that pretty much made my day.



***************



From: "Les Miserables" by Victor Hugo

"Do not inquire the name of him who asks a shelter of you. The very man who is embarrassed by his name is the one who needs shelter."

"Oh, if the kind hearts only had fat purses, how much better things would go."

It took 17 years for Victor Hugo to complete "Les Miserables."





Leave a commentFrom:NancyMrBill, sure sorry about your road rash, looks tuff.
I know it happens to us all, but it is never fun. Take care, Nancy

mrbill:
It seems the older we get the Tuffer they get, nice to hear from you, hope to see you in Gilmer, Lord willin and the creek don't rise.






70 F, 21 C


Beautiful day for a bike ride so Jerry and I decided on a route and off we go.
It was a good ride except for about 5 minutes, that was the time it took me to hit the pavement on Hwy 59 and get back up.
Jerry wanted to call emergency pick-up but we only had twelve miles to go and other than bloody knuckles, sprained right thumb, road rash knee and small bump on side of knee, I was fine.

I'm blaming it on Jerry, who ever heard of breaking on a downhill, yep, caught his rear wheel, and we all know what happens then.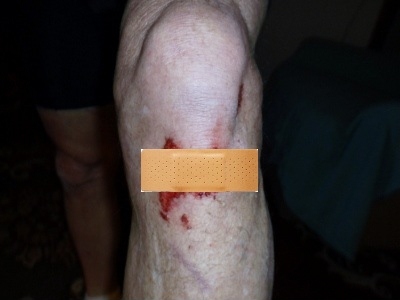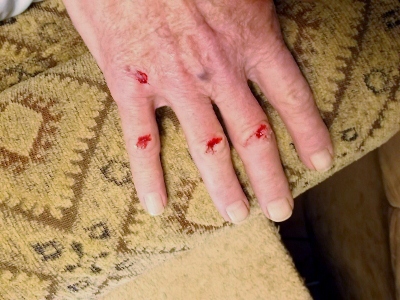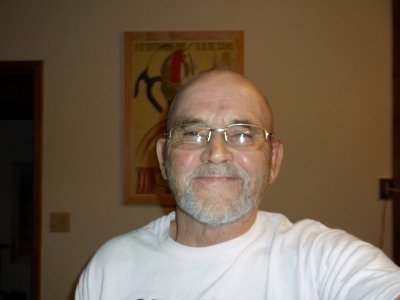 Still Smilin



Ok, I know I made your day, we always like to see blood, and before you ask, the Damn Bike is OK.





Leave a commentFrom:TomBlood and Gore. We love it just like the local news.
Sure am glad you're OK.

mrbill:
me too, could have been a lot worse, thanks for the comment

From:Jerry HarpMan, those wounds look much worse in the pictures. You da man Bill. I'd have called 911. Take two aspirin and call me in the morning.

Was fun taking advantage of the wounded warrior. Only time I could ever have caught you on a hill.

mrbill:
I still can't believe your the type guy who would take advantage of a man when he's down.
It may be a few days before I can get up off the floor with no hands.






Beautiful day for a bike ride, one of those days where I felt like I should have stayed in bed, but the bike ride saved it.


The Jonquils are in bloom.



50 F, 10 C


It was another nasty day, rain, cool, so I had a house cleaning day.
I did go to the Gym in the afternoon for a bit of exercise.



******************



From: "Les Miserables" by Victor Hugo

"Not seeing people permits one to attribute to them all possible perfections."

"You look at a star for two reasons, because it is lumious, and because it is impenetrable. You have beside you a sweeter radiance and a greater mystery, woman."

This from Gavroche, one of my favorite characters; "You've got the sniffles, old lady," said Gavroche. "Blow your promontory."










50 F, 10 C


Rain today, I went to the Chiropractor, Gym and then had Italian food.

Jerry found this article and passed it on to me, he wanted to see how I would do.

Read the article and give it a try.
No Hands on FloorFor mrbills results, Click Here
Leave a commentFrom: Robert

Guess I better invest in a burial plot because I can't get my ass off the ground without a two handed push up

mrbill:
Cremation is cheaper


From:MrDaveyGieOk I made it off the floor, no hands. But my knees are feeling good today, that could change. :-) soon.

mrbill:
Good for you Dave, you and I are the only ones who have done it.
I know your an honest man Dave, but a video would be nice.

From:MrDaveyGieOk I just tried it again at work. I DID USE MY ELBOWS. I say that because my co-worker is telling me that doesn't count.

mrbill:
Sorry Dave, he's right, but you don't even need to take the test, with your Dads genes you'll probably live forever.



55 F, 13 C


A beautiful day for a ride, sun, 55 deg and light wind.
Jerry really worked me over today, we did a multi-city tour, Linden, Avinger and Hugh Springs, 38 miles.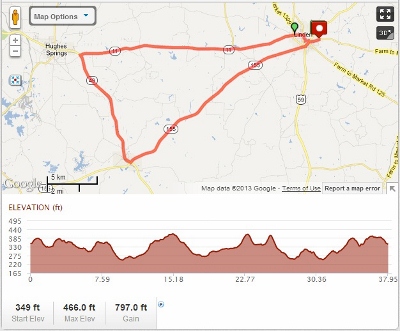 Our route today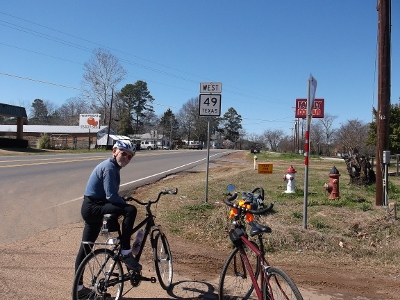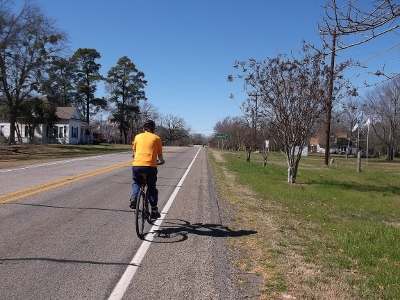 Jerry as we're approaching Avinger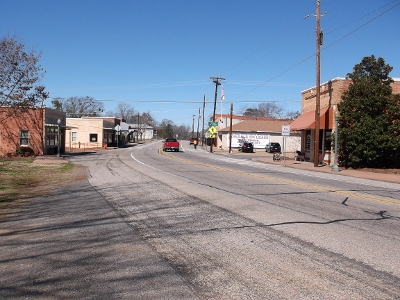 Downtown Avinger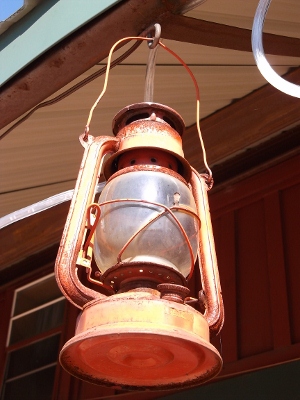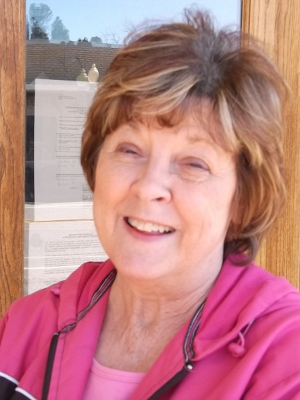 Pam, we call her the Mayor of Avinger, thanks for the pic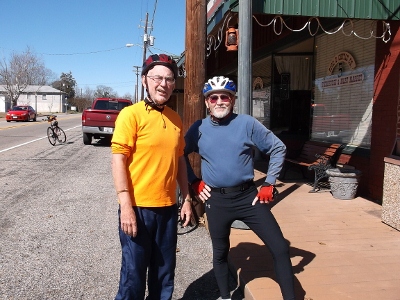 The Boys in Avinger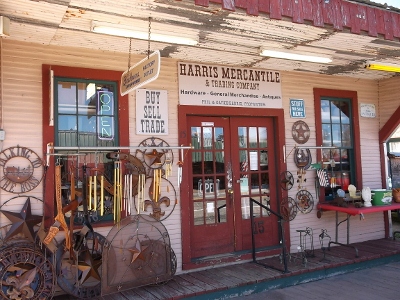 Avinger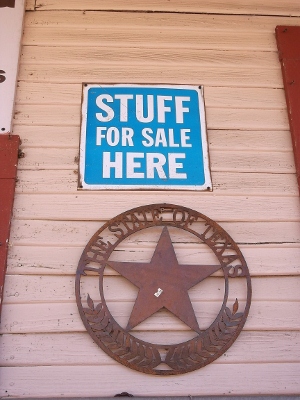 Avinger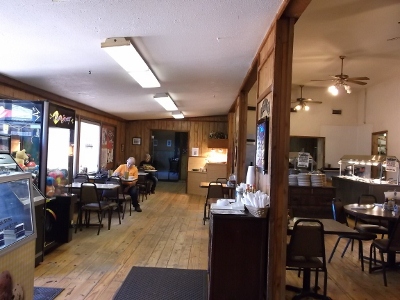 Refueling in Hugh Springs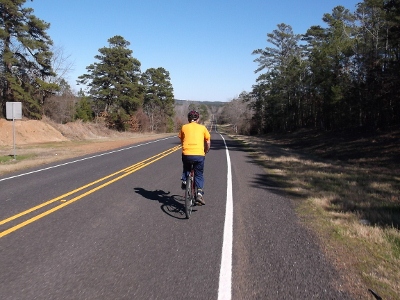 Headed to Linden on Hwy 11 or as Don Henley calls it, "Seven Bridges Road"



Thanks Jerry for the inspiration, sorry that your sore this morning.





Leave a commentFrom:Jerry HarpThat's disgusting! With a bp of 120 and a 600 t level, you're practically immortal. They gonna have to put a wooden stake in your heart to keep you in the coffin.

mrbill:
It's all in the Genes






70 F, 21 C


I had a good session at the Chiropractor today, I do like the folks and my treatments seem to be helping.

After leaving the Chiropractor I headed to the Gym, did the machines, getting in a bit of a routine, I also like this spot, the folks who visit and the folks who work there.
When I got there Jerry was on the recumbent trainer we decided to head to "Chicken Express" after our workout, well so much for the calories burned at the Gym.

At "Chicken Express" Jerry told the lady they needed to list the calories on the menu, she said no because if they did it would scare off customers.

I decided to have my Testerone checked last week, Terry my doctor called me this morning and said, "Bill, you've got the Testerone of a 19 yr old, so forget the Testerone," Why don't I feel like a 19 yr old?



**********************



In the reading department I'm really enjoying "Les Miserables."

"Let us never fear robbers nor murderers. Those are dangers from without, petty dangers. Let us fear ourselves. Prejudices are the real robbers; vices are the real murderers. The great dangers lie within ourselves."


Now, no death, that of the body as late as possible, that of the soul never,-this is what we desire.










70 F, 21 C


I don't remember when I've seen as much difference between one day and the next.
Yesterday our ride started into a 20mph North wind and it was 38 degrees, todays ride started into a 20mph South wind and it was 70 degrees, who knows what tomorrow will bring.

********************

One of the things I enjoy while riding with other riders is all the subjects we discuss, as we cyclists know, lots of thoughts out there on the road.

Yesterday Terry happened to mention a book he read and thought that I might like it.
It was a book on one of the worst Disasters in History, the "New London School Explosion," I can't believe I hadn't heard of it, probably only about an hour and a half from where I live.

Below is a link to information about the tragedy and a couple of old videos from that time.

New London School Explosion





38 F, 3 C


I woke this morning to 30 degrees with a 20 mile an hour North wind and I had a bike ride planned, a bit shaky for a "Fair Weather" rider.

Jerry came by and picked me up and we headed for Texarkana.
All the riders gathered in front of the bike shop for a photo that is supposed to be used in the Texarkana Gazette for a story about bikes.
After the photo we headed out on our ride, straight into that North wind, it wasn't as bad as I expected, riding with a group always makes things more enjoyable.
We finally got the wind at our back and we all started talking about how nice it was, folks started shedding some clothes, turned out to be a real nice ride.

All Jerry could think about was the Pinto Beans and Cornbread he was going to eat at the Dixie Diner after the ride.
Terry Spivey joined us for lunch, even paid for our lunch, thanks Terry, enjoyed my Potatoe Soup and Jerry finally had his much anticipated Beans and Cornbread with Jalapenos.

To the best of my knowledge we had no lady riders, where were you Sandy?

Joke of the day.

When riding with Terry Spivey invariably somewhere along the route we'll stop and Terry will share a joke with us, here it is.

A gentleman and his wife went to the Doctor.
They entered the Dr's office and and shortly were seen by the Doctor.
The Dr begin to tell the man that he would need a stool sample and a urine sample.
Well the man was hard of hearing so he turned to his wife and asked her, "Honey, what did he say?" and she said, "He wants to see a pair of your underwear.


Photos below of the ride, quality of first photos, those taken while riding into the wind, are a bit shaky as I was in that North wind, but last pics turned out pretty good once we got the wind at our back.

Enjoyed seeing some old friends, Jerry and I both had a great time."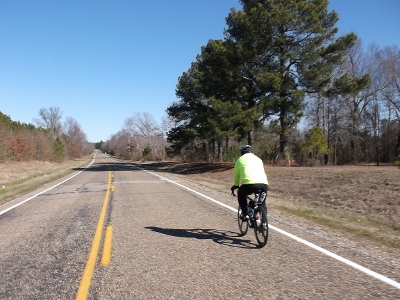 Terry Spivey leading the way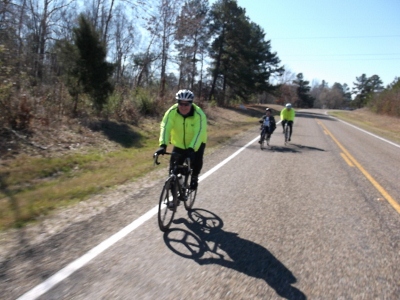 Terry, Jerry and Robert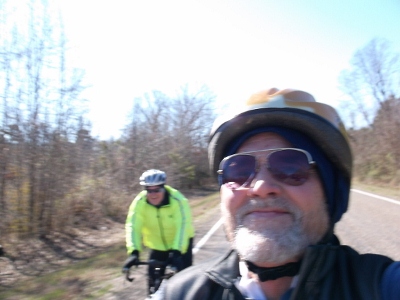 mrbill and Terry, the new and improved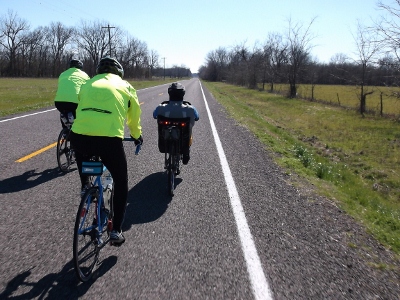 Terry, Robert and Barry on the Recumbent, I can see some of those lights like Barrys on Jerrys bike in the near future.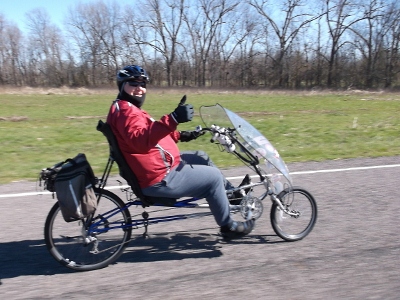 Scott Hanes, Mr.Hooks
Leave a commentFrom:TomLike to see those ride pics. Thanks for sharing. You seem a little over dressed from my perspective.

mrbill:
I notice a lot of your riding pics are taken from the rear, I'm usually up front but I dropped back to get a few pics I thought you might like.
We were dressed for our perspective, crazy the difference between here and there.



45 F, 7 C


Started the day off at the Chiropractor, then met Jerry for lunch at Catfish King and then headed to the Gym.
I'm doing my best to get in a regular routine, I enjoy the workout, and meeting folks of a similiar persuasion.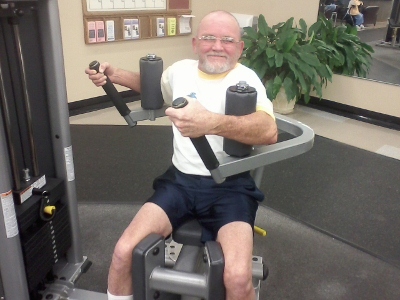 mrbill working for tone, not bulk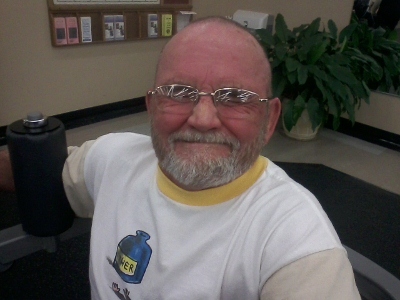 Are we having fun yet?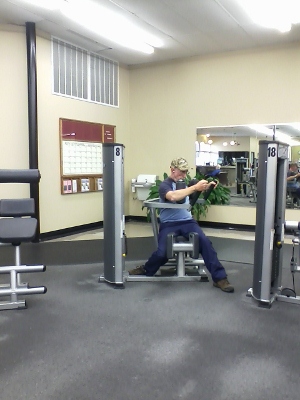 Jerry's been a big motivating factor for me, thanks Jerry.



Guess we'll go to Texarkana tomorrow for a photo opp and a bike ride with the Texarkana Bike Club, looking forward to seeing some old friends.










65 F, 17 C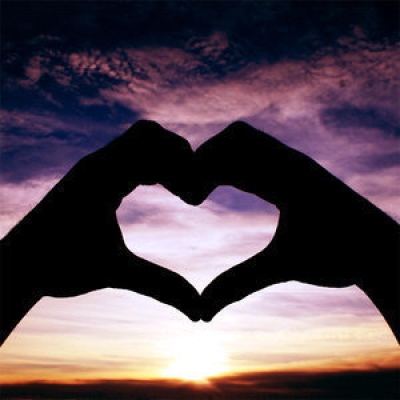 "Happy Valentines Day," don't send candy, I'm on a diet.
Our ride today, me and Jerry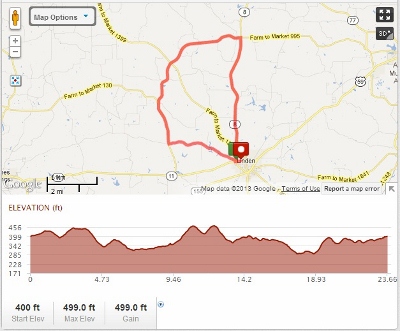 Map of todays ride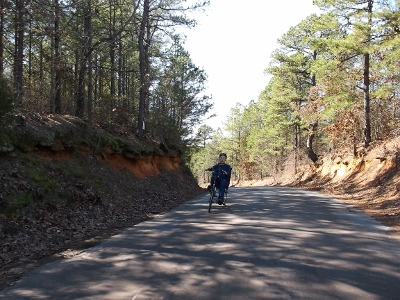 Jerry topping our main climb of the day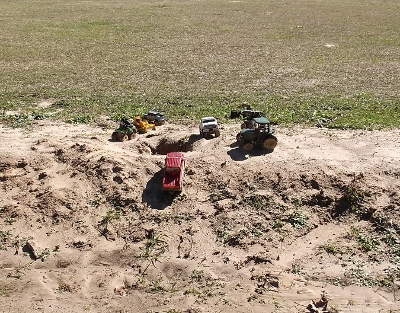 looks like some young uns were really having some fun


******************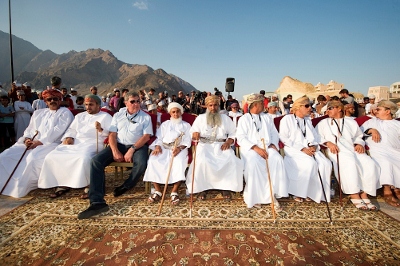 Eddy Merckx was at the "Tour of Oman," can you spot him in the pic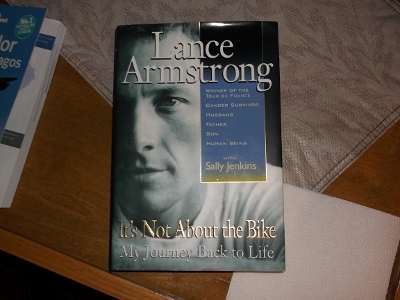 Checked for books at the Hospital in Atlanta yesterday, this hardback went for 50 cents, Hum.




For some great Cycling photos, click here.
In my humble opinion the best cycling pics on the net, if you don't think so, send me the link of the best.


"The older I get the more I admire those older than myself."










50 F, 10 C


Went to the Chiropractor this morning, had a good session, got adjusted, neck decompression and laser.

On my way to Chiropractor the Sun was out and and I was happy, leaving Chiropractor clouds rolled in it's cool, weatherman missed it again.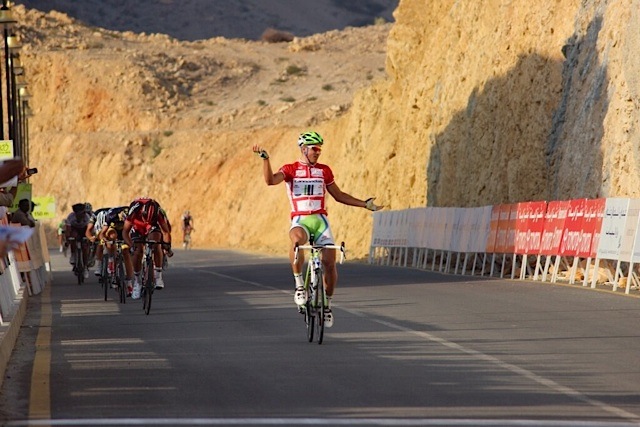 Sagan doubles up, takes stage 3 of the "Tour of Oman."
Green Mountain tomorrow, could decide the race.



59 F, 15 C


Raining this morning, no let up, a ride is in question.

If you come to my page every once in awhile you may remember me saying I expect good things from this rider this year.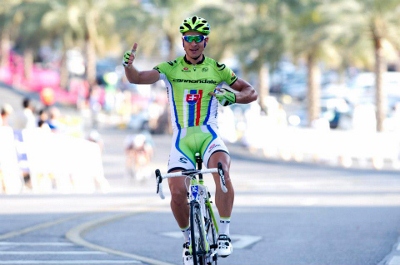 "Peter Sagan," takes stage 2 of the "Tour of Oman" and the race lead.
This guys a class act, I expect him to do well this year, sure I'm nervous, don't dope Peter, please.
Leave a commentFrom:Jerry HarpGet out and ride today so you'll have something for your blog. Show you Minn bud that you're crazy too.

mrbill:
Not that crazy!

From:TomI don't know...Who's more crazy the one who rides or the one who doesn't? Keep on postin' I enjoy checkin' in.

mrbill:
I admire your craziness



59 F, 15 C


Went to the Chiropractor today and then went for Chicken Enchilades and then to the Gym. I hit all the machines, got to take my swimming suit next time so I can hit the Hot Tub.
Rain on and off most of the day.
I ran across the Promo video for the "Tour of Oman," I found it informing and entertaining, hope you do too, it's happening Now.





Slow start today but I finally got off my bottom and took a short ride, surprise, it was what I needed.
It was cloudy, the sun was trying to shine w/o success, but that's ok, it was warm so the ride was nice.



47 F, 8 C


Cool, cloudy no sun, rain late, day off, reading "Les Miserables"



65 F, 18 C


Went to see Dr.Crack today, had a good session.
After chiropractory I met Jerry for lunch at the Chinese restaurant and guess what? I got carded, alright it's been a while, I actually had to show my drivers license because the gal just couldn't believe I qualified for the Senior meal, no problems for Jerry.

After lunch we headed to "New Attitudes" wellness center for a work out on the machines, they have a machine for every muscle in your body, I'm going to try and go kinda regular, no promises, this has always been hard for me to do.

A Good day.



Nice ride today, Jerry and I got in a twenty miler.
Rode an old backroad I hadn't ridden in at least 15 years, FM 1921, from the Rest Area on 59 to Bivins.
This is wild country, Mountain Lions, Panthers, Wolves, Wild Hogs and nearly every other creature known to man, I really enjoyed it.

This photo was taken on HWY 1841, we were headed to Linden from Bivins.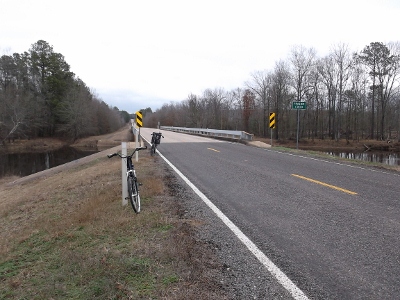 Just another day in Paradise.










60 F, 16 C


Another nasty day in NE TX, damp, cloudy, made my trip to the Chiropractor and that was just about the extent of my day.

In the afternoon I had a nice surprise, got new sneakers for my mtn bike.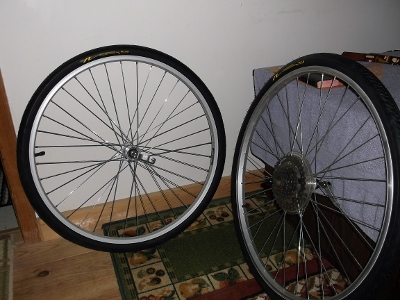 I've been running 1.5 street tires on my mtn bike but this time I'm trying some 1.25's.
These new sneakers also have a kevlar belt which my old tire didn't have, I'm not so sure what difference this makes, my experience has been, not much.
The old tires had a max air pressure of 60, the new ones 90 psi, but I will ride about 70psi on these new tires for a more comfortable ride and less chance of pucture on the gravel roads.

I do plan on putting these tires to the test tomorrow, I will ride, weather may determine how far.
Jerry's back in town so if I can get him to go we'll inspire each other to get in a few more enjoyable miles.



******************



Here's a good one, a Bear approaches a group of folks making a commercial in the Outback of Alaska. Dirty Bear










60 F, 16 C


Cloudy most of the day, Sun late in the afternoon, I got me in a ride during the clouds, sun came out about 30 minutes after my ride.

******************

Pictures from Jerry's Tour of the Big Bend Here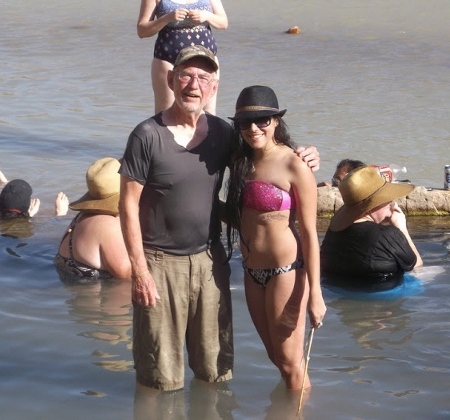 I knew I should have made that tour!
******************

The Lying NunI just couldn't resist.

I really hate to be negative but I promised the folks at Verizon that I'd post this message:


Verizon Sucks
Leave a commentFrom: Robert

I think Ted needs to connect with your riding buddy Jerry Harp on the topic of inspiration. Pictures of Jerry and friends touring Big Bend area are great.

mrbill:

I agree



60 F, 16 C


Woke this morning to raindrops, didn't rain long but was cloudy all day, a reading type day.

Went to the Chiropractor, I believe he's doing me some good, we'll see, stay tuned.

If your looking for something to use for relief from muscle pain, arthritis or whatever ails you try, "BioFreeze,"good stuff.

Weather is supposed to be better tomorrow and I plan on getting me in a ride.


*******************



Get your Excercise today.



70 F, 21 C


Really nice day for a bike ride, Sun, 70 deg and a medium wind.
I rode to Linden and then added the High School loop for a total of twentyfive.




Like I said, it was beautiful out today.

I stopped by some friends house on my ride and we talked over the Super Bowl, Joe picked Ravens but had his doubts in the 3rd quarter.
Robert, my travelling buddy, picked the 49ers, at first he said Big Win for them, later he said win but not big, that was the last I heard from him, hope he didn't bet on the game.



*****************



This video was made by Ted Schredd in the village of San Pedro on Lago Atitlan in Guatemala, I met Ted while visiting there last June.




Off to the Chiropractor today to get adjusted, everyone have a good week.

*****************

In the reading department I'm really enjoying "Les Miserables," one of those books that's hard to put down.










64 F, 18 C


Nice day for a bike ride and I got me one.

I decided to test my condition so I headed for Club Lake Road, good size rollers and just like I thought, my condition is lacking.
On the good side I guess my condition is a bit better since I rode today, got in twenty five miles which at this stage of the game is pretty good for the old man.

The weather was good, 64 deg, Sun and a medium wind, hope to get out there and do it again tomorrow.

Hope you had a good ride today!


**********************


Forget about Lance



52 F, 11 C


Went to the Chiropractor this morning, didn't get adjusted today, just neck stretch and electro massage.
Friday afternoon is house cleaning, got it done, so I'm ready to ride tomorrow.



**********************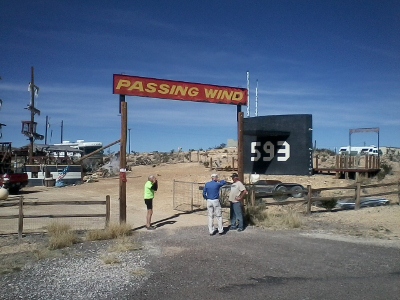 Jerry's Text: Terlingua. Chili capital. 40 hilly mls. Great weather.


**********************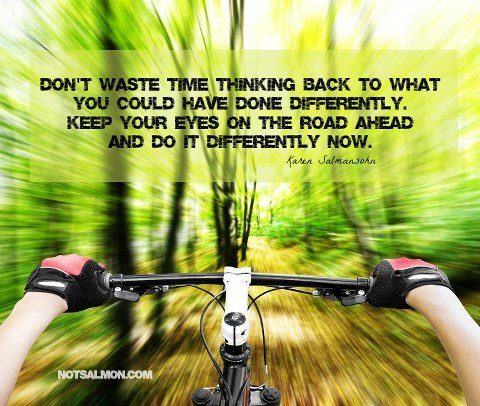 **********************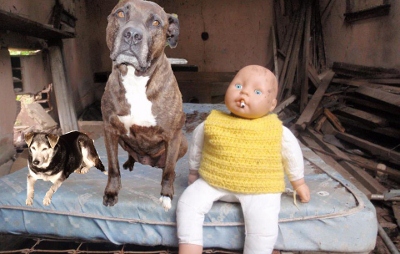 "Spunky, I told you about hangin with those two, there a bad influence, now, get home."


**********************





This video was made by Ted Schredd, I met Ted on my trip to Guatemala this past June.
I met him in the village San Pedro on Lake Atitlan, this is where this video was made.