I think I could get used to these 60 deg temperatures, especially with full Sun and medium wind, it was beautiful out there today.
I took the backroads to Linden and back, a twenty mile ride.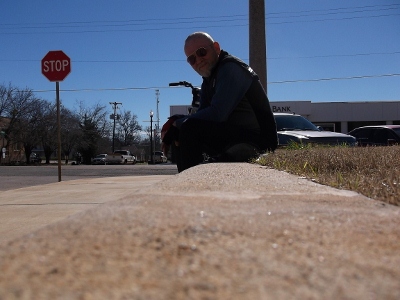 mrbill taking a break at the the Square, Blue Skies.

*******************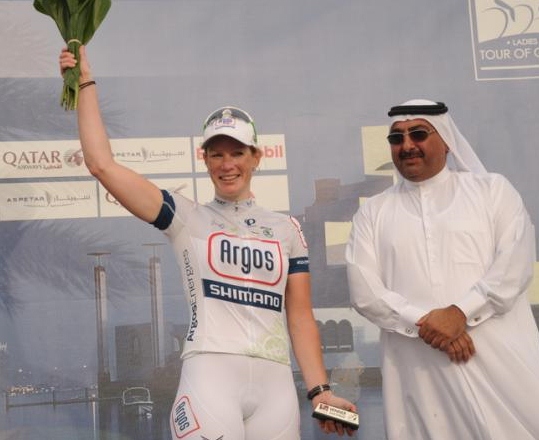 Kirsten Wild (Argos-Shimano) used her power and finishing sprint to win stage three of the Ladies Tour of Qatar and take the race lead, setting up overall victory for a second consecutive year.



45 F, 7 C Windy


After the front came thru last night it left us with cold temps and wind, lots of wind.

I went to the Chiropractor this morning and am staying warm and out of the wind this afternoon.


*******************

Update from Jerry's Big Bend Tour: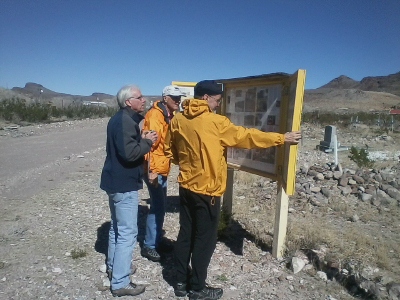 Cemetary at Shafter, TX



Shafter is an unincorporated community in Presidio County, Texas. The Texas Attorney General's Office gives a population of 11 as of the 2000 Census. It was named in honor of General William Shafter, who at one point commanded the nearby (relatively speaking) Fort Davis. In the early 1900s six silver mines were in operation near Shafter. When the mines closed the town died. It was later the location for several scenes in the 1971 movie The Andromeda Strain. As of 2012, at least one silver mine, La Mina Grande, has been reopened by Aurcana Corporation.

In 1965 while I was attending Sul Ross State College in Alpine me and some friends used to go to Shafter and explore some of the old mines, a real adventure, crossing an 80 foot vertical shaft on an old timber.


Chianti Hot SpringsJerrys Text: "Only warm. We did not dip. Not sure why it survives n total middle of nowhere. Will ride east Thur to camp on Rio Grande."



Heres the area where Jerry's tour is taking place.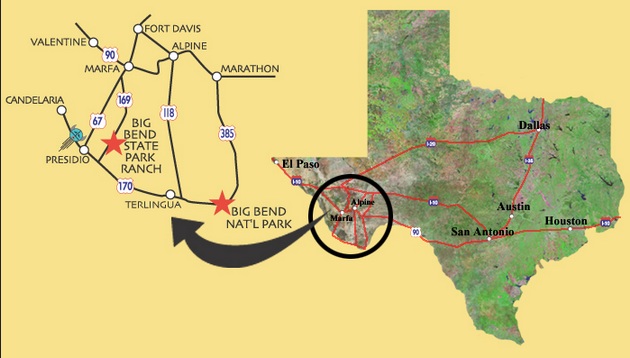 74 F, 23 C


The word for the day was, WIND, nothin but work going to Linden, nothin but fun on the way home.

No Sun today, front coming, things kind of stirred up, cloudy, windy with sprinkles, 74 deg.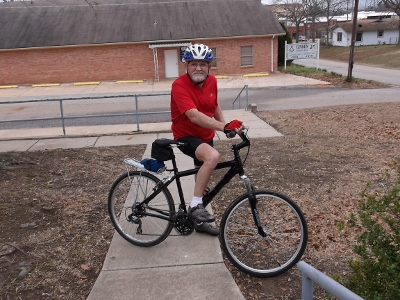 Getting ready to tour, got my rack mounted,
now just need to get in shape.

************************

Latest pics from Jerry's "Big Bend Tour"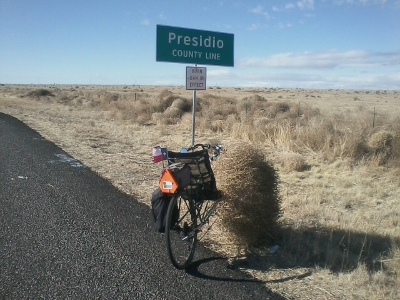 Road to Marfa. Playn catch with tumbleweeds. Wind gustn to 30.
Great ride Ft Davis to Alpine 50 miles.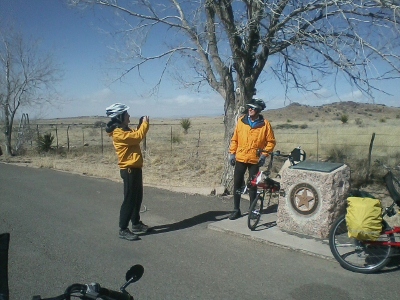 Paizano Pass Marfa to Alpine



I went to college for a year in Alpine, TX, so I really like seeing these pics, as I've been to all these places.










77 F, 25 C


I'm not going to do it, I'm not going to run the A/C in January.
This is strange, 77 deg today, you could almost say Hot, I'm trembling thinking about our summer to come, maybe I'll head to Iceland.

Went to see Dr.Crack today, had a couple of new procedures, ultra sound, neck stretches (manually) and a new variation on the Back crack.

I know everyone is wondering if this chiropractry is working, I do think I see progress, I understand this is not an overnight process to undo years of living life to it's fullest.

Tomorrow the front comes thru and gets rid of these high temps should also bring some rain, I hope to get a ride in before everything busts loose.

******************

If a lunatic enters a crowded theatre with a bag of rocks, how many people can he kill before he's subdued?



70 F, 21 C


We finally got some Sun, that means Mr. Fairweather rider was out for a ride today, it was partly cloudy but mostly sunny on my ride.
I really enjoyed the ride after the last couple of nasty days.


***************



Contador danced his way to his first win of the year
at the "Tour de San Luis" in Argentina.



I used to like him a little better before he got busted, hopefully it won't happen again, if it does I'll drop him like a hot potatoe.





Leave a commentFrom:MrDaveyGieYeap, I just dropped my hot potatoe. My full size picture of Lance is gone from the dining room. The Oprah interview was the icing on the cake. Ride on bro...

mrbill:
Nice to hear from you Dave, Don't tell anyone but I've got four Lance posters, I'm hanging on to them in case he makes a comeback.






50 F, 12 C


I'm getting tired of this nasty weather, cold, misty, no sun, just plain nasty.

This morning I took Jerry to Texarkana to meet up with his friend Oren, then they'll go to Dallas to meet up with 2 more friends and then tomorrow they head for Big Bend for a bike tour, wish I could have made it.

Before Jerry and I left Linden we went to the town square to watch the "Grambling Marching Band," my hats off to the band, it was nasty but they put on a good show anyway.
I'm not sure how a band that played at the Inauguration wound up in Linden.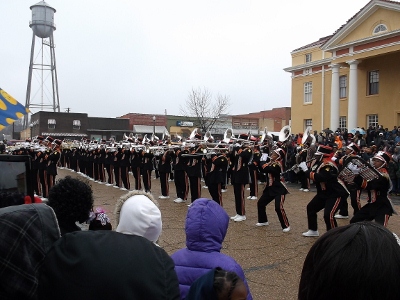 In Texarkana we met up with Oren at the Cracker Barrel restaurant and had lunch, nice, I didn't realize I was getting lunch, thanks Jerry.



Jerry and Oren



I don't mind telling you that I went home and spent the rest of this nasty day indoors, except for walking the dogs.










54 F, 10 C


Nasty day out there today and I might have missed it if Jerry hadn't called.

Jerry and some friends are headed to Big Bend this Saturday for a Tour so Jerry's trying to keep limber.
We had a nice enjoyable ride even tho it was kind of nasty, misty and about 54 deg, no Sun.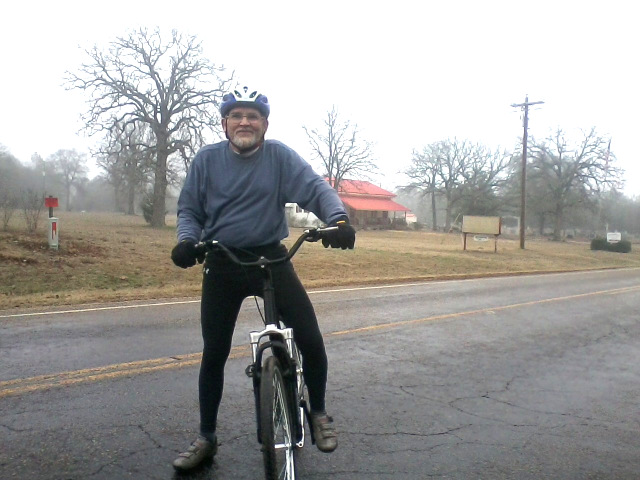 ************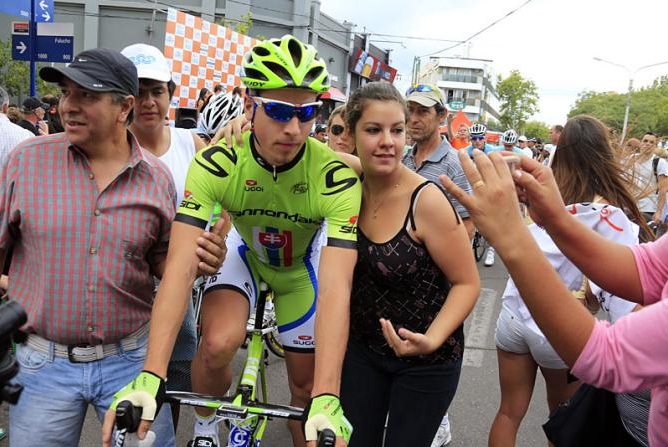 Peter Sagan, a pro I'm keeping an eye on this year.
I wish I was a Pro
Leave a commentFrom:Jerry HarpYeah Bill, grow some hair and get a tan:):):)
It is good to finally have a riding buddy in this cycling desert of Cass County.

mrbill:
It seems everyone is Jealous of my purty legs. Thanks for the Inspiration, Jerry



49 F, 9 C


Thanks Jerry, I was going to ride but I probably wouldn't have gotten 25 miles, it's so much easier with someone along.
We had a real enjoyable ride, it was cool, about 50 deg with clouds and sun but once we got going it was great.
We rode mostly backroads and Jerry does amaze me the way he climbs on his recumbent and doesn't get depressed, I just can't get used to hills on a recumbent, I like to dance in the pedals, me and Contador.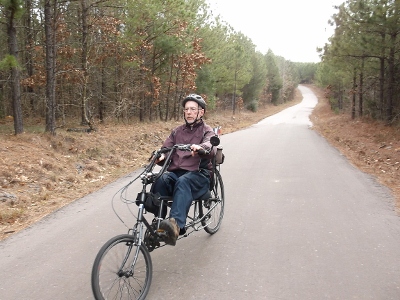 Here's Jerry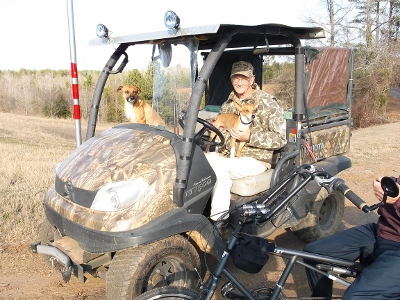 We met Jerry Osborne and his dogs, we're claiming he's Ozzies cousin, he's a chicken farmer.



Headed to the Chiropractor tomorrow, feeling better all the time.



***************

Pro Racing, Tour de San Luis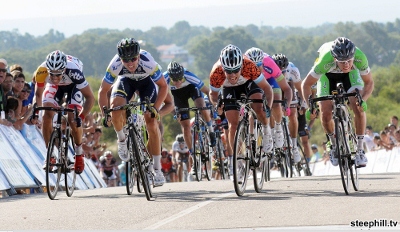 Italian Sacha Modolo, far right, outsprints Cavendish in Stage 2 of the Tour de San Luis



Can my Chiropractor get me in the Peloton? we'll see, is he a Miracle Worker?










54 F, 12 C


I had a day off the bike today. I spent the morning at the Chiropractor, and then messed around in the woods after.
I believe that the Chiropractor is doing me some good, haven't taken anything for pain since I started seeing him.
I just have some muscle soreness but I can live with that at present, my icing treatments help.

In the reading department I've started reading "Les Miserables," this may take a bit, but it's starting off real well.
Leave a commentFrom:TomWe don't need icing treatments up north here

mrbill:
I think yall have developed a thin layer of Blubber



70 F, 21 C


The perfect day!
With a temperature of 70 deg F and a full Sun it was a perfect day for a bike ride.
I started off on my ride and stopped and called Jerry to see if he was up for a ride.
Jerry said to come to his house he'd be ready to ride by the time I got there.

Like I said it was a beautiful day and we had a really enjoyable ride, a twenty five miler, thanks Jerry for the inspiration, got me an extra ten miles.



64 F, 18 C


These Sunny 60 deg days can be addicting, got out for a ride, it was nice.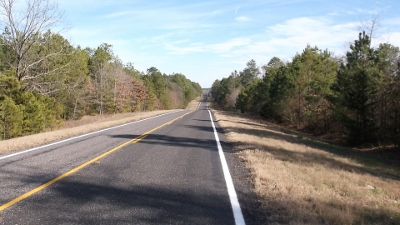 Heading toward Red Hill on 995 from Almira, going East.

***************

I would be tempted to take the walking bridge lower in the picture and wait for my Bus on the other side.
Gephyrophobia, fear of bridges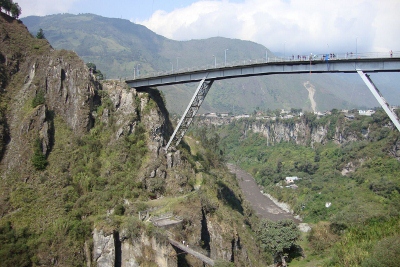 Bridge in Banos, Ecuador, Ohsa would Cringe.



60 F, 15 C


Just another day in paradise.
Today was just like yesterday but I didn't get on the bike as I was busy at the Docs and cleaning house.

If you would like to see some photos of my visit to the Chiropractor, click on the photo below.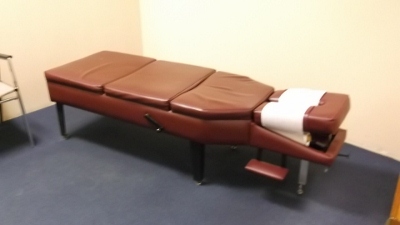 The "Rack"



60 F, 15 C


It was a beautiful day, 60 deg, full Sun and a breeze from the North.
I rode to Linden and back, I knew there was supposed to be a north breeze so I went to Linden on Hwy 8 so the wind would be behind at my back.
This worked real well, going to town I felt like I was in pretty good shape, despite cracking, but on the return trip I realized I wasn't quite in as good as shape as I thought.

A good ride with the wind and a good workout against it, it's all good.

People keep emailing me wanting more pics of mrbill, ok, I hear you, I want to make you happy so here it is: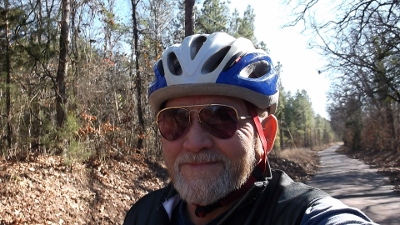 mrbill in the jungles of E TX

***************



My Chiropractor, check it out, good site.

Quinoa vs Oatmeal, here you go, Jerry










45 F, 7 C


As long as the Sun comes out it's nice in Texas, and today was cool but nice with full Sun.

I didn't get in a ride today, I had another appointment with Dr. Crack, and he did.
Yesterday I got the long term plan from Dr Crack concerning my treatment, 24 treatments, 8 weeks, a scary thought, eight weeks of cracking, this Doctor really cracks me up.
I do have a deal with the Doctor, he gets me back in the drops and I put him in my will.

The good part of the day was Chinese food, I find it's easier to go to a Doctor if you promise yourself a little treat afterwards.
I will ride tomorrow, weather is supposed to be nice and I'm ready for a ride.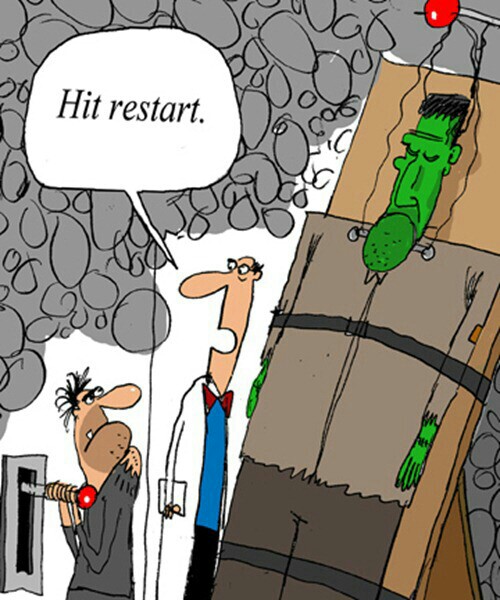 mrbill at Chiropractor

*********************





I saw this on Twitter this morning and thought it was amusing, by Mark Cavendish:

@MarkCavendish once text my dad a soppy love text aimed for my girlfriend and his reply was "I love you too son xxx"










35 F, 2 C


I haven't ridden in the last few days, weather has been less than inviting.
This morning we have sleet and freezing rain, I know and old boy up north who might ride in this weather, but not mrbill, not that tuff.

Yesterday I went to the Chiropractor, hadn't been to the Dr in a couple of weeks so figured it was about time to go.

I had never been to a Chiropractor but I have heard stories about them cracking backs, disturbing images in my mind, and sure enough, they do that.
After my interview with Dr.Trevor he tells me to lay on my back on the table, before I realize what's happening he kinds of rolls me over and puts an arm under me, tilts my shoulder, he says, "relax," and then he pushed down on my shoulder, "Crack, damn, whoa" and then he grabs my head tilts it to one side, says those dreaded words, "just relax," and then it happens, he pushes down on my head and "Crack, damn, whoa."

I'm laying on the table wondering if I'll be able to move and then I see the Dr who's grinning and telling me it's ok to get up, easy for him to say.

I was able to get up and then we proceeded to my next treatment.
I'm told to lay down on this machine, my heads locked in, and then he turns it on, I feel my head moving north, stretching my neck, it eases up then pulls again, we do this for 12 minutes.

Alright now on to next torture device, I'm told to lay face down on table and lady places pads on my shoulders and neck, she gets them hooked up and then she turns on the electricity, I start feeling little worms crawling thru my muscles in my back and neck, as she cranks it up the worms get bigger, now we have snakes, really getting it, I tell her I think it's high enough, she leaves it and me on the table for about 12 minutes and then comes back and unhooks me.

As I left the Chiropractor I kept feeling to make sure my back is alright after that cracking, feels ok.

I go back Wednesday for another treatment, so far I'm impressed with my Dr, we'll just have to see what the results will be.



***********************



In the Reading Department:

From: "Pleading Guilty" by Scott Turow

Isn' t that the worst part of sex, that we think about it? Guys especially. You know how that goes, we don't have babies so we only have one way to prove the point. "You gettin any?" It's like asking a fat person if they've had a chance to eat. I swear, I was depressed for days after my last physical, when the Dr asked, in the modern way, if I was sexually active and I had to answer no. But then, I digress.

We have better weather coming, thank goodness, todays a reading day.





Leave a commentFrom:TomSeems to me, if you can go through the Chiropractor's tortuous adjustments, ridin' in a little sleet should be a breeze.

mrbill:
Sounds right Tom, but I can handle only so much pain at once.






70 F, 21 C


What a beautiful day today, didn't have a choice, had to take a ride.
I called Jerry Harp and we decided on a ride and met at his house about 12:30pm.

The temp was about 70 deg, regular kit weather, hard to believe, nice for January.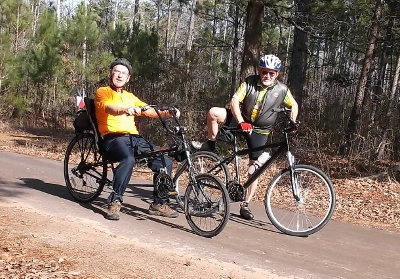 Good ride today with Jerry Harp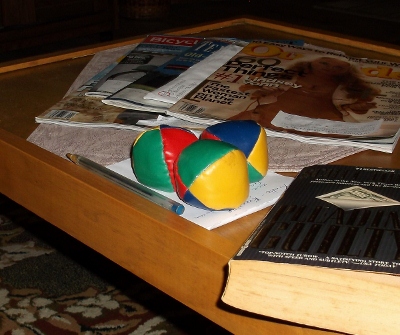 What I do on my rainy days.

*************


Dads new Ipad


Leave a comment From:Jerry HarpBill, I'm sorry, but that pose the cam caught you in reminds me of an ole dog getting ready to pee.

mrbill:
thanks Jerry



68 F, 20 C


Update: Sun came out and I got me in a ride.
Rode in regular kit, checked the calendar, yep it's January.
Still raining, probably about two and a half inches by now, we need it, the trees are smilin, and the Dogs and Cats are bummed.

If the rain doesn't stop for a bit today I may turn the cranks inside for a bit to stretch my legs.

Saw this photo on Twitter posted by Tom Boonen, one of my favorite all time cyclists, thought it was pretty neat.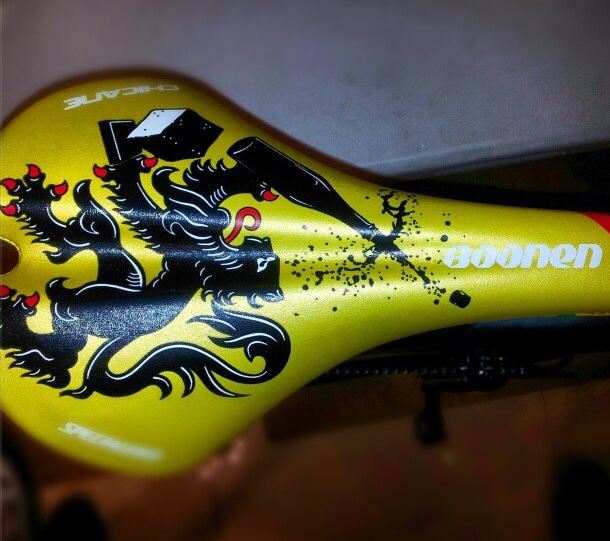 63 F, 17 C


I've got in a couple of rides since my last post, on Sunny days.

Today is not a Sunny day and that's alright because we need the rain, I say that now but after a couple of days I may change my story.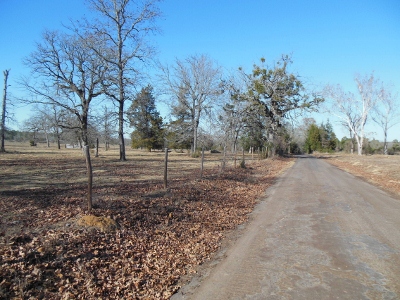 We are fortunate to have some really nice days.

**************



In the reading department I finished "Tycoon" by Harold Robins.
Right after I started reading this book a friend says, "Harold Robins likes to put some sex in his books," well he was right.
I didn't learn anything new but it sure brought back memories, good thing we got memories.

I also finished "The Hunger Games," by Suzanne Collins.
I really liked this book, for me one of those books you don't want to put down.
I don't know if I would have won the Games but I think I would have been a pretty good player, the Games, what a wild idea.

At present I'm reading "Pleading Guilty" by Scott Turow,just getting started, this is a real book so if I lose electricty I can still read.





Leave a comment From: TomReadin' and ridin'...that's a good life.

mrbill:
Yep, mind and body, a good thing





50 F, 10 C


A beautiful day for a Bike ride, 50 deg F, full Sun and a light N wind.

I was going to share a photo of my ride but am having trouble getting good pics and videos with my new camera, sure hate to, but I might have to look at the manual.





Will mrbill ride tomorrow? looks shaky


39 F, 4 C


Throw rocks at me, kick sand in my face, I Don't care, we didn' t have Sun, I was depressed and I didn't ride.
I went to Marshall for supplies came home, layed up on the couch, played with my Kindle Fire HD, really enjoying it.
If you have a Kindle and don't have EverNote, get it, get it anyways, it's a good program.

Surly "the Sun will come out tomorrow, bet your bottom dollar" and I will be out in it.

Evernote


49 F, 9 C


Happy New Year


I hope everyone has a Healthy and happy new year.

Last year was not a spectacular year for mrbill, the good thing is, this year has got to be better.

Yesterday was the pits, a very dreary day, cloudy, cool and rain, definitely a reading day.
Hopefully today will be better and I'll be able to get out for some kind of bike ride, remember, what you do on the first day of the year, you'll do all year long, got to get out on the bike.

I didn't make any resolutions because I don't like to break them, but they're are a couple of things I'd like to do in 2013.
I hope to go to the Czech Republic to visit Jiri and Nicole, friends I met this year in Guatemala, that would be a great trip, to travel with them to Switzerland and Germany to meet their families, my minds made up, now I'm waiting to see what the body says.
I'd also like to go to Ecuador in 2013, always had a hankering to visit Ecuador, need to get it done, I really do like the Andes, some beautiful hiking.

Hope the Sun breaks thru today so the old man can get him in a bike ride, everyone have a wonderful day, and, I repeat, have a Healthy and Happy new year.