78 F


Saturday group ride was cancelled due to last minute cancellation but wasn't sure about the weather either.

I got ready to ride and walked outside and it was a very light rain, maybe I'll wait a minute.
Heck I want to ride what's a little rain, I hit the road.
As usual I had a good ride, the spinkles were few and far between, got about as wet as I would have with sweat.



78 F


Got out for a ride this morning and it felt really good, some days you have it and some days you don't.
While cruising down 1399 I spotted these on the left, real eye catchers.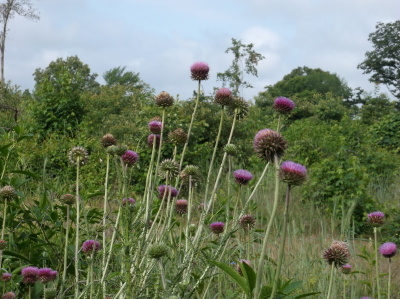 I'm hoping someone shows up to ride on Saturday, I'm looking forward to it, it's a good route.









78 F


Here's a possible loop for next weekend, if your interested let me know, 40 miles and 1608 feet of climb.

Carterville, Marrietta loop
Click Here
This ride will start at Red Hill at 8am, if you need a 9am start we may be able to work it out.



85 F


Today was another really nice day on the bike.
I met up with Charmane at Red Hill at 8am, as we were headed to Douglasville I got a call from Jerry, he wanted to go, we waited for him in Douglasville.

We rode the Alps to Atlanta State Park and then had a break at Mrs Wics baitshop.
Mrs Wics has had it rough, husband had a stroke, then died, then she has had all kinds of Chemo and Radiation and then a couple of weeks ago her grandchild ran over her with a motorized wheelchair, a really nice lady, sometimes life just don't seem fair.
After our break we hit the road, O Farrell Vineyards next stop.
We made it to O Farrel Vineyards but to our dismay it was closed, might have been a good thing, I was worried about Jerry making that last couple of miles after a wine tasting.

A great ride with good friends, thanks Jerry and Charmane for making my day.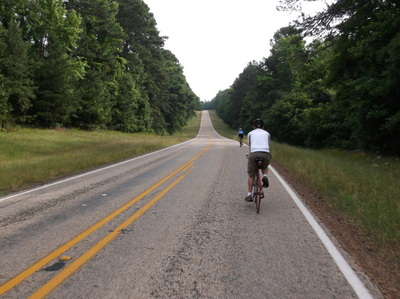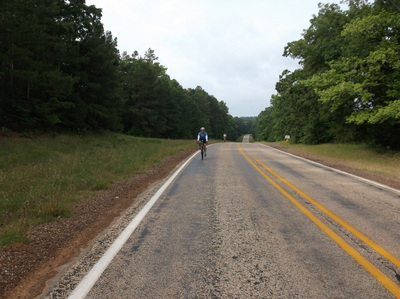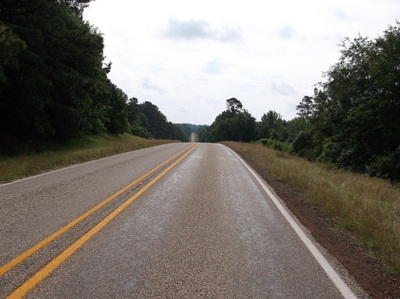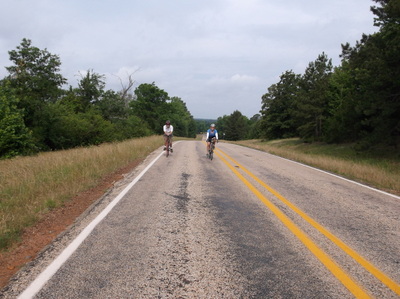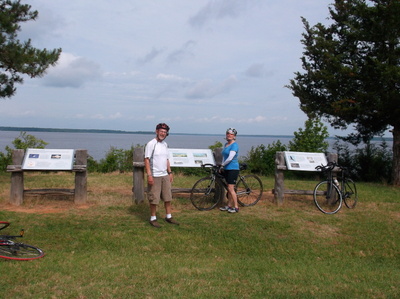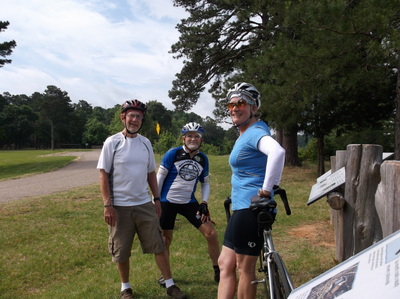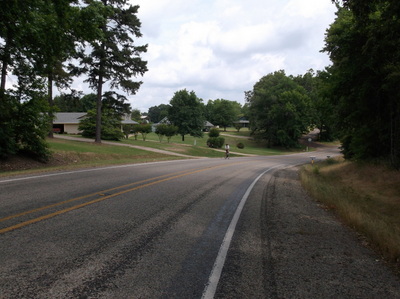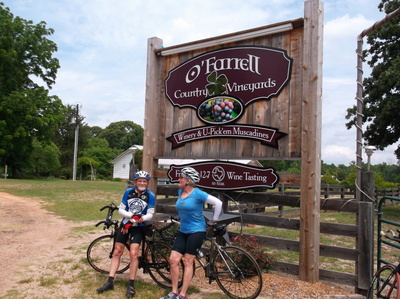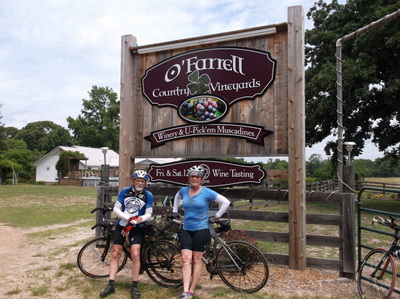 85 F


If you would like to join us for a ride on 26 May we'll meet in Red Hill (7 miles N of Linden on HWY 8) at 8am.

This will be a 36 mile ride from Red Hill to Atlanta State Park and back, a loop.

For a map of the ride,CLICK HEREThis is a favorite ride of mine, quite a few hills and my favorite, the "Antioch Alps" and a couple of miles from the finish, "Heartbreak Hill."



75 F


Got out for a 25 miler this morning, found me some hills, really nice morning.
The bike is really feeling good these days, I feel in good condition and it's a joy to ride.

Now for some Golf, on TV.



*************



Next weekends ride is one of my favorites, the "Antioch Alps."
As the name indicates there are some hills on this route, fun hills.

The ride will start in Red Hill at the Community Center. From Red Hill we'll go north on Hwy 8 to Douglasville then we'll take a right on HWY 77 to Midway. At Midway we'll take a left and head for the Alps and Antioch. We'll take a short break at the Church in Antioch and then head for "Atlanta State Park."
If you haven't been to this spot on Lake Wright Patman you'll enjoy it, a nice scenic overlook on the Lake.
After the State Park it's back to Antioch and then we'll take HWY 96 from Antioch back to HWY 77, head south on 77 to 2328 which cuts thru to HWY 995 which will take us back to Red Hill. On this last stretch we will pass "O'Farrel Vineyards" and maybe we'll stop for a "Winearita."

If you need some hill work, and we all do, you need to make this ride, at the same time I don't want to scare anyone off it's not that rough, a mere 666 feet of climbing.

For a map of the ride,CLICK HERE









78 F


What a nice day.

Me, Charmane and Jerry got together in Linden for a ride.
The weather was perfect and the route was a good one, a little cruzin road and some hills to make it interesting.
Jerry and I also discovered that if you want to see Charmane really take off just start barking, she doesn't care much for dogs.
Before we began our ride we met at Jerry's and I got to meet Jacob from Denmark, really nice young 25 yr old doing some bike touring in the states.

We managed to get in 33 miles and then went to the Mexican restaurant for comida, Jerry's wife Martha joined us for lunch.

Also on our ride we stopped by Becky and Dub Narramore's house, thanks Becky, really enjoyed the tour, yall really do have a nice place.

Thanks to Jerry and Charmane for making my day, hope we can do a repeat in the near future.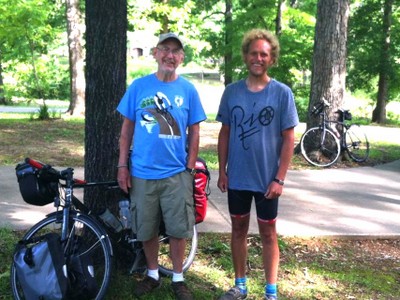 Jerry and Jacob from Denmark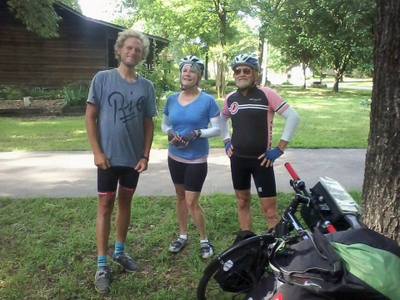 We met at Jerrys before ride

With Becky Narramore on her front porch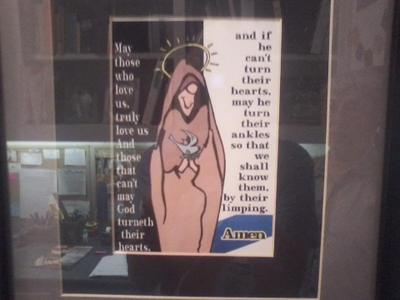 Thanks everyone for making my day, had a great time.



****************



Take your pick of rides for next weekend.

Red hill, Marrieta, Douglasville
http://www.mapmyride.com/us/atlanta-tx/a-ride-mapped-on-06-03-2011-route-36336340

Antioch Alps
http://www.mapmyride.com/routes/view/419638592

Linden, Bivins, Atlanta, Red Hill
http://www.mapmyride.com/us/atlanta-tx/a-ride-mapped-on-06-10-2011-route-37112756









78 F


If you would like to ride in the Linden area on Saturday, we'll meet at the Courthouse in Linden at 9am.

Will ride either 25 or 33 miles and we will have Mexican food on the square after the ride.

Map of Saturday's ride



78 F


It was a nice day for a bike ride, partly cloudy about 75 degrees. I took the long route to Linden, found me some hills and they felt good.
It was a little steamy at first due to recent good rains, love the rain.
Once I got to Linden I dropped by Jerrys house and discovered that he had returned from his bike adventure in Nebraska, they had fun.

The "Tour of California" starts tomorrow in Sacramento, California, wish I was there, go Sagan.

In the reading department I'm presently reading "The 100 yr old man who climbed out the window and disappeared," by Jonas Jonasson.
I thought I had a lot of adventure in my life, Allan, the main character in this book really got around. I'm enjoying this book and if your looking for a fun read I think you will enjoy it.

Putin eyes Cuba.



75 F


I did manage to get in a ride in the morning and then we had wonderful rain all afternoon, felt like a couple of inches.

On Saturday I'll be doing a 40 mile ride from my Casa, I'll be passing thru Linden about 9am if you want to ride along, from Linden the ride will be about 25 miles.

Now is a hopping time if you like Pro Cycling, the Tour of Italy and Tour of California, would love to go to TOC, maybe next year.



80 F


I had a fun cycling weekend, Saturday at Ashdown, Ar. was flat riding and riding in Cass Co. Tx on Sunday was Hilly.
I managed to get 33 miles of hills today and it felt good.

On Saturday when I returned from Ashdown ride I found my new "Cool Sleeves" in the mailbox, naturally I was anxious to try them out. I had been thinking about something to wear on my arms so I wouldn't have to put on so much Sun Screen, these work great, really like them.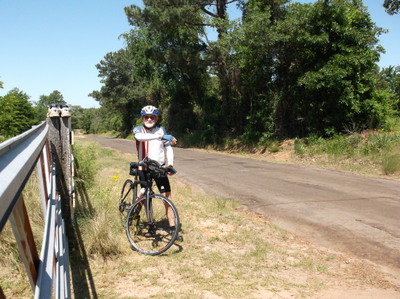 Here's a ride on May 31rst in Durant Oklahoma, Click Here for Info
I may do this ride.

And don't forget we're riding in Linden this coming Saturday, meet at the Courthouse.









75 F


A beautiful day for a bike ride.
I went to Ashdown, Arkansas to meet up with some folks for a ride.
I got there a little early and really enjoyed the flowers at the Courthouse where we were meeting, someone really did a terrific job.

Roger shows up and then Mark arrives, then Penny and Terry Spivey.

I enjoyed riding around the Ashdown area, pretty flat compared to Cass Co where I live.
Thanks to those who showed up, it made for a nice ride.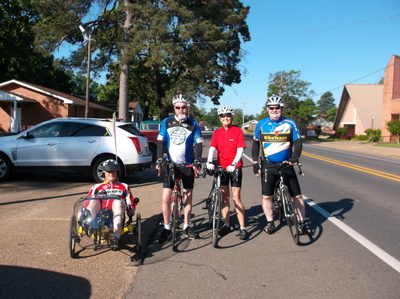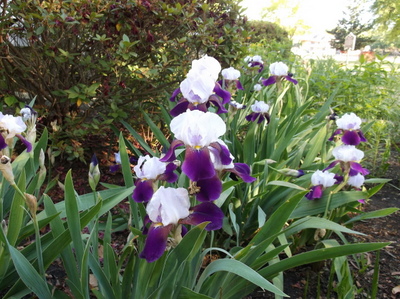 Next Saturday Terry Spivey and myself will meet at the Cass Co Courthouse in Linden for a ride, everyone is welcome, I'm buying lunch at the Mexican restaurant on the square after the ride.