39 deg F,


Thanks to my riding partner, Charmane, I got in 40 miles today, 39 deg at the start and 42 degrees at the finish, cool toes.
Jerry started out with us but turned back after about 8 miles, he had another committment, security at the Art Show.

Our ride went really well, we stopped halfway in Atlanta and had a Latte and warmed up and then got back on the road.

I give Charmane all the credit for our mileage today, before the ride I asked Charmane what distance she wanted to ride, hoping she would opt for the 32 mile, but no, not Charmane, she wanted to do 40, what could my Macho self do, I had to go for it.

After the ride we went to "Music City Texas Theatre" for the Art Show. We ran into Jerry, he was upset because they didn't give him a gun and a badge for his security job, don't think any art was taken, Jerry must have done a good job. They also had warm apple cider which really hit the spot.

So another good day of cycling even tho the weather wasn't realy great, you do what you have to do.
Thanks again to Charmane, it's really nice to have a good cycling partner.



39 deg F,


Jerry and I went for a 25 mile ride today, it was 39 degrees with a north wind. The ride went surprisingly well, we did stop for coffee.

From this ride I deduce that Saturday should be fine for riding, unless of course there's precipitation.

See you at the Square in Linden, Saturday, 11 am.

Click Here for a map of the route for Saturday, but if everyone wants to do a 32 instead, it is an option.



65 deg F,


Another nice day to be on the bike. I did my 25 mile loop today, felt good.
Before leaving the house for my ride I thought I'd spin a few minutes to warm up, didn't realize I might get dog bit.





65 deg F,


It turned out to be a great day for a bike ride and we had a good one.
Michael Prewitt and TJ Davis, aka Chain Breaker, Roger, Charmane, me and Jerry, made the ride.
We rode from Linden to Hughes Springs and then hwy 161 to hwy 130 and then back to Linden for a total of 40 miles with about 1600 ft of climbing.
TJ Davis, aka Chain Breaker, had a problem with his chain but with Michaels help they managed to fix the problem and chase us down.

Thanks everyone for coming to ride, it's always more fun with a group.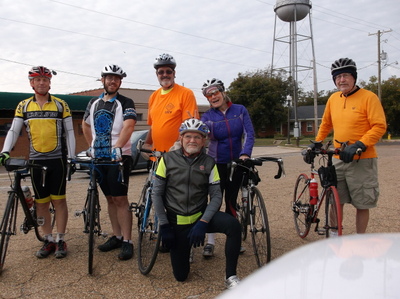 A ride I'd like to do



68 deg F,


Tomorrow, Saturday the 8th we will have a ride in Linden. We will meet on the square in Linden at 9:30am.

The main route is 40 miles and there is also the possibility of adding about 7 or 8 miles, the longer distance still joins the group down the road and we finish together.

So far there are about 6 of us riding, including the young guns from Mount Pleasant, I'm thinking they'll do the long route.

So I'm looking forward to a fun day tomorrow, come on out and join us.

Heres a link to tomorrows ride,Click Here for ride map
Heres a map of the longer distance, Click Here



57 deg F,


Thanks to Charmane, Jerry and Roger for joining me on a 40 mile ride this morning.
It was definitely nippy out, 37 degrees at the start and 57 deg for the high.
Charmane got her a new Dog Defense tool but she decided to leave it in the car, we could have tried it out on those 15 dogs in Carterville.
We stopped in Marietta at Mimi's restaurant for a break, Charmane and I got coffee, Roger got a cold drink and Jerry, well, he got a hamburger.

It was a good ride with friends, no mechanicals and the temps worked out fine.