100 deg F



We had a good ride on Saturday the 25th, the "Naples Watermelon Ride," despite the heat, around 100 degrees.
We had six riders, myself, Jerry, Michael, Clay, Robert, Jonathan.

Everyone had a great time, no problems, no mechanicals.
There was one incident when we were heading south on hwy 271, a red suv seriously threatened our lives. We were riding on a 4 lane road with 2 wide shoulders, I looked in my mirror and saw this idiot coming up from behind quickly, I eased over thinking he had about 4 lanes to play with, he missed me by about a foot and a half. I watched as he headed toward Michael up the road from me, luckily Michael saw him and got over, it looked like he would have actually run over Michael if he hadn't of moved over. It was pure crazy and just goes to show what idiots are out there on the roadways, best keep it tight to the white line and be sure to wear a rearview mirror.

Next year will be a different route and hopefully we'll have some cooler temps, come join us.

Click on image below for photos of the ride.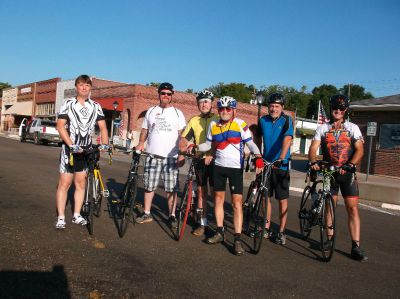 90 deg F
25 miles


Even with the heat I had an enjoyable weekend of riding. I guess the deer really don't mind the heat, yesterday I must have seen about 15 deer, 4 when starting my ride, at my driveway, a few more on my ride and then later I went for a ride in my car down around Lake of the Pines and saw more deer. At Johnson creek we cruised thru a neighborhood and in a vacant lot there was a doe with 2 little fawn, just relaxing without a care in the world, neighborhood must have adopted them.

This coming Saturday is my Watermelon Ride in Naples.
We have a several riders committed to the ride and if you would like to join us drop me a line on the comment link below, thanks.



88 deg F
25 miles


Jerry was gettin it today.
I met up with Jerry today at Kims in Linden for a ride. I thought it was just going to be a regular ride so I ride, bluboy, my light touring bike, 30 lbs.
Turns out I meet up with the new improved Jerry, with all the gadgets and trying for a record mph avg. He had a computer on his bike, a phone with a program runnning that talked to us, and he was on his Bling Bike.
I spent the day just hanging on, I was impressed, Jerry had one of his best days yet, next time I'll take my light bike, Speedy.
Glad to see Jerry gettin it and we had a good day on the bikes, thanks Jerry.



90 deg F
33 miles


Left the house about 7:15 this morning and it was nice out, that lasted about 10 minutes and then it got hot.
About 3 miles down the road I had a dog attack, not to serious.
Rolled on to Linden and then kept going out the the High School and back, returning to town for my Lottery ticket, then finished up my 33 miles with plenty of hills.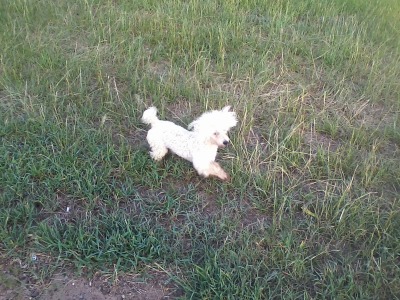 Vicious dog attack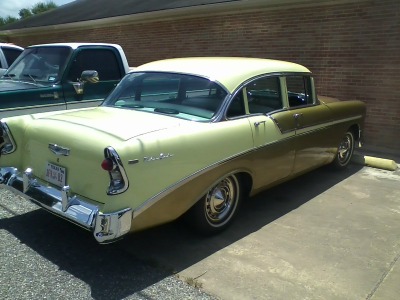 Saw this nice classic car in Linden, seems like yesterday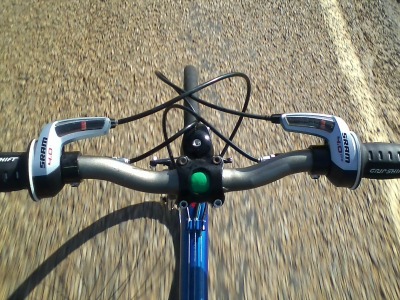 mostly what I saw this morning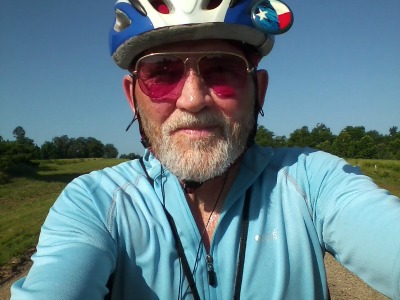 just rolling along and sweating



Another great day on the bike. Me and the Tour de France are taking the day off tomorrow.









90 deg F
34 miles


Great ride today, I did one of my favorites, the "Antioch Alps" loop.
I left the house at 7:15am and returned home at 10am, for a total of 34 miles with plenty of hills.
With the early start the heat wasn't to bad until the very last and no wind to speak of, I did sweat buckets.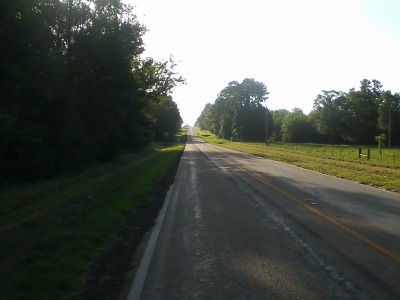 Start of the Alps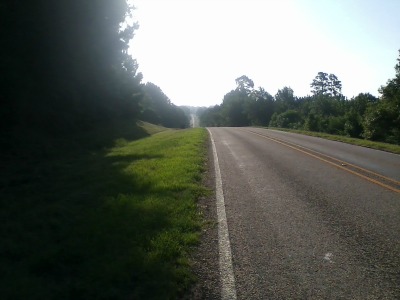 In the Alps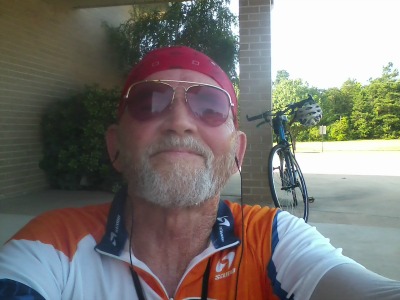 A short break at the church in Antioch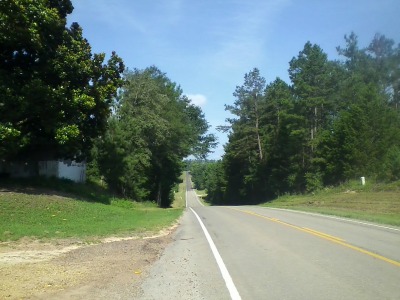 Heartbreak Hill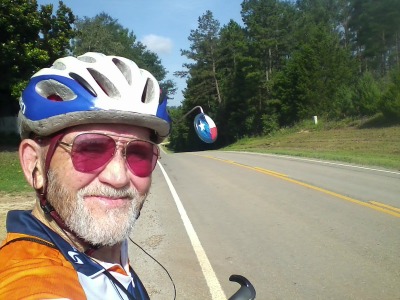 Me smilin cause I'm fixing to climb Heartbreak Hill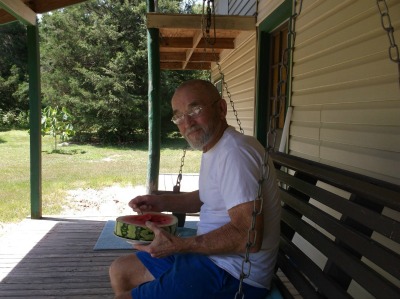 Nothin better than some good Cass County watermelon after a hot ride



A really good day on the bike, why doesn't everyone ride bikes?











85 deg F
25 miles


Got out for a 25 mile ride this morning warm and a little breezy but all in all a good ride. I called Jerry once I got on the road to see if he wanted to ride, he was still in bed, come on Jerry.

Got home in time to watch the finish of stage 6 of the tour, a crazy finish to the stage, it looked like Tony Martin, who is in the yellow jersey caused the crash right near the finish. I couldn't believe it, he touched wheel in front of him and he went right, right into another rider knocking him down and causing a pile up. It looks like Tony Martin is also out with a broken collar bone.
One of my favorite Czech riders, Stybar took the stage win, sorry Cavendish.
One of my favorites, Peter Sagan was 2nd on the stage and is now placed 4th overall, he is having a great tour, a really strong rider.
The first week of the Tour is always crazy and this Tour has not been an exception, lots of crashes, unfortunately.



85 deg F
28 miles


I met Charmane this morning at Red Hill at 8am for a ride to Marietta and back.
We really got lucky and had clouds all morning, which was a nice surprise, I was expecting full sun.
We had a short break at Mimi's restaurant and then rode thru town and then returned to Red Hill.
It turned out to be a good ride, a fun time was had by all.

I got this picture of Charmane in front of the Marietta City bldg while she was admiring the roses, they really had the place looking nice.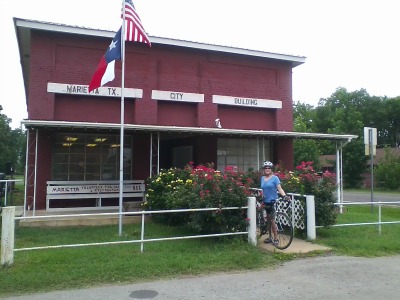 Here's a photo of what's left of me after last Saturdays ride, at least I'm still standing, sort of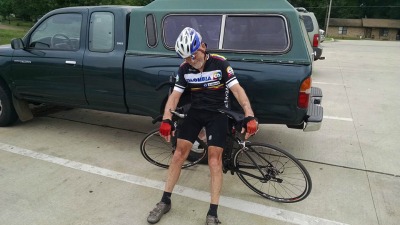 87 deg F
16 miles


Went for a short ride this morning, got out a little late so it was definitely hot and humid. Yesterday my stomach was messing with me and it was still a little tender today, not good for a longer ride.
I'm a celiac, in other words I can't have gluten and I avoid it the best I can but probably get trace amounts, this could be the problem, but who knows, hope it wasn't the chinese food I had friday.
While in town today on my bike I stopped by the convience store and got a lottery ticket and the chicken looked so good I got some and carried it home in my backbag, just what I needed a little heat on my back, but it was tasty when I got home.

After lunch I decided to take a drive and check out the roads for my 40 mile route at the "Watermelon Ride." The main road I wanted to check was hwy 144 from Omaha to Hwy 49, it was in good shape and it wasn't flat, looked like a fun road, round and round and up and down. I'm not sure which route I'll ride, kind of depends on others and I might need to lead the 30 mile route. I do know 2 riders who would really like the 40 mile route, Clay and Michael, the 40 mile loop does join up with the 30 mile route at about the 25 mile point.

Here are the links to the Routes.

30 mile route, http://www.mapmyride.com/routes/view/483924482

40 mile route, http://www.mapmyride.com/routes/view/769722937.

Everyone come on out July 25th, 8am, downtown Naples. After the ride there's the parade and a nice party in the park with all kinds of things happening and Free Watermelon.



84 deg F
42 miles


Today a couple of riding buddies of mine came over from Mnt Pleasnt to join me for a ride. Clay and Michael are good riders and I invited them over to get a workout, and I did.
Things started off pretty good the first 20 miles then we took a short break and then got back on the road and then my stomach starting acting up, making the last 20 miles a little rough. I can't figure out what caused it, guess i'll just chalk it up to old age. It really ticked me off because I've been riding pretty good lately and then on the day Michael and Clay show up I'm not up to par, that's about my luck.

About 32 miles into the ride I'm going down a hill and Clay is beside me, I swerve left just a bit, see Clay and correct back to the right, but correct a bit much and end up off the road in the ditch. Grass and weeds about waist high and knowing I was going to hit a hole or something and go down, but somehow I managed to keep her upright and get back on the road. What's amazing is Clay got a video of this happening.





I sent this video to Robert a friend of mine and I got a kick out of his comment, he said, "Dang, looked like one of those guys at the marathon races who hides out and jumps in at the end to run the final 100 yards. You're right, it's a wonder you didn't take a fall. Still, you rode 42 miles and not many people can do that."

So it was not a great day for me on the bike, but I really enjoyed riding with Michael and Clay, a couple of fine fellows and good riders.

P.S. Don't tell anyone about this









87 deg F
33 miles


Got out this morning for a 33 mile ride, couple of loops with plenty of hills. It was warm, guess that goes without saying, a little wind but no real problem.
I stopped by the convienence store and got a lottery ticket, if I win I'm going somewhere where it's not so damn hot.

I bought me a watermelon yesterday and it wasn't the greatest and on my ride I saw a guy with a truck load of melons and talking with him he did say it wasn't a good year for melons.

Riding in on my county road I spotted these wild morning glories, they always amaze me how they do so well and look so nice growing in dry sand and 95 deg weather.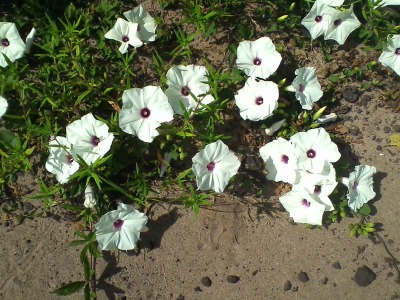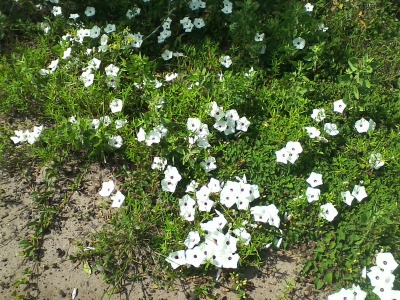 This Saturday, July 4th we'll be doing a 42 mile ride, we'll be meeting at the EZMart on Hwy 59 at 8:30am, bring your road bike.

This will be a fun ride, plenty of hills including "Monster Mountain."
We'll have one reststop at the Liquor store on Hwy 43, always an interesting stop.
This ride should be about a 15mph avg.
This ride will be held rain or shine, rain just makes it cooler this time of the year.