60 deg F,


I had a good day today, got my car problems worked out and then did some bike work.
I was going to have a company called "U Pull It" come and get my car on Monday but then Roger knew a local guy who wanted it so I let him have it.

It was like Christmas today when my new triple crank and bottom bracket arrived with the mail.
So after getting car problems worked out I installed the Crank and Bottom Bracket, I was really tickled that I got the old Bottom Bracket out, believe me, they can be permanently bonded.
I had a triple front derailleur and it was fun putting everything together.
Everything works fine on the stand but I'm sure I'll have to do some fine tuning when I hit the road.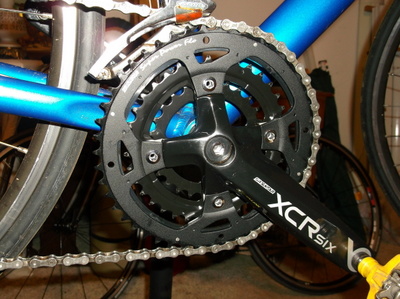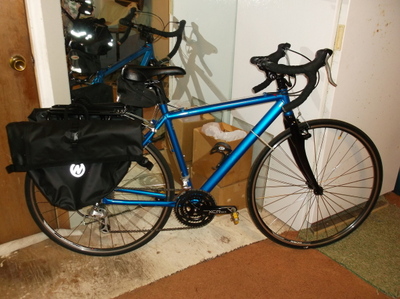 Now if it will just stop raining so I can take her for a spin.



60 deg F,


Not a real good day today.
This morning I got ready to go to the gym and on the way to town my oil light comes on in the car, by the time I get to town car is out of oil. I park it at mechanics but later in the day he tells me the engine is locked up, so my little toyota is history, damn.
This was really strange, as I was driving down my driveway I did hear a knock, I can only guess that something came loose in the engine and punctured the oil pan.
Today I'll try to get hold of "U Pull It," an outfit that parts out cars, their supposed to come pick it up and I believe they usually give you a couple of hundred bucks.

So I guess I'll be keeping my eyes open for a used car, don't think I'll buy another new one. I'm not on foot as I still have my truck which I bought used before I bought my car which was new.

I did make it to the gym and did get a few things done around the farm in the afternoon, spread some fertilizer, weedeated and picked up limbs brought down by the ice and snow.

Not looking forward to tomorrow, dealing with vehicle, but I'll get er done, I won't be missing riding as it will be raining as usual.



60 deg F,


I had a really nice ride today on "Bluboy" my light touring bike or at least it will be when I get new triple crank and bottom bracket installed. I got in touch with Jerry and then headed to town, Jerry, Roger and I met at Jerry's house.
Jerry wanted to do a Hilly 34 mile route, fine with me, so off we go.
The conditions were fine, 60 degrees and cloudy, light wind and the route had plenty of Hills, which I like.

So I ended the day with 51 miles and was extremely happy with the modifications I've made to Bluboy.
Looks like the few days we'll have rain again so was really glad to get this ride in.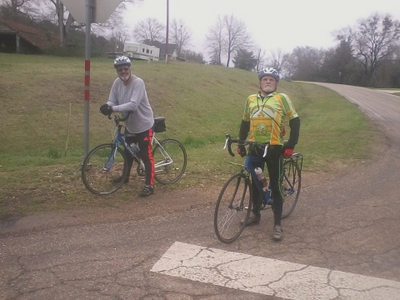 Guess I was feeling a little Macho after just finishing Monster Mtn.



62 deg F,


I guess I must first apologize to anyone who may have been here a few times in the last month, no updates, the staff went on strike. Honestly I've just been lazy and depressed with all the snowy and rainy weather.

Alls fine with mrbill, I'm riding when I can, in between rain showers, it's raining as I write this, our drought is over.

Lately I've been riding my Blue Cross bike and am in the process of turning it into a touring bike. A couple of days ago I ordered a new crank and bottom bracket, looking forward to getting it installed and trying it out. Jerry and I are planning a 4 or 5 day trip on bikes to Waco from Linden in May, hope it pans out.

Jerry is headed to London on Friday, his first time out of the country, hope he has a great time, if he likes it maybe I can convince him to go to Colombia.

I was going to do a ride in Arkansas this weekend but it has been rained out, 90 percent chance of rain Saturday, I do hope to get out for a local ride on Sunday.

Hopefully I'll update a bit more regular in the future, thanks for stopping by and hanging in there.