February


It was really nice out today, 62 deg and Sun, their was an E wind but not extreme.
I rode from the Casa to Red Hill, Douglasville, Midway, Antioch, Janice's house, Red Hill, Casa ( 39 miles ), a nice ride with plenty of hills.


In the "Antioch Alps"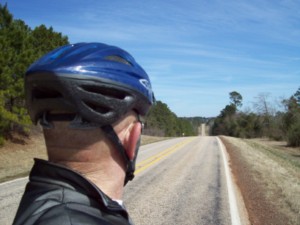 A break after the Alps, in Antioch
Am I sitting in the Shade?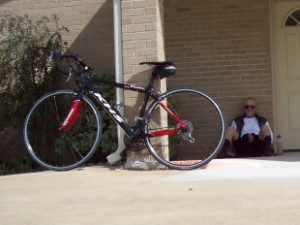 ******

Kuurne – Brussels – Kuurne, 194km/120mi
A Nasty day in Belgium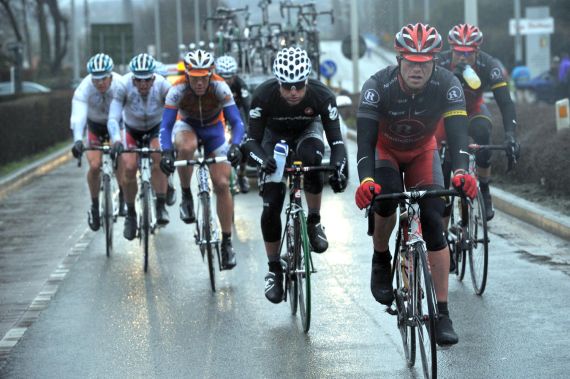 Leave a comment From: MrDaveyGie I can kinda remember what 62 degrees feels like. :-)

mrbill

It was nice for a change, if you'd been here you would probably have done a century.





I had a nice ride today in spite of the twenty mph NW wind.
Yep, half my ride was fun, half was work, pedaling up hills and down hills.

This photo was taken about thirteen miles from the house, a comfort break, I was also thinking about letting the air out of a tire and calling Teresa, it was windy.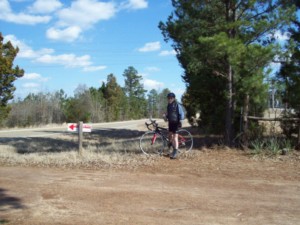 About nine miles from the house I stopped in Almira to check in with Teresa, we talked a minute and then she said "hurry home, I'm ready for you", I hung up and immediately started pedaling, my average speed improving with every pedal stroke.
As I pulled into the yard at the house, Teresa was on the porch, I'm thinking what's happening?, I say, "You're ready for me?", She replies, yeah, well actually the trap is ready for you."
This isn't at all what I expected, but I take my dejected self out behind the shop to see who is in the trap, as I round the corner of the shop, whoa, I spot him, a damm skunk.
I head back to the house, I can here Teresa laughing as I approach the house, and I'm crying inside, what has happened, I'm confused.
To make a long story short, I try to figure out how to do a release, hate killing Allahs creatures, I decide there is no option, I get my 32 S&W and send the Skunk to Allah, thanks be to Allah.
What a way to end a ride, the rest of the evening is spent with Teresa complaining that I smell like skunk and me gradually removing my clothes piece by piece and placing them on the back porch, they might be salvaged, not sure, Skunk perfume is stout.
The task of killing the skunk was made easier by the fact that two nights before a skunk had come on the porch of the house and sprayed Spunky on the head, this was bad and the fact that I naturally pat Spunk on the head all the time didn't make things better, pat, pat, damm my hand stinks!
It's been a month to forget for Spunky, starting off with Heart Worm treatments that nearly did her in and then just as she is coming around, she gets sprayed by a skunk, a month to forget, as Teresa points out, it hasn't been roses for us either.

Todays weather is suppossed to be a bit better than yesterday and I plan on getting a good ride, hope the finish is different.

******

Here's a photo showing why I definitely don't reccomend "Twin Six". If you look closly at the photos, you'll see the threads coming loose, unraveling.
One of them I returned to "Twin Six" and they were real nice, the only problem being, they sent me another one, and two weeks later it was unraveling too.
I talked to a lady at "Twin Six", and she said, "Oh the mysterious unraveling thread, we were using a company in Poland, but we're changing people and hope that fixes the problem.
I came up with my on solution to the problem, NO More "twin six" jerseys.
I really think they need to spend some of their marketing money on Quality Control, yeah.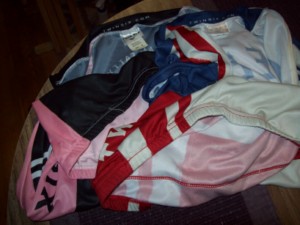 Guess I'll be taking the day off today, rain, rain and more rain.

Teresa ran across an old photo of me and a friend, Danny, skydiving.
I spent about 5 yrs skydiving, got 497 jumps, jumped a chopper, jet and numerous aircraft.
I haven't jumped in a few years but I still have my rig and think about it occasionally, might just up and do it one of these days, it really is an experience like no other.


I'm the one on the right in the photo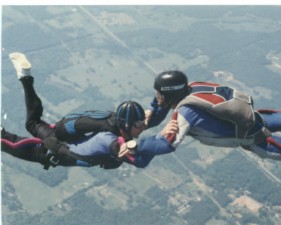 You want see this very often:

Skiing in Austin, Texas








Just my luck, yesterday wasn't a very nice day, cldy, light snow and cold.
I decided to take a short ride, just two miles, down the road to give my Burro friend, Romeo, a couple of pieces of dried Mango, he loves em.
So here's my bad luck, the only time it snowed all day yesterday was when I took my 2 mile ride, started when I got on the bike, and quit shortly after I got home, that's my luck, but it made Romeos day.

******

Today was a beautiful day for a ride, cool, a little wind, but nice.


Facing East, you can tell by the rising moon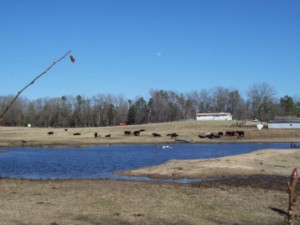 camera fell over, skydivers like this kind of sky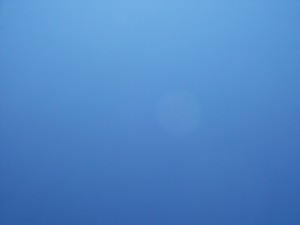 On top, headed down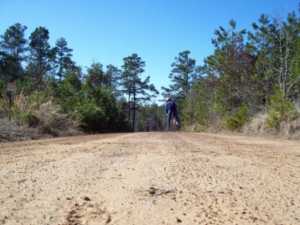 Coming up out of bottom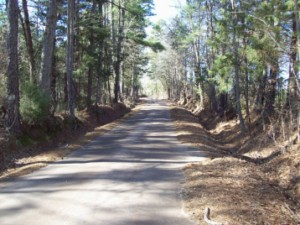 ******

I found this video over at big jonnys
I thought this was a really good video, so if you haven't seen it, enjoy

24 Hours in the Old Pueblo






I saw this video and just had to steal it, hope Eddy doesn't mind.
Yo Eddy!!




I would love to have a video of me when I was learning to ride a bike, but at the time there was no Video camera, no digital camera, yep it was the dark ages.


******

I just finished this book, "The Sot-Weed Factor" by John Barth.
The story takes place around 1690 from England to the Maryland shore.
All I can say is this is one crazy book, times were pretty rough in 1690 America.
If you would like this book, let me know on comments, all I ask is shipping charges.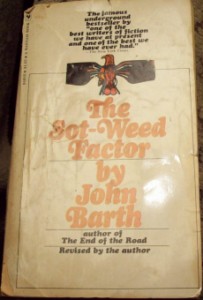 Went for a short ride today and it was cold enough to make my toes cold.
It was forty one degrees with a ten mph N wind and cloudy, that makes for a cool ride.
When I got home I decided to have me some Sardines.
I opened up a can of Sardines in Mustard Sauce, the sauce was a different color than I'm used to so I ask Teresa, "How do you tell if Sardines are Bad?"
I thought this was funny since, by smell, Teresa thinks all Sardines are bad!


Clicking on the image below will take you to a slideshow, just some random pics.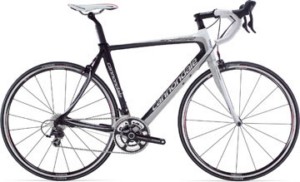 Leave a comment From: Nick
I have a friend in TX right now. I asked him how his first long ride went. He replied, Cold and wet. I had to laugh. As this time of year we expect to be wet and cold when we head out, he traveled south to find warmer weather and got the same. Funny how it goes.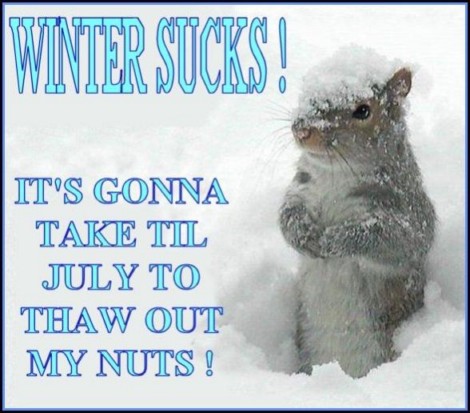 ******

How you know when love fades?

A man was sitting on the sofa watching TV when he heard his wife's voice from the kitchen:

"What would you like for dinner, Love? Chicken, beef or lamb?"

He said, "Thank you; I'll have chicken."
She said "F__k You. You're having soup. I was talking to the cat."






Had a good ride today, a real good ride and I even started out pedaling downhill into the wind, one of my least favorite things.
I rode my Centurion and since I haven't ridden it that much in the past few years I'm still doing some tweaking, today I lowered the seat just a bit and rolled the handlebars back a bit.
I think the tweaks were positive, it was in town that I went into the "Bumper to Bumper" parts store and borrowed an Allen wrench to adjust the handlebars, thanks Ricky.

It was beautiful out there today, 70 deg and Sun, in the photo below there is some snow just look on top of the letters on the Ice Box.


Taking a break at the Country Store in Linden, TX, twenty one miles to go.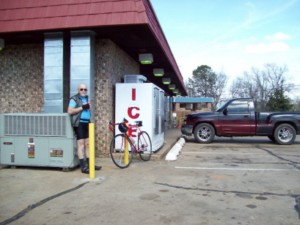 The last couple of days have been rather strange, I've been exhausted.
I don't know why, but just haven't had any energy, it's not my diet, not to many tonics, plenty of rest, guess the body just needed to shut down for a couple of days.
I've found it's not to bad really, it's hard to get on the bike but it does get me out of some chores around here, like, "baby I just can't take the trash out today, I feel like I can barely walk," she replies, "thats ok darlin, I'll get it."
"Darlin I know I told you I'd vacum today, but I don't feel like I can get up off this couch," she replies, that's ok Darlin, I'll do it".
Teresa finally gets tired of hearing me whine and says, "maybe you need to get up off your ass and do something, maybe that will make you feel better, get the hell out of the house," that's when I go for a bike ride, worked great, I feel better now!!, but not good enough to Vacum.

So I got me in a ride yesterday, felt good, even tho I wasn't feeling tops, feel a bit better today so I'll get me in a good ride, NO, don't email Teresa and tell her I'm feeling better, going to ease back into my chores, it isn't like I've made some miraculous recovery, I'm just feeling a bit better.
Leave a comment From: MrDaveygie
Bill, I hear ya. I know I am a few years behind you, but some days it seems exhaustion comes out of nowhere and I can't do a thing. Rest is needed. Something we've said before if our bodies could keep up with or minds these days, we'd up the pace. :-)



Ride felt real good today

I rode over here to HWY 59,
pic is looking South toward Linden, bout 5 miles.

Sometimes you just need a little inspiration and my Online friends helped to get me out there yesterday.
After a week off it felt good and the weather cooperated.
Looks like we'll have another nice today, so I'll be out there turning those pedals.


Taking a break in front of "Don Henley's" building on the square
painted windows, wonder what's inside?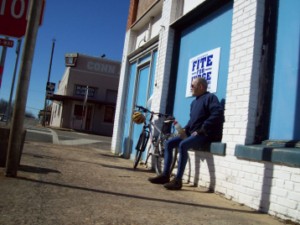 Cass Co County Courthouse under Construction?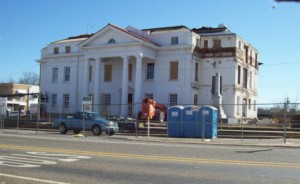 Leave a comment
From: MrDaveyGie
Dear Mr Bill, I am sooooooooo, waiting for Iowa roads to look like that. Seems it's been a long winter. Keep on biking.



I got out on the bike yesterday for the first time in a week, it was nice even with the NW wind.
I took the mtn bike on the bikeroads, you know it's been cool around here when we still have a little snow left from last Thursday, but I'm pretty sure it will be gone today, good riddance.
Today looks like it will be a little bit better than yesterday so I'll be out there, hope that darn wind lays.


Does this qualify for riding in the snow?

I didn't think so.

Lance training with new Radio Shack member

Leave a comment
From: Nadine,

Here in Juneau Alaska the temperature is in the 40's, above zero that is. Bulbs are pushing through the earth towards the ever lengthening light of day. Not enough snow in Vancouver for the winter Olympics, but we have snow south of the Mason Dixon Line.
Sarah will tell you that climate change is snake oil science, but who really believes her?
Stay safe

From: Nick
8 inches. Is that a record for you guys? Better you than me. We have had no accumulation for weeks. Spring is coming fast!



I've got to learn to keep my mouth shut, I talk stuff about my friends up North and their snow and Walah, I've got snow up to my ass, will I ever learn to keep my mouth shut, at 62 yrs old, I doubt it.

I hope everything will start returning to normal, I'm tired of being "out of pocket", as Teresa might say.
February has been a month to "forget" so far, with Spunky's heart worm treatment and then the snow, we've just about had it.
We were out of Electricity for about 39 hours and that's about 39 hours to much, love that electricity.
I found there is a little up side to no electricity, Teresa was really bummed out by no elec, so when we finally got it back on she was in a great mood, she started cooking, we had Taco salad, then she fixed ribs with potatoe salad and the mood has even lasted into this morning, always have to be thankful for the upside, next time she goes without cooking for a few days I think I'll go out and throw the main breaker.

Things are supossed to start looking up as far as the weather is concerned, some Sun and the 50's, bring it on.
It's been a week since I've rode any type of bike, the first time I've taken a whole week off in a while and I'm about ready to ride, maybe today.






Short post today, we're snowed in with no Electricity, been out now for about 30 hrs, updating on Generator.
If you have electricity, give thanks, it's a wonderful thing.



I think I decided to take some time off the bike at just the right time.
I had decided to do some hiking in the place of riding, but yesterday was fit for neither.
It's been about thirty years since it's snowed this much at one time, it snowed all day yesterday and last night, not fit weather for riding or hiking.
This morning I had to go out and wipe about 4 inches of snow out of our Internet Dish so we would have Internet, it rough out here in the woods.


We did get out for a walk yesterday afternoon, felt a little like Colorado.



Looks like about 8 inches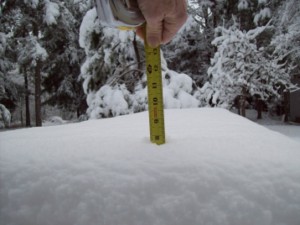 The morning has not started out good.
Yesterday I decided it was time to set out the old Cat Trap since we've seen an increase in Felins as of late.
I managed to catch three nice size ones, big eaters, we've been buying quite a bit of cat food lately, I hauled them off, now if someone just doesn't haul them back.
These animals in the country play a kind of musical homes, they get hauled from one to the next, I guess they get to meet a lot of people and some other animals, and of course some get eaten by Mtn Lions and Panthers, it's LIFE, the down and dirty.
So back to my rough morning, I go out in twenty eight degree weather to check trap that I set last night, the trap had been tripped but no cat.
I proceed to reset trap and in the process the trap slams shut on my finger, the same one I almost sawed off, that hurts like shit in twenty eight deg weather, I almost cried, almost.

Spunk is doing fine this morning, enjoying it inside, and also enjoying the little treats Teresa keeps coming up with, hey!, what about me?

Enjoyed my walk yesterday, walked about two and a half miles and managed to pick up some cans, I look at it this way, I clean my road and make a little money to boot, today I will walk the other direction and try for a bit more distance, I am enjoying walking and think the time off the bike will be good in the long run.


Spunky is definitely better and she knows who provides the treats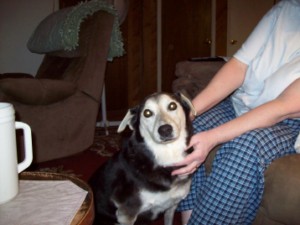 The Treats, Hot Wings and Legs, I did get a couple



******

For my friends that are snowed in,
also throw in a "Rum and Coke"


We may get a bit of snow Thursday, then I'll be checking this out.



It was about as nasty as it gets yesterday, rain all day long, no breaks.
Yesterday afternoon we went to the Vet to pick up Spunky, and thank goodness she's a lot better than she was last week.
Now she has to be a couch potatoe, or floor potatoe, for about a month, will probably he harder on her than on us as she is used to being outside and in control of the Rancho.
I may not be going on vacation this year after paying Vet, but it's money well spent, just want her to get back to normal, and she appears to be on her way.

Today is beautiful, Sun always makes it so, the only problem is cold and high wind, but anything is bearable with some good old Sunshine.

Even tho I really don't want to I think I'm going to take a few days off the bike and give the old body a break, ass, back and shoulder mainly, heck, even the pros take a few days off occasionally.
A little hiking should be good, got to keep going.


******

As of now my next ride will be "Spring Fever 2010"
This is a good one, don't miss it!!





Yesterday was a full day and a cool one to boot.
My day started off with the "Freeze Your Fanny" bike ride in Longview, TX.
I think everyone was caught off guard, thanks to our weatherman, it was suppossed to warm into the lower 50's but I believe it got colder as we rode and the sun never appeared.
I had a good time at the ride, visited with the Texarkana crew and saw Darrell, who I met last year at he "Fire Ant" ride in Marshall, who also thought it was a cold ride.
I was dressed fine, with sweats over my cycling shorts and a long sleeve shirt with vest and a sweatshirt, and a stocking cap under my helmet, it was a good thing for me that the sun didn't appear, I might have been a bit overdressed, that's allright, could have shed a little, but didn't want to be cold.
It was about 5 miles from the finish when a young man passed me with just shorts and jersey, I couldn't believe it, he said, "I thought it was suppossed to warm up, but no such luck", oh the advantages of being young, good blood flow.
The ride was a success, no crashes and other than being a bit cool it was good, my only complaint was a rather skimpy Schwagg bag, only a T-Shirt and some paper flyers, not good.
I checked out my page for last years ride, the starting temp was 50 deg and finishing temp was 70, sounds nice, this year we never saw 50, about 44 deg for the high.

After returning home from the bike ride, Teresa and I headed out for some Mexican Food, chicken enchiladas, and then to Jefferson, Tx. for Mardi Gras.
Mardi Gras is always fun, if nothing else it's a great time for people watching, all kinds of strange animals and yesterday was no exception.
We checked out the band, I made the mistake of walking to close to one set of speakers and the sound nearly knocked me down, a bit loud, are we getting old.
We walked around and checked out all the booths and listened to a bit more music, went to the "Country Store", mainly to get warm, it was cold, cold enough to shorten our visit.
Maybe we are getting old, only stayed about an hour and a half and left without a buzz, I think that's a first.
All in all a fun day, and a full day, I got a good nights sleep.

For those keeping up on Spunky, she's still at the Vets but is doing better, hopefully we'll pick her up in the morning, I sure hope so, she runs things around her and since she's been gone all kinds of creatures are moving in, mainly cats, dogs and skunks, damn.
Click for "Freeze Your Fanny" pics



Click for Mardi Gras Pics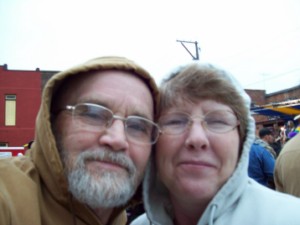 I love good music at the start of a ride
I swear, I tried not to sing along





Going to the Vet and getting Spunky after she was there for treatment for Heartworms was definitely the highlight of my day.
We took her in Monday morning and picked her up at 2pm today, she's tired and I'm sure the "Arsenic" she was given for 3 days is still having some negative affects.
We now have to keep her inside and basically a couch potatoe, or floor potatoe, for about a month.


Two happy Animals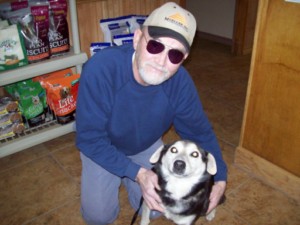 Had a good day today. It started out at the VA Medical Center in Shreveport, LA, I had to go for an Xray of my right shoulder, it's been bothering me for about a yr and a half, bout time.
Everything went smooth and got out of the VA about 8:25am, a record.

After lunch I took a mountain bike ride, finished ride on trail around our place, Killer, our dog, go into video.

I'm really looking forward to picking up Spunky from Vet tomorrow, but probably not as much as she will be, she's never been off the Rancho one time to get fixed and that wasn't overnight.
The first two weeks home are critical, definitely no excitement, chunks of dead worms can act like a clot, major problem, she'll actually have to stay inside with us for about a month, should be fun.


The VA Medical Center in Shreveport, LA.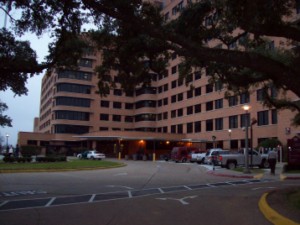 Go Killer, Go



Romeo, he loves dried Mango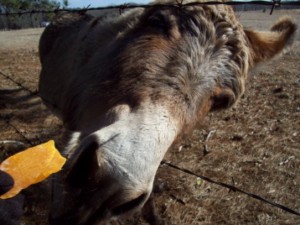 The perfect bike for a couple of my Online friends in the North Country