No ride today, had to do some cross training, mowing, then hug the A/C.
Yesterday I did one of my favorite gravel rides on my Mtn Bike.
I rode to "Cusseta Mtn", the highest point in Cass County, TX.
It's a pretty good ride for these HOT days, over half the ride is in shade, thank goodness.
The last climb up to the top of the Mountain is crazy, almost straight up, I've only ridden it with one other person and they walked it.


Life a tradeoff, we need rain and we've been getting a few little showers the last couple of days, they are greatly appreciated but riding the next morning is challenging, really humid and hot, Nasty fun, Nasy fun can be fun but now while riding a bike.
Today is supposed to be our last day of showers and then the temps are going to climb, 100, 101, 102 and 100 are forcasted for the next several days, should be fun.

Here's a pic of our unsettled weather this morning on my ride, luckily it didn't rain until I finished my ride, not that it really mattered, I always return home wet this time of the year anyway, might as well be rain as sweaty saltwater.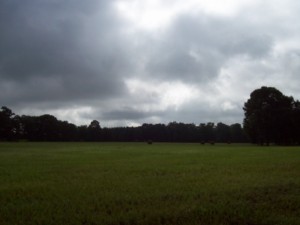 Took me a short, warm, humid ride this morning, Mtn bike on the backroads.
We had a thunderstorm move thru last night, brought some much needed rain but did make it sticky this morning.

In the reading department I finished "Sky Blue" by Alexander M. Grace, interesting reading about Kazakhstan and the problems with the Russian part of the country verses the Muslim part of the country.
My current read is "Act of Treason" by Vince Flynn, this is the second book I've read by Vince and CIA Operative Mitch Rapp is at it again.
Leave a comment From: Harry LeggsThe squirrels are still pretty fast up here. I guess it's not hot enough to slow them down. However, in the fall they get real slow, despite the cooler temps. I guess it's from all the food they're eating to get ready for winter.
Over the years I've nailed a few of 'em on those double backs.

mrbill:
Luckily the deer aren't as Suicidal!!



Got in a twenty seven miler this morning it was a good ride.
I rode my Centurion, rode some County roads and then backroads for shade, love the shade on those backroads.
Coming down one long grade I almost ran over one of those "Suicidal Squirrels", but lucky for both of us he didn't do the double back trick, you know, like the triple sow cow.

Contador won the TDF, I don't think this was much of a surprise, I think he used just enough of his energy to win, saving some for next year, is it to early to make a prediction.

Hope DaveyGie up in Iowa hasn't been washed away, I know some of his trails have taken a beating, check on DaveyGie, link to the right.



I had a good thirty mile ride on the backroads this morning, had cloulds about twenty five miles, it was appreciated.
In the afternoon a Fed EX truck pulled up with my new set of spare mountain bike wheels and my new tool box, I'm a happy camper.

As expected Pistillero won the Tour and Andy was second and Chris Horner turns out to be the only Radio Schack rider in the top ten, go Redneck.
Leave a comment From: Harry LeggsNobody cares about my bikes more than I do. I work on them myself. I'm slower than most mechanics, but I care more. Doin' it yourself is the way to go. At least I think so.
There are only a couple of things I need a mechanic to do now. It's taken several years to get to this point though.

mrbill
Well said Harry and good for you, I have also done most of my maintenance but will do a bit more from now on, thanks for the comment.
Looks like yall are getting a bit of rain in the north country.

From: Ms Nosy

This is so good to know, I will never let them touch my bike!!!!!!!!Also if the person, or someone in the shop, doesn't ride, and is just trying to sell the product ( which if he is a rider, he would know about everything!!!) That's a big train wreck just waiting to happen, with the name BILL on it!!!! HE HE HE HE YOU GO GUY!!!!!

mrbill:
The bikeshop is in my rearview mirror and getting smaller

From: MrDaveyGieRight on MrBill Slowly but surely I am learning my own bike repairs.

mrbill:
Thanks for commenting



Had a good ride this morning, rode on the backroads to take advantage of the shade and light traffic, plus you can get a good workout on the backroads.
I rode on the wheel that had a broken spoke, yesterday I got teed off and decided I'd fix the broken spoke myself, found an old wheel, removed a spoke, trimmed it about 1/8 inch, installed it, good to go, felt like kickin my self in the ass for ever having gone to the bike shop.
I was just crazy enough to believe that when I went to the bike shop, the old boy would, put me in a spoke, charge me about 15 bucks and get me on my way, that's what I would do, but no, he wanted 30 bucks, couldn't guarantee same color spoke and wanted to keep the wheel for 2 days.
To be honest I feel good now knowing I'll never pass thru the doors of that bike shop again, "Berridge Bikes and Boards" in Texarkana.



Went to the bike shop today, gave Terry his Trashy Wheel and I got my money back, I feel better now especially knowing I want be dealing with that shop again, "Berridge Bikes and Boards" in Texarkana, the boards part is skateboards, maybe he should just deal in skateboards, more in line with his abiilities.
Took a ride on my Mountain Bike yesterday morning and came back rather pee'd off.
The new wheel I got at the bike shop on Tuesday was like riding a Bronc, and I hate that.
Everytime the wheel goes around it's, bump, bump, bump.
I stop and take a look and sure enought the wheel is in shitty condition, out of true every way possible, with a huge flat spot, hence, bump, bump, bump.
I figured if you buy a wheel from a bike shop it should be right, wrong, now I've got another 2 hr drive, gas and everything and I'm not sure this character will fix the wheel, I call him a character now, if he doesn't fix the wheel or give me my money back I have other names for him.

The upside of this experience is, I'm going to order me the Elite Tool Kit and start doing more of my repairs, I'm tired crappy service from Bike shops, and you pay a premium to boot.
I'll let you know how it turns out.



Took a ride this morning and was blessed with some clouds, I was wet with sweat but it really wasn't that bad.
I'm still recovering from Saturdays effort, man that was tough, HOT, I loved it, a little.
After my ride today I had to take my rear mountain bike wheel to Texarkana for a new spoke, as I had a broke one.
Thirty Dollars and 2 days and maybe not the same color spoke or a new wheel for sixty bucks, I paid my sixty bucks and they transferred everything over and I'm ready to ride, I'll try it in the morning.



Went to the "Tour de Paris" yesterday and about cooked down along with 1002 other folks, 111 degree Heat Index isn't good.
Had a lot of fun in spite of the heat, these folks really know how to put on a bike ride, there was ice galore, and it was needed.


Click on image below for some photos of the ride.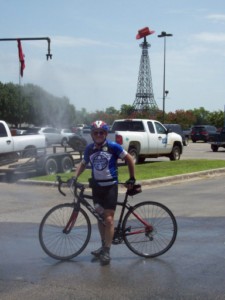 I did get out this morning for a short ride to losen up the legs, now I'm authorized to lay on the couch the rest of the day and maybe even have a tonic or two.



Leave a comment From: MrDaveyGieI think you Texans know how to have fun. Bravo.

mrbill
Yeah, Big Fun at the start and Small Fun at the end!!

From: Teresa
Great job on the ride & pics babe, 2 Thumbs Up!!!!

From: Harry LeggsGood Job, MrBill!

From: Ms. Nosy

Hell, we could use one of those sprayers around the outside of the house, just to cool us off, after farming, mowing, and well you get the picture...
Let's check & see about the cost..He He GREAT PICTURES!!!! I LOVED THEM!!!








Got out today for a ride, a bit later than I wanted and that made for medium fun.
Got in 23 miles, half on the County Road and half on the backroads, like that shade on the backroads.
All I have to remember is, to keep the water flowing in as fast as it's flowing out, yep, did a complete system flush in just 23 miles.

In the Tour today it looks like Pistillero did Vinokurov a little dirty, maybe not a good idea.
It seems as if Pistillero isn't a real "team player", but no doubt he's strong.
Andy lost a little time today and Lance lost the Peloton.

Looking forward to the "Tour of Paris", Texas that is, tomorrow, the weather is looking up, the temps are supposed to plummet from 100 today to 96 tomorrow with a small chance of rain, allright.



Got out early and got me in a good twenty miler, it was Big Fun.
It was hot and humid but it seems like the humidity might have been down from 100 to about 80 per cent, every little bit helps.
Rode thru Linden and got my latest picture of the Courthouse, which is undergoing a Restoration.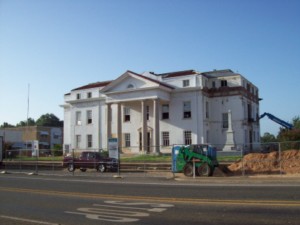 Take a look at the second floor window just left of the front door, now I know why it's taking so long, he kept an eye on me the whole time I was taking my break, didn't do a thing.

Then took the backroads home, stopped at Vans place and talked with him a minute.
I took this picture of Van's "South African Boer Goats", there really pretty neat, I'd like to have me some but I have a few things here on the ranch I don't want ate.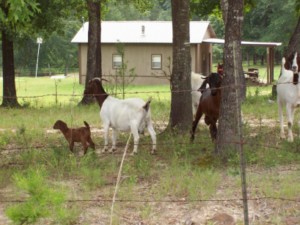 Got out this morning about 7:50am, I was thankful for the clouds, it was "medium fun."
I really appreciate that Linden Cop that flew by me on that narrow County road this morning, guess he was traveling about 60 and gave me a foot and a half, thanks much.

I saw a couple of deer as I toped Red Hill, they started running before I good get a good shot, look hard, you'll see her.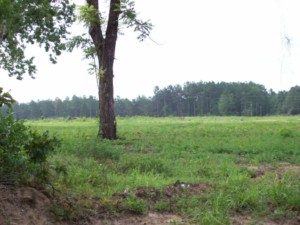 ********


Allright "Sergio Paulinho" wins stage 10 of the TDF for Radio Shack

In the pic below, Paulinho is in the foreground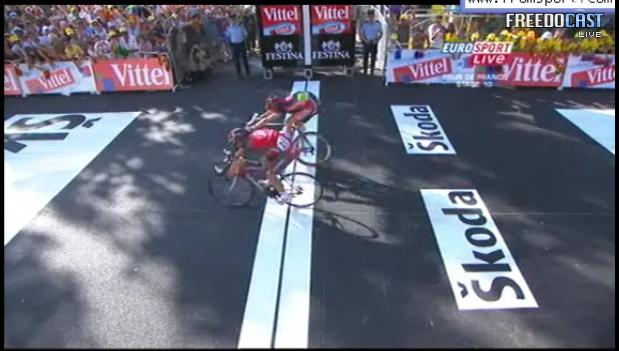 Leave a comment From: Ms. Nosy

When we were growing up in TX, KY, OKLA or whatever "God-Hated-Hot State, in this fine union of ours, Mom would always make us take a nap..NOW I KNOW WHY, to get you ready to " make it" when you get old ". But, back then we also had POLIO scares, yearly..sometimes monthly!!!I really appreciate the wonderful and smart things I have learned from my Mom, and miss her more and more every day..

From: Ms. Nosy

That deer is sure-enough HAULING ASS!!!!! I blew the picture up and she has 2 feet off the ground, really good shot!!!!!

mrbill:
It ain't easy taking a pic with an eye full of sweat!!



The ride today brought to mind something said by a Guy named Thor, from Germany, who I met while traveling in Costa Rica.
He said he got a kick out of the weather forecast while traveling in Egypt.
They would be in their hotel room watching the weather and the weatherman would say, "today we will have Big Sun, or Medium Sun or Small Sun."
In other words always sun, well my bike rides are all fun, some are Big Fun, some Medium Fun and some Small Fun.
Today's ride was Small Fun, due to high heat and humidity, you know, I don't remember this being such a problem when I was younger, grin and bear it.

I took this photo from the top of "Thompsons Bluff", look closely in the distance and you can see the moisture in the air, and with the heat, 80 degF at dawn, it's like a rolling Steam Bath.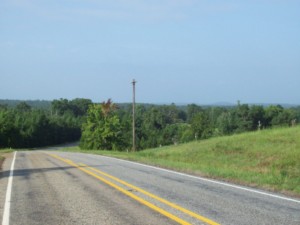 And like a steam bath, after soaking up a good bit of steam, and then taking the cold water dunk, that's what I did when I got home, the old outside shower, straight out of the well, what a relief!






It is true what they say, "it's like riding a bike, you never forget", yep after about 4 days off the bike I still remember how to ride.
Went for a ride on the backroads on my Mtn bike, just saw animals, horse in middle of intersection, curious goats and a deer who just had to stop and try to figure out what I was.

The Tour de France is going along about as I suspected, Lance has learned like the rest of us old folks that with age you loose that edge.
I hope now that Levi can do something for Radio Shack. I still believe Pistillero will win but I still have hopes for Andy Schleck, I do like the Schleck brothers.
Leave a comment From: Harry LeggsI like the Schleck Bros too. I hope Lance will get in front of Levi and work to get Levi on the podium.

mrbill:
It may have to be Jani who helps Levi, I just want to see Andy win it



Riding has taken a change for the good here in NE TX, we're getting a little rain and the temps are in the low nineties and the bugs have backed off.
Of course I'm still sweating profusely, I'm used to that now, no liking it but used to it, and it makes me wonder where does all the salt go in those folks who don't sweat.
I've sweated out a salt block already this year, if I hadn't ridden and sweated it out, where would it be?

Lance had a hard day in the Tour yesterday, as did everyone else, hope he bought Popo an Ultra Light after the race, hated to hear about Frank Schleck, out with broke collarbone, I like the Schleck brothers.

I'm now reading "To Look and Pass", by Taylor Caldwell and am really enjoying it.
I've read about 8 books of hers and thoroughly enjoyed every one of em.
Now when I find a new book by her I'm always afraid that it will finally be the one of hers I don't liike, but so far, all of her books have been really good, probably never would have found her if it hadn't been for second hand bookstores, we love em.



Had a good ride today, did twenty six miles on the backroads.
Just after I passed Carterville I spotted these, I may have to go back later with a stepladder and my truck and get these babies, they look better than my Sunday Tennies.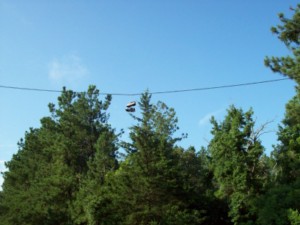 I don't know if "Chipseal" is nation wide or not, but if you aren't familiar with it, here you have it.
They put a new shoulder on one of my roads, new chip seal isn't fun, and it breaks windshields.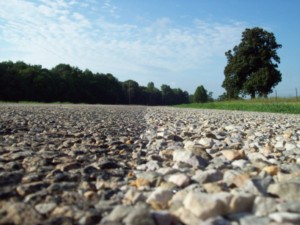 My backroads are getting better now that the initial onslaught of bugs has passed, May and June are really bad, but they start backing off about now, thank goodness. Make a note, "take off May and June of 2011."

So far the Tour de France has been one Big Wreck, everybodies been down, fortunately most have gotten back up, a couple of more stages and maybe everyone will settle down.

Hey Nick, up in NH, hope your likin the Heat, he he, Break out the Barbecue Sauce, apply liberally, I love it, yu know what they say, "Misery loves Company", made my ride better this morning just knowing someone else is gettin some heat.



Leave a comment From: MrDaveyGieI think you are going to need a very tall step ladder MrBill.

mrbill:
Right Dave, I had a vision of me tumbling off the ladder and falling into the road and breaking some bones, the tennies don't look as good now

From: Harry LeggsYeah, they put down chip seal up here too. It takes the smooth out of road.

mrbill:
That Chip Seal will wear you out, and New Chip Seal will beat you up! It should be outlawed.








Had a good ride this morning, rode to Linden then to High School, back to Linden and then the Almira, Red Hill loop.
It was Humid, as it's going to be this time of the year but it was mostly cloudy, not to bad.
Yesterday I took the day off from the bike, it was raining and that gave me a chance to burn a Hugh brush pile that was a magnet for every kind of animal known to man.

The TDF got started and Lance is 4th ahead of Contador, I'm really interested to see who will take it this year, I believe it will be Contador, would like to see Lance, Jani, or Andy Schleck take it, lots of variables, anybody's guess.



Had a good ride today, twenty three miles on the backroads on the mountain bike.
The clouds and mist made it a bit better, but the humidity was a killer as usual.
I almost got run over today, 3 times, about midway on my ride I was approaching a curve in the road when a Fawn darts across the road about 40 ft in front of me, I slow and then here comes the Coyote on the heals of the Fawn, I holler at the Coyote thinking maybe I could get his attention off the Fawn, then I look ahead of me and here comes Mama Doe full blast across the road about 10 feet in front of me, like I could almost reached out and touched her.
They were all headed into the woods so I don't know the outcome, I realize this is nature at it's worst, poor Fawn, but the Coyote has to eat, and the world goes round.


Timber is the main employer in Cass County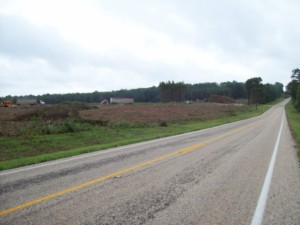 ********



I finished "Mexico" by James Michener
I recommend this book, I really enjoyed it, as I have enjoyed other Michener books.
I learned from this book that "Bullfighting" probably isn't for me and I also picked up some historical facts on early Mexican History, a good read.



********



The first day of July was better for riding than all of June, so there's hope yet for good riding this summer.
I took my Mountain bike out for a short ride on the backroads, a cool front from the north and the outer bands of a Hurricane in the Gulf have come together to give us a little relief, cooler temps, low nineties and a little rain, we need more.

Yep it looks like I'll keep cycling and as far as getting back on the Marlboros, no worries, it won't happen, I quit in 1971, I was working at an Aircraft plant in Grand Prairie, TX and I was out of cigarettes and didn't have change for the cigarette machine, no one had change, I said to myself, "I'm not going to pay 50 cents for a package of cigarettes," I quit, and now folks are paying 5 bucks a pack, unbelievable.

Hope everyone has a good Fourth of July weekend, don't hold those fireworks and watch for drunks on the road, no problem for us, too old for fireworks and we'll have our Tonic at home.



********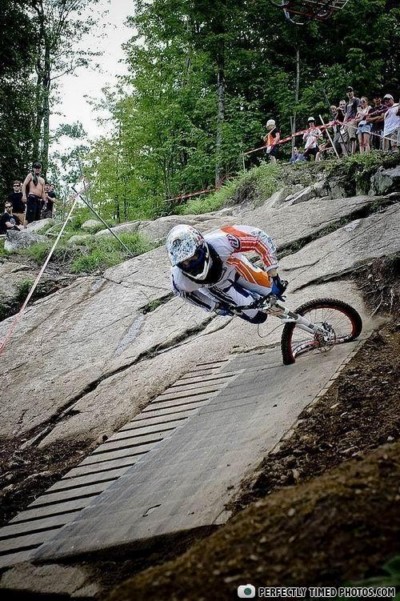 Leave a comment From: MrDaveyGieYou can't quit, your addicted. :-)

mrbill:
Dave, you may be right, I guess Addiction can be a good thing, sometimes.

From: Harry LeggsYou'd still get better mpg with a bike.

mrbill:
With the price of Groceries these days I'm not so sure, seems like your getting more miles per gallon than me, you know what they say, "It's not the destination, it's the trip."