Finish of Tour of MO:

Final Stage:

Martin Gilbert (Planet Energy) was 1st on the stage
Andrew Pinfold (OUCH) was 2nd on the stage
Thor Hushovd (Cervelo) finished 3rd on the stage

Overall winner = David Zabriskie (Garmon)
Second Overall = Gustav Larsson (Saxo Bank)
Third overall = Marco Pinotti
Best young rider = Dario Cataldo
Most Aggressive = Mike Bary
Sprint jersey winner = Thor Hushovd (Cervelo)
KOM winner = Moises Aldape (Team Type 1)
Team = Saxo Bank



I went to the Tour of Missouri, Stage 7, the final stage in Kansas City, and I had a ball.
I left Linden, TX and my route to Kansas City took me thru Oklahoma, and part of Oklahoma was crossed on the "Indian Nation Turnpike", if you find yourself in the area, I recommend it, no signs, no litter and cruz at 75 mph, real nice, and the Will Rogers Turnpike wasn't bad either.
Stage 7 was 7 laps in Downtown KC, for a total of 72 miles.
I set up at the first KOM (King of the Mountains) point line near the Liberty Memorial, it was a great spot for some photos.
In edition to some great bike racing it's a fun time, meeting folks and sharing some Bull while waiting on the next lap.
In the photos below is a photo of some KC folks I met, good KC ambassadors, enjoyed meeting and visiting with them.
In the photos is also the back of a gentleman from Hawaii, who was fun to listen too, he told us about the time he was in Southern California and decided he was going to ride across the USA, he quit the first day, funny.
I got to see a few of my favorite cyclists and meet a couple of them, a neat experience.
I was watching the last lap from a refueling station and after the riders had gone thru, I managed to get me a water bottle from one of the BMC ladies.
Now I'm going to see what the pros drink, Coke, I thought they drank coke, but now I know for sure, got me to thinking, why doesn't Coca Cola sponsor a Cycling Team, good question.
Since I watched the race from several vantage points along the route I had a hard time getting pics at the awards ceremony due to the crowds that had gathered earlier, but did get luck with a few.
I got a pretty good pic of the stage winners and the overall winners.
I was tickled to see Zabriske win and he and Vandevelde had fun on the podium.
I also enjoyed seeing Thor Hushovd, one of my all time favorites, he was on the podium two or three times, great guy.
I had a ball and I'm hoping they have the race again next year, like I said, I highly recommend it, but don't stay at the Hotel 6 on 87th, pretty shaky, first room was dirty, second room you could tell the door had been kicked in several times, and it had a feel of "Alice's Restaurant", if you know what I mean.
Didn't sleep real well, I got up every hour or two to see if my car was still in the parking lot.




Pics coming soon, I took a bunch, trying to pick ones to put up first, what a job.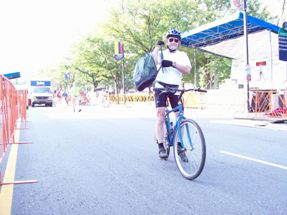 Mrbill getting ready to ride the course about 5 hrs before race time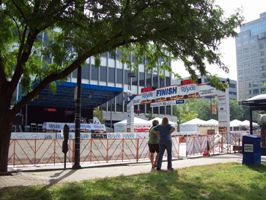 The start/finish line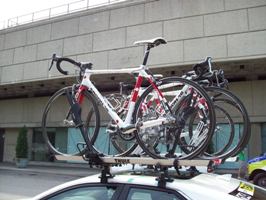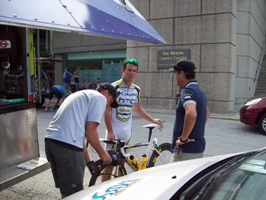 Mark Cavendish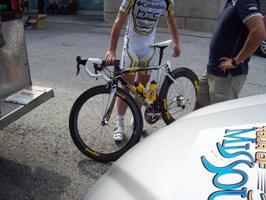 Marks ride, a pretty nice ride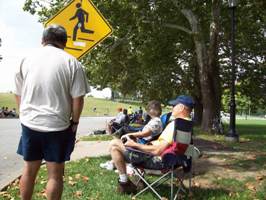 The man with his back to the camera was going to ride
across America, he quit after first day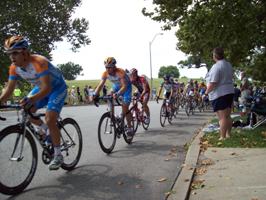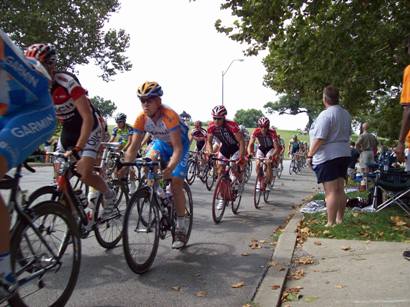 Floyd tucked in and what's that, Levi behind Floyd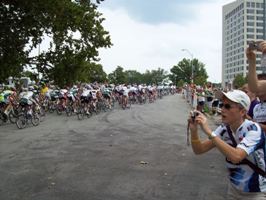 Who's this Saxo Bank man taking a Picture?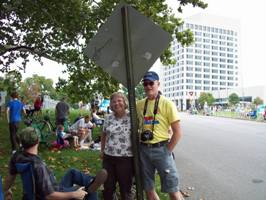 Kansas City Goodwill Ambassadors,
Linda and David Hartman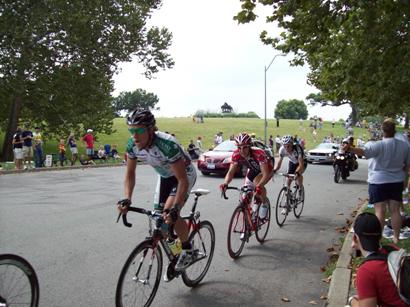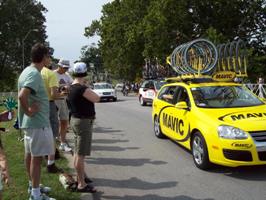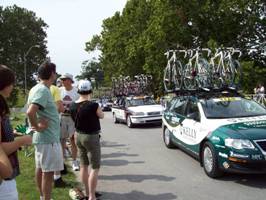 The caravan, a real Carnival, a parade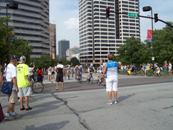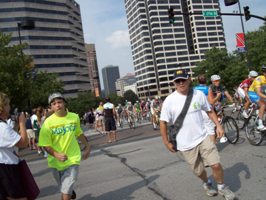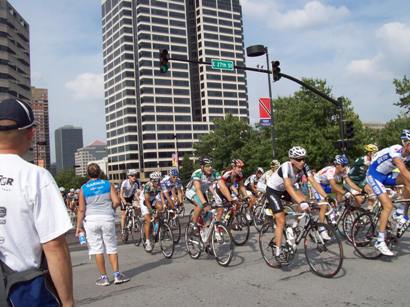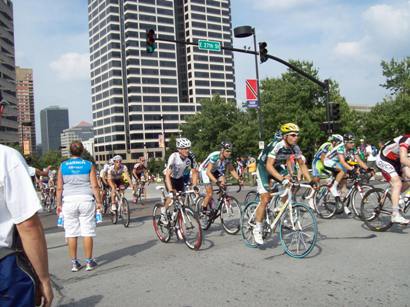 This is the spot where I got my water bottle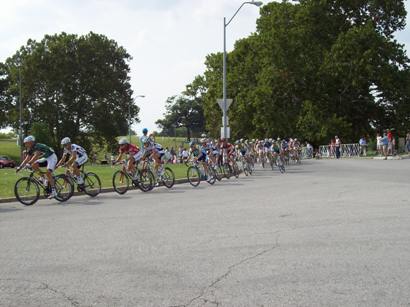 Ok Levi, move on up there with Thor, where's Floyd?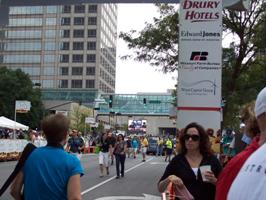 Big Screen at the Finish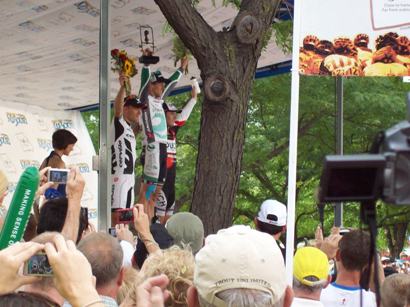 Stage 7 winners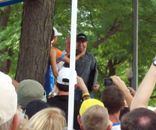 Zabriske and Vandevelde clowning around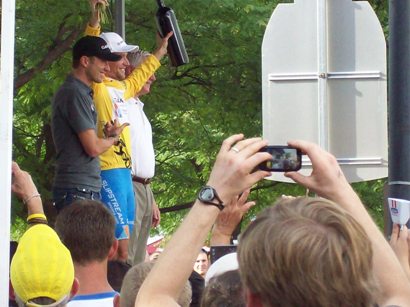 Zabriske and Vandevelde, oh, and the Lieutenant Governor of MO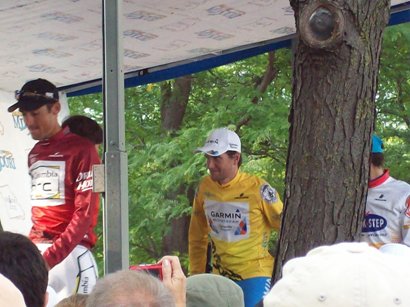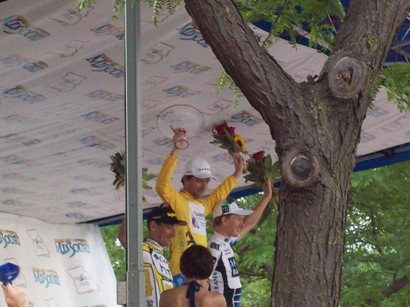 Overall winnes of the Tour of Missouri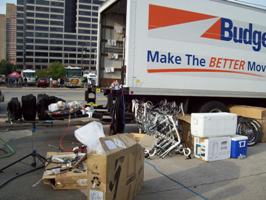 After race clean up


page last updated 9/15/09

Home