Mt. Magazine, Arkansas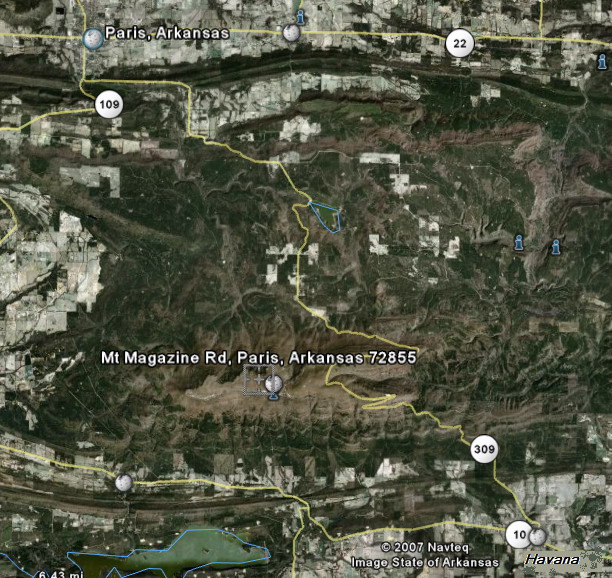 Twenty seven mile ride from Havana to Paris Arkansas.
Basically you start out at 400 feet elevation climb 11 miles to 2400 feet and then descend another 16 miles to Paris at 400 feet elevation.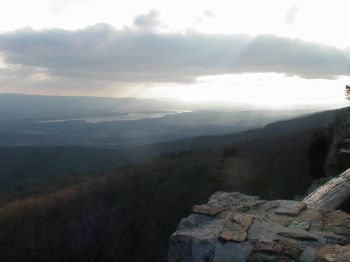 View half way up Mt. Magazine, looking south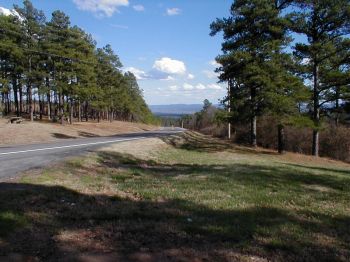 View from the top of Mt. Magazine
The Ride
1 April, 071>

Starting Temperature: 47 degrees
Starting Time: 8:16 am
Time at Top: 9:36 am
Temp at Top: 58 degrees
Time back in Havana: 10:12 am
Temp at Finish: 64 degrees
This is one of the most fun rides I've done. We spent Saturday night in Dardenelle and woke early Sunday, had breakfast near our hotel and then headed to Havana.
The drive to Havana was really nice, first to Danville and then to Havana, about 30 miles.
After arriving in Havana we went to the edge of town, Mitchell street and that's were I started my ride.
It was a cool morning about 47 degrees at the start but within 30 minutes I thought it would be nice to be riding without a shirt, it warmed up when I started up the mountain.
Teresa was always in the area, I did get her to fill my water bottle once and she offered me a ride if I wanted it, no way. About halfway up the Mountain the ride got personal, Me against the Mountain, and one of us was going to conquer.
It was one of the toughest rides I've done but I will do it again, it was great, I even got to the top a bit sooner than I expected and had a little left.
The ride down was also a blast, 45 and 50 miles an hour, Il Falcon.
If anyone has any questions about the ride just email me and I'll happily reply.