Mrbill's Bikenbreakfast
---


84 deg F
42 miles


Today a couple of riding buddies of mine came over from Mnt Pleasnt to join me for a ride. Clay and Michael are good riders and I invited them over to get a workout, and I did.
Things started off pretty good the first 20 miles then we took a short break and then got back on the road and then my stomach starting acting up, making the last 20 miles a little rough. I can't figure out what caused it, guess i'll just chalk it up to old age. It really ticked me off because I've been riding pretty good lately and then on the day Michael and Clay show up I'm not up to par, that's about my luck.

About 32 miles into the ride I'm going down a hill and Clay is beside me, I swerve left just a bit, see Clay and correct back to the right, but correct a bit much and end up off the road in the ditch. Grass and weeds about waist high and knowing I was going to hit a hole or something and go down, but somehow I managed to keep her upright and get back on the road. What's amazing is Clay got a video of this happening.


I sent this video to Robert a friend of mine and I got a kick out of his comment, he said, "Dang, looked like one of those guys at the marathon races who hides out and jumps in at the end to run the final 100 yards. You're right, it's a wonder you didn't take a fall. Still, you rode 42 miles and not many people can do that."
So it was not a great day for me on the bike, but I really enjoyed riding with Michael and Clay, a couple of fine fellows and good riders.
P.S. Don't tell anyone about this



87 deg F
33 miles


Got out this morning for a 33 mile ride, couple of loops with plenty of hills. It was warm, guess that goes without saying, a little wind but no real problem.
I stopped by the convienence store and got a lottery ticket, if I win I'm going somewhere where it's not so damn hot.

I bought me a watermelon yesterday and it wasn't the greatest and on my ride I saw a guy with a truck load of melons and talking with him he did say it wasn't a good year for melons.

Riding in on my county road I spotted these wild morning glories, they always amaze me how they do so well and look so nice growing in dry sand and 95 deg weather.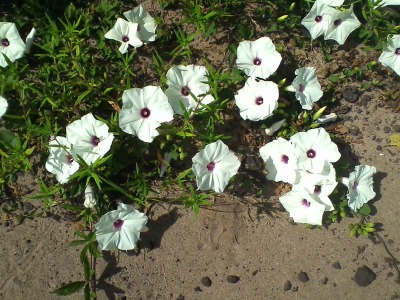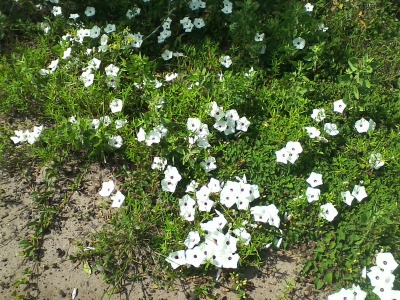 This Saturday, July 4th we'll be doing a 42 mile ride, we'll be meeting at the EZMart on Hwy 59 at 8:30am, bring your road bike.

This will be a fun ride, plenty of hills including "Monster Mountain."
We'll have one reststop at the Liquor store on Hwy 43, always an interesting stop.
This ride should be about a 15mph avg.
This ride will be held rain or shine, rain just makes it cooler this time of the year.