Mrbill's Bikenbreakfast
---


70 deg F,


We had a few days break from the rain but now it's back.

Since my last update I bought me a new car, a Honda Civic, really enjoying it.

I've been getting in some miles on the bike, my light touring bike. I stripped the bike down to the frame and built it back up and now it's the most comfortable bike I've ever had, not as quick as my Carbon but definitely more comfortable, really a joy to ride.

I plan on a 40 mile ride tomorrow if the rain cooperates, there is a chance of rain.

Off to the gym today for a little upper body work.

We've also got some good bike racing coming up, the Tour of Italy and the Tour of California. I hope my boy Sagan can get back on track, he really needs a new team, and leave those women alone.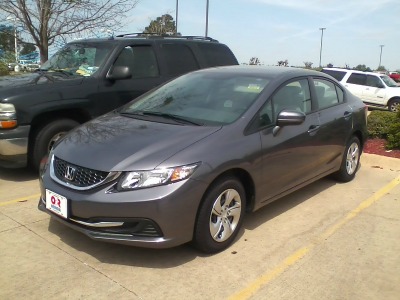 70 deg F,


Update to previous post.
Went to the gym this morning for my upper body workout.
After leaving gym I just had to take a bike ride since it was such a beautiful day.
I did have some mowing that I had to get done so I just took a ride to town and back. While in town I stopped by Rogers house and took these photos in his front yard, really nice.

With all the rain we've had the plants are really looking nice.
This is prime time to visit Texas, and I did get the mowing done.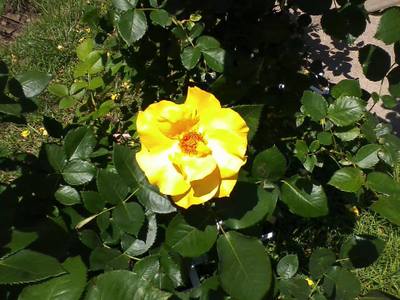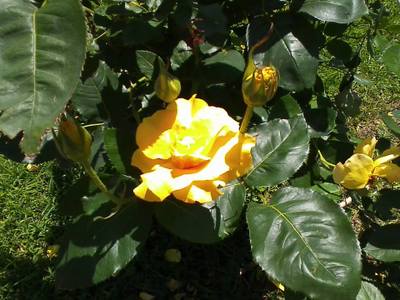 70 deg F,


Rain, Rain and more Rain, it's like a rain forest around here.
I've been getting in some miles between showers and have got caught a couple of times.
Today I'm headed to the gym and after workout I hope to get in a few miles and then I've got to mow, the grass is just about taller than Gigi, my Chihuahua.
I've been having fun working on my Blue light touring bike, yesterday I put on some 700 32 Gator hard shell hand made German tires, hopefully no flats for a while, I didn't feel that the regular 700 25's were stout enough under a load.

Hopefully we're going to have sun today, I'm looking forward to it.



75 deg F,


Charmane and I did a 40 mile ride today, beautiful day and a good ride. Here are a few photos taken at a break at the midway point. The route was from Linden to McCleod, with a new backroad thrown in and it was nice and hilly, we like that. We didn't have any problems and no dogs bothering us since Charmane brought her "Dog Blaster."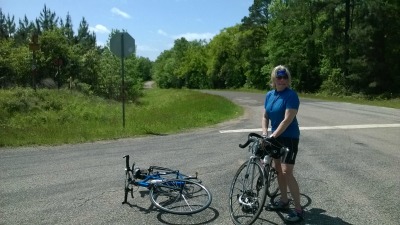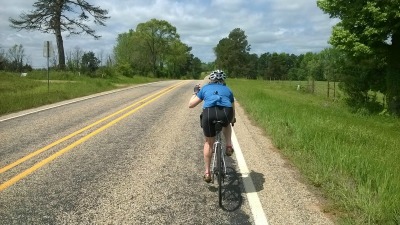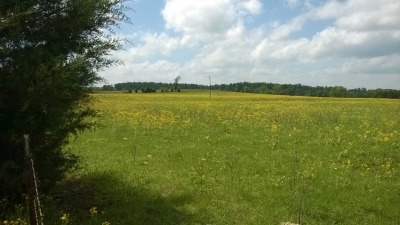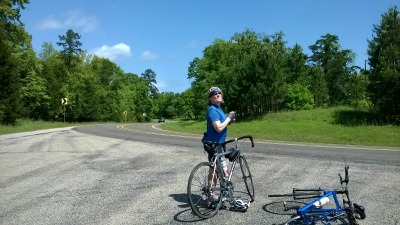 Come on out and join us for next weeks ride, another 40 miler from Red Hill to Bryans Mill with a Hamburger stop in Marietta at the 25 mile stop, or pie if you want, Charmanes suggestion.
Red Hill Bryans Mill ride
Everyone have a good week.



75 deg F,


What a beautiful day for a bike ride, high of 75, light wind and blue skies. I really enjoyed riding with all the flowers lining the road and the tunes running around in my head.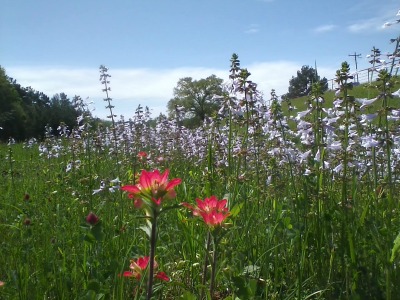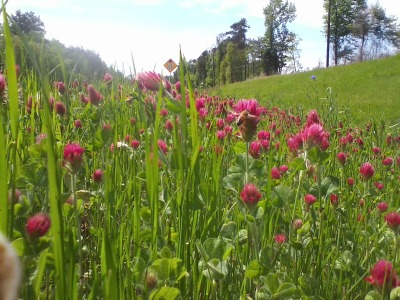 60 deg F,


I had a good day today, got my car problems worked out and then did some bike work.
I was going to have a company called "U Pull It" come and get my car on Monday but then Roger knew a local guy who wanted it so I let him have it.

It was like Christmas today when my new triple crank and bottom bracket arrived with the mail.
So after getting car problems worked out I installed the Crank and Bottom Bracket, I was really tickled that I got the old Bottom Bracket out, believe me, they can be permanently bonded.
I had a triple front derailleur and it was fun putting everything together.
Everything works fine on the stand but I'm sure I'll have to do some fine tuning when I hit the road.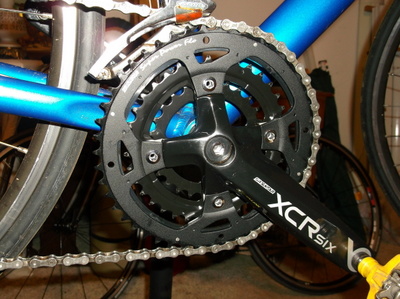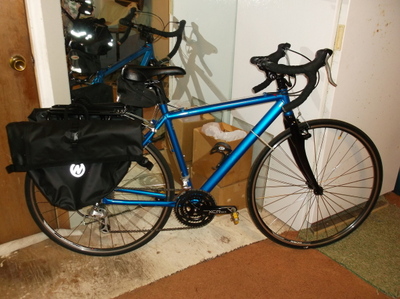 Now if it will just stop raining so I can take her for a spin.



60 deg F,


Not a real good day today.
This morning I got ready to go to the gym and on the way to town my oil light comes on in the car, by the time I get to town car is out of oil. I park it at mechanics but later in the day he tells me the engine is locked up, so my little toyota is history, damn.
This was really strange, as I was driving down my driveway I did hear a knock, I can only guess that something came loose in the engine and punctured the oil pan.
Today I'll try to get hold of "U Pull It," an outfit that parts out cars, their supposed to come pick it up and I believe they usually give you a couple of hundred bucks.

So I guess I'll be keeping my eyes open for a used car, don't think I'll buy another new one. I'm not on foot as I still have my truck which I bought used before I bought my car which was new.

I did make it to the gym and did get a few things done around the farm in the afternoon, spread some fertilizer, weedeated and picked up limbs brought down by the ice and snow.

Not looking forward to tomorrow, dealing with vehicle, but I'll get er done, I won't be missing riding as it will be raining as usual.



60 deg F,


I had a really nice ride today on "Bluboy" my light touring bike or at least it will be when I get new triple crank and bottom bracket installed. I got in touch with Jerry and then headed to town, Jerry, Roger and I met at Jerry's house.
Jerry wanted to do a Hilly 34 mile route, fine with me, so off we go.
The conditions were fine, 60 degrees and cloudy, light wind and the route had plenty of Hills, which I like.

So I ended the day with 51 miles and was extremely happy with the modifications I've made to Bluboy.
Looks like the few days we'll have rain again so was really glad to get this ride in.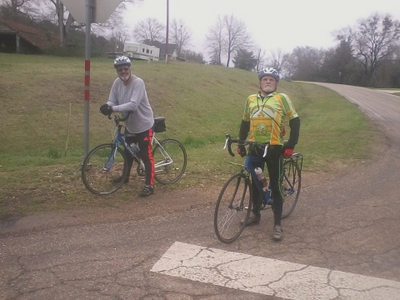 Guess I was feeling a little Macho after just finishing Monster Mtn.



62 deg F,


I guess I must first apologize to anyone who may have been here a few times in the last month, no updates, the staff went on strike. Honestly I've just been lazy and depressed with all the snowy and rainy weather.

Alls fine with mrbill, I'm riding when I can, in between rain showers, it's raining as I write this, our drought is over.

Lately I've been riding my Blue Cross bike and am in the process of turning it into a touring bike. A couple of days ago I ordered a new crank and bottom bracket, looking forward to getting it installed and trying it out. Jerry and I are planning a 4 or 5 day trip on bikes to Waco from Linden in May, hope it pans out.

Jerry is headed to London on Friday, his first time out of the country, hope he has a great time, if he likes it maybe I can convince him to go to Colombia.

I was going to do a ride in Arkansas this weekend but it has been rained out, 90 percent chance of rain Saturday, I do hope to get out for a local ride on Sunday.

Hopefully I'll update a bit more regular in the future, thanks for stopping by and hanging in there.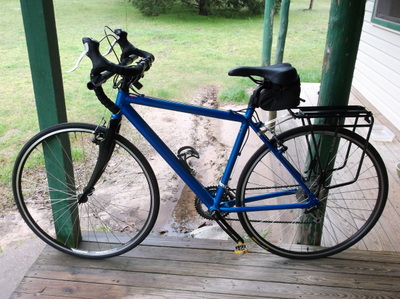 A rare photo of Jerry Harp
cleaning house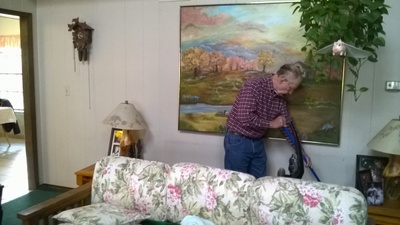 Hey Jerry, watch out for that Flying Elephant near your head.



76 deg F,


I went out there and fought the wind again today. I just took a short ride to Linden and back, heading home into that NW wind was little fun.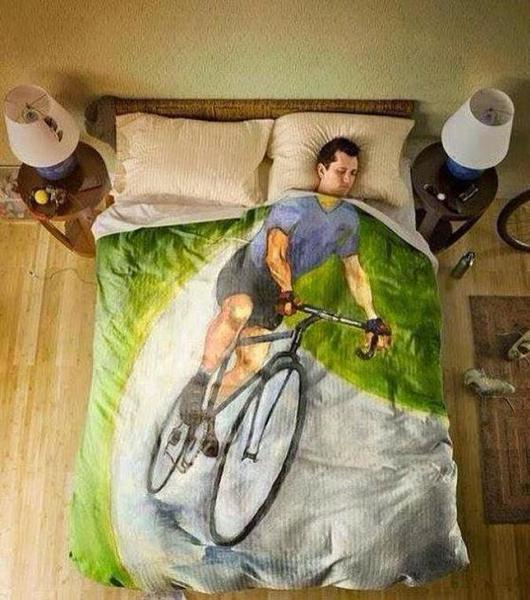 This would be the perfect gift for a few friends of mine.



60 deg F,


Today I went to the "Freeze Your Fanny" ride in Longview, TX.

Despite the Brutal conditions, we had a great time.

Click on image below for ride report and photos.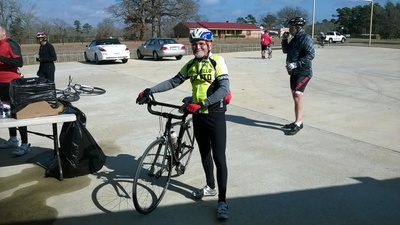 I love getting together with friends and riding bikes, it just don't get no better.



50 deg F,


Nice day today, high around 50 deg with Sun and light S wind. I took the mtn bike to town on the back roads and came home on hwy 8. Nice ride, no problems, played with some dogs but they weren't really hungry.

This weekend is the "Freeze Your Fanny" bike ride in Longview, TX, it doesn't look like we'll be freezing our fanny with temps around 55 to 60 degrees at ride time. It should be a fun time, quite a few folks I know are going.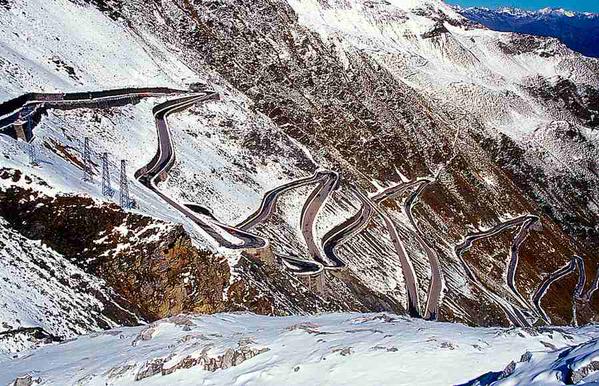 Wouldn't this be a fun ride.