Mrbill's Bikenbreakfast
---


65 deg f
983 days left



More Rain

It's always nice when we get rain but when we get half a years worth in a week it isn't so nice.
I watched a bike race in the morning, rode along with the boys on my indoor bike and then pretty much read and watched some Olympics on the boob tube.

I did have to make an emergency run to town latter in the afternoon for some Blue Bell ice cream.
Our granddaughter Lexy had her tonsils out on Thursday so I wanted to take her a pint, the big payoff for getting your tonsils out, Ice Cream.

*********************

From "The Gauntlet";

Ashes to ashes and dust to dust, show me a woman a poor man can trust."

You are your brother's keeper, for we all are a part of humanity, and humanity is a storm beaten island in a sea of misery, and when one grain of dust, just one man, is lost from this island and falls into the sea, then we all are the losers.

*****************

mrbills treasures;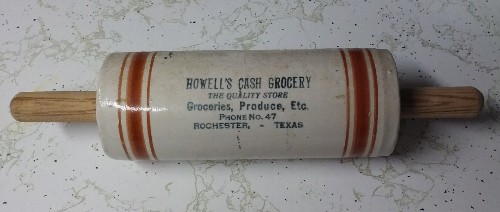 This rolling pin was my Moms and I've always liked it.
My Mom was born in Rule, Texas and that's near Rochester, we visited this area quite often when I was young.
The thing that I like most about the rolling pin is the phone number, 47, that definitely reminds me of simpler times.



65 deg f
984 days left



Hoping for Sun

Another cloudy day in E TX although there was a hint of sunshine in the afternoon.
I had a good time at the gym visiting, I even worked out a little bit.

There's a friend at the gym who writes music and he was telling me that he had copyrighted the name of a song, "Star Hopping."
I proceeded to check on youtube and there were some hits for Star Hopping, I got Bobby to wondering if maybe someone owes him some money.
Bobby brought me his CD with the song "Star Hopping" on it, I spent quite awhile getting track from CD on my computer and then adding an image to make it acceptable for youtube.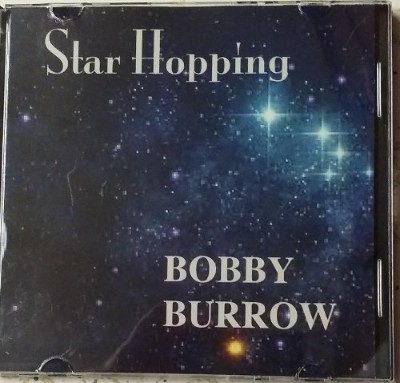 While I was working on the video I noticed it got real light outside, what's that?, OH, Sunshine, I better get outside quick, so I put the video on hold and headed for the Linden City Park with Bootsie.
Bootsie and I had a good walk and I ran into Tim the Motorcycle Man and he told me he's going to Colombia and Ecuador this coming December, this led to quite a discussion since I'm a big fan of Colombia.
We were joined by Sue Lazara and she added some info about Eastern Europe, and of course I was interested in her thoughts of the Czech Republic and Poland, she really liked them both.

So a fun, full, constructive day, what more could I ask for, how about a Full Day of Sun.



10 miles inside
60 deg f
985 days left



Rain, Rain, Rain

That's the story of the day. I can't remember when we had this much rain at one time, no sun for several days and mucho rain, it's starting to get a bit depressing.

I didn't leave the house today, I barely got a chance to walk Bootsie around the trail, no breaks in the rain.
So I spent some time working on my sawhorses and I started a new book, "The Gauntlet" by James Street. I'm about 50 pages into it and I'm really enjoying it, I didn't really think I would, so a nice surprise.

From "The Gauntlet"

Hebrews 11:1, "Faith is the substance of things hoped for, the evidence of things not seen."

Idols are man's monuments to his own ignorance and fear, and to his vanity

"That your brain is so proud it won't let your soul admit it's own humility"

"The Heart has reasons of which reason has no knowledge"

**********************

Later in the day after all the news was over I watched a little TV, was glad to see Hungary win a Gold Medal for the first time ever, you go Hungary.

Then I put in a less than Olympic effort on the indoor bike for 10 miles.



60 deg f
986 days left



Rain, Rain, Rain

I think we had at least 5 inches of rain today, continuous all day long.
We noticed coming home from the gym that all the low areas are full of water, the good thing is all the creeks are getting a good flush.
I also noticed that some of my trees are starting to bud out, Pear and Tallow, which doesn't surprise me, their as confused by the weather as I am.

So a rainy day meant I worked on sawhorses and finished reading;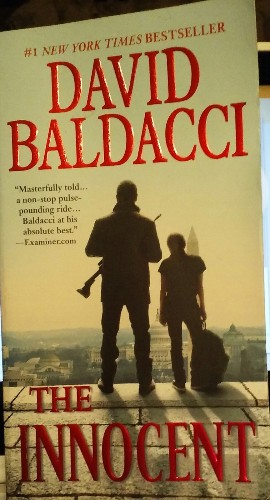 I enjoyed this read, if you like Mysteries or Who Done It's you'll like this book.
A friend at the gym said he has all of Baldacci's books so he's bringing me one on Friday, I would like to read one more before I get back to some Historical Fiction, my favorite.

******************

If you like Mellow, Classic Guitar you might enjoy this


Elvis Porras from Costa Rica, I met him at the airport in Costa Rica, he was set up in the airport playing and selling CD's, I purchased one of his CD's after seeing the song, Malaguena, a favorite of mine.

*************************
Pro Cycling really kicks off the year on the 24th with the
"Omloop Het Nieuwsblad Elite"
race, the start of the Spring Classics, my favorite races.
I managed to get in a few miles indoors later in the day.



16 miles
70 deg f
987 days left



No rain until late in the day so mrbill got out for a bike ride. It's been so warm the last couple of days I was able to leave the house about 9am in regular kit, no warm weather gear necessary.
Crazy weather for February, 80 deg yesterday, good enough for an outdoor shower.

Several years ago I built some minature sawhorses, Teresa used them in the kitchen, like trivets, to set hot things on.
I found them in a cabinet and took 2 of them to Teresa and 2 to the gym with me.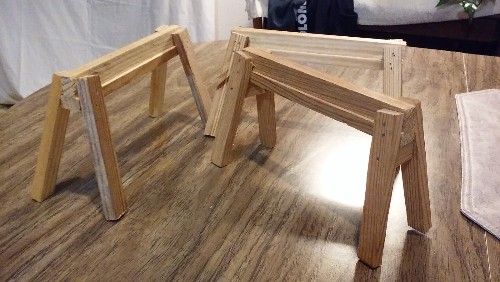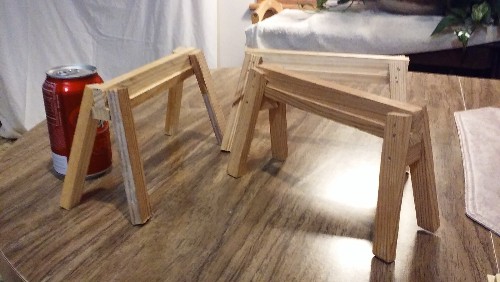 these are about 6 to 1 scale
A friend at the gym wanted the ones I took and they seem to be popular so I'm making some more.
I thought I'd have an easy afternoon making sawhorses, got out my tools, and got to work, I was working outside.
As usual Bootsie was right there with me while I was working, then all of a sudden I hear a big crash, Bootsie runs toward the front gate barking, I stop working and go to see what's happening.
My afternoon of relaxing craft work turns into serious labor when I see that a tree has blown down right across the driveway.
Tools put up then I go get the chain saw and get to work, real work, with Bootsie helping of course.
I can't belive how strong this Super Dog is, she was running around picking up sticks so I decide to mess with her.
There's a log about 5 ft long and 3 to 4 inches in diameter, I tell Bootsie to get it, she starts biting on the end of it, I tell her again to get it, she grabs hold of that log and proceeds to drag it across the yard, I couldn't believe it.


**********************


We just had a holiday, "Presidents Day," can someone please tell my why, also why don't we have a "Garbage Truck Workers Day," come on, who actually gets more done, yep the Men on the back of the truck.



60 deg f
989 days left



I got out for a ride today, it was wet from a heavy mist and light sprinkles but I had a good time and enjoyed the ride.

Just about the time I get in a groove updating my page, I have a problem with my server and was unable to edit my page this weekend.
Hopefully it won't be a recurring problem.
I've used the hosting service I have now for a number of years but I may have to change.

Now to get back in the groove.

Home
Email mrbill
Page last updated,
24, Feb, 2018