Mrbill's Bikenbreakfast
---


78 deg f
40 miles


I had a good ride today, perfect day for a bike ride, sun, light E wind and highs in the 70's.
I managed to get in 40 miles, no rush just a good ride.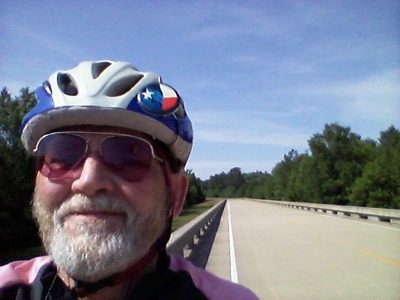 On the million dollar bridge to nowhere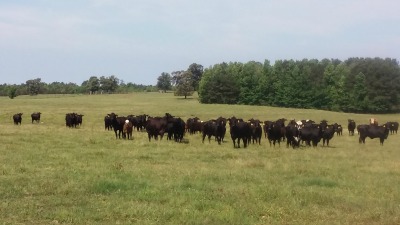 Had good attendance at services this morning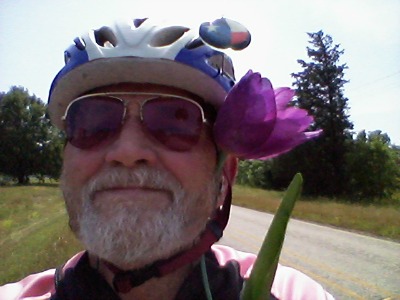 "If your going to San Francisco"



78 deg f



I had a great time today at the "Magnolia Blossom Festival" in Magnolia, Arkansas.

Click image below for Ride Report.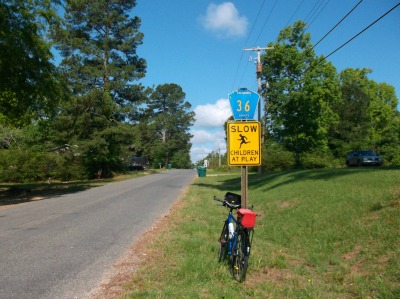 80 deg f



It sure is easy to get behind on this website, no excuses.
On May 14th I went to Gilmer for Refuge International ride put on by Deborah Bell. I always try to attend this ride because it benefits the poor folks of Guatemala, a country and people I like very much.
We had a pretty good turnout for the ride, Jerry, Charmane, Michael Prewitt and a host of others attended.
I did the 40 mile route (38 miles) and it was a good ride, conditions were good and lots of friendly folks.
The after ride party was good as always with drinks, pulled pork sandwiches, chips and good company.

Tomorrow, May 21rst I plan on going to Magnolia, Arkansas to attend the "Magnolia Blossom Festival" and do a 32 miles ride before the festival.


Gilmer photos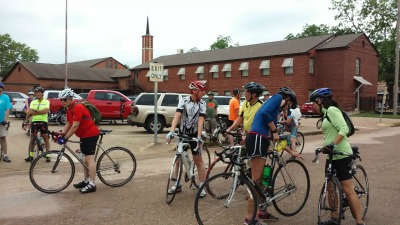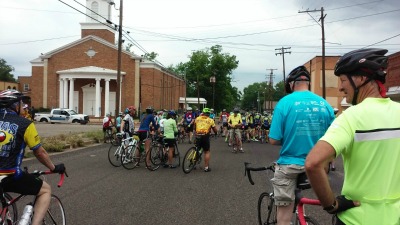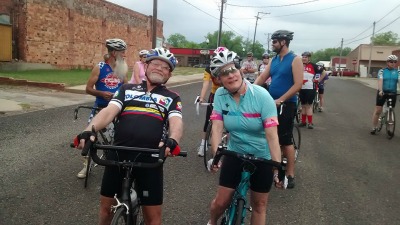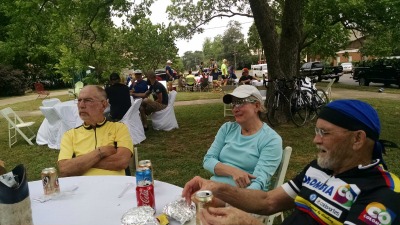 80 deg f



I finally got the photos uploaded from my mini-tour or the "Washington on the Brazos Tour."

I haven't written up my trip report yet, I should have it done in a couple of days.
In a nutshell my tour was from Navasota, Tx to Washington on the Brazos st park, Chappel Hill, Brenham, TX, Independence, TX and then back to Navosota.

For photos of my Tour click on the image of me below. If you see a photo you like be sure and click it for the larger photo which has much more detail.
Don't want you to miss this award winner,Great Pic, yeah, I'm braggin.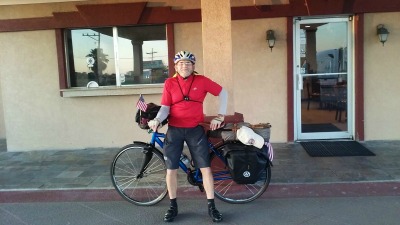 Click this image for all tour pics
Check back for my trip report, everything went fine and I had a great time, a really nice area.



80 deg f



Today starts my "Washington on the Brazos" tour.
I'll be going to Navasota, spend the night and start riding the next morning, May 5th. I'll ride to "Washington on the Brazos" state park south of Navasota to see where the Texas Declaration of Independence was signed.
After the park I'll ride south to Chappel Hill where I'll take a break and then head to Brenham.
I'll be staying overnight in Brenham and hopefully going to the "Kenney Store" in Kenney Texas for some food and music.
I'll return to Navasota on Friday on some different backroads and I'll pass Independence Texas where Baylor College was first started.


Left Linden around 11am and got into Navasota around 4pm. Since I had some time to kill before bedtime and it was warm I got me a room at the Super 8. After a lot of talking and begging I got Jennifer to give me a disount on the room.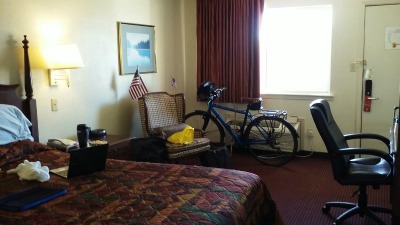 I rode around town and went by the Grocery store and Churches Chicken, wouldn't reccomend the Churches in Navasota.
Early to bed to night so I can make an early start tomorrow, maybe beat some traffic out of town.
On the way to Navasota today I stopped in Anderson, TX, Grimes County to get a pic of the Courthouse, really nice.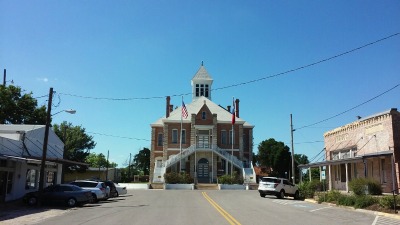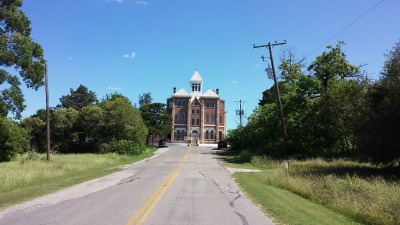 85 deg f
25 miles


I got out for a ride today, rode to Linden, then to Almira, Red Hill and then back to the casa. I'm riding a little earlier now since it's heating up, bout 85 today. This spring we have really been treated to some beautiful blooming plants, guess it's all the rain. Below is a pic of a Buckeye plant blooming, a lot of these along the roads and also a pic of the cattle on my road. That big Red Bull had to come over and check me out to make sure I wasn't messing with his harem.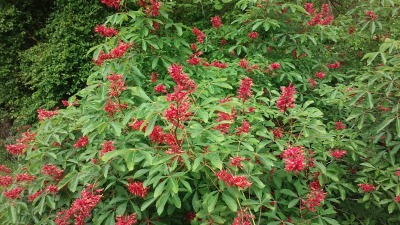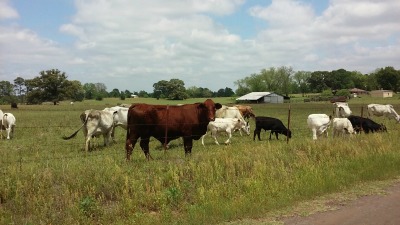 I also stopped by Rogers for a visit, his shoulder seems to be bothering him more than his hip. He is walking a little around the house, hopefully he'll be back before long. I was glad to see him talking about his bike, told me the front wheel was bent, I looked at it, not to bad, we can true it up.
I also got me a new book to read, "Tent Life in Siberia," by George Kennan.



85 deg f
25 miles


I wanted to get out this morning before it warmed up and stretch my legs after yesterdays effort.
I rode to town, then did the Mike loop and then returned home, a nice 25 mile ride.
Yesterday, 4/23 we had our "Linden Wildflower Trail ride," we had a real good turnout, 47 riders.
The weather was nice but a bit warm for me, maybe the warmest day this year, mid 80's. I rode the 37 mile route and worked my butt off.
I rode my own ride, no drafting and still managed to get a 17mph + ride. I was chasing 4 young guys about 20 years younger than me, these young guys are going to kill me.

We missed Michael Prewitt on the ride even tho he came to visit, he took a fall last week in the rain and tore some ligaments in his shoulder. We also missed Roger Warren he also took a fall last Sunday and broke his hip and has had a total Hip Replacement, he'll be off the bike for a while. My friend Robert also texted me and told me a friend of his, a lady from the Czech Republic, had broken her leg and it would take maybe a yr to heal.
Now you see why I was avoiding folks on the ride, I surly didn't want to get tangled up with anyone and go down.

Jerry Harp almost singlehandly put this ride together and he did a good job, he also found out just how much time and work goes into a ride.

So I've had a good weekend on the bike, now to recover, couch time.

Click on images below for large pic.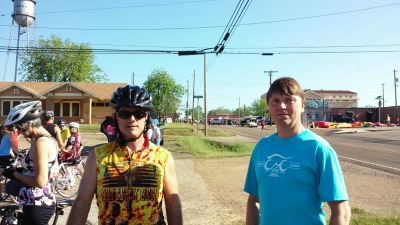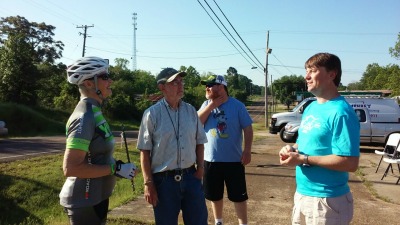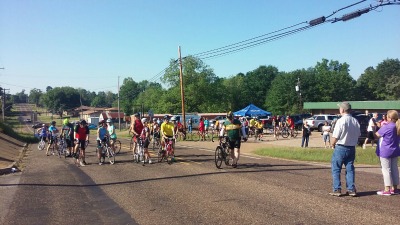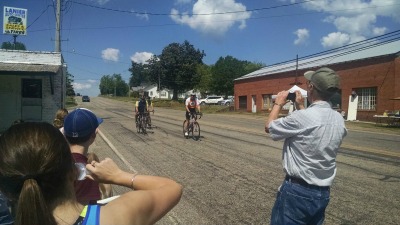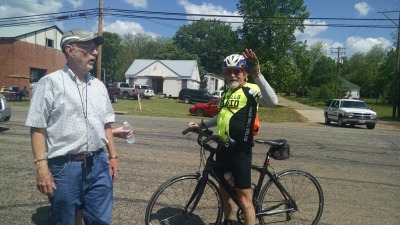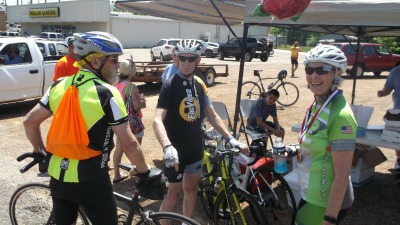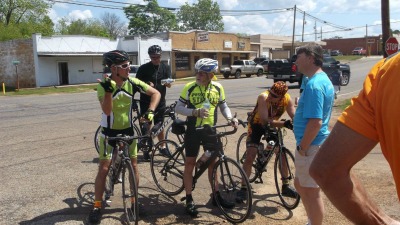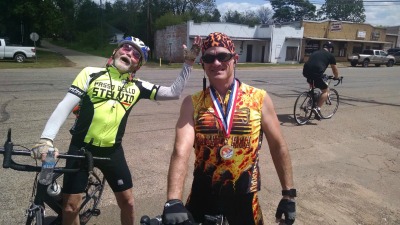 My first photobomb, I love it.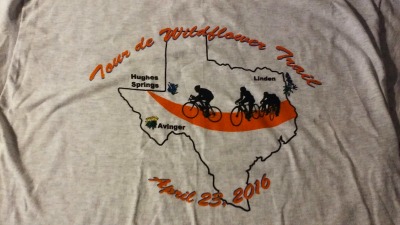 The T-Shirt