Mrbill's Bikenbreakfast
---


85 deg f



I'm off to the gym this morning for my upper body workout, do this three times a week.
Guess I'll take the day off the bike, left knee bothering me a bit, pretty sure it's just a little strain from pushing it a bit. I'm still planning on a 40 mile ride on Saturday, so I'll give the old body a break today.

Next weekend on the 22nd we'll be having our Halloween ride, 40 miles and we'll stop by the Halloween house to check out their "Awesome" decorations. This should be a good ride, come on out and enjoy, below is a map with details.





85 deg f
25 miles


I really enjoyed my ride today, Red Hill, Almira, Linden, a 25 miles with hills.
Just before I get to Almira on top the big hill is Nollie Thompson's house.
I stop to take a picture of the tree in her front yard, it is a beauty,




After taking the photo I noticed Nollie was sitting on her front porch.
I head her direction and when her little dog Smoky sees me coming I hollar out, "Hello" and walk on up to the porch.

I met Nollie about 25 yrs ago when I put a storm door on her house.
She was living alone, raising cows and growing a garden and doing fine.
It's been a while since I've seen her so I really enjoyed our visit, it was quite inspiring.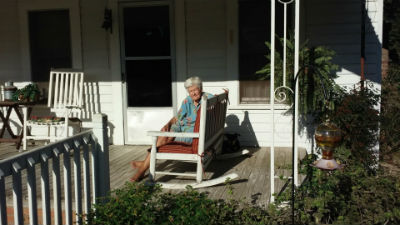 Nollie and Smoky



Nollie is 98 years old and still living alone, takes no medicine and when the phone rang while we were chatting she heard it better than I did.

I asked her if she got Home Health, "Well," she said "they sent somebody out here and they said they wouldn't pay because they couldn't find anything wrong with me. I went for my checkup a few weeks ago and the Doctor told me," "Mrs Thompson we can't find a thing wrong with you."

She did say at one point that it does get a bit lonely when all the family is gone. Nollies brother and sister both died in the house she lives in now.

She got a kick out of telling me about her to little devil grandsons that she caught sneaking a coke in the kitchen, she said their dad didn't want them to dring cokes, she said, "Heck, cokes ain't gonna hurt you, I drank em all my life and people don't live as long as I have."

Lots of little stories and a little local history made for a nice visit.

Nollie Thompson, someone I truly admire.





80 deg f
40 miles


I'm getting October off to a good start thanks to some really nice weather.
Fall is here and this is one of the best times of the year in NE TX, lows in the 50s and 60s and highs in the 80s, hard to beat.
Today I rode 40 miles with 1600 feet of climbing, really enjoyed it, I rode "Bluboy" my light touring bike.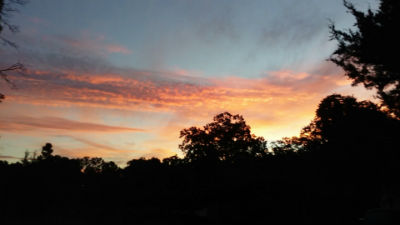 Beautiful sky when I walked out the front door this morning.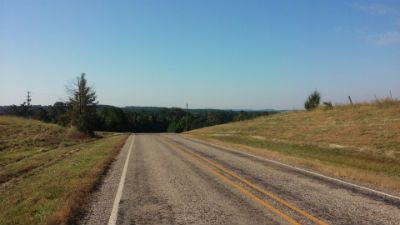 The high point on todays ride, "Thompsons Bluff"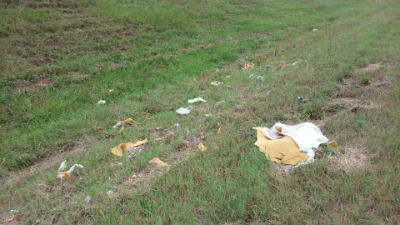 I love the County's "Mow and Mulch" program. While riding on highway 8 I noticed this mattress lying on the side of the road, it was there for several days until the County mows, yep they mow right over it, couldn't believe it, small stuff I understand but a Mattress, really.



I've been getting in some good reading lately, at present I'm reading "The Thousand Autums of Jacob De Zoet" by David Mitchell.

Everyone have a great day, I'm off to the gym.





80 deg f


Thank goodness, Fall is here, no more 90's, at least there better not be.
With the cooler temps I've been getting some things done, mowing, weedeating and a few other things not easily done in the heat.
I took the day off the bike this morning to get some laundry done and a little house cleaning. Tomorrow I'll be back on the bike and I'm really looking forward to it, I'm wondering if I'll need my jacket in the morning. I did go to the gym today, my usual Mon, Wed, Friday routine.

While getting things done I also got my bike cleaned up, sprayed it with Mean Green and then rinsed it off, cleaned chain and cassette, lubed derailleurs, looking forward to riding a nice clean bike.



92 deg f
32 miles


Thank goodness summer is almost over, a couple more days. The hot and humid days of summer really do get old and it seems the older I get the less I like it.
I've been getting in some riding, going to the gym and trying to keep up with mowing the yard, lot of rain this year, grass is still growing.
I'll be going on a ride in a couple of hours, this ride should put me over the 4000 mile mark for the year, now that's good for your health.

Hope everyone out there is doing fine, have a great day.



92 deg f
32 miles


I don't think I've ever seen so much rain in August in this part of the country.
I did miss a few days riding because of the rain but you always hate to complain about the rain in Texas in August.

I've also been volunteeering at the Humane Shelter in Texarkana 2 days a week this month.
Helping at the shelter is a double edged sword, it's rewarding trying to make life better for the dogs but it can also be a bit depressing.

So nothing really exciting happening just waiting for cooler weather and lower Humidity.



92 deg f
42 miles


As you can see from the photo below I tried to beat the sun this morning but we came over the hill at the same time.

I rode to Linden and met up with Jerry and we did a 26 mile loop SE of Linden and then I rode back to the casa. Jerry was gettin it on the flats at one time I was givin it my all and was having a hard time staying with him. Thankfully Jerry takes it easy on the hills so I got relief. We had a good ride and a good workout.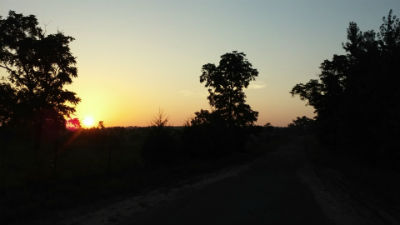 Yes it was hot even tho we got out early, photo was taken as I was leaving the house at 6:43.





97 deg f



It's heating up in E Texas, we're supposed to have some 100's this week, not good news, but it's Texas and it's summer, so that's how it is.
I had a good weekend of riding, going to take off today to get some things done around the casa and I go to the gym today.

I had a nice short vacation a couple of weeks ago, I went to Colorado for a week, how nice, cool and beautiful. If I can just win the lottery I'll have me a summer home in Colorado.
I've really been lazy with this page, my apologies, I hope to post a couple of my favorite pics from vacation soon.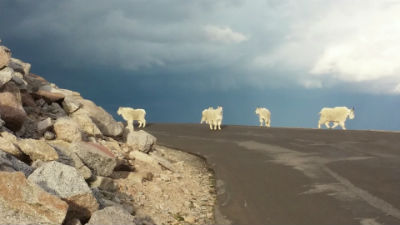 Here's one of my favorite pics from Vacation, Colorado Mtn Goats on top of Mount Evans, elevation of pic, 14,000 feet.



Here are the Photos from my Colorado Trip that I have uploaded so far, still a work in progress.

Colorado Trip Pics



92 deg f
32 miles


I got out early this morning for a ride, trying to beat the heat which is really impossible this time of the year.
I rode to Linden and when I got to Kims I ran into John from Jefferson and a new lady rider named Terri Jones.
Terri lives up near Marietta and is just getting back on the bike, an enthusiastic biker.

John and Terri were going to Kildare and back and I was doing a loop so when we left Linden we went our separate ways.
When I got back to Linden John and Terri were there and I enjoyed visiting with them a bit.

I then headed for the casa, heating up quick.
A good day on the bike.



92 deg f



My umbrella Tree