Mrbill's Bikenbreakfast
---


16 miles
72 deg f
957 days left



Gym and Hospital

First order of the day was to go to the gym, they were having a "Health Fair," I hadn't heard about it and I was headed to the Hospital after workout so I didn't participate in it.

Roger and Glenday were at the gym and left at the same time as myself and they were also going to visit Teresa at the hospital.

Teresa, me, Roger and Glenda had a nice visit, we also enjoyed a nice salad in the Hospital cafeteria.

Teresa is doing a little better, she is drinking some tea and having some broth, hopefully soon she will be eating some solid food, still dealing with pain.
I left a little earlier than usual so I could get home and take a bike ride.
I got home and took Bootsie for a walk and then got on the bike.
I really needed the bike ride because all the hospital stuff had definitely raised my stress level.
Sure enough the bike ride was just what I needed and after the ride I had a nice evening.
I rode to town and back, it was a little windy on the return trip but not that bad, really enjoyed the ride.

Bootsie, my dog friend, is something else, healthiest and wildest dog I ever had. Somewhere recently I read or saw on TV about how man in a wilderness setting used dogs for hunting, they would catch enough to feed the man and the dog, well it turns out that Bootsie would be a good dog to have if your were stranded in the wilderness.
So far she has got Possums, gophers, a bird, and rabbits.
Yesterday we walked the trail after my bike ride and as we were finishing up I saw Bootsie shoot into the woods at 90 mph after something, after closer inspection I see a deer right in the area she went. I hollered for her, didn't really want her messing with the deer but when she is on the hunt she doesn't hear a thing, focuses totally on the prey.
I went on to the house and she showed up a little later and thankfully without the deer.

Bootsie is even providing food for "Nonita," my cat, I walked out on the back porch to put some food and water out for Nonita and I see half of a rabbit laying on the porch, Nonita had drug it up and had been munching on it.

At least I'm saving a little on animal feed.



72 deg f
960 days left



Hospital

Got up this morning and went by Teresa's and picked up a couple of things for her and then headed to the Hospital.
I pretty much spent most of the day at the hospital, the nurses seem to be doing a good job and hopefully within a couple more days Teresa will be able to go home.

I've learnt from Teresa that you don't want "Pancreatitis," very painful, so all you heavy drinkers listen up, ease up on the Alcohol it ain't worth it.

I got home before dark so I was able to take Bootsie for a walk in the woods, got that puppy in her and she needs to run.
I guess tomorrow I'll be heading to the hospital again after gym, hopefully Teresa's condition will be slightly improved, I don't really look for her to go home before Wednesday.

Everyone have a great week and take care of your Pancreas.



gym
82 deg f
961 days left



Redbud Festival

At the gym Friday Roger mentioned that they were having the "Redbud Festival" in Vivian, La, so Teresa and I decided we'd check it out.

The festival was one of the best I've been to in a while.
Lots of booths with lots of crafts, I believe the busiest booth was "Face Painting," and they did a good job of it.

I don't remember the last time I saw so many nice vehicles, on heck of a car show.

We also enjoyed the Music, with "Dixie Bent," a local band, really good group.

The day didn't end to well because Teresa's Pancreatitis flared up in the evening and she had to go to the Emergency Room in Atlanta and then was transferred to Saint Michaels in Texarkana.
I'm doing this update from Teresa's room at the Hospital while talking to Doctors at the same time.
Teresa should be here a few days, for Pancreatitis all they do is give fluids thru an IV and give pain medication until it settles down.

Below are a few pics from the Festival, I'll try to put all my pics on a page later, hopefully.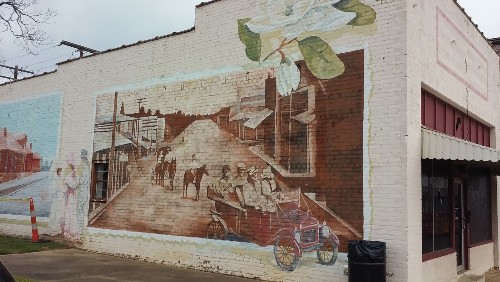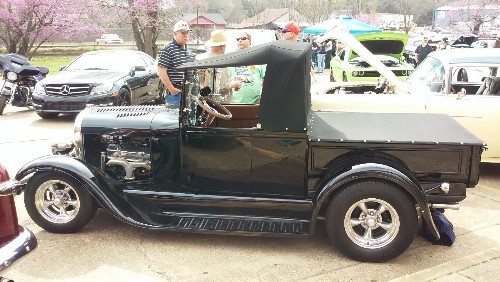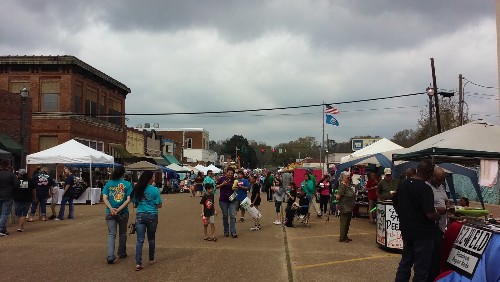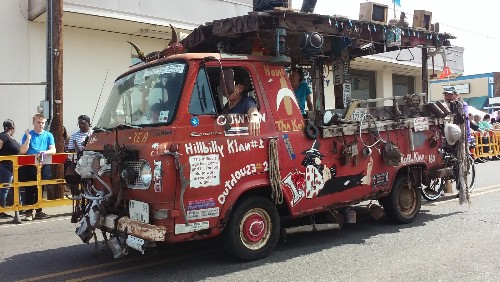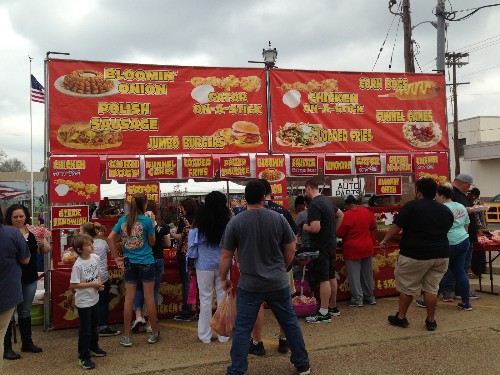 "Dixie Bent"



gym
82 deg f
962 days left



Hot

Winter to Summer in a few days, it was warm today, to warm for March.
I started the day off at the gym, good time, I think the squats are a good thing.

I got home from the gym, ate and got on my mountain bike for a short run down my county road.
I met a neighbor and her grandson that I hadn't met before, Dorthy and her husband moved here a couple of years ago from Louisana, then he had a massive heart attack, he's now in a wheelchair and she takes care of everything including 3 Grandchildren, life ain't fair or easy sometimes.

After my little stroll on the bike I took Bootsie to town for a walk, it was almost Hot, at least it slows Bootsie down just a bit.

At the gym today Bobby Burrow brought me another CD of his that he did several years ago and wanted to know if I could put a song on youtube for him, he wants me to be his "frontman," he's in trouble.
Bobby really does enjoy singing and songwriting, Teresa sits beside him on the recumbent bike at the gym and she said he's singing all the time.




"It's All Killing Me" by Bobby Burrow



26 miles bluboy
75 deg f
963 days left



Windy

I got in a ride today with Jerry and Roger, met up with then at the Sonic at 2:30, it was 75 deg and the wind was steady out of the South.
I managed to get in 26 miles and with the wind it was enough.
Roger was telling me that his Doctor told him he was as healthy as he's been since he's been seeing him, the benefits of cycling.


It was a bit like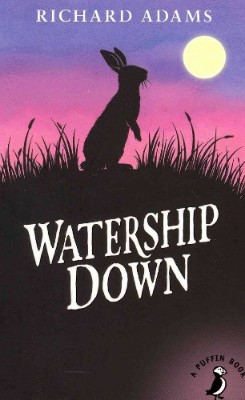 "Watership Down"
around here last night.
I left the back gate open last night and Bootsie managed to get out and get her a little rabbit.
What a quandry, I like my rabbits, before Bootsie I enjoyed watching them but with Bootsie around they may have to move on.
I can't really scold Bootsie cause that's what she's supposed to do, if we we in the wilderness I would have been tickled with that Rabbit she brought me and we both would have enjoyed it, but at the same time I'd rather not find anymore Rabbits on my front step.
So far Bootsie has caught a bird, a couple of gophers and now a rabbit, not looking forward to a Fawn in the yard, I have had that happen with another dog, Life in the Country.
If you haven't read the book I recommend it, a really good book.
***************
I watched a program on PBS last night, pretty impressive, a lot of good info.
Dr. Daniel G. Amen was discussing Memory and how to improve your memory, I was happy to see I'm doing quite a bit of what he suggests, give it a look, very interesting.

Jerry, Read This Book



gym
65 deg f
964 days left



Slow Day

Kind of felt like I moved in Slow Motion today, felt good, just taking it easy.
It was gym day, a lot of folks were missing so I got in a workout but not a lot of social interaction.

I like the looks of this bike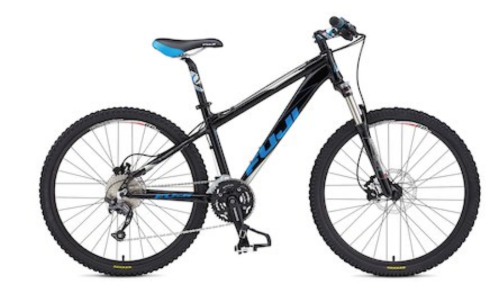 The best deal I found on it was HERE
I really like it, 26 inchers are getting hard to find and I like Hardtails.
Milan San Remo preview
HERE
You gotta bet on Sagan, but it's not easy to win when the whole Peloton is gunning for you.
**************
A friend sent this to me and I think it's perfect, really relevant to the times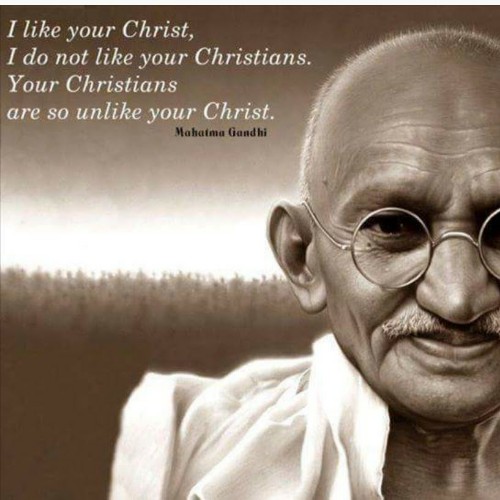 So So True

******************


I have some friends in the Czech Republic so I try to follow a little of the Czech News, hated to see this
News Article
****************
One last bike related item.
Bike size is always a puzzling thing, I found what I consider to be one of the best, simple, all around guides for chosing the right bike size,
BIKE SIZE

Home
Email mrbill
Page last updated,
21, March, 2018